As a young man heading into a professional career, dressing is one of the things that can set you apart from the rest.
How you choose to dress determines how people view you and may leave a permanent impression.

Knowing this, there might be a thing or two you want to change about your overall look in order to look more mature, responsible, and ready for the next phase of your life.
This article outlines some style tips to help you dress sharp as a younger guy.
1. Have self confidence

A great outfit is useless if you cannot own it.
An air of confidence and an attitude of self awareness can help you pull of even the simplest of outfits. With every piece of cloth you wear, you should always keep in mind that with confidence, you portray an aura that can make you seem more approachable, respectable, and even more important.
The best way to achieve confidence that can be emitted through your clothes is by first learning from a mentor; preferably an older man that you look up to. Another way to build up confidence is by doing a power pose; though it might seem childish or even silly, a power pose can benefit you mentally.
2. Value style and image
Even though books should never be judged by their covers, it is the case when it comes to fashion and your overall look. Even with a good personality, first impressions can me made or broken by your appearance.
Whatever the occasion may be, you will always want to make a good impression on those who you are meeting; a good way to do this is by dressing professionally and appropriately. It is never a good idea to half-ass your way though picking or wearing an outfit.
Therefore, image and style should always be above everything else when picking an outfit; always plan ahead of your day by picking the outfit the previous night.
3. Level up your footwear

Women have always been known to have endless shoe collections to match their clothes, mood, and even personalities.
As for men, the classic three pairs of shoes can no longer cut it because you can always judge a man by his shoes and you want to come off as respectable and confident.
Spending money on a good pair of shoes can be a great investment because not only will you look sharp, but also the shoes will represent an attention to detail. This makes you appear more mature and responsible.
4. Take care of your clothing

Being young, your budget may not be as disposable as you would like it to be. However, this does not mean that you cannot take care of your clothing. There are plenty of ways that you can keep your clothes in great shape without having to go bankrupt.
For starters, opt for wooden hangers for your clothes; especially your suits. You can also purchase a shoe rack, a reliable iron; preferably one that you can also travel with, and fabric safe detergent.
An even more cost effective way of taking care of your clothes is by learning how to properly wash and iron different fabrics. You can also strive to learn how to treat different stains.
5. Nail the fit

When you are in the comforts of home, a baggy t-shirt or baggy sweatpants are comfortable and appropriate. However, the same baggy style should not affect your outside clothes.
When buying your clothes, remember that fit is king; meaning that if it is too tight or too loose then it should not be checked out. Also, if it cannot be adjusted to fit you then it should probably remain in the store. If you have recently gained weight, then you should give up all your tight clothing and buy new ones.
If you have lost weight, then you should get your clothes to a good tailor and have them fitted.
6. Own a well fitted suit

Whether you are a student or a professional, a well fitted suit can come in handy. Whether going to a dinner or a wedding, a well fitted suit is the key to looking great and respectable.
When buying a suit, classic is always the way to go. Consider thing like jacket length which should not be so long as to cover your entire butt, you should also consider notch lapels, and how well it fits. If it is off the rack, take the time to have it adjusted by either the department in the store or a tailor.
Also, when picking a suit, be sure to keep in mind the colors of your shoes and the occasion you are attending.
7. Choose quality over quantity

A closet full of few but comfortable and quality clothes beats a stocked closet with uncomfortable and torn clothes any day. When buying clothes or going through your wardrobe, anything that cannot be fixed should be donated or thrown out immediately.
Get rid of all your old clothing and replace them with better quality ones including a good number of white or blue dress shirts, classic ties with darker shade of blue, green, and red, and well fitting pants and jackets.
8. Get rid of worn out clothing

Jeans with holes and rugged texture may have been cool in your teen years but as a young man, these jeans and stained t-shirts should go in the garbage pile. Clothes that have become old, torn and color drained should be eliminated from the closet or be used as indoor clothing.
If it is something that can be fixed then you should do so immediately. Otherwise, move past the rebellion stage and detach yourself from that black shirt that has turned brown.
9. Throw out t-shirts and hoodies

Graphic tees of your favorite superhero or movie are good if you are going to see a movie or enjoying a quiet day in the house. Wearing t-shirts and hoodies only allows you to fit in with the rest of the younger crowd making you seem juvenile and not ready for responsibility.
Instead of graphic tees, opt for v-neck t-shirts with a solid and darker color such as grey, maroon, and purple. Trade in some of your hoodies for cardigans, coats and jackets which will not only keep you warm but also complete your mature and classy look.
10. Ignore fashion trends

The fashion world can be a place of possibilities both good and bad. Fashion changes every day and no matter how popular a look may be, it does not work for everyone.
In order to be on the safe side, stick to timeless clothing pieces and classic colors, textures, and patterns. However, this does not mean that you should not explore new trends, it is always good to experiment with fashion because you might discover a whole new look. However, if the look does not work for you then skip it and find a different one.
11. Decorate your wrists

Accessories are a good way to spice up your look because naked wrists can be boring. Whether you are being casual or professional, it is always a good idea to dress up your wrists.
When doing so, it is important to keep the accessories light and dull colored. For starters, you could wear leather bracelets, and beaded bracelets that are either black or grey. Another way to decorate your wrists is by wearing watches; keep it analog and never wear digital watches. They should be small in size as large watches can be distracting and a bit tacky.
37 Best Minimalist Watches for Men
Avoid wearing shells, flashy bracelets or wrist bands.
12. Layer your clothes

A simple shirt and jeans is a classic look but layering might be the thing you need to take it up to the next level. Adding a denim jacket and or a trench coat can really change up your look. The thing to remember when doing this is to keep colors and fabrics in check; make sure that your layers do not outshine each other to the point where you look too busy.
Keep it simple with solid colors, preferably darks over lights. A good way to do this is to match a light jacket with a heavier trench coat on top of a sold colored tee. Another way to do this is by adding a scarf to your outfit; the results will be worthwhile.
13. Invest in jackets

Jackets can turn the most boring outfits into something dressy yet casual. Popularily know as smart casual, the addition of a jacket to a casual outfit can do wonders for your appearance.
Rain jackets and blazers are the way to go; when buying make sure they fit well such that they do not cover your butt all the way and that the arms are not too big.
When wearing a jacket, you can roll up the sleeves to expose an accessory while maintaining a professional yet edgy look. A good tip is to wear a blazer over a plain white tee and dark colored jeans.
14. Invest in a messenger bag or briefcase

Whether you are going to a meeting, job interview, or even a night class it is time to give up the backpack for something more stylish and mature.
Whether you need it or not, a good messenger bag or briefcase can really play up your look. The best messenger bags are compact and small enough to be carried around without looking like luggage. Check out our article about Best Messenger Bags for Men.
If you choose a briefcase, ensure it is light, and in sync with your overall outfit. Briefcases are better for professional looks along with leather messenger bags.
28 Best Messenger Bags for Men
15. Learn new necktie knots

Tying a tie is something every man should know how to do yet it seemingly baffles a greater population of men in the world. With a good YouTube video and a little practice you can always learn how to tie your perfect knot.
However, just one knot will not cut it anymore; a variety of knots can turn one tie into at least three different ties. When going to formal events, try learning new knots to really spice up your look.
A tie gives of a big statement and the fancier or more unique the knot then the better you will look. Therefore, next time you need to tie your tie, look up a YouTube video and learn a fancy new knot.
16. Fix damages on clothes

Small tears can easily turn into huge patches of missing fabric that cannot be repaired. When you find a tear on an item you were planning to wear, switch it out for something that it not torn and fix it immediately.
Choosing to wear clothes with tears not only looks untidy and unprofessional but it can also lead to permanent damage on the clothing. If your buttons happen to pop out, keep the button in a safe place and sew it back on as soon as possible. If the button is broken or gets lost, strive to find a similar replacement but never sew on buttons that do not match with the rest of the buttons.
17. Keep all facial hair deliberate

As a young man slowly edging to professionalism, facial hair is an important part of your look; it plays a big role in how people view you. That been said, brightly colored hair, and rock star cuts should be left to the teenagers. When picking a look for your facial hair, it is important to note that it needs to look kempt, clean, and professional.
If you choose to keep a beard, ensure that it is always trimmed short and close to the skin. Small tufts of hair spread out on your chin do not qualify as a beard and should be shaved clean. If you grow facial hair try different approaches to it until you find your look which can be an individual or combined look.
18. Dress for the body you have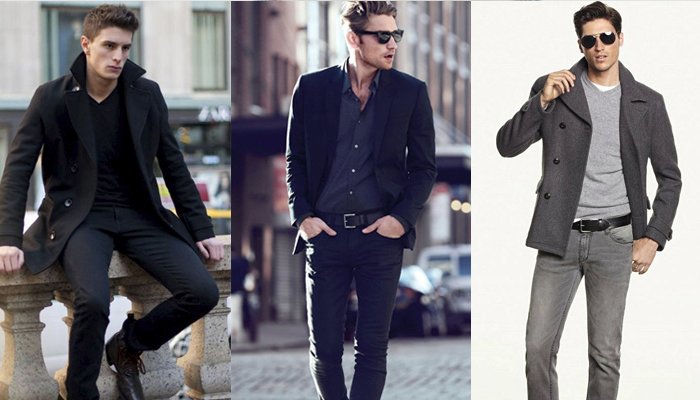 Gaining or loosing weight might not always be on purpose and as such your clothes might not fit you as well as they did before. Whether you are planning on gaining or losing the weight, you should always dress for the body you have and not the body you want.
Before you lose or gain the weight, aim to dress in more fitting clothes so as to look better; tight fitting clothes make you look bigger than you really are while the same goes for loosely fitting clothing. If you have gained weight, do not hold on to tightly fitting clothing with the hopes of one day fitting back into them. Instead, get new outfits because if you are to lose the weight then all you will have to do is get them slimmed down.
19. Dress for the occasion

Imagine you were interviewing lawyers and one person comes dressed in ripped jean shorts and a graphic tee; it would not send a good message. Before you even plan your outfit it is always important to take a step back and ask what exactly you are dressing for. This will help you to plan your outfit better while staying within the parameters of the occasion.
Dressing for the occasion might become a little tricky if you are not sure what the occasion is; in cases such as these you can either ask a person who will be attending the same event or check out the venue of the event. The best loophole to this dilemma is to overdress because you would rather be overdressed than underdressed.
20. Never shop alone

Have you ever wondered why women never shop alone? Whether you have or haven't, you can still benefit from this feminine habit.
A second, third, or even fourth opinion can be pretty helpful when choosing your outfits because in the end your goal is to look more appealing to the person who sees you.
Next time you go shopping, take a friend or relative of the same age group for a second opinion. This should be someone who sees you often and has become aware with your general style and preferred choices. During this time, maximize your company's opinion by trying out as many combinations of outfits as possible.
21. Avoid oversized branding

When buying designer brands, your goal whether you realize it or not might not be quality but rather letting everyone know that it is a designer brand.
Designer brands can be luxurious and better quality but they can also be tacky if the brand name overshadows the actual outfit.
When buying brands, keep the names small or hidden within the item. If the item is of good quality with a visible brand name, consider covering it up by adding layers to your outfit.
22. Make sure it is comfortable

If an outfit looks stylish and classy but feels like an itchy woolen sweater then it is probably not the outfit for you. When choosing an outfit, make sure that it fits well and feel comfortable lest you spend the whole day pulling your clothes in different directions to make them more comfortable.
To make sure that you are comfortable, take note of fabrics that may feel uncomfortable on your skin and try to eliminate them.
If an outfit gives you discomfort, address the problem areas or avoid wearing it altogether.
23. Observe colors in relation to your skin tone

When shopping or dressing, you should always take into consideration just how well the colors of your clothes blend with your skin tone. While some colors may rhyme perfectly with your skin tone, there are others that will not do as well.
Take note of colors that look good on you and invest in such pieces. Avoid colors that will make you look too busy or those that will clash with your natural outlook.
24. Wear athletic only when working out

It is easy to get lost in your athletic wear because it is comfortable and for the most part stylish. However, unless you are a professional footballer, you should never wear your suit with sneakers. As a young man heading towards a professional path, you should switch out most of your sneakers for more appropriate dress shoes.
However, if the event calls for a sporty look, then you can match your t-shirts with your favorite pair of sneakers. The same goes for clothing where graphic t-shirts with visible brand names should never be paired with jeans, khakis, or slacks. At the same time, avoid wearing dress shirts with sweatpants or shorts.
25. Clean out your wallet often

Cleaning out your wallet can be a surprisingly satisfying chore. Because you carry your wallet every day, you may not always see a need for cleaning it out. However, without realizing it you may end up keeping receipts, unusable coins, or unnecessary business cards inside the wallet. This causes clutter within the wallet making it heavy and uncomfortable in your pocket.
Removing such a wallet in public can make you come out as untidy and disorganized; the clutter also causes your wallet to wear out faster. To improve your wallet, strive to clean it out at least once a month by getting rid of unnecessary items. Or you can buy minimalist wallet.
65 Best Men's Minimalist Wallets
26. Wear dark colored jeans

When buying jeans for your look, tend to lean towards darker shades in different variations. This is because; with dark colors you can never really go wrong. Not only should these jeans be dark, but they should also be free from tears and fancy designs as these things can make you look juvenile.
To nail the fit, move around in them making sure they are not too tight or too loose as to affect your movement. Great jeans are often darker shades of blue, grey, green and black which can be paired easily with both tees and dress shirt.
27. Keep your snickers clean and plain

Like the graphic tees and loud hair, sneakers with graffiti or brightly colored characters should be left to the teenagers. For the young professional man, a good pair of sneakers should incorporate simplicity and functionality.
When buying sneakers, go for the pair with least graffiti; they should be a plain solid color with little to no branding on them. It will play on your whole look at the gym making you look more mature and professional.
28. Press your clothes

A good outfit that is wrinkled up ends up making you look untidy and disorganized. As you grow out your rebellious stage, it is important that you purchase a reliable iron; preferably one that you can travel with. This is because, well pressed clothes give off the idea that you care about your image and that you do not want to come off as unkempt.
Almost every clothing article comes with instructions on how to iron so take advantage of this with all your clothes.
29. Experiment

As stated before, the fashion world can be a little confusing with the message it want to send, as such you should always ignore fashion. However, you could always experiment with new looks. Instead of putting on the same outfit or sticking to the same style, look up ways on how you can change your look without having to spend a lot.
If you see a trend that you think might work for you then try it on and get a second opinion. If it fails, this is no reason to give up; the more you experiment the better your chances of finding out what works and what does not for your body.
30. Sample bolder colors

Most men stick to dark shades such as black, grey and navy blue because you can never really go wrong with such colors. However, sticking to these colors can become a little monotonous and may actually fit you into the crowd.
Wearing bright colors can be tricky but when done right, it accentuates your look. Next time you go shopping, opt to buy bolder colors such as yellow, pink, and orange; when paired with the right colors, these brighter colors will help you stand out in a good way while still maintaining an air of professionalism.
31. Do not shy away from makeup

Make up is considered a woman's game but as we enter a new era of fashion, makeup can be a man's game too. Your face is the center of concentration in any conversation, thus you should always look your best.
A good way to use makeup is to cover up any blemishes or breakouts that you do not want to be seen. You
can also tweeze and shape your eyebrows so they can be aligned which will help to bring out your eyes.
32. Examine before you buy

When shopping, it is always important to examine the cloth item thoroughly. This will allow you to go home with something that you actually like and will actually wear.
When shopping, check for lost buttons, tears, comfort of the fabric, fitting, and such. If you are not sure about an outfit, leave it at the store and come back when you are sure rather than take it home and keep it hidden in your closet.
33. Always do a mirror check

The mirror should be the last thing you look at before leaving the house; meaning that you should have worn your compete outfit including shoes before checking the mirror.
If the outfit does not look good to you in the mirror then it probably will not look good to others too. Invest in a full sized mirror which will allow you to see your full outfit including the shoes.
34. Keep your hair neat

The current century has seen an improvement in the type of hairstyle that men can wear. Therefore, you have no excuse for your hair looking shaggy, dirty or unkempt.
To really take care of your hair, wash it as many times a week as you can, this prevents dandruff and reduces the chances of getting lice. As for the haircut, there are many options and all you need to do is to find the one best suited for your face without being uncomfortable. Always steer clear of big hair, bright colors and unprofessional looks such as spiky Mohawks.
Check Best Hair Dye for Men.
FAQ
🤔 How can I improve my stylish look?
If your sense of style is already impressive, there is little you can do to improve it further. However, if you want to keep looking your best, ensure that you do not fall victim to all fashion trends. You can explore and experiment with new looks, but do not do everything. Stick to what looks good and never force a trend that doesn't work.
🤵 How can I make my suit look sharp?
The key to nailing a sophisticated look with your suit is the fit. Nothing beats a well-fitted suit with the right jacket length and leg width. Whether for a formal occasion or professional appearance, fitting your suit is the best way to look sharp. You can also add accessories such as notch lapels to add a flair of sophistication.
🕺 How can I get better at putting together outfits?
One of the best ways to achieve well-put-together outfits is by layering. Layering automatically changes ordinary outfits into stylish and sophisticated pieces. Jackets, shirts, plaids, and coats are the key to great outfits. It is also a good idea to ask for help when you go shopping. Ask a friend or relative to help you pick out items that you can turn into outfits.
🕴️ Is 3 button suit out of style?
The 3-button suit seems out of style simply because more people are opting for other styles. However, this suit is still a classy and suitable option, especially for people with athletic bodies. Three-button suits are also better for tall men. When wearing a three-button suit, ensure that the middle button is always buttoned, the bottom is never buttoned, while the top can be either-or.
🌈 What Colour suit should I wear?
For the longest time, people believed that suits should be dark or black. However, advancements in fashion have proven that suits come in more than one color. When selecting a suit, ensure that you choose colors that blend in with your skin tone and look good on your body. Nail the fit, and remember to accessorize tastefully.
🔥 How can I look attractive?
Looking attractive is primarily dependent on how confident you feel. You could wear the most fashionable outfit in your world, but it would look tasteless if you do not have confidence. Self-confidence will give you an approachable and attractive aura that will shine through no matter what you are wearing. Be sure that your confidence shines through every outfit you wear.