Whether you're buying your first electric shaver or upgrading from an older razor, it can be challenging to choose between the dizzying array of models.
This guide will help you decide which features are most important to you and help you narrow down your choices and at the end of it we've provided 16 best electric shavers you can buy online.
Shaving has been part of human nature since ancient times.
It is recorded that even ancient man would participate in a grooming ritual that involved cutting excess hair on his head and his face.

The task of shaving began with simple tools; any object with a sharp edge would suffice to cut off any unwanted hair. This was later modified to be an object with a flat sharp edge; years of modification brought on knives, blades and eventually razors.
Sharp razors which are still being used by majority of people in the world are still fashionable thanks to the sophisticated forms they have taken. However, whichever forms they took, the chore of shaving was still tedious and boring to people.

Then came the electric shaver; not only was the electric shaver practical, it was also very functional. It allowed people to have a quick shave on the move; moreover, it made the shave more clean and neat.

Today, there are many electric shavers on the market; each has different benefits to offer and limitations too.
There is really no bad shaver but like all other things, there are a few characteristics you need to be keen on in order to pick the right shaver for you.
If you are looking to buy a new electric shaver but you are not sure which one to pick, observe the following characteristics. It is important to note that choosing the best electric shaver is highly dependent on what you want the shaver for; whether it is a light trim, clean shave, etc.
Brand
Whenever you have a great experience with a product, you will naturally be drawn to using the same brand, same variation, same color, and you might even buy it from the same store just to be sure. This is because humans are creatures of habit and will always try to recreate good experiences by any means possible.
The same applies to shavers; if you had a good experience with a specific brand of shaver, you will find yourself being drawn to the same or at least something similar to it. While what works does not require fixing, you can always play around with brands to make sure that you are getting the most out of your money.
There are several big brands in the market that are known to produce the best electric shavers including Remington, Philips, Panasonic and Braun. If you are a beginner, it is always advisable to stick to trusted makers of such products; if you have good history with a brand, you can try variations of the same and decide what works best for you.
If you would like a change, switch within the most trusted brands to make sure that you are getting only the best.
Foil vs. Rotary
A rotary electric shaver is designed in such a way that it follows the contours of your face.
g, you can always play around with brands to make sure that you are getting the most out of your money.
e taken. However, whichever forms they took, the chore of shaving was still tedious and boring to people.
They have about three circular heads that have spinning cutter on the inside; it cuts the stubble which is caught by the outer stationary guard. As you move the shaver in a circular motion, the cut hair will fall into the angular groves where they are cut off by the small blades that resemble scissors. The circular motion is beneficial for when you need to shave difficult parts such as the chin and neck.
The foil shavers are called so because you will find straight heads that use swinging blades or cutters under a 'foil'.
The 'foil' is actually a thin layer of metal that is perforated in order to create a specific mesh pattern that covers the cutters. The work of the foil is to capture the hair through the holes; this type of shaver gives you a close shave.
The rotary shaver is best for people who have regular to tough skin with thicker and courser hair. It is for the person who does not need to shave everyday but rather once in a while. Because it uses circular motion, it is best for people who have contours on their faces; also it is great for people with longer hair to cut.
On the other hand, foil shavers are for people who shave every day and for when you are looking for a clean smooth shave; practically bald. Also, if you are looking to work on your sideburns with precision then this is the shaver for you.
Charging
Electric shavers come in two main forms; corded in that they require to be plugged in to an outlet and cordless in that they function through the help of batteries.
Usually, the batteries are rechargeable and only very few electric shavers operate on standard batteries. Shavers with batteries have a couple of advantages like the fact that they are convenient for when you are traveling and that you will not restricted to a specific position; you can move around with it and shave in the best light.
Unfortunately, some shavers require constant charging which can be a major disadvantage for when you need to get it done as soon as possible. Also, it is majorly impossible to shave while the batteries are recharging.
Corded shavers have are rarely found these days and the only advantage they have over rechargeable ones is the fact that they do not run out of charge as they are directly plugged in to outlets. Otherwise, they are highly limiting and unrealizable especially if you are travelling and cannot get a comfortable place to plug it into to. Also, they are prone to power outages; a feature that has made them obsolete.
Wet vs. Dry
Dry shaving is shaving using only an electric shaver with no lubrication. It is the most common form of shaving and most men partake in it solely because it is quick. This type of shaving requires little to no preparation; and because it cuts hairs above the surface of the skin, it causes less irritation as compared to wet shavers.

The best thing about dry shavers is that it comes with adjustable features which allows you to be versatile with the type of shave you want to achieve. Unfortunately, dry shavers come with their cons including maintenance which can be tedious, the fact that they cannot offer a clean shave, and the cost of a good one will set you back a couple of dollars.
Wet shaving is the use of an electric shaver with some form of lubricant such as water, shaving foam and cream, and any other shaving product. People who like this type of shaving do it because it allows the combination of a shave and care products to give a smooth clean shave. Wet shaving is liked because of the clean, deep, and smooth cut it offers.

The feeling of exfoliation is rejuvenating to the skin and will promote the growth of facial hair. An unfortunate disadvantage of wet shaving is unfortunately liked to its ability to give a clean shave. Most men experience cuts and grazes with a wet shave trying to achieve the perfect 'smooth'. Most men experience irritation with any form of shaving; wet shaving takes the irritation to the next level causing redness and discomfort after using shaving cream.
Manual Clean Vs. Cleaning and Charging Stations
Like all other grooming products, your electric shaver will need to be cleaned regularly to make sure you get the freshest cut possible. Some shavers require manual cleaning; these usually come with a brush and instructions that will guide you on how to clean it. Some even come with the feature that allows you to clean it under running water; these are the best and worth spending the extra dollars for.
Newer models have come up with a less tedious way to clean; the method came about as a result of people forgetting to clean their shavers. Cleaning and charging stations are all the rage for electric shavers; they are so popular because the shaver becomes self-cleaning. After you use the shaver, you place it in the cleaning and charging station which cleans the shaver and charges it.
All you have to do is press the button and replace cleaning solution once in a while. The shaver is lubricated, cleaned, and charged automatically; it is the perfect shaver for the working man because it is time saving.
Budget
At the end of the day, it all comes down to your budget because you always have to stick by your budget.
When it comes to care products such as shavers, it is always wiser to spend more on quality rather than quantity. The best quality shavers will make you spend more but will be worth the buy.

As you are planning your budget, keep in mind the cost of maintenance and replacement of parts. Of course you do not have to spend a large sum of money on the shaver but you should spend as much as you can afford.
The best way to make sure that you buy the best shaver for you and your budget is to stick to a trusted brand. If you manage to buy a good shaver then you can look after it well and use it properly to ensure that it serves you for the longest time.
Ergonomics of Your Electric Razor
The way your shaver functions is important to choosing the best shaver.
The best shavers have rotating heads that move back and forth and up and down. This is important because it will help to reach the nook and crannies of your face and body. Another important function is the shaver's ability to adjust to different densities.
Good shavers come with a sensor that can sense the density of hair and adjust the power accordingly.
Also, a good shaver will incorporate different settings that can be used according to the hair being trimmed and the desired effect. Finally, it should be able to function quietly and smoothly.
Electric Shaver Replacement Blades
Part of the maintenance of any shaver are the blades. The blades are the main part of the shaver and without them, the shaver would be a useless grooming tool.

Most shavers require you to change the blades at least once every year; this is quite manageable and it proves that the shaver is of good quality. Good blades will need little to no maintenance; some come with the ability to self-sharpen as the charge and clean. These are the best once because you can be guaranteed a clean and smooth shave every time.
As you buy the shaver, ensure that blade replacement will not be a hassle but rather something you can do quickly and conveniently.
Best electric shavers on the market
Now that you know exactly what you are looking for, you will find that there are many electric shavers on the market that meet the criteria above. This is of course a good thing because it gives you the freedom of choice and the flexibility of change.
Whether you are new to this or looking for a switch up on your regular shaver, you should try any of the following shavers. They have their pros and cons and so the best one is solely dependent on your preferences, need, and budget.
1. Braun Electric Foil Shaver

From a trusted brand, this is a foil electric shaver that offers you a smooth cut while adapting to your face shape and contours. It features brilliant sonic technology which is essential in catching hard to catch hair.
The 10,000 micro vibrations and ActiveLift trimmer helps to capture flying hairs in tricky spots such as the neck. This shaver has an intelligent auto-sensing motor which allows you to shave longer hair.
It has five sensitive/turbo modes that allow you to adjust the shaver based on your needs; it is the perfect shave for variation. The only con to this shaver is the non-returnable policy which is a great inconvenience if it does not work out for you.
Purchase
2. Panasonic Wet/Dry Electric Shaver and Trimmer

This is a convenient shaver from Panasonic which gives you a smooth clean shave. It features five very sharp, thin, and sensitive blades that are angles at 30 degrees to offer a clean cut at the base. It is a foil shaver so all the split hairs are captures for a clean shave. This shaver has an active sensor that senses density of the hair and adjusts the power depending on the thickness of the hair so you do not have to do it yourself. As you shave, you will notice the Multi-flex pivoting head moves back and forth and side to side in order to follow the contours of your face for the most personalized comfort. The best feature on this trimmer is its ability to work for both wet and dry shaving; also it comes with a charging and cleaning station so it is easy to maintain.
Purchase
3. Philips Norelco Wet/Dry Shaver

This is a unique wet and dry shaver that is built for comfort, style, and precision. It has unique contour detection technology which allows each of the three shaving heads to move independently in 8 different directions; this follows the curves of your face with excellent precision. This system cuts up to 20% more hair in a single pass than most blades do. This shaver also has the V-Track Precision Blades that collect hair to give you a more comfortable shave that is closer to the skin by 30%. The blades are self-sharpening so your shave will be clean day after day. The shaver has 5 length settings, rounded tips, and comb which are designed to prevent irritation on the skin. The shaver also has an LED display which is a unique feature that shows you when you need to replace the shaving head, and when you need to charge it. Finally, it has travel lock that prevents the shaver from turning on by accident as you are travelling.
Purchase
4. Braun Cordless Wet and Dry Foil Shaver

This shaver is simply designed to meet your needs without having to work so hard. It features in built intelligent technology that responds to the shape of your face as you shave. The intelligent tech is not the only advanced design of this shaver as it also has a processing chip that reads your beard in order to determine the amount of power needed to shave. The five synchronized elements work together to cut more hair in one stroke than most shavers. The trimmer is titanium-coated to capture flat-lying hair; it also has a specialized trimmer to catch hair growing in any direction. This shaver also has sonic technology with 10,000 micro vibrations which reduces friction on your face and thus prevents irritation. You can use this shaver for both wet and dry shaving and it comes with a charging and cleaning station. It is truly a convenient shaver.
Purchase
5. Wahl 5 Star Bump Free Shaver

This is a unique and stylish shaver that gets the job done easily and precisely. It features a specially angled shaving head; it is built so in order to help in shaving tricky spots such as below the chin and the neck. The shaver comes with a special feature that allows both corded and cordless shaving; when it is not plugged in, it uses rechargeable power. The corded feature comes in handy when you forget to charge it; all you need to do is plug it into an outlet and fire away. This features also comes quite handy when travelling. This is a foil shaver meaning that it quickly adapts to your face and is perfect for a clean shave; not to mention everyday use.
Purchase
6. Panasonic Wet/Dry 4 Blade Shaver

This is a reliable and well-designed shaver from Panasonic; a trusted brand. It is a top rated shaver that features a thin stainless steel Arc foil that captures whiskers. It has honed blades angled at 30 degrees which cuts hair clean at the base giving you a close shave. This also reduces shaving time and prevents irritation even on the most sensitive skin. This flexible shaver comes with an agile pivoting head that moves up and down and side to side to give you a uniform motion on the contours of the face, chin, and jawline which gives you maximum closeness and comfort. The high performance motor is equipped with linear drive which gives you 13,000 cuts per minute; it maintains maximum power until it needs to be charged again.
Purchase
7. Philips Norelco Shaver 9300

This shaver is a well-built with efficient contour detect technology; the technology allows each shaving head to move in 8 different directions in order to follow the contours of your face. This technology helps to improve cutting; it cuts up to 20 percent of hair in just one stroke. The shaver comes with specially designed V-track precision blades that collect hair which results in a shave closer to the skin by 30 percent. The blades self-sharpen which allow a precise shave every single day. The shaver has three comfort settings; slow for a skin-friendly shave, medium for a standard thorough shave, and fast for a high-powered shave. The touch of a button, the Smart Clean system cleans your shaver with an alcohol-free, skin-friendly formula. It also dries and charges the system making it always ready to go.
Purchase
8. Remington HF9000 Heritage Series Shaver

Remington is always appealing when it comes to grooming products and this shaver is just one example of success. It features the ability to use it for both wet and dry shaving; it is not only convenient but also comfortable. Although it does not have a cleaning and charging station, it can be easily cleaned under running water; you can also detach the cutting assembly for a more thorough cleaning. The shaver also has a pop-up trimmer which is convenient for dealing with sideburns and facial hair. The patented hybrid intercept shave technology gives you a comfortable shave through protecting the skin. Finally, like all good shavers, the foils are designed with a multi-directional pattern. This ensures that even the shortest hairs at weird angles are captured.
Purchase
9. Braun Wet and Dry Integrated Precision Shaver

This is another great grooming product from Braun that features both wet and dry modes for convenience. It features an auto-sensing motor that continually adapting to density of the hair giving you the most precise and comfortable shave no matter how long your hair is. The flexible shaving head adapts to your contours in eight different directions for continuous skin contact in tricky spots. The shaving foils on this shaver 899 apertures that allow a shave as close as 0.058mm while protecting the skin from harm. On this shaver you will also find a specialized middle trimmer that helps to capture flying hair and any hair growing in different directions. The precision trimmer helps to maintain sideburns and precise beard lines; also the battery lasts up to 50 minutes and only takes one hour to charge.
Purchase
10. Philips Norelco Hybrid electric trimmer and shaver

This is a stylish shaver that is uniquely designed to serve both your facial hair and body hair. It has a double-sided blade that ensures the skin remains comfortable even in sensitive areas; it is also very fast and can line up your style in any direction. OneBlade is essential for following the contours of your face which in turn allows you to shave effectively and comfortably in all areas of your face. The blades only require replacing every four months for the best shaving experience. This shaver has a long lasting battery which lasts up to 60 minutes; unfortunately, it requires 4 hours of charging which is very length as compared to other shavers. It does come with an attachable guard which you can use for sensitive areas.
Purchase
11. Remington F5-5800 Foil Shaver

This is a wonderful foil shaver from Remington designed to meet your needs with extra precision. It features intercept shaving technology that is designed to pre-trim longer hairs with ease. The pivot and flex technology is incorporated into the shaver to allow it to stay close to the skin for extra smooth results. The shaver has a rechargeable battery which allows 60 wonderful minutes of shaving time at maximum power and undeniable precision; this roughly translates to 20 days of cordless time. There is a pop-up detail trimmer that is perfect for dealing with your sideburns and applying finishing touches on your facial hair. The shaver unfortunately does not come with a charging station but it can be washed under the faucet so cleaning is deep and easy.
Purchase
12. Braun Series 3 ProSkin Shaver

This is an intelligently designed shaver that has a bold stylish design and meets your grooming needs with ease. Among its many great features is the ProSkin Micro Comb that catches more hair in the first stroke which in turn gives you a faster shave. The blades are pressure sensitive and they will automatically retract in order to protect your skin. This gives you a gentle, smooth, and comfortable shave. It also has an extra-large precision trimmer on the back which is great for shaping sideburns, and for trimming before shaving. The Series 3 ProSkin is adaptable to both wet and dry shaving and you can conveniently run it through water for cleaning. Another feature on this is the battery which offers 1 hour charging time, 5 minutes quick charge, to offer unfortunately, 45 minutes of shaving time.
Purchase
13. Pitbull Gold Shaver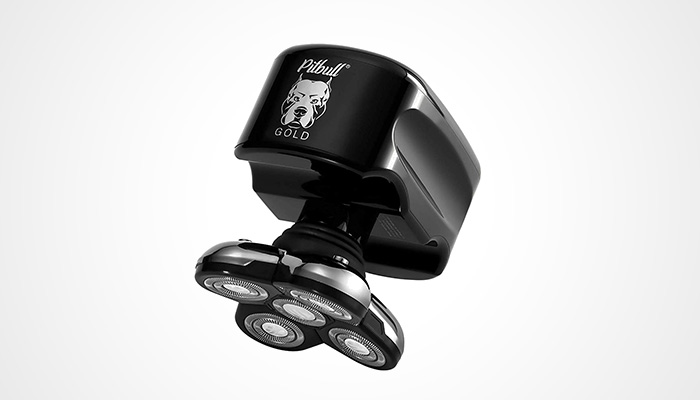 This is a new product in the market but it does meet the criteria for a good electric shaver. It is built for style and precision featuring a water resistant feature that allows you to use it in the shower but not the bathtub. It has a newly designed Pitbull Universal Blade that is smooth on the skin and easy to operate with on tough spots. The shaver is built to be durable while still allowing you to get a smoother and faster shave every time. It is also designed for cordless shaving and even more impressive, it can be used while it is charging. Finally, it has five large and flexible shaving heads with rotary cutters that allow you to shave in any and every direction. This reduces the time it takes to get your shaving done, you will experience no cuts nor burns so it offers a wonderful shaving experience.
Purchase
14. HATTEKER Electric Rotary Shaver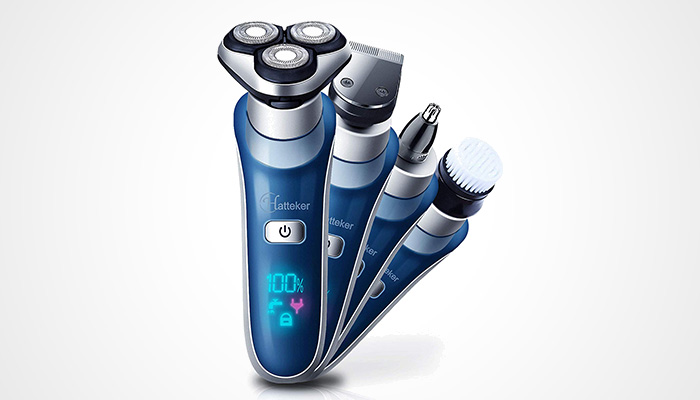 This is a great multifunctional shaver that is literally 4 in 1 used for shaving beards, sideburns, and a nose trimmer. The fourth element is the face brush that helps to clean your face after a shave. It has 4-direction floating heads that automatically adapt to the contours of your face while maintaining a comfortable close shave. This wonderful shaver is functional for both wet and dry shaving; it is waterproof and can be used in the shower. It features USB fast charging and when full it offers up to 60 minutes of shaving time. Conveniently, it takes about 1.5 hours to charge after which it works at high performance until it needs to be charged again. The motor is high speed yet quiet so you can enjoy every moment of shaving quietly.
Purchase
15. Andis 17150 Profoil Lithium

This shaver is designed to be perfect for finishing fades and removing stubble which in turn gives you an ultra-smooth and close shave. The foil is hypo allergenic to provide the perfect cut without causing irritation even on the most sensitive parts of the body. In a single charge, the lithium ion battery will provide you with 80 minutes of non-stop. Even if your charge gets low, you can plug it in for corded use, it will function just as well. The motor is powerful yet quiet and you will not have to bear the sound of you shaving; it becomes an enjoyable task. Unfortunately, you have to oil the blade before every use which is inconvenient as you can forget and cost yourself a smooth shave.
Purchase
16. Wahl Smart Shave Rechargeable Shave

This is the number one brand of beard trimmers and hair clippers that has been used by professionals since 1919. This shaver is reliable and convenient because it features both wet and dry functions so you have the flexibility to choose what you want. The water proof foil is efficient for trimming, shaving, and lining up your beard with comfort. The intelligent design features a long lasting battery that gives you a whopping 90 minutes of run time which translates to months of normal usage between charging. The ion technology of the battery has no loss of charge while it is in storage so you could go for months without using it then start it up as normal. This is all round a great grooming tool.
Purchase
FAQ
🧐 Which is the best men's electric shaver?
We believe that the Philips Norelco Wet/Dry Shaver is the best electric shaver for men. Its design focuses on versatility and ease of use so you can get a good shave, even if you are a beginner. It cuts 20% more hair than other shavers in a single pass for that ultra-smooth shave each time.
🤔 What is the best inexpensive electric razor?
If you are not too keen on brands, then you are sure to appreciate the Remington F5-5800 Foil Shaver. Not only is it inexpensive, but it is also built with impressive technology to give you a close shave each time. It will give you 20 days of cordless time and is also easy to clean.
🧔🏻 What is the best electric razor for tough beards?
The Pitbull Gold Shaver is what we believe is the best for tough beards. Though it is new in the market, we believe that its careful and unique design is excellent for tough beards. It features a Universal Blade that is smooth on the skin and easy to operate on tough spots. It also has five large and flexible shaving heads with rotary cutters that allow you to shave in any direction.
🪒 Is there an electric shaver that shaves as close as a blade?
If you are looking for a razor that will give you a cut that is as close to the skin as possible, we suggest you use the Braun Wet and Dry Integrated Precision Shaver. This razor has shaving foils that will give you a shave that is 0.058mm close to the skin while ensuring that you get no cuts in the process.
✅ Is Braun better than Philips?
We would not say that either of these brands is better than the other. However, they are different, each with its own advantages that do not necessarily translate to disadvantages on the other brand. To figure out the best brand for you, consider your needs and what types of mechanics work best for you. Both razor brands are excellent and functional.
🧔 Are expensive electric razors worth it?
Yes, they are! You should consider getting an expensive razor as it could be better than getting a cheap one. First, expensive razors are pricey because they are made of high-quality materials. Also, you will realize that they give cleaner cuts and better performance throughout their lifespan. They also last a long time and will cost you less than several cheap razors.