Joggers, also called jogging pants, are a pair of casual tapered pants made from soft, absorbent fabric. They have elastic at the waist and ankles. These pants are made from lightweight materials that facilitate breathing.
Men's joggers are like normal pants, only that they are tapered at the ankle and often fitting, not skin tight. Most people use jogger pants as athletic wear or for lounging. People often confuse joggers for sweatpants because a shallow description shows no difference. However, they are different.
Sweatpants are designed to be warmer by having thicker materials. Therefore, they are thicker than joggers and are ideal for colder climates. Initially, sweatpants were for active and athletic wear since the thick fabric increases the amount you sweat, which is beneficial for health. However, people also wear them as loungewear.
The notable difference between joggers and sweatpants is the materials; sweatpants are thicker. Also, sweatpants are more likely to have a straight leg fit, although those with a cuffed ankle design are also available. Sweatpants are softer; thus, more people use them for pajama bottoms than joggers. Joggers are fashion-forward, therefore appealing as a crucial part of street style.
And in that spirit, the information below will cover the best ways to wear joggers and what to wear them with for a modern, fashion-forward look.
What to Wear Joggers With
T-Shirts & Joggers
Pairing joggers with t-shirts is the most popular choice for many men. They go well together, thanks to their casual appeal. When wearing a t-shirt with joggers, ensure the hem of the t-shirt reaches just under the waist of the joggers. It should also be a well-fitting t-shirt, and the bottom of the joggers should be at the ankles or just above them.
Sweatshirts & Joggers
Wearing sweatshirts with joggers is a great and effortless way to improve your street style look. Like your t-shirt, it needs to cover the waist of your joggers. Do not be afraid to experiment with different colors, even bright ones like light shades of blue and red. Ensure that your sweatshirt is fitting, not baggy, to give a polished and appropriate look.
Track Jackets & Joggers
If you will be hitting the gym on a cold morning, pair your joggers with a good track jacket. Track jackets give joggers an athletic vibe, and who would not want to look more stylish working out? A track jacket matching the color or brand of your joggers is a great look. You can also layer this look to style it up.
Hoodies & Joggers
Hoodies and joggers are the perfect casual-style look for running errands. Hoodies are versatile, and wearing a slightly baggy one over your joggers will look as stylish as wearing a fitting one. If you must choose, ensure you pick a fitting one to dress up the look. You can also layer the hoodie with a denim or leather jacket to make your outfit more stylish.
Blazers & Joggers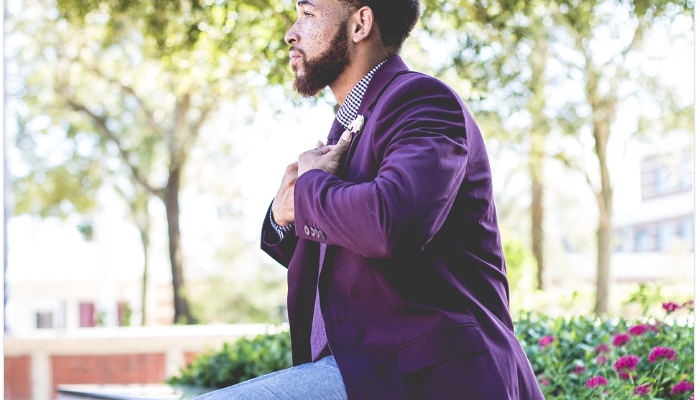 You can dress up your joggers for a professional, polished look. Ensure it is plain, with a simple design. It should sit right below the waist, with the longest at mid-thigh. Similarly, sticking to a dark pallet for a classy look is vital. Skip the dress shirt and instead go for the casual shirt.
Dress Shirts & Joggers
These items surprisingly work. Go for the classic dress shirt colors like blue and white. Keep the color solid and pair it with dark joggers. You can wear the dress shirt loosely tucked into the joggers. If you wear it untucked, ensure it reaches below the waist but not lower than mid-thigh.
Bomber Jackets & Joggers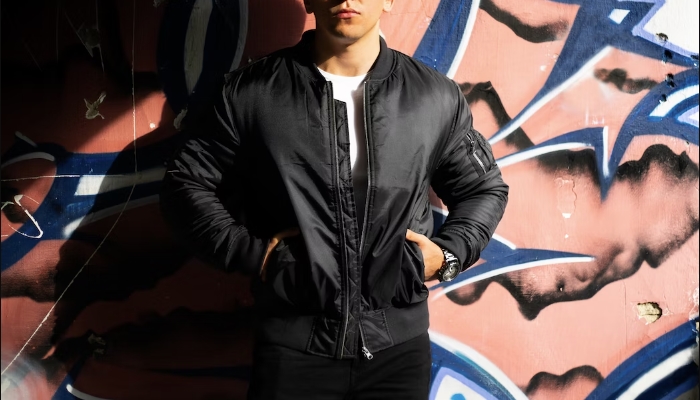 Bomber jackets are an alternative to hoodies and sweatshirts for casual street style. Stick to a dark color pallet, preferably close to the joggers. Ensure the jacket fits well, including when you zip it up. The edge should rest below the waist, and you can pair it with sneakers or boots.
Denim Jackets & Joggers
If you have a t-shirt, good pair of sneakers, and a baseball cap, then all you need is a denim jacket with joggers for the ultimate cool street style look. A good denim jacket should rest at or slightly below the waist. It can be any color as long as it fits well.
Biker Jackets & Joggers
And lastly, you can pair a well-fitting leather jacket with joggers for a rugged street-style look. Style them as you would with your skinny jeans. You will have a well-put-together look plus enjoy the comfort of joggers.
How to Wear Joggers
The first thing to note is that joggers can look strange with high socks. Therefore, you should avoid socks that show when pairing with shoes, wear low socks if you wear joggers with sneakers. Also, ensure that your casual ankle boots hide your socks.
When wearing joggers, you have the opportunity to layer your top to dress it up or down. Therefore, experiment with jackets, plaid, cardigans, and colorful chunky sweaters to contrast the laid-back look of joggers.
Also, most men look good with darker-colored joggers like black and navy blue. Gray joggers are also quite popular. These colors look good on any man.
However, you can come across brighter unconventional colors which you can experiment with. But beware that brighter colors can make you look bigger. So if this is not the effect you are going for, avoid them.
Final Thought
Wearing joggers is an ideal fashion choice for many men. And as you have seen above, endless pairings and options for different looks exist. Therefore, experiment, share the tips with your fashion-forward friends, and invest in jogger looks that work for you.
FAQs
Are joggers in style?
Yes, joggers are in style. They have transformed into fashion-forward clothing items instead of just for athletic use. Their style is prevalent among males, often serving as a breathable alternative for pants. They are ideal for channeling your casual street style. And thanks to the cuffed ankle style, they go well with many types of shoes, including boots, sneakers, and loafers.
Why are joggers popular?
Joggers are popular because they are trendy and comfortable. The light, breathable fabric is favored among men. Additionally, they fit well and have stretchy aspects that make them ideal for comfortable movement. Joggers are also popular because they are trendy. They have appeared on the catwalk depicting street style. Additionally, many celebrities wear them.
What body type looks good in joggers?
If you are slim or have a straight body, then joggers will look great on you. They will draw attention to your hips and thighs and emphasize your leg shape from the hip to the ankle. Therefore, joggers will look great on you if you have been working out your legs.
If not, then you need joggers that are light with flowy fabric. This way, you will not look unflattering. Also, look for less taper at the legs and ankles, so it does not emphasize the unflattering parts.
How do you know if your joggers are too tight?
The whole point of joggers is comfort. So if you wear them outside, ensure they fit and are not too tight. They should be looser around the crotch and thighs, an easy fit on the pelvic zone.
If you can see the outline of your pockets against your thighs in the mirror, your joggers are too tight. Another good way to check is to squat in them; you should feel comfortable around the pelvic area and thighs.