Sneakers are some of the most comfortable shoes that you can wear almost anywhere.
People wear them every day.
They come in different variations and thanks to exclusive designers, they have become a little more pricey but luxurious nonetheless.
The best sneakers are comfortable ones, breath easily, and allow you to do just about anything without hurting your feet.
If you are looking to buy your first pair or just want an upgrade, here are 32 best sneakers for men.

1. Adidas Original Stan Smith Shoes

From Adidas, you can always expect quality sneakers made to match your style and have your friends talking. This specific pair is made of 100% Leather and Synthetic; it breathes easily, and so they are perfect for workouts. The Shaft measures approximately low-top from the arch; it is comfortable on foot and will not cause you bone damage. The sole is classic rubber that is durable to wearing and tearing; plus it makes no noise as you walk. It is a classic Stan Smith sneaker that features lace-up vamp and coated eyelets with sketched Stan Smith picture on the tongue. Finally, it has a synthetic lining with pimple outsole for better grip.
Purchase
2. PUMA Suede Classic Sneakers

These are beautifully designed sneakers from PUMA that are comfortable, stylish, and without a doubt, very classy. They are made from 100% suede; it is durable and easy to clean. The sole is made from 100% rubber; it is durable, quiet, and most importantly, easy to maintain. This suede sneaker had Form strip overlay with a lace-up vamp and a padded collar. The tongue foam-padded collar and tongue offers you a great fit; not too tight and not too loose.
Purchase
3. Reebok Club C 85 Sneaker

These old school style sneakers are made for everyday walking. They are made from leather which is easy to maintain, and ages beautifully. The low cut design alone will automatically improve your sophistication score; plus it gives you freedom of movement and the freedom to wear it with almost any outfit. With this shoe, you will never have to skimp on comfort thanks to the EVA midsole and removable sock liner. The durable high-abrasion rubber outsole is excellent for durability and almost any activity.
Purchase
4. Cole Haan Grandpro Turf Sneaker

If you love long walks and light running then, this is the best sneaker for you. It is made from the best high-quality leather that is easy to clean and maintain. The shoe features the same construction as the GP Tennis, where the foot rests directly on the midsole for comfort; it will do your bone structure a great deal of good. The classic T-toe styling in mixed material accents or full grain leather that lasts a long time even with constant wearing.
Purchase
5. Nautica Wingdeck Oxford Sneaker

This is a shoe that is designed to be classy and sophisticated; no doubt it will have your friends talking. It is made with a rubber sole that is slip-resistant with no marking; perfect for traction even on wet tiles. The sole also features cushioned Nautica technology for luxurious comfort; even with this, the shoe maintains a stunning lightweight profile. The classic pattern is placed in a very new and modern way steering the shoe into a new generation style shoe.
Purchase
6. Emerica Reynolds Low Vulc Shoes

If you are looking for quality with comfort then this is the shoe for you; it is made from 100% leather which is durable and easy to clean. The rubber sole is easy to clean, durable, an excellent pair for long walks and light running. It is lightweight and features Vulcanized Construction for a great fit. The triangle tread outsole and die cut Eva insole are a helpful and stylish addition to the shoe. This pair comes in over 20 variations to match your outfit, personality, and style.
Purchase
7. ECCO Soft 7 Sneaker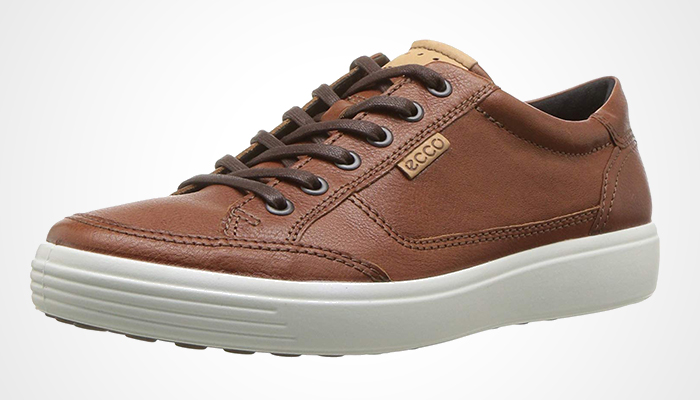 This is a great shoe that is airport friendly and made of 100% leather; this is some of the most high-quality leather, and so you can only expect durability and easy maintenance. The upper part is made of rich nubuck leather that offers a light and soft feel; great for your foot. The inlay sole is removable and made of leather; it feels comfortable even without socks on. It is covered with eco comfort fiber system that increases circulation. Finally, it is light and flexible.
Purchase
8. Dolce & Gabbana EU 42Sneakers

Form Dolce& Gabbana you can only expect quality shoes with loads of style and class. This particular shoe is one of the most luxurious and outdoor designs from the company. To start, it is made from 100% leather; leather is one of the most durable fabrics in the world and if you want durable shoes then look no further than these genuine leather sneakers by Dolce &Gabbana. The inside of the shoe features a breathable lining for proper circulation that way you can use them on hot days too.
Purchase
9. Vans Old Skool Classic Skate Shoes

Vans has some of the best sneakers in the world; they are stylish, classy, and very functional. This pair of sneakers represent a timeless skate style that will have you looking your absolute best. The original waffle outsole is made for superior broad feel which is excellent for people with wide feet. It also offers great traction and the best flexibility. The upper part is made of vintage canvas; it is easy to clean and gives the shoe a beautiful look.
Purchase
10. Nike Classic Cortez Leather Running Shoes

Nike has excellent sneakers, and this is just one of the most fantastic addition to their collection. It is made from 100% leather; one of the most robust materials and the best for shoes. The sneakers are made with a durable rubber sole; it still maintains a lightweight profile that allows you to run with ease. The shaft measures approximately 'Low-Top' from the arch; it makes it give you a great fit and will enable doing wonders for the bone structure of your foot.
Purchase
11. New Balance 247v1 Sneakers

Thank to 100% leather and fabric; you get these classy and stylish sneakers from New Balance. The upper part is made of a synthetic mesh that is durable, easy to clean, and resistant to water. The inside is made from a breathable fabric which does wonders for your feet if you sweat especially when working out and on hot days. The interior also features a removable insert; the insert is comfortable whether you are wearing socks or not. It comes in 11 beautiful colors for your liking.
Purchase
12. Hugo Boss Spacit Sneaker

This is a very stylish and beautifully made pair of shoes that Hugo Boss is proud to add to their collection. They are made from 100% genuine leather; this leather is durable, stylish, and will look better as it ages. The sole is made of synthetic material; this is just as durable as rubber and will not make any noise as you walk or run. It truly is a remarkable design; and what's more, you can find this pair in four beautiful variations to match your style.
Purchase
13. Onitsuka Tiger 66 Sneaker

If you are looking for a pair of sneakers that is stylish and unique in design, then you should look no further than these classy and colorful sneakers from Onitsuka. They are made of 100% leather; leather that is genuine, easy to clean, and very durable. It is easy to understand how this pair got its name; the design has signature tiger stripes on the side with a logoed tongue and heel tag. The outsole is treaded for better traction, so no worried if I rain a little.
Purchase
14. Lacoste Partner Sneaker

From Lacoste comes a durable sneaker that is stylish and very comfortable on foot. It is made from leather and synthetic fabrics; the combination of the two create an easy to clean sneaker that is durable and perfect for almost every day of the year. The interior is made of a comfortable fabric that accommodates both socks and bare feet. It is breathable and will accommodate your feet on hot days for sweat, and on cold days for the warmth.
Purchase
15. Rockport M7100 Milprowlkr Sneaker

This is a beautifully designed sneaker made of 100% leather for long-lasting wear and resistance to wearing and tearing. The sole is made of rubber with form-fitting EVA midsole. It offers excellent comfort and a good fit for people with wide feet. It has walking platform construction which will do great for the bone structure of your feet; no longer will you experience pain on your heels after walking for long. The tongue and collar are padded for comfort and durability.
Purchase
16. Dockers Gilmore Leather Sneakers

This beautiful pair of sneakers are built for hot days, cold weather, and most importantly, comfort. The uppers are genuine leather which is resistant to wearing, tearing, and even moisture; your feet are protected from the rain, and you are guaranteed to remain dry. The inside is made from airy mesh fabric lining; it is breathable and very comfortable on your feet. The footbed is breathable making it excellent for comfort and lightness. The collars are heavily padded for moisture and support, and EVA outsole with rubber taps are built for durability.
Purchase
17. Converse Chuck Low Top Sneakers

Made from 100% textile, this pair of sneakers are as stylish as they are comfortable. For starters, they have a lace-up, low-top sneaker design; a modern design that will have you looking your best. The interior features OrthoLite insole which is more than functional when it comes to cushioning your feet. It prevents soreness too. The medial eyelets allow natural airflow and the upper is made of durable canvas. The sneakers come in 12 different colors and variations; they are sure to match well with your style and personality.
Purchase
18. UGG Hepner Sneaker

This is a beautifully crafted sneaker that is as functional as it is stylish. It is made from 100% genuine leather; it is durable, works well with the rain and can be easily cleaned even when covered in mud. The sole is made of natural rubber; rubber is resistant to wearing and rearing, it is flexible and can withstand even the harshest of climates. The insole is made of a breathable fabric and is easily removable. It comes in two beautiful colors including a deep chestnut brown.
Purchase
19. PUMA Men's Roma Basic Sneaker

These sneakers are made to be comfortable and durable; they are made for the modern man who loves comfort and movement. They are made of 100% synthetic leather; synthetic leather is just as durable and lovely as the real thing; the only difference is that it is more friendly to your pocket. The rubber sole is made to be quiet, flexible, but durable. It is a retro-inspired design featuring signature Formstrips at sides and T-toe overlay. It has a cushioned midsole with arch support.
Purchase
20. Adidas Cloudfoam Sneaker

This is an embossed heel logo sneaker made to be durable and very functional. The top is made from 100% genuine leather that is durable while the bottom is a durable rubber sole that works well in all climates. This is an everyday sneaker featuring a vamp overlay and heel counter. It has a cloud foaming memory sock liner that molds to the foot for step-in comfort; and also a cloud foam midsole wedge for superior cushioning. The woven tongue label completes the look.
Purchase
21. Dr. Scholl's Freestep Sneaker

This is a uniquely designed sneaker because of many reasons; one of which is that unlike other sneakers, it is made of wool. Wool is a durable fabric that is breathable and easy to clean; also it is flexible and works well in almost every climate and terrain. The sole is made of rubber, easy to clean rubber that is flexible and durable. These sneakers are built to adjust to your life and not the other way round. It comes in fifteen different variations, so you are spoilt for choice.
Purchase
22. Vans Old Skool Skate Shoes

This is yet another classic design shoe from Vans that offers excellent durability and flexibility. The shoe is made of a vintage canvas upper that ages beautifully with consistent wearing. The sole is 100% rubber that can be cleaned quickly and lasts a long time. The design represents a timeless skate style that is paradoxically modern and trendy. It has a vulcanized construction that offers your feet comfort and a good fit. The original waffle outsole gives you a superior broad feel, excellent traction, and ultimate flex.
Purchase
23. CLARKS Kitna Stride Sneaker

Leather is your best friend according to these beautifully designed shoes that have been built for style and class. This pair features an Ortho Lite padded foot bed that cushions your foot and prevents soreness. The interior has soft padding that is breathable and will save your bone structure from damage. The durable TR outsole is an excellent addition to the shoe and not to mention the smooth textile lining that works well with water and provides abundant circulation. It comes in five luxurious colors.
Purchase
24. Ralph Lauren Faxon Low Sneaker

This is yet another great sneaker that is uniquely designed by Ralph Lauren for comfort, style, and class. It is made from cotton and suede materials, they are some of the most durable fabrics, and they work well in all terrain and different weather. The sole is made of synthetic fabrics which is just as durable as rubber and also just as quiet. The eyelets are made of metal for durability and smooth gliding of the laces. Finally, it comes in 12 great colors all with an embroidered logo at the side.
Purchase
25. Diesel S-Clever Low-Sneakers

These low cut sneakers are from Diesel and offer protection from rain, wearing, and tearing thanks to the genuine leather, they are made from. The sole is made of a durable rubber material that is flexible and very easy to clean. The back tab is rubberized and textured for extra comfort and also acts as a touch of class. The laces have a low design so you will not trip over them if they come undone. The eyelets allow smooth gliding of laces which makes lacing easy and satisfying.
Purchase
26. TOMS Paseo Sneakers

The classy sneaker from TOMS is one of the most coveted designs in the market. Sit is a classic low top design that is made from 100% textile and canvas materials both of which are made to be durable and easy to maintain. The upper is washed canvas that looks better as it ages; the inner features a lining that feels good with socks on and off offers good circulation and breathability. The tongue is gore which lets you wear the shoes laceless.
Purchase
27. Keds Champion Canvas Sneaker

Another great sneaker from Keds is what this shoe has to offer. It is made of 100% canvas; canvas is a sturdy material that has been used to make shoes for a very long time. Thus, these shoes have the best form of protection that has been proven time and again to do just that. It has a beautiful logo patch on the tongue of the sneaker for a complete look. The design features a wraparound midsole with a textured toe bumper; it is a fun and functional design that will not go unnoticed.
Purchase
28. KENNETH COLE Unlisted Crown Prince Sneaker

Beautifully designed to withstand any terrain whether rough or smooth, this sneaker is one of a kind and is one for the most popular styles yet. For starters, it is made of 100% synthetic fabrics; they are just as durable as leather, canvas, wool, and cotton. These fabric are also easy to clean and will accommodate your feet just fine; with or without socks, they feel superb. It comes in four great colors including Cognac brown; it is the best-selling sneaker in the market.
Purchase
29. Timberland Killington Oxford Sneakers

100% leather and textile are what these sneakers are made of. They are Durable, abrasion-resistant while the upper provides support and is crafted in mesh and premium leather from a log silver-rated tannery. In other words, it is quite durable and stylish. The design features 100 percentage recycled pet lining for climate control and breathability. The Ortholite foot bed provides all-day cushioning and support while the sensor flex technology delivers underfoot support; in other words, independent suspension and greater flexibility for the ultimate smooth ride over any terrain.
Purchase
30. Saucony Jazz Low Pro Vegan Sneaker

Canvas and rubber are what make this pair of sneakers one of the best in the market. The combination of the two provides a durable shoe that is lightweight, perfect for all terrain, and can withstand any type of weather. Also, they are very easy to clean and maintain. The upper also contains a little hemp which is environmental friendly after disposal; the shoe is held together by contrast hand stitching that gives the shoe a complete look. The collar and tongue are both padded for elevated comfort.
Purchase
31. Under Armour Speedform Feel Sneaker

Synthetic is a strong fabric that is great for making shoes; it is what these superb sneakers are made of. Through passion, design and the relentless pursuit of innovation, Under Armour has made it their mission to make all athletes better. The technology behind Under Armour's diverse product assortment for men, women, and youth is complicated, but the program for reaping the benefits is simple: 'wear Heat Gear when it's hot, Cold Gear when it's cold, and All Season Gear between the extremes.' It comes in 11 luxurious colors.
Purchase
32. JOUSEN Classic Lightweight Sneakers

This pair features rubber soles and synthetic upper; it is a durable combination that is easy to clean. The design features a flexible and slippery resistant stitched rubber outsole which is perfect for long walks. The well-made lining and perforations at shoe vamp keep your foot fresh and odor free all day, every day. The padded collar gives you a good fit around the ankles with a latex cushioned insole for soft wearing. It will feel good on your feet whether you wear socks or not.
Purchase
Buying Guide
A buyer's guide is a vital tool for any footwear enthusiast. It provides all the information you need to know before making an informed decision about which shoes are best suited to your needs.
We have created this buying guide for men with the intent of helping you find the right pair of sneakers for your shoe collection. The factors to consider
while selecting the best sneakers for men are set out below:
Material
A good sneaker is made from breathable fabric like leather or mesh. Sneakers with leather can last for years while the mesh is more flexible and perfect for warmer months.
Design
Design is another key factor in selecting the best sneakers for men – some people prefer minimalistic designs while others want bright colors or patterns on their shoes.
Comfort
Comfort and durability are also important considerations when deciding which pair of shoes to buy. The best sneakers for men should fit your feet and not squeeze your toes. Try on different types of sneakers and walk around in them to see if they provide the right level of comfort for you.
Perfect Fit
Another factor is fit. A good fit will allow you to wear the sneakers without any discomfort, while a bad fit will cause pain or blisters.
Style to Flex: The next factor to consider is style when selecting the best sneakers for men. Some people like wearing casual, everyday sneakers while others prefer dressier, more formal footwear on an occasion-by-occasion basis.
Brief History of Sneakers
In the 18th century, sneakers were attributed to the less than fortunate. During this time, those who could not afford much wore shoes with rubber soles known as plimsolls; they were made such that you could wear any on your right or left foot; comfortable right?
Later, the US Rubber Company produced a canvas-topped shoe which was known as 'Keds'; after that, they were considered the first ever mass produced sneaker company. So why are they called sneakers? Before, shoes which were made with rubber soles has a heavy solid bottom which made walking very loud.
Sneakers got their name because they did not have the solid base; walking produced no noise so you could sneak around. With time, sneakers were developed further and turned into shoes that you can wear when working out or just out on errands.
FAQs
👟 Which brand is best for sneakers?
Nike is the best brand for sneakers, in our opinion. First off, they have been in the game for years and are always incorporating new technology and better designs in their manufacture. Second, Nike uses high-quality materials for tough exteriors, smooth interiors, and strong soles. Finally, each shoe maintains a lightweight profile perfect for running and walking.
🤔 What sneakers are in style this year?
Dolce & Gabbana EU 42Sneakers are in style this year. The year has seen people embrace lightweight flat sneakers, preferably in white, such as the EU 42Sneaker. It is made of leather, which is a favorite among consumers because of durability, ease of cleaning, and general look. The interior has a breathable lining for proper airflow and foot comfort.
🔝 What is the most popular sneaker?
Vans Old Skool Skate Shoes is the most popular sneaker. The classic Vans Sneaker design has taken the world by storm thanks to its lightweight nature and durable construction. You can expect the classic vintage upper with durable leather sole. It cleans easily and represents a timeless modern style that remains unchallenged.
🤑 Are expensive sneakers worth it?
Yes, they are. With so many sneakers in the market, there are those brands that stand out and are often expensive. However, after careful examination, you will find that costly sneakers are with the price. They are often more durable, offer good arch support, come in various colors, and give your foot excellent cushioning and breathability.
❓ What color sneakers goes with everything?
We believe that either black or white sneakers go with everything. White sneakers are playful and offer a pop of vibrance for your outfits. The classic white sneaker gives you a casual and official style depending on your wardrobe. On the other hand, black sneakers are more sophisticated and will add a little elegance to your outfits.