Sneakers are undoubtedly among the most versatile types of shoes out there.
It is both stylish and functional, which helps you cover all the bases. Whether you are going to work or to a party, you can wear your favorite sneakers and call it a day.
Sneakers are pretty common nowadays, and there is a high probability that you own at least one pair. However, there are many types of sneakers that you might not know about.
So, with that in mind, here we are going to talk about the best types of sneakers you should take a closer look at it.

1. Low-Top Sneakers

First, let's differentiate sneakers by their length; first, we have low-top sneakers. They are also known as oxfords and do not cover the ankle. They are the most common type of sneakers and look good on almost everyone. The main reason why people would buy low-top sneakers is that these shoes are lightweight and perfect for the summer. The low-top design allows for better ventilation and keeps your ankles cool. So, if you are looking for some high quality sneakers, you should definitely take a closer look at low-top sneakers.
2. Mid-Top Sneakers

Mid-top sneakers are the next kind of shoes you need to know about. The sneakers lie in between the low top and high top sneakers and have a separate fanbase. These sneakers come just over the ankles, and it gives them a very distinct look. The shoes look absolutely amazing with skinny jeans and are usually preferred by skaters or bikers. The different lengths of sneakers make it easier for people to find something they like. If you are into mid-top sneakers, you can get them at various price points.
3. High Top Sneakers

High top sneakers are always in style, and as the name suggests, these sneakers completely cover the ankle. These sneakers are thought to give more support at the ankle as they are laced above the ankle bones. This design allows the show to dissipate the impact created by your steps in a uniform manner. You can wear these shoes at casual events or at a college presentation. There are many manufacturers that make such shoes, and you can buy them quite easily.
4. Hiking Sneakers

The next kind of sneakers that we have are hiking sneakers. As the name suggests, these shoes are designed for people who like to go on long hikes. The shoes are lightweight and provide incredible traction. However, it is not necessary that you wear these shoes for just hiking; you can wear them on normal days too. These shoes are incredibly comfortable, and you can wear them on regular days too. There are many notable companies that make some of the best quality hiking shoes.
5. Plimsoll Sneakers

Plimsoll sneakers are kind of athletic shoes and differ only in the materials they are made from. Most plimsoll shoes have a rubber sole, while the upper part is made from canvas. This material choice makes the sneakers comfortable. When you are wearing these sneakers, you will feel like you are running barefoot. These shoes look best when they are paired with skinny jeans or secret socks. There are many manufacturers that make such sneakers, so you have plenty of options to choose from.
6. Athletic Sneakers

Sneakers are the main go to option for most athletes out there. These shoes are extremely comfortable and provide adequate airflow to keep the feet warm. Athletic sneakers are very easy to find these days. Most of these shoes are made from lightweight yet durable materials to provide longevity and comfort. If you are thinking about going for a run or to the gym, you should consider wearing these shoes. So, go and get yours now.
7. Slip-on Sneakers

The next kind of sneakers on this list are slip-on sneakers. As the name suggests, these sneakers don't feature any laces, instead, you can put them on just by sliding your feet in. The sneakers feature elasticated inserts on each side, which grip your foot tightly to ensure a snug fit. The absence of laces gives these sneakers are fairly unique look, and that is why you should have at least one pair of slip-on sneakers in your collection.
8. Leather Sneakers

If you are looking for a pair of sneakers that offer more sturdy and durable construction, you should go for leather sneakers. If you turn up to a party wearing leather sneakers, you will turn a lot of heads. You can get these shoes in mainly two configurations; you can either go lace-less or lace-up. The shoes are extremely comfortable, and you should definitely buy a pair. With so many great options out there, you shouldn't have any problems finding a decent pair of leather sneakers.
9. Canvas Sneakers

Canvas sneakers are highly popular nowadays not only among youngsters but also among adults. These sneakers are made from sturdy canvas fabric that makes the shoes comfortable as well as sturdy. You can get these shoes in a lot of colors, so you have a lot of options to choose from. When you are choosing a pair of sneakers, you should keep a close eye on the material from which the sneakers are made as it can make a big difference.
10. LED Lighted Sneakers

Sneakers are very common, and if you go for a walk, you will see a lot of people wearing them. However, for some people, a simple pair of sneakers is not enough, and that is where LED lighted sneakers. These sneakers feature a strip of LED lights in the sole that can light up either when you walk or with a button. These sneakers are only accepted on certain social occasions, so you should think twice about wearing them at a company meeting.
11. Textile Blend Sneakers

Textile blend sneakers are the next kind of sneakers you should know about. As the name suggests, these sneakers are made from a blend of different fabrics. The material choice makes the shoes breathable and comfortable. For this reason, it is completely acceptable if you want to wear these sneakers for athletic purposes. There are many great brands that manufacture these kinds of shoes, so you should not have any problem finding the right one. So, go and get yours now.
12. Synthetic Sneakers

Synthetic sneakers have become increasingly popular nowadays. These sneakers are made using synthetic materials such as polyester, nylon, or synthetic leather. Even though these sneakers provide enough support and comfort, it comes at a compromise. Due to the materials chosen to make these sneakers, you might notice low flexibility and breathability. The shoes are durable and sturdy, which makes them an obvious choice for a lot of buyers. So, if you want to buy some high quality sneakers, you should consider going synthetic.
13. Velcro Sneakers

Velcro footwear has been around for a long time, and it is considered as a form of "relaxed" footwear. However, there was a time when Velcro footwear was considered boing, but not anymore. Companies are now making Velcro sneakers which have gained a lot of following among youngsters. You can wear Velcro sneakers with casual dresses as well as with jeans if you are going for a fashionable look. These shoes are durable, easy to wear, and overall comfortable.
14. Luxury Sneakers

Luxury sneakers are not for everyone, mainly because they can be quite expensive. However, if you are going to spend much money on a pair of sneakers, this is certain that the shoes will be made with some of the best quality materials you can find. There are a number of well-known companies that make luxury sneakers.
15. Denim Sneakers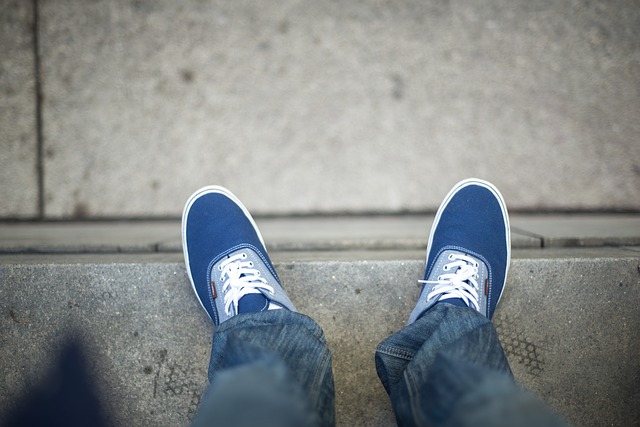 Denim is a popular fashion choice and you can find a lot of denim products out there. This includes jeans, jackets and even bags. However, something that you might not know is that you can buy denim sneakers as well. The upper part of the sneakers are made from denim, whereas the sole is made from PVC. This gives the sneakers a lot of flexibility and grip. Denim sneakers have a very distinct look and a lot of people find it appealing.
16. Knitted Sneakers

One of the main selling points of knitted sneakers is that they are highly breathable. They have a laid-back look to them and they are also very comfortable. You can either buy canvas or leather blend of knitted sneakers and both of them have their own benefits. Since so many great manufacturers are making these shoes, you can get them at various price points. Therefore, it should be fairly easy for you to find something you like.
17. Tennis Sneakers

Tennis sneakers are another type of athletic sneakers and as the name suggests, they are designed specifically for tennis players. These shoes grip the court properly and stop you from slipping. The shoes also provide adequate cushioning which is a must if you want to play proper tennis. However, even if you don't like playing tennis, you can still buy these shoes as you can wear them casually as well. If you like the idea, go and buy yourself a pair of tennis sneakers now.
18. Walking Sneakers

Walking is a big part of our lives and if you are wearing the wrong shoes, it can make walking very difficult and even painful. If you are someone who finds themselves walking a lot, you should consider buying walking sneakers. They are comfortable and lightweight shoes that provide a lot of arch support and ensure that you don't develop an ache. If you are thinking about buying walking shoes, you should make sure that they are breathable and comfortable.
19. Court Sneakers

The next kind of sneakers on this list are court sneakers. These shoes offer high detailing and a lot of midsole cushioning. Most of the time, court sneakers feature rubber soles which makes wearing and walking in these shoes very comfortable. Not only that, the rubber soles also dampens the sound of each step. They are high quality sneakers and everyone should have at least one pair of such sneakers in their wardrobe.
20. Old Skool

Old skool sneakers have been around for a long time and they are only becoming more popular by the day. The best way to identify such sneakers is that they have a single squiggly line of the side of the shoe, it is also known as the jazz stripe. The design is almost 40 years old and it is still loved by many sneaker fans. If you haven't tried this design yet, it is highly recommended that you do.
21. Running Sneakers

If you are someone who likes to go for a run to stay in shape, you will need some good quality shoes. Running sneakers are designed specifically for such people; they are comfortable yet stylish. They are made to allow them to absorb all the energy created when you hit your feet on the ground. The cushioning allows the wearer to be comfortable, and it also reduces the risk of injury. You can get running shoes at different price points, so you have the choice to spend as much or as little as you want.
FAQ:
How are sneakers categorized?
Sneakers are categorized in a couple of ways, firstly they are classified by their type of closure. The other way to classify sneakers is by their material choice and purpose. It is important to know what type of sneaker you are buying because it will play a role in your overall look.
What type of shoes are sneakers?
Any shoe that has a flexible rubber sole and is mainly designed for sports use can be called a sneaker. There are many different types of sneakers out there, so you should take your time when buying one.
What is the most popular type of sneakers?
It is difficult to say which type of sneaker is most popular right now. Each kind of sneaker has a separate fanbase and purpose. So, one style doesn't fit all.