Chinos are undoubtedly a versatile piece of clothing because of their comfort. Chinos are primarily made of chino cloth which is mostly cotton. Therefore, they are ideal for all skin types and breathe well. Additionally, with the right fit, chinos look good with everything. They can take you from the office to a wedding and even an evening at the bar.
A pair of chinos can look casual, semi-formal, business formal, or street smart, depending on the tops, jackets, sweaters, and shoes you wear. The key to adjusting your chino chic is focusing on the whole outfit.
Tops and jackets are important, but we will focus on shoes today.
The information below covers the best shoes to wear with chinos to achieve different stylish looks. Just be sure you know how to wear chinos before heading for the shoes. But we will cover a little about that too.
Best Shoes To Wear with Chinos
There are many shoes you can wear with chinos. So we have narrowed it down to 7 versatile choices that help you achieve anything from professional to street style.
Sneakers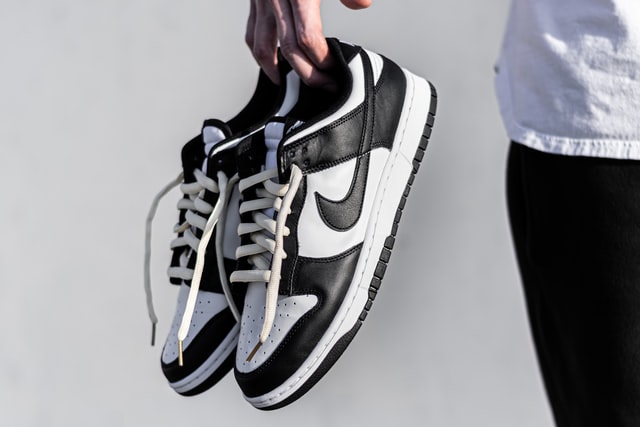 Rocking sneakers with chinos is the perfect way to step into a casual weekend. Sneakers are comfortable and give your chinos a smart casual look or street-style outfit. You can take this pairing to a wedding, beach, date, or an evening out.
White is the most beloved sneaker for chinos. White sneakers are the go-to when in doubt because they keep the look coordinated, light, and stylish. You can also go for black trainers with minimalistic accents to keep the look well-put-together.
You need chinos that cut off just below the ankle. Additionally, go for no-show socks to elongate this gap.
Military Boots

Military or tactical boots are ideal for chinos because they give the outfit a rugged, punk-like appeal. Military boots provide a slim profile, and they can make your outfit casual for street style. You can pair them with leather jackets or long trench coats to complete the look.
It is best to stick to black, brown, or darker shades to keep the look simple and well-put-together. Additionally, the boots should reach about the ankle, and you can fold the chinos to meet the boot or tuck the front part into the boot's tongue. You can also keep the top laces loose and stylishly scrunch the chinos into the boots.
Chukka Boots

Chukka boots will turn your chinos-based outfit into a stylish, coordinated, and professional look. Depending on the top you pair it with, you can dress up for a wedding, office job, or wedding with chukka boots.
Chukka boots are easy to style with chinos since the boots reach up to the ankle. Therefore, look for chinos that finish right at the ankle to meet the boots. Additionally, you can fold the chinos to meet the boots. Lastly, let your chinos cover the boots slightly, and they will still look stylish. Chukka boots are best in suede, brown shades, and black to maintain a great look.
Chelsea Boots

Chelsea boots will give you a dressed-up look to take you to a formal event. It is less formal than wearing a suit but will still make you look classy and sophisticated. Slim-cut chinos are best for these boots. Ensure that they fit nicely above the boot's upper.
Keep the colors simple, in beige, navy, and khaki, as these can go with any chinos style. Another good style choice is to fold the chinos slightly to reveal the boot's upper. It is stylish and achieves the same sophistication.
When picking Chelsea boots, tan, dark browns, and black work well. Additionally, suede and leather are good choices if you care for them well.
Moccasins

Chinos and moccasins are a match made in heaven. They are ideal for semi-formal outfits and smart-casual looks. You can dress them up or down to achieve different levels of formality. And you can add a jacket or blazer to improve the top.
When wearing moccasins with chinos, ensure that the pair cuts off right below the ankle, so the pants meet the shoe. For this style, you will need a slim-fit pair of chinos.
Leather and suede are ideal for this look. Additionally, you can go with black and dark browns to make your outfit sophisticated. A good tip is to match them with your belt since this look is sophisticated and professional.
Brogued Oxfords

Brogued oxfords are the best for turning your chinos professional and business. Paired with a nice blazer, you will look stylish and appropriate for these interactions. Brogues are the ideal footwear for formal occasions and professional appearances. You can get chinos that cut off just at the upper of the shoes.
Brown brogues are the most popular because they have a classic touch. You can get them in light and dark shades. If your chinos are long, you can cuff them to rest just above the shoe's upper. You can achieve a more casual touch with suede brogued oxfords. This will give you a smart casual look.
Loafers

And lastly, you can combine different types of loafers with your chinos. Loafers with chinos are ideal for semi-casual looks where sneakers and jeans are inappropriate. Additionally, it is suitable for smart-casual looks where you can pair them with blazers.
Full-grain loafers are ideal for formal looks, while suede and nubuck loafers make the perfect choice for casual looks. Black is an ideal color choice for formal appearances and dark brown. Light loafers are suitable for casual looks. You can go with a cuff at the ankles and sockless or a longer pair with good socks.
FAQs
Can I wear sneakers with chinos?
Yes, you can wear sneakers and chinos. The pairing creates a stylishly casual outfit for a relaxed weekend party or date. White sneakers work best in this case since they make the outfit look appropriate and can match any color of chinos. No-show socks are a worthy choice for this look.
Can you wear boots with chinos?
Boots are a solid choice for looking chic, sophisticated, and punked out. Chukka boots are suitable for a professional or formal appearance.
The Chelsea boot is similar, making you look dressed up and sophisticated. Additionally, military boots are suitable for a rugged casual look ideal for street wear. Boots are fashionable and should be an integral part of wearing chinos.
Cuffing your chinos is a good idea, especially if you are going sockless or no-show socks. Cuffing the chinos shows more ankle making you look taller. Cuffed chinos offer a classic look ideal for sneakers and loafers. You can cuff your chinos one to three times to show skin based on your needs.
How tight should chinos be?
Chinos should fit well, but not too tightly that you struggle with movement. They should be snug around the waist so you can go beltless every while. They should also fit well around the hips but ensure you can move your hips. Ensure your pants are not baggy at the knee, and the cuff should sit on top of the shoe to allow cuffing.
How do I turn my chinos up?
The double roll is ideal for tapered chinos where you get the bottom of the pants and flip them into an overlap of an inch. Then, roll it a second time and smooth it out to match the width, front, and back. This fold is ideal for formal shoes and boots.
The thick cuff sees you fold the bottom then adjust the overlap up to three inches. It is ideal for Chelsea boots and sneaker looks.