When it comes to men's footwear, a must-have is a pair of well-fitting boots. Boots are not only practical, but they are also comfortable and stylish.
A great pair of boots can take you from the weekend to the workplace with ease. Some give you a formal and sophisticated look, while others complete your casual style. Some are even great for work especially if you need to protect your feet.

Boots can be decorative, and formal depending on the type you are dealing with; picking the right type of boot is dependent on your needs and the occasion you are attending
Multiple styles mean that there is a pair for every man.
Men who wear boots correctly achieve a stylish look that reflects their personality and helps them to stand out. What is more, boots can be worn during all seasons; not just winter.
As wonderful as they are, not everyone has given boots a chance to enhance their wardrobes. This is mostly because people do not know where to start; after all, every man can wear a pair of sneakers but very few can make boots work for them.
Luckily, this informative guide provides helpful insight on choosing the best type of boot for you.
The Chelsea Boot
The Chelsea boot is a very popular boot for men because it has a simplistic design that is timeless. They have an ankle length design, rounded toes, and low heels.
This design allows them to look good with both formal and casual outfits; black is advisable for urban looks especially dark colored suits. On the other hand, you could go with brown suede for a stylish country look, it goes well with lighter colors and straight leg jeans.
If you choose to go with bulky Chelsea boots, you can team them up with boot cut jeans. The flexibility of this boot lies in the side panels, therefore always fit when buying.
Top Picks
1. CLARKS Men's Bushacre Hill
Purchase »
2. Calvin Klein Men's Alixander Chelsea Boot
Purchase »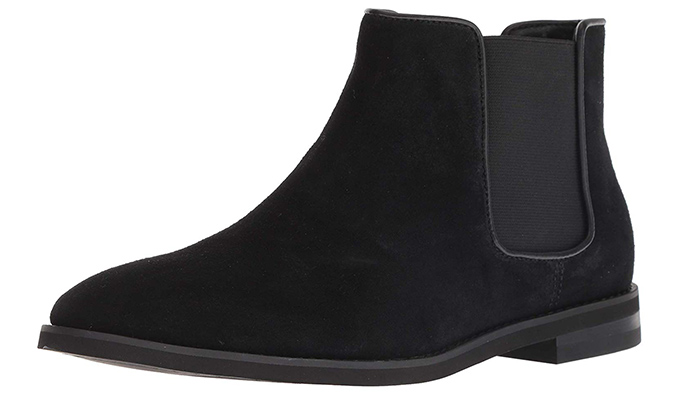 The Captoe Dress Boot
A captoe dress boot is a lot like a dress shoe, but with upper coverings up to the ankles.
These type of boots are great for the outdoors and for rainy weather. It has horizontal stitching along the toe box; it extends to the welt on either side which forms a 'cap' on the toe.
The captoe dress boot is best for formal wear and is hardly paired with casual wear. It is great for dark colored suits and it is always better to match the color with your belt. Because of the captoe, it is always better to fit the shoe yourself.
Top Picks
3. Thursday Boot Company Lace-up Boot
Purchase »
4. Stacy Adams Men's Boot
Purchase »
The Wingtip Boot
The wingtip design is one of the most exotic types of the shoe; especially in boot form. The term 'wingtip' describes a pattern of stitching in the shape of a bird's wing.
This design speaks for itself and so it is important to pair these boots with the right type of outfit. If you choose light colored leathers and suede then you can pair them with casual pants, jeans, and odd jackets. Black leather wingtip boots look good with business suits, well-fitting jeans, and pants.
With this style of boot, your outfit will be classy; what is more, they can be worn in any season.
Top Picks
5. Kenneth Cole REACTION Men's Fashion Boot
Purchase »
6. Nunn Bush Men's Odell Wingtip Boot
Purchase »
The Suede Brogue Boot
The word 'brogue' is an Irish word that means 'a rough or stout shoe'; this shoe is characterized by low heels, toe caps, heel caps, lace panels, and the presence of Broguing or decorative perforations.
This type of style is usually great for the countryside but it is extremely versatile. Suede is one of the most versatile types of shoe, you could pair this style with a flannel shirt, a jersey tee and a pair of slim-fit jeans.
You can also go smart casual with a pair of chinos, blazer, and an overcoat for layering. It is always safer to go with tan or grey suede for this type of boot.
Top Picks
7. Timberland Men's Squall Boots
Purchase »
8. Bruno Marc Men's Suede Leather Boots
Purchase »
The Ankle Boot
Ankle boots are another versatile style of shoe that can be worn with almost anything. These shoes are mainly characterized by an extension that reaches to or just above the ankle.
Ankle boots are versatile because they come in different variations such as Chelsea ankle boots, wingtip ankle boots, and so on.
When buying, it is always important to ensure that the opening is not too loose; otherwise, your ankle will look like it is floating inside the shoe. It should also not be too tight, otherwise, it will give the impression of your leg being too slender.
Ankle boots are best for casual looks such as well-fitting jeans; however, should you choose to go formal, ensure that they fit well at the ankle and your pants cover the top.
Top Picks
9. Calvin Klein Men's Lorenzo Ankle Bootie
Purchase »
10. Steve Madden Men's Levant Ankle Boot
Purchase »
The Chukka Boot
The Chukka boot gets its name from a period of play in polo, 'the chukker'. It is a stylish and vintage design; it has spongy material in the sole that makes it more comfortable and practical to wear.
Today, these boots come in all forms of colors and fabrics; it makes it versatile enough for the office and for casual events. They are mostly found in shades of brown so if you would like to style them up, it is best to stick to darker hues. They help to dress down suits into a more casual look.
Black suede chukka boots look good with flat-fronted pair of trousers, and a little flash of sock plus a button-up shirt.
Top Picks
11. Clarks Men's Bushacre 2 Chukka Boot
Purchase »
12. Nunn Bush Men's Lancaster Boot
Purchase »
13. UGG Men's Groveland Chukka Boot
Purchase »
The Desert Boot
This is an alternative to the Chukka boot that is as stylish as it is versatile. It is a British military style shoe that originated during the Second World War but is still popular today. The original version is a combination of suede and crepe but there are more variations today.
The desert boot helped to pioneer the 'casual' dress for men's footwear and so it is the best for casual outfits. It cannot be worn with tailored pants and so always pair them with dark colored jeans, chinos, and other casual pants.
With these boots, it is better to stick with shades of brown and classic black.
Top Picks
14. Clarks Originals Men's Desert Boot
Purchase »
15. Kenneth Cole REACTION Men's Desert Boot
Purchase »
8. The Work Boot
These are the most masculine type of boots; they are durable and last long.
The biggest advantage with work boots is that they are waterproof, and are more flexible at the ankles which makes them easy to wear and take off.
This boot also has a steel toe cap at the front that is designed to protect your toes from falling objects. Choosing the right type of work bot for you is all in the purpose; always go for what fulfills your needs. Wearing work boots is simple enough, due to their relaxed appearance, they tend to look great with slim fit jeans and t-shirts.
You can layer this with almost any jacket and it will still look great.
Top Picks
16. Timberland Men's White Ledge Mid Waterproof Boot
Purchase »
17. Danner Men's Quarry USA Black Work Boot
Purchase »
18. Caterpillar Men's Second Shift Steel Toe Work Boot
Purchase »
The Cowboy Boot
Many men do not see the point of wearing fancy cowboy boots, but a savvy pair of boots might be just what you need to complete your look.
The cowboy boot does not have to be thin but it is more tapered than any other type of boot. The heels are designed to give the wearer almost two inches of added height which is great for shorter men. The styles are often decorative and memorable; they are great for making statements.
Because they are so decorative and loud, it is always best to stick to one solid color for the base such as brown and black. The color of the decoration should always match your accessories so that you do not look out of place.
They are strictly casual and should never be worn with formal outfits.
Top Picks
19. Ariat Men's Rambler Western Boot
Purchase »
20. Old West Boots Men's
Purchase »
21. Laredo Men's Lodi Western Boot
Purchase »
The Alpine Boot
This is the closest thing to a work boot; it is stylish and great for winter and skiing.
Over the years, this type of boot has become lighter and much easier to wear. They have an anatomical structure that is designed that way for comfort and easy movement of your foot.
It is a high sole boot with a soft interior that cushions your feet. With this type of style, it is always better to fix it yourself rather than rely on standard size charts.
As for outfit pairing, this is a casual style shoe and you should always keep it that way. Pair it with dark colored jeans, and odd jackets.
Top Picks
22. Thorogood Men's American Heritage Toe Boot
Purchase »
23. ROCKROOSTER Work Boots for Men
Purchase »
Best Men's Boots Buying Guide
There are many different types of boots for many different purposes. However, boots may be worn by people working in harsh conditions such as soldiers, law enforcement officers or firefighters or by those who live in cold climates or frequent wet weather areas.
That is why men's boots are a huge industry where many players are running about.
Moreover, the following factors should make the purchasing task easier for you:
Functionality
The best men's boots will have a function that you can rely on, so go for those with good grip, water-resistant coatings and those who offer other benefits such as thermal insulation or a lining that wicks away moisture from the foot. Boots with a steel shank offer better support and protection against injury to the foot.
Height & Width
The next thing to think about is the height and width of the shafts. Boots for men come in many different heights and widths so it's important to know what size your feet are before ordering anything online.
Comfort
This is another important factor to consider when buying men's boots. They should be both comfortable and fitting well enough so that they do not slip off your feet.
Price
Lastly, decide on your budget and stick to it, as this will help you narrow down your options considerably.
FAQ
🥾 What are the best men's boots?
The best men's boots are durable, stylish, comfortable, and fit your style needs. There are several great boot styles, but we think that the Chelsea boot is a great style for men, as evident by the Calvin Klein Men's Alixander Chelsea Boot. It is excellent for formal and casual outfits, and the cut gives you better room for movement.
🧐 Which brand men's boots are the best?
We think that CLARKS makes the best men's boots. Their designs make the shoe very versatile, so it can take you from a busy workday to a casual gathering. CLARKS also concentrate on good quality materials, as well as comfort for the foot. Their boots have a soft interior lining and are reinforced for the best foot support.
🤔 What are the most comfortable men's boots?
The Chukka Boot is the most comfortable style of boots right now. It gives you just the right amount of coverage while sticking to that vintage aesthetic. Many chukka boots are lined for comfort and can be worn in casual and professional scenarios. The Clarks Men's Bushacre 2 Chukka Boot is a very comfortable example of this style.
❄️ What is the best men's winter boot?
Alpine boots are the best for winter and skiing. They have an interior lining for warmth, and their anatomical structure is specially designed for comfort and easy movement of your foot. Therefore, if you are looking for a great winter boot, we recommend the Thorogood Men's American Heritage Toe Boot. It is ideal for skiing and cold weather.