Many people work in environments where safety clothing items go a long way in protecting your body. One such thing is the work boots.
Work boots are also referred to as rigger boots. They are a type of shoe that offers protection against the elements and hazards while on the job.
The work boot is designed with unique features such as:
Toe cap – though it is not found in every pair of work boots, the toe cap helps prevent damage to the toes. It is often made of steel, aluminum or thermoplastic polyurethane.
Lining – Because the shoe design is heavy, the lining has to be breathable and comfortable. Linings for work boots are made of cotton, wool, or leather.
Outsoles – the outsole of work boots are designed to withstand wearing, water, chemicals, and other problems. Many rigger boots outsoles are made from polyurethane, TPU, or rubber.
Picking the right rigger boots comes down to the quality, functionality, and fit. You should take a keen interest in these three qualities to ensure that you get the perfect pair.
To help you get started on buying, consider the following rigger boots and their exceptional qualities.
1. Carhartt Waterproof Wedge Work Boot

This stylish pair of boots will do more than just protect you on the job. They are also a statement piece that will earn your attention while being effortlessly functional. They are made of 100% leather to offer comfort, breathability, and toughness. The dole is made of rubber for maximum flexibility over the years of use. The soft toe feature makes this pair perfect for work environments that are a little less dangerous. This pair's remarkable quality is electrical hazard protection, which offers secondary protection against contact with electrical circuits—a pretty handy feature to have.
Purchase
2. Timberland PRO Direct Attach Soft Toe Boots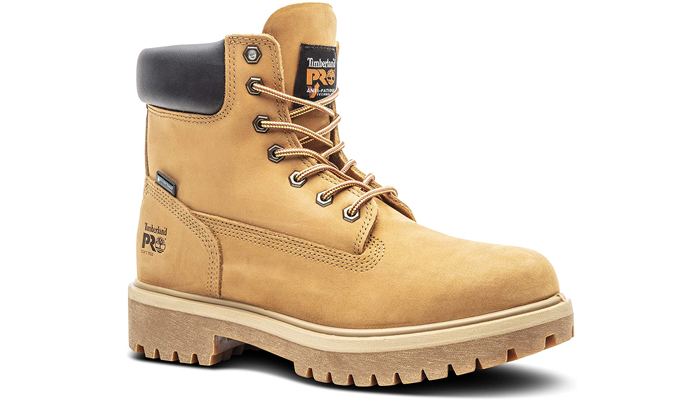 From Timberland PRO, you can only expect the best, and this pair of rigger boots is a reflection of that. They are made from 100% leather and textile, a combination that is known to be durable and robust. This pair has excellent features such as thermolite insulation for warmth in cold areas. It is also waterproof, with seam-sealed construction to ensure that your feet are always dry. The interior has Comfort Suspension technology that offers a unique comfort system against a rigorous workday. The design helps to reduce foot fatigue by supporting your arch with each step.
Purchase
3. Danner Bull Run Work Boot

With contrast laces and a tasteful design, this pair of work boots are perfect for more than going to work. They are made from 100% leather, which offers superior breathability and round the clock toughness. It is also durable and easy to clean. This pair has a synthetic sole for resistance to abrasion, wearing, water, and chemicals. The outsole has excellent traction thanks to resistance design. The hand-crafted pair is held together by strong hand-stitching by the best artisans. This feature offers durability making this pair of rigger boots a lifetime partner.
Purchase
4. Irish Setter Work Boot

This pair of rigger boots is a trendsetter in the workplace. The exterior is made of 100% leather for durability and ultimate strength. The best thing about leather boots is that they last a long time and age beautifully. This pair features rubber soles that offer excellent traction against oil slicks, water, and even snow. This sole is also resistant to heat, so you can wear them to work environments that use fire or other heat sources. The shoe is designed to meet safety standards against electrical hazards. Maintenance is pretty easy as all you would need to do is spray or wipe with lukewarm water after use.
Purchase
5. WOLVERINE Composite Toe Waterproof Work Boot

This specialized pair takes a different design that does not sacrifice style or functionality. It is made of 100% leather and textile; a powerful combination for durable rigger boots. Expect nothing but breathability, comfort, with these lifetime pair of shoes. The sole is made of rubber offers superior traction, a perfect pair for people who work in wet environments. The unique construction of this pair provides flexibility. I move with you by bending and flexing at essential points. The toe is reinforced against abrasion, and the whole shoe is waterproof. The interior has a removable Ortholite footbed that is cushioned for all-day comfort.
Purchase
6. Skechers Workshire Steel Toe Boot

For people who want something with a simpler design comes this plain pair of boots that are still as functional as the others. This pair is made of 100% leather married with a pure rubber sole. This combination is best for workplaces that are wet and slippery. The rubber sole offers superior traction and resistance to water while the leather withstands the elements while maintaining an excellent look. The design accommodates a wide fit with an interior lining
that guarantees warmth, breathability and cushioning. You can wear this pair all day without getting tired.
Purchase
7. Timberland PRO Industrial & Construction Shoe

If you are looking for something a little more unique in design, then this pair of boots will satisfy in all ways. It is made of 100% leather on the upper while the sole is made from synthetic materials. This is a great combination that is not only breathable but also comfortable. The leather has a waterproof membrane that prevents damage due to water. Synthetic soles offer excellent traction as well as resistance to abrasion. The polyurethane footbed is consists of Dual Density Dynamic Anti-Fatigue Technology for supreme comfort, support, and warmth.
Purchase
8. Caterpillar Second Shift Work Boot

For a classic design, consider this pair of boots from Caterpillar, the construction gods. It is made of 100% leather; to offer superior comfort, breathability, and toughness. The sole is made from synthetic for better traction, warmth, and flexibility. Synthetic and leather is a great combination that makes this pair of boots a lifetime companion. The soft toe design makes it less bulky, perfect for work environments with fewer hazards. The interior has a nylon sock liner and lining for better comfort and breathability. Overall, the welt construction with contrast stitching is perfect for style and strength.
Purchase
9. Carhartt Rugged Flex Insulated Work Boot

This simple and stylish pair of work boots is another way to achieve functionality and detail to the style. It has a narrow, compact design that can be worn with anything. It is made of oil-tanned leather that gives this pair its rich and dark color. This type of leather does not sacrifice durability for style. This pair has a rubber toe bumper that helps to keep your toes safe. The outsole is cement-constructed with a rugged flex outsole to offer excellent traction. The interior of each shoe has a removable EVA cushioned insoles that provide comfort and support through the day.
Purchase
10. Chippewa Bay Apache Steel-Toe Boots

This is another stylish pair of boots with a 9.5-inch shaft for maximum protection. It is made of 100% Leather that gives it a rich and dark color. The leather is also breathable and will age beautifully. The leather upper is paired with a Vibram sole for excellent traction against oil and water. It has a durable waterproof steel toe making this a great pair to wear at construction sites. Your toes will be protected against hazards and accidents. The non-tarnish eyelets and speed lace hardware at the top facilitates secure fastening.
Purchase
11. Under Armour Military and Tactical Boots

This is an excellent pair of rigger boots that are stylish with a simple, lightweight design. The couple is made of synthetic and textile, a combination that offers flexibility and durability. This blend of fabrics is also suitable for water resistance, resistance to abrasion, and chemicals. The shoe has a rubber sole that offers excellent traction against water and oil spills. The UA ClutchFit ankle support system is one of a kind that provides support where you need it most. Best of all, the pair has a TPU toe cap for protection against accidents.
Purchase
12. Thorogood Moc Toe Wedge Boots

This is another classic design that offers strength and durability every day. It is made of 100% leather for s smooth texture that ages beautifully. More than that, this pair is durable, offers excellent comfort, and superior breathability. It has a Polyurethane MAXwear Wedge sole for excellent traction and resistance against elements. This ankle-length pair of boots have a moccasin toe for uniqueness. The interior has a removable insole built for ultimate shock absorption and excellent support. It also has a cotton lining for breathability, especially on hot days. The tasteful contrast stitching and logo placement make this pair very stylish.
Purchase
13. Red Wing Heritage Lace Up Boots

For simple ankle-length work boots, look no further than this pair from Red Wing. The pair is made of 100% leather for comfort and classic design. It also offers superior breathability and durability. The synthetic sole provides excellent traction and flexibility where you need it most. One of the best features of this pair is that it is easy to clean. Using arm water and a soft-bristle brush, you will be able to remove stuck-on dirt and remove any excess with a clean, dry cloth. It comes in three stylish colors that blend well with work clothes.
Purchase
14. Timberland PRO Steel-Toe Boots

As far as steel-toe boots go, this is a great pair that will get the job done while being effortlessly stylish. The couple is made of 100% leather on the upper and married with a rubber sole. The leather offers durability, together with the durable blend stitching. It ensures you can wear this shoe for a long time. The rubber sole provides excellent traction together with resistance to electrical hazards. With a reinforced steel toe, these boots will serve you well at construction sites. The interior is cushioned to help you stay on your feet.
Purchase
15. Reebok Work Rapid Response Boots

This pair offers something a little different but just as functional. It is made of suede leather and Cordura, featuring classic and timeless design. It has a longer arch for support and extra protection. It has a premium rubber sole that offers excellent traction through oil and water. The interior has a Tailex and Cambrelle lining for breathability and resistance to moisture, it is also very soft. As for the insole, it is removable and molded from Dual Density Polyurethane Cushion to offer excellent support all throughout the day. With extra features such as the Shock Eliminator Heel Plug and Stealth Side Zipper, this pair is the full package.
Purchase
16. ROCKROOSTER Comfortable Work Boots

This is a vibrant pair of rigger boots that will keep your feet safe and attract admiration from your colleagues. The pair is made from full oiled grain tumbled leather that gives it durable luster for protecting your feet. The insole is constructed for superior support through a rigorous workday. It is made with PORON Xrd Repeated Impact Protection for thing and lightweight endurance. The interior lined fabric has COOLMAX technology that transports moisture away from the body, keeping feet cool and dry on hot days. The rugged metal eyelet and clamshell lacing facilitate secure fastening on the go.
Purchase
17. Ariat Terrain H2O Hiking Boots

This is another ankle-length pair of boots that will serve you well thanks to their durable construction. The pair is made of 100% leather for durability and resistance to water. Leather is also effortless to clean, so you need not worry about getting your shoes dirty. The rubber sole offers excellent traction and flexibility for all work needs. The interior has a waterproof lining to keep your feet comfortable and dry. The padded color provides better comfort for all-day wearing. It has a self-cleaning dura tread outsole that beds according to your needs. Finally, the gel-cushioned footbed with a heel stabilizer delivers support and stability.
Purchase
18. Sperry Top-Sider Duck Boots

The style of this pair reigns supreme as there is nothing quite like it. This pair of two-toned boots will do more than keep your feet safe, they will make a statement. It is made of genuine leather with a smooth finish. It offers durability and a luxurious tone. The upper also provides superior water resistance making this the perfect pair for wet seasons. The seam-sealed construction also adds to the waterproof ability. The interior is lined up to the shaft with warm thermal material to keep your feet warm always. Finally, the rubber outsole delivers excellent traction in all environments.
Purchase
19. KEEN Utility Alloy Toe Wedge Boots

With a simple design and multiple color options, this pair of work boots are both stylish and functional. The premium features start from the rubber sole that offers excellent traction against slippery spots and water. Leather dominates the upper matched with blended stitching for durability that is unmatched. This pair could be a lifelong partner if you care for them properly. The interior has a breathable leather lining that keeps your feet dry and warm. It has a removable metatomical footbed for all-day support. With aluminum toes, this is the perfect construction site shoe.
Purchase
20. Wolverine Floorhand Steel Toe Work Boots

This is a classic pair of work boots whose design channels more than functionality. The pair is made of 100% dark leather that high contributes to its midnight black color. The leather also offers waterproof abilities that ensure that your feet remain dry at all times. It is paired with a synthetic sole for superior traction against slippery places. The toe is reinforced with steel to protect against bumps and accidents. Overall, the shoe has a lightweight cement construction, so you can wear the boots all day without getting tired.
Purchase
21. Dr. Martens Bonny Chukka Boot

This pair of work boots is so sleekly designed that you could mistake them for a pair of regular boots. Style is the ultimate feature of this luxurious pair of boots. The pair is made from leather and nylon, a combination that facilitates easy washing and drying. Moreover making them durable and breathable. The sole is made from synthetic to offer exceptional traction through any season. The sole is held together by a durable and classic side stitch with contrast color thread for a popping feature. The heel pull tab is tastefully branded, and the fastener is a 5 -eye lacing system.
Purchase
22. Danner Vicious NMT Work Boots

For a stylish pair with a longer shaft, consider these boots with a touch of vibrant color. They are made of 100% leather with a smooth finish that mimics suede. The leather is ideal for durability, resistance to water, and abrasion. The upper is married to a soft rubber sole for protection against electrical hazards, and superior grip in slippery places. The construction provides lightweight seamless support that offers a roomier fit for the toe and a snug fit on your heel. It has a heel cap for durability, and the construction provides resistance against abrasion.
Purchase
23. Rockport Storm Surge Toe Boot

This pair of boots have a classic and straightforward design that could pass off for regular boots. Standing at ankle-length, they are a great pair that will offer functionality for a long time. They are made of full-grain leather with waterproof abilities on top of breathability and a perfect fit. The sole is made from synthetic such that it bends, and lexes when you need it to. The collar is padded for all-day comfort as it the insole. The outsole is made from thermoplastic for slip resistance and durability.
Purchase
24. Timberland PRO Ridgework Mid Industrial Boot

This is another excellent addition to the premium collection of work boots from Timberland PRO. It is made of leather and textile and offers a superior sleek design for a comfortable look. The combination of fabrics allows this shoe to flex and bend as you wish while ensuring that your feet remain dry, thanks to the waterproof membrane. Moreover, it ages well and will serve you on many workdays. It has a composite toe powered by CarbonShield technology, unlike many boots with a steel toe cap. It offers maximum toe protection.
Purchase
25. Stretch Support Jim Green Razorback Boots

Functional is the primary attraction of this shoe as it was built for rigorous workdays. It has a rubber sole that offers excellent traction against slippery surfaces. The rubber also acts as an excellent insulator against electrical hazards. The upper is made with a double layer of full grain leather for toughness and durability. The double-layer aids waterproofing so your feet will always be dry. The ankle is padded to offer superior support for extended workdays. It has a bellows tongue to defend against debris and other particles. Finally, the steel shank between the insole board and sole offers extra support and stability.
Purchase
26. EVER BOOTS Soft Toe Work Boots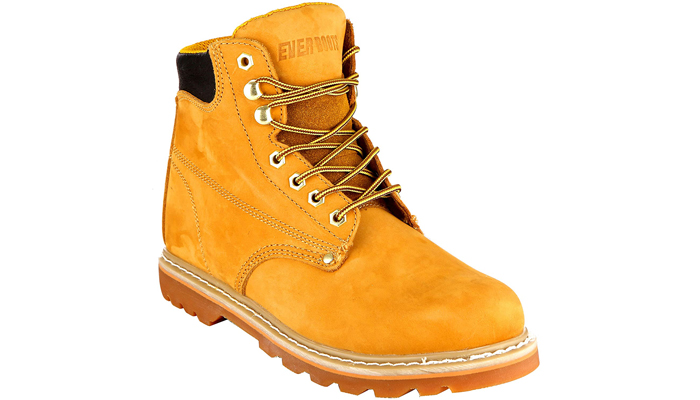 This is another soft toe pair of boots that has a lot to offer. It is made of premium leather in tan and dark brown color options. With Goodyear Welt Construction, this shoe was built to last. Soft leather also makes the breaking in process much more comfortable and less painful. The rubber outsole delivers superior stability against all slippery surfaces. It has a PU insole that provides maximum comfort for your feet during long workdays. The speed hooks facilitate comfortable wearing and taking off while the steel shank is perfect for alleviating pressure when climbing down.
Purchase
27. Columbia Newton Ridge Plus II Boots

This superior pair of boots has more than one handy feature to help you through your workdays. This trail shoe is built for grip thanks to the Omni-GRIP technology. This slip-free sole offers maximum grip. It has a Techlite midsole that provides long-lasting comfort for everyday wearing. The upper is made of a blend of leather, suede, and mesh fabric. This combination offers durability and excellent breathability for summer workdays. The seam-sealed construction is unique for preventing moisture from hitting your feet. The interior ha superior cushioning to facilitates support and comfort.
Purchase
28. RIAT Men's Work Boot

This is a great work boot that will not go unnoticed thanks to the unique design and vibrant colors. It is made of pure leather in four vibrant colors to match your style. The leather offers natural breaking in as well as waterproof ability, and durability. It has a long shaft to facilitate maximum protection. It has Advanced Torque Stability technology to offer the support of traditional cowboy boots. The outsole is Duratread that has a self-cleaning 70/30 traction system. Overall, it is soft on the inside to cushion your feet and rugged on the outside for functionality.
Purchase
29. Golden Fox Work Boot Pull

This is a great work boot that mimics the cowboy trend. Like cowboy boots, the pair is made of full-grain leather, offering comfort and the toughness you need to get through a day's work. This pair has one of the lightest outsoles in the market, so it will take the pain out of wearing heavy work boots. It has oil and chemical resisting qualities that offer superior dependability in all work environments. The insole is built to relieve fatigue on the feet. It absorbs shock and supports the feet offering dependable comfort all through the day.
Purchase
30. Merrell Moab Tactical Waterproof Boots

This work boot incorporates three materials for a functional and stylish work boot. It is made of fabric, leather, and rip-stop for a durable and waterproof exterior. The interior is adorned with a mesh lining for superior breathability and all-day comfort. This pair stands up to the toughest of jobs thanks to the rip-stop textile. With the M-Select DRY waterproof membrane, you can brave the elements confidently. It has a durable side zipper for added security; it also facilitates natural putting on and taking off. The bellows tongue helps keep debris out of the shoe while the midsole is air-cushioned to absorb shock and add stability.
Purchase
31. Skechers Mariner Utility Boot

Ankle-length with a tough exterior is what you can expect from this great pair of rigger boots from Sketchers. The rubber sole acts as an excellent insulator against electrical hazards. It is also flexible and robust. The upper is made of 100% genuine leather in three beautiful colors. The exterior is, therefore, resistant to water, abrasion, and chemicals. It has a lug outsole for toughness and resistance to slipping. With a padded collar, you could wear this shoe comfortably throughout the day. It has a tastefully placed logo on the tongue that also prevents debris from getting into the shoe.
Purchase
32. Georgia Mid-Calf Rigger Boots

This vibrant pair of boots is sure to catch your colleagues' attention as they are both stylish and functional. They are made of pure tanned leather into Barracuda Gold that stands out. The leather gives superior exterior resistance to water and abrasion. The leather also makes the breaking in process very easy. It has a proprietary oil-resistant polyurethane wedge outsole for flexibility and support. The insole is cushioned correctly to offer our feet the necessary support of getting through a workday. Finally, it has durable laces and a tastefully placed logo on the tongue.
Purchase
33. Dickies Trader Leather Boots

From Dickies, you can expect nothing but useful quality items, and this shoe is a reflection of that. The upper is made of genuine leather for comfort and natural breaking in. The top is also waterproof and will serve you for many workdays. The sole is made from synthetic fir a better grip, especially on slippery surfaces. Both the tongue and collar are padded to offer comfort all through the day. It has a rear pull loop that facilitates natural putting on. The moisture-absorbing fabric lining ensures that your feet remain dry and warm at all times.
Purchase
34. Hanwag Bergler Boots

Finally, this is an excellent pair of boots that oozes style and functionality. It is has a rubber sole that offers excellent traction and insulation against electrical hazards. The upper material is nubuck leather, so the exterior is completely waterproof and durable. The closure is a lace system that fits perfectly on eyelets to facilitate a smooth pull on each turn. The interior lining is leather for warmth, softness, and breathability. The sole is Vibranium Tessin that works well against abrasion and chemicals. It is also pretty lightweight for a rigger boot, so expect an easier time with these boots.
Purchase