Dress shirts are a part of any stylish man's wardrobe, no matter how you dress. 
However, not all shirts suit every situation.
Each dress shirt comes with a unique collar, which makes them great for their own reasons.
So in this blog post, we'll talk about the types of shirt collars.
You'll learn which ones work best for different occasions and what tie you should pick for a perfect match.
So if you're interested, then keep on reading!
What Are Shirt Collars and Why Are They Important?
Shirt collars are the top part of any dress shirt. It's the place that wraps around your neck and where you tie your tie. There are four main elements you need to know to identify different shirt collars:

Point Length. That is the distance between your collar band and collar ends.
Collar Spread. That is the distance between two collar ends. Depending on the size difference, you'll have to pick the correctly sized tie.
Center Front. That is the part where the two shirt leaves connect. The angle of the center front can also be a decider on which tie to pick.
Front Band. That is the front of the band. It's where your buttons are situated.
But why is it necessary to recognize different dress shirt collars? Well, as mentioned above, that's because not every dress shirt collar suits every occasion. For example, if you've been invited to a white-tie event, you shouldn't go with the usual straight point collar dress shirt. Instead, you want to go with a more appropriate wing tip collar.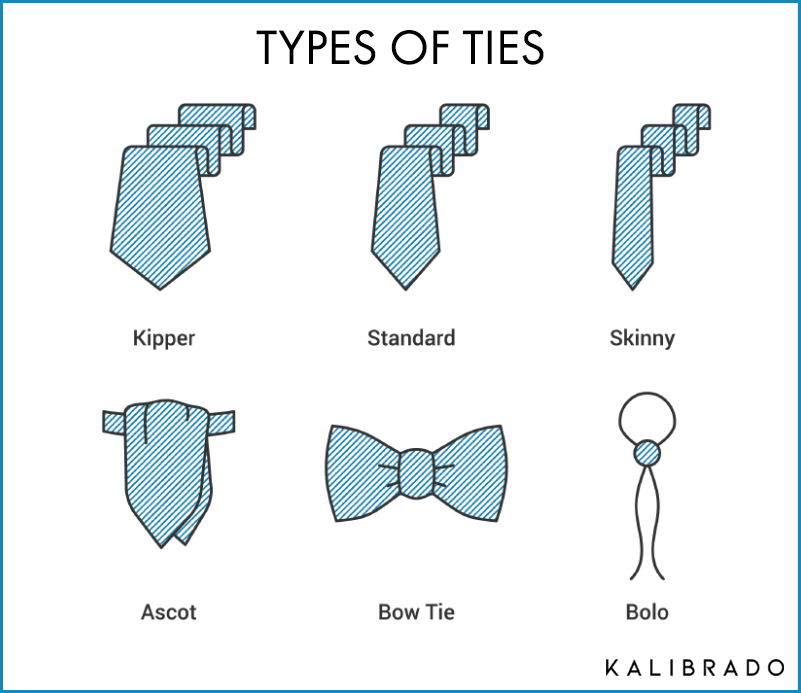 The 24 Types of Dress Shirt Collars
There are a total of 24 different shirt collars. We'll teach you to identify each one and for what occasions you should wear them. Lastly, you'll learn to pick the perfect tie. So without further ado, let's get into it.
#1 – Straight Point Collar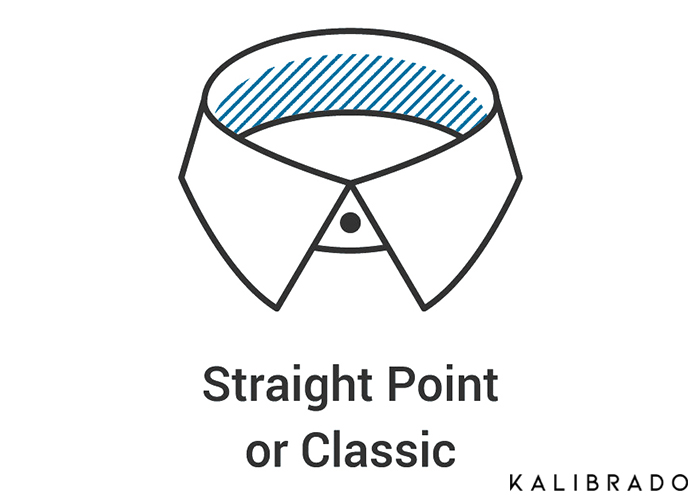 The chances are that you already have this type of dress shirt at home. It's one of the most popular ones out there. You can identify it by its pointy ends. This shirt is very versatile and can be worn for many occasions, from weddings to business meetings.
Most ties work with this collar as well. So it doesn't matter if you have a kipper, standard-sized, skinny, ascot, or a bowtie. You could even wear a bolo with it.
#2 – Narrow Point Collar

The narrow point collar is very similar to the collar mentioned above. The only significant difference between the two is that the collar spread is tinier. That makes this shirt work best with smaller ties. These ties include the standard size one, skinny, bolo, and a bowtie.
The occasions that work for this shirt are the same. You can wear it casually or to important business meetings and weddings.
#3 – Point 2-Button Band Collar

This collar is mostly the same as the classical one. The only significant difference is that the band is a bit taller due to having two buttons. The best way to wear this dress shirt is like a straight point collar one.
The ties that work well for this are Kipper, Standard, Skinny, Ascot, and Bolo. However, you've got to be careful with a bowtie as it might look too small on it. So make sure you have a big one.
#4 – Small Point Collar

What differentiates this one from all the other collars is its lower point height. That changes the tie selection you can wear. You could wear everything mentioned above, but the ascot. That is due to it seeming too big on the shirt. So, best avoid that!
#5 – Semi-Spread Collar

Another type of collar is spread collars. These are known for the width between two ends. You can identify the semi-spread by the width of the collar spread. Usually, A semi-spread is 4 inches or about 10 centimeters.
Just like with point collars, semi-spread shirts can be worn for both casual and formal occasions. You can wear it with all the ties: Kipper, Standard, Skinny, Ascot, Bolo, and a bowtie.
#6 – Spread Collar

Next up is the spread collar. The width of these collar ends is between 5-6 inches or 12-15 centimeters. Due to the added distance, these shirts are more limited with ties. They work best for bigger ties like Kipper and Ascot. However, you could wear a Bolo with them.
#7 – British Spread

Next up on our list is the British Spread. What makes this spread unique from others? Well, the collar ends are angled more outwards than other spreads. You can find the width in many sizes. Most of them have a collar spread between 4-6 inches or 10-15 centimeters.
These collars can be worn casually, but, in my opinion, they look best on formal occasions. I love how it complements a British suit.
#8 – Italian Spread

Ending with the spread collars are the Italian Spreads. These collars are different from British ones for having pointer ends and the point length being more significant. Due to this collar design, these collars work best with bigger ties like Ascot and Kipper.
You can wear them both casually and formally. If you want my two cents, then these shirts look best when worn tieless and together with a sports coat. That combo will give you a laid-back look.
#9 – Cutaway Collar

These collars are the extreme version of spreads. You know that you have a cutaway collar when the collar spread is over 6 inches or 15 centimeters. Due to being so large, they are best worn without any ties. However, if you want one, I'd recommend you wear a Kipper tie or an Ascot tie. These shirts are best styled for casual and semi-formal events like going to work.
#10 – Cutaway 2-button Collar

This collar is just like the previous one, but with one difference. The collar has two buttons on the front band. Due to being so similar to the other version, these should be styled the same way as previous ones. The best ties for this shirt would be Kipper and Ascot ties.
#11 – Snap Tab Collar

Snap Tab Collars are pretty interesting. They are basically like your ordinary straight point collar but with a fabric tab sewn under the collar leaves. That helps your collar to be closer together. Due to the added fabric, these shirts must be worn with a tie.
The best ones that work with them are smaller ties like the standard-sized one, skinny-tie, and a bowtie. You should wear them for more formal occasions like when you need to be dressed in a suit.
#12 – Eyelet Collar

This collar is basically the same as the Snap Tab collar but one major difference! Instead of a fabric tab holding together collar leaves, it's a metal bar. And just like with the last one, you must wear a tie! The same ones work for the shirt: Skinny tie, Standard tie, and a Bowtie. It's best worn for major business meetings when a suit is necessary.
#13 – Button Down Collar

This collar is another popular one. The best way to identify this is by the two buttons on the collar ends. While these shirts are less formal, that doesn't mean they cannot be worn with a suit. The shirts are very traditional and are an essential part of American-style suits. Skinny, Standard, Kipper, Ascot, Bolo, and Bowtie are the ties that work with this collar.
#14 – Small Button Down Collar

A small button-down collar is like all the other small collars. These collars have a shorter point length. And since that's the only difference, you can style it like the usual button-down collar. The only thing you'll have to be careful with is the ascot and kipper ties, as they might look too big on the collars.
#15 – Hidden Button Collar

On the surface level, this collar looks exactly like the classical one. However, this one is actually a button-down collar. Under the top layer of your collar leaf lies a  button. That gives this shirt a more formal look.
Every tie works well with it. These include skinny, standard, kipper, ascot bolo, and bowtie. Wear them however you like, casually or formally.
#16 – Double Collar

A double collar is a unique collar. Instead of having one layer of fabric, it has two layers on the shirt leaves. But how should you style it? Well, the best way to do it is with a Straight Point Collar.
You can wear it to a business meeting or a wedding, but it looks good worn casually, as well. It suits with every tie mentioned above: Skinny, Standard, Ascot, Kipper, Bolo, and a bowtie.
#17 – Club Collar

Fortunately, identifying this collar is quite simple. All you have to do is look at the collar ends. Instead of being pointy, these are smooth and circular. The shirts fit perfectly with any suit but can be worn tieless as well. The ties that work the best are skinny, standard, kipper, and bolo.
#18 – Small Club Collar

The best way to identify this collar is by thinking of a regular club collar but with a shorter point height. Styling it is easy! Just wear it like it's an ordinary club collar.
You can wear it with or without a tie. And the best ones to pick are bolo, skinny, and standard tie. You can also wear it in a suit or just casually.
#19 – One-Piece Collar

One-piece collar, also known as Cooper or Hollywood collar, is a unique shirt that requires an excellent tailor to pull off. As the name suggests, these collars are created from the same piece of fabric as your shirt.
However, styling this isn't that special. All you have to do is style these shirts as you would do with the classical collar one. Every tie works for this shirt. These include bolo, kipper tie, standard tie, skinny tie, ascot tie, and a bowtie.
#20 – Pajama Collar

This collar is a very casual one. As the name suggests, you see these types of collars in pajamas, but you could also see them in other shirts like Cuban and polo shirts! These shirts should only be worn casually! However, you could dress them in business casual (a Cuban shirt + a sports jacket).
#21 – Bands

The band collar is a collar that has no collar leaves. It's just a strip of fabric around your neck. They originate from another collar which you'll learn soon. These collars are best used for casual and semi-formal wear. That means you shouldn't wear this shirt with a suit. They also don't work with any ties, so wear without one.
#22 – Wing Tip

Probably the most formal collar styles out there. You can identify them by their small collar leaves that look like the wings of a bird. They are the go-to shirt for white-tie and black-tie events.
The best ties for these shirts are Kipper, Standard, Skinny, Ascot, and Bowties. Bolo is way too casual for this one!
#23 – Small Wing Tip

This collar is just like the last one, but with even smaller wings! Due to being so small, these shirts should be worn with only a standard tie, a skinny tie, and a bowtie. Otherways, these tiny collar wings will get overshadowed by the large ties.
And don't forget to wear them only for black-tie and white-tie events.
#24 – Mandarin

This collar originates from China. They are the ancestors of the band collar and are mostly worn casually. You should never combine those shirts with a suit or wear them at an important business meeting. And finally, they don't work with ties. So just wear it without one.
Conclusion
And these are the 24 collar types. I hope you found this blog post helpful and got more insight into the world of shirt collars. Are there any other shirt collars I forgot to mention? If so, then comment it down below. This way, we can all get more information about those shirt collars.
Share this Infographic On Your Site
Please include attribution to Kalibrado.com with this graphic.
FAQ
What Are Different Collar Styles?
There are a total of 24 different collar styles. You can find an explanation above for every. However, there are four main types; Point, Spread, Cutaway, and Button-down.
Are Spread Collars Formal?
Yes! These collars are an essential piece to formal European wear. They look exceptionally well with an excellent English suit.
Which collar is best for no tie?
In my opinion, the collar that looks best for no tie must be the pajama collar. I love how the Cuban shirts look!