Once, shoes were made to be protective gear for your feet and nothing else.
As time went by, men's shoes evolved into more, they became statement pieces, accessories, and even symbols of wealth.
Many men do not care much for their shoes!
This is WRONG because footwear constitutes the very foundation that a man stands on.

There are four main rules to men's shoes:
The first is that you should always wear the right shoe for the right occasion. If you are working then wear working shoes, if you are heading to a formal event then formal wear is the best.
The second rule is to invest in quality; a quality pair of shoes that is pricy will go a long way.
The third rule is to prioritize comfort and proper fit; even if it means paying more, always buy the shoe that fits well.
The last rule is to always take proper care of your shoes; whether they are leather or suede, taking care of your shoes will make them last longer.
Whether you are looking to upgrade your wardrobe or want to step out of your footwear boundary, this guide will help you shop and dress the best men's shoes.
The Oxford
Most men go for the Oxford without even thinking about it; and why not?
It is fashion-forward and classy.
Oxfords are easy to identify; they have a low heel, sit well under your ankle, and have a lacing system that is closed at the bottom. This type of construction makes the Oxford more comfortable and streamlined than most shoes.
Wearing Oxfords is simple enough; brown oxfords are best worn with grey, dark brown, or navy blue suit. If you are going for a casual look, tan is the best way to go.
Finally, black oxford is a must have for every man, they give a polished and conservative look.
Top Picks
1. Cole Haan Men's Lenox Hill Cap Oxford
Purchase »
2. Stacy Adams Men's Dickinson Cap-Toe
Purchase »
3. Classic Modern Formal Oxford Wingtip Lace Up
Purchase »
4. Rockport Men's Sp Wing Tip
Purchase »
The Brogue
The brogue is one of those type of shoes that started out as rugged workman's attire then morphed into classy gentleman's attire.
The stitching does not make the brogue; a true brogue shoe is defined by the decorative perforations which have come to be associated with the wingtip design.
The best thing about brogues is that you can dress them up or down depending on your needs. Dressing up brogues calls for classic colours such as black, burgundy, or dark brown; you can pair these with stylish suits, blazers, and formal shirts.
Brogues also pair well with chinos for a casual look; to get the most out of this look, stick to classic colours for your whole outfit, right down to the shoes.
Top Picks
5. ECCO Men's Lisbon Brogue Oxford
Purchase »
6. Kenneth Cole New York Men's Brant
Purchase »
7. CHAMARIPA Men's Invisible Height Increasing
Purchase »
The Derby
A pair of Derby shoes can be easily confused with a pair of Oxfords; the difference is in the detail.
On Oxfords, the spaces between the eyelets tab; that is the strips of leather on either side of the tongue, with holes punched through for the laces, are sewn shut at the bottom.
However, on a Derby, they flap open when the laces are undone.
Derbies are a great way of making your suit feel more comfortable; less stuffy. Dark coloured suits and lightly patterned ones go well with smooth black leather derbies.
Suede derbies work well with casual looks that involve denim jackets and chinos.
Top Picks
8. CLARKS Men's Raharto Plain Oxford
Purchase »
9. Leather Brogue Wingtip Oxford Shoes
Purchase »
The Monk-Strap
Monk-strap shoes lie between the stylishness of an Oxford and the convenience of a loafer.
The tongue and vamp are of lace-up shoes and instead of laces, there are titular straps and buckles; the most popular are double monk-straps.
Single straps are better for formal wear because they do not draw attention; therefore, you can wear this with suits and other formal outfits.
Double and triple straps are good for parties and casual occasions because they are a statement piece and an addition to personality.
When buying, it is always advisable to pick out good quality brass for the buckle; a good buckle should be heavy and solid.
Top Picks
10. Johnston & Murphy Men's
Purchase »
11. Florsheim Men's Montinaro
Purchase »
12. La Milano Double Monk Strap Loafer
Purchase »
The Loafer
Many men avoid loafers because they have the reputation of being too flamboyant and difficult to pull off; in reality, they are quite easy to wear.
Loafers are made of two main materials; suede and leather.
Leather is bets for smart looks such as tailored pieces, and full suits. On the other hand, suede is luxurious and prone to damage when exposed to moisture; therefore, they are better for dry seasons such as summer and pair well with casual looks.
When wearing loafers with a suit; pay attention to the length of your pants; have a small break at the bottom to achieve the necessary silhouette.
Light coloured chinos and linen shirts work well with tassel loafers for a smart casual look. With loafers, it is always best to go sockless; you could turn to talcum powder to deal with perspiration.
Alternatively, you could get a pair of no-show socks to achieve the look.
Top Picks
13. Dockers Men's Sinclair Kiltie Loafer
Purchase »
14. Cole Haan Men's Pinch Tassel Loafer
Purchase »
15. Nunn Bush Men's Keaton Kiltie
Purchase »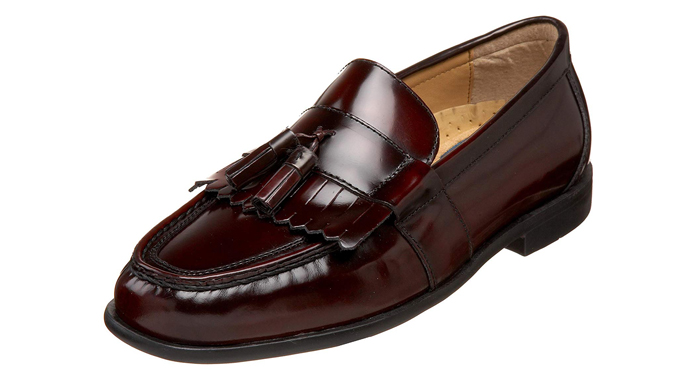 6. The Driving Shoe
Driving shoes are shoes that are specifically made for driving; they have rubber padded soles that extend all the way to the back of the heel and moccasin construction.
This design provides great comfort and a good grip on the pedal while driving. The lace-less design is convenient and versatile which makes it perfect for almost any outfit.
Their design is great for casual looks; they can be paired with jeans or shorts together with a fitting t-shirt.
For smart casual, you can pair them with slim-leg chinos, a button-up shirt, and a blazer; you can add a tie to really complete the look.
Top Picks
16. Sperry Men's Hampden Venetian
Purchase »
17. Mio Marino Mens Loafers
Purchase »
18. CLARKS Men's Ashmont Race
Purchase »
The Chelsea Boot
Chelsea boots are characterized by low heels, rounded toes, ankle length, and vamp and quarters are sewn together in one plain below the ankle.
They are the most popular men's boot thanks to their simplistic and classy design. For dark suits, go with black Chelsea boots; you can pair this with a dress shirt and a blazer.
Brown Chelsea boots are better for light colour suits and fabrics like tweed. The cap toe Chelsea boot is better for formal wear, they can be worn with jeans and denim fabrics.
Some Chelsea boot styles can be bulky; these should be teamed with boot cut jeans.
Top Picks
19. Calvin Klein Men's Alixander Chelsea Boot
Purchase »
20. CLARKS Men's Clarkdale Gobi Chelsea Boot
Purchase »
21. Timberland Mens Kendrick Chelsea Boot
Purchase »
The Lace-Up Boot
Lace-up boots have a few common characteristics; a rugged bottom is one of them, they are made for comfort and style.
They come in different styles and if you choose to buy a pair, you are spoilt for choice. Worn-in boots are great for casual looks; they look better when paired with suede trucker jackets, and jeans.
If you want something more sophisticated, you can pair black or dark brown lace-up boots with a dark coloured top coat.
Light coloured lace-up boots are great for winter; they can be matched with similarly coloured jackets with details on them.
Top Picks
22. Frye Men's Corey Lace Up Ankle Boot
Purchase »
23. Thursday Boot Company Men's
Purchase »
The Chukka
This is yet another shoe style that works well with both casual and formal looks.
They are an ankle length boot that has two or three eyelets and typically thin laces; they normally made of leather or suede.
For casual occasions, pair your boots with blue jeans and denim fabrics such as on jackets.
Black Chukkas are better for smart casual outfits such as black jeans with a t-shirt, and a blazer.
Darker hues are better for business casual outfits that involve cardigans, and sweaters.
When buying, think about leather chukkas in black or brown for a classy timeless look.
Top Picks
24. Kenneth Cole REACTION Men's Desert
Purchase »
25. Dr. Martens Men's Cabrillo
Purchase »
26. UGG Men's Freamon Waterproof
Purchase »
The Sneaker
What makes a sneaker is the rubber sole that makes walking quiet; hence the name 'sneaker'.
Sneakers are no longer shoes to be worn at the gym, they are versatile and can even complete your look.
There are many different sneaker styles, choosing the best pair depends on your needs. The all-white tennis sneaker is the most popular style; it is best paired with denim fabrics such as jeans and jackets.
The runner is another style that looks good with knitted fabrics such as sweaters; they can be worn with shorts and smartly cut trousers. The basketball shoe is best worn with slim fit jeans for casual looks and well-fitting pants for smart casual.
Top Picks
27. adidas Originals Men's Superstar
Purchase »
28. Nike Men's Air Force 1
Purchase »
29. PUMA Select Men's Suede Classic
Purchase »
The Sandal
Sandals come in different designs and styles; however, if you are looking to invest in a pair, you should always ensure that they are leather. Leather sandals are durable, look good, and extremely lightweight.
Sandals simply cannot fit into formal events, they are as casual as men's footwear goes. This does not mean that they look sloppy; they can be paired with certain outfits to look stylish.
For simple looks, you can pair navy blue sandals with cotton or linen trousers that are lightly coloured. Lightly coloured shorts and jeans shorts will also look good with dark coloured sandals such as brown and black.
Top Picks
30. Birkenstock Arizona Unisex Leather Sandal
Purchase »
31. Dr. Scholl's Shoes Men's Gaston Fisherman Sandal
Purchase »
32. Unisex Genuine Leather Biblical Sandals
Purchase »
FAQ
👞 What is the best men's shoe?
The best shoes for men are highly dependent on their function. For formal wear such as days at the office, we think Oxfords are the best. They have a professional look and have a low heel for better comfort on the move. For casual days out, we recommend sneakers. Their rubber soles make them comfortable, and their designs go well with casual attire.
👟 What are the most comfortable men's shoes?
The most comfortable men's shoes, in our opinion, are sneakers. Nowadays, many sneakers have a lightweight construction. Because the sole is primarily rubber, they are light and easy to move in. Sneakers are also lined and padded on the inside to increase comfort. Because they were initially gym attire, they remain to be the most comfortable men's shoes.
🧐 What are the most popular men's shoes right now?
In our opinion, the most comfortable men's shoes right now are brogues. This is because pop-culture celebrities have heightened their style. You will often see them on the red carpet worn by celebrities with pressed suits. They are also great for the workplace and have gained popularity from here as well. Brogues are also versatile when it comes to styling, making them a go-to choice among many men.