Wallets first appeared in the 1600s, after the introduction of paper currency in the West.
Before that, people used leather drawstring pouches to carry coins. Manufacturers made the earliest form of the wallet from cow or horse leather. Additionally, men were the primary users of the wallet.
Since then, the wallet developed into something more than a currency-carrying pouch. It is an accessory and a statement piece. Almost every working and traveling man owns a wallet. Some even have two or more.
The development of the wallet has created variations that accommodate different functions.
And we see it best that you learn about these different types of men's wallets before making your next purchase.
So keep scrolling for great insight.
1. Minimalist Wallets
As the name suggests, minimalist wallets are for minimalists. The need to have lightweight and convenient accessories is slowly growing on people. Hence the minimalist wallet. It is light, made for carrying only essential everyday items.
Their designs remain simple, with little embellishments and accessories. Minimalist wallets have few compartments for carrying cash or cards. They can fit in all pockets, even shirt pockets.
The main benefit of minimalist wallets is the lightweight nature that allows you to carry them discreetly. They are ideal for everyday use, but not long-distant traveling.
Distil Union Wally Leather Wallet

Purchase
2. Money Clip Wallets
A money clips wallet is designed with a money clip or in the shape of one. The purpose of the clip is to hold large amounts of cash. The money clip originated in the 1900s and was only popular among men of the upper-class society. Today, everyone can afford one.
The money clip wallet has space for cards and coins in the interior compartments. You will find the money clip on the exterior or the interior of the wallet. Their make is often from high-quality metal or leather.
SERMAN BRANDS RFID Blocking Leather Wallets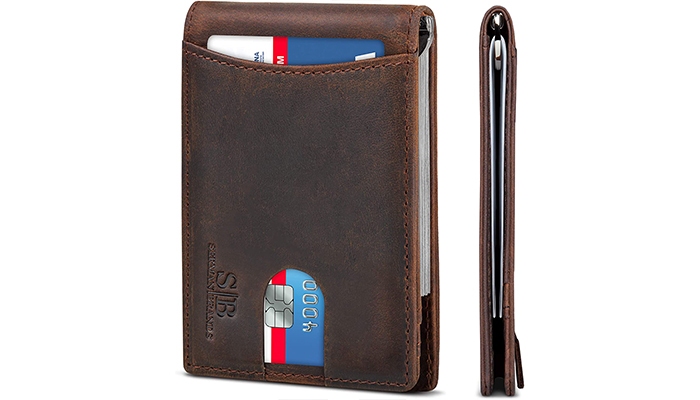 Purchase
3. Keychain Wallets
Keychain wallets have a keyring where you can attach your keys. It is a genius design that ensures you leave the house with essential things. Additionally, it reduces the chances of misplacing your keys while you are out or in the house.
Some keychain wallets come with a detachable key ring, while others have a non-removable key ring. The keyring make is high-quality metal, in gold or silver colors. Additionally, it is often attached to the zipper of the wallet.
Thread Wallets – Slim Minimalist Wallet

Purchase
4. Chain Wallets
Often associated with the earlier pioneers of 70s punk, the chain wallet has made a dramatic comeback. The chain wallet comes with a long metallic chain attached to the wallet on one end. You then connect the other end to your belt loop and tuck the wallet into your pocket.
You can also carry the wallet in your bag, attaching the chain to a post in your bag. Initially, people used chain wallets to secure their belongings in crowds. However, the chain wallet graduated into a statement piece.
Dickies Men's Bifold Wallet

Purchase
5. Zip Wallets
Zip wallets have a practical design that encloses the contents of the wallet with a zipper. The zipper often travels all around the wallet, so you would have to open the zipper to gain access to cards and cash.
More men prefer zip wallets because they are safe. Since the zipper encases the contents, there are fewer chances of cash, cards, and coins spilling out of the wallet. Because it is the primary closure system, manufacturers use high-quality zippers and gliders.
Vaultskin NOTTING HILL Slim Zip Wallet

Purchase
6. Trifold Wallets
The trifold wallet is named so because of the number of folds and sections the wallet has. It has three sections and two folds, so you fold it into thirds to secure the contents. Each of the units has compartments, so it carries more items than regular wallets.
With the extra space comes a little more bulk than traditional wallets. Since it folds twice, it looks a little bigger, and most men carry it in the back pocket. This wallet is ideal for people who carry a lot of cards and cash daily.
Fossil Men's Leather Trifold Wallet

Purchase
7. Bifold Wallets
The bifold wallet has two sections, folded in half. Each of the sections has compartments to carry various items. Since it only has one fold, the bifold wallet is slimmer than the trifold wallet. It is the version that most men are popular with.
Most bifold wallets have a single cash pocket that stretches from one end to the other as the main pocket. They are often wide to allow you to carry currencies of different sizes. If you travel light, you could do it with a bi-fold wallet.
Timberland Men's Leather Wallet

Purchase
The bifold wallet has two sections, folded in half. Each of the sections has compartments to carry various items. Since it only has one fold, the bifold wallet is slimmer than the trifold wallet. It is the version that most men are popular with.
Most bifold wallets have a single cash pocket that stretches from one end to the other as the main pocket. They are often wide to allow you to carry currencies of different sizes. If you travel light, you could do it with a bi-fold wallet.
8. Popup Wallets
Popup wallets are a modern invention of convenience. They give you access to cards by popping up the contents from one end when you push a button, often located at the base of the wallet. They are also known as slide wallets or ejector wallets.
Popup wallets are often simple and slim. This is because they only have space for cards. They can therefore fit in most pockets and are ideal for people who rely on cards for payment.
Ekster: Parliament – Slim Leather Wallet

Purchase
9. Wallets with GPS Trackers
Wallets with GPS trackers or smart wallets fix the problem of theft and misplacing. They have a GPS tracker built into the wallet that gives you the real-time location of your wallet. This feature ensures that you do not lose your wallet.
Some of these wallets also have remote photographing and location recording features. Additionally, they have inbuilt alarms. Therefore, you can make the wallet ring when it is stolen or misplaced. Some even work vice versa, making the phone alarm ring when stolen or lost.
Smart LB Anti-Lost Wallet with Alarm

Purchase
10. Velcro Wallets
Velcro wallets have a velcro closure. Velcro features two lineal fabrics attached to the opposite ends of fastening. One side of the velcro strip has small loops, while the other has flexible hooks, equally small.
When pressed together, they adhere to each other. To open, you pull them apart, creating a 'ripping-like sound.' Velcro wallets are fast and give you quick access to your items. Some users also like the sound of velcro.
Most have a fabric exterior, such as polyester, canvas, or nylon making them lightweight and slim. They can also be bifold or trifold.
Timberland Men's Trifold Nylon Wallet

Purchase
11. Personalized Wallets
A personalized wallet is one with engraving on the interior or the exterior surface. Buyers send the message or words they want on the wallet; then, the manufacturer engraves them on the surface of the wallet.
It is a genius way to turn a regular wallet into a unique one. Personalized wallets are therefore ideal gifts for weddings, anniversaries, birthdays, and other occasions. They often have multiple compartments making them a functional gift too.
Engraved Mens Personalized Leather Wallet

Purchase
12. Luxury Wallets
Luxury wallets come from globally-recognized designer brands. The most popular luxury wallets come from Gucci, Louis Vuitton, Chanel, and Saint Laurent. The key feature of luxury wallets is high-quality craftsmanship and materials.
You can easily tell the difference between a regular and a luxury wallet. Luxury wallets often have a signature monogram or metallic embellishment of the logo. Additionally, they have high-quality stitching and materials.
Luxury wallets have a simple and minimalistic design, making them lightweight and ideal for everyday carry. They are helpful when you need to make an impact.
Louis Vuitton Slender Mens Wallet

Purchase
13. Carbon Fiber Wallets
Carbon fiber wallets come from a polymer known as carbon fiber. It is a strong and lightweight material, five times stronger than steel, and considered 'indestructible.' Manufacturers make carbon fiber wallets because it has many likable properties.
Carbon fiber wallets are strong, resistant to corrosion and water, lightweight, and resilient. They have many compartments but retain a slim profile. Carbon fiber wallets are ideal for any man and will often perform well in outdoor settings.
The Frenchie Co. Carbon Fiber Ultra Slim Wallet

Purchase
14. Long Wallets
A long wallet is longer and slimmer than a regular wallet. It has a rectangular shape and is also known as a checkbook wallet or a breast pocket wallet. Many men carry long wallets in the breast pocket of their shirts, hence the name.
The main allure of a long wallet is that you can carry your cash unfolded. This gives the impression of being organized and classy. Additionally, it has more compartments, giving you the freedom to carry more. The shape, finally, ensures your cards do not bend.
Ariat Men's Rowdy Rodeo Copper

Purchase
15. Badge Wallets
Badge wallets are for anyone who needs to carry a badge at all times, such as police officers. These wallets have a designated slot to pin a badge. Additionally, they have plenty of space to carry cash, cards, and other items.
Badge wallets often have flap closure, and with a badge, they are fuller. However, the design ensures that the badge is removable so users can carry the wallet like a regular one. These wallets often have a leather exterior and interior for durability.
Wallet & Badge Holder
G
Purchase
16. Card Holders
This is a type of wallet that only has room for cards. Rarely does it have any folds, zippers, or velcro closure. Instead, it has a single section with multiple compartments for carrying business and debit cards.
It is slim and lightweight, making it an excellent alternative for carrying a wallet. If you only carry cards, you should consider using a cardholder. Cardholders are primarily leather to prevent the cards from bending and secure them in place.
Once you place the card, it leaves a small portion of it extending out to allow you to pull it from the holder.
Michael Kors Men's Harrison Tall Credit Card Case Wallet

Purchase
17. Metal Wallets
Metal wallets have a metal shell or exterior. Most metal wallets have a stainless steel extractor, but others are varying grades of aluminum or titanium. The primary appeal of metal wallets is durability.
Metal is more durable than leather, canvas, polyester, and nylon. Therefore, metal wallets will last longer than traditional wallets. They, too, have slots in the form of an elastic band that stretches to hold cards and cash.
Metal wallets ensure that your cards do not bend while securely holding everything in place.
The Ridge Minimalist Slim Wallet For Men

Purchase
18. Vegan Wallets
Vegan wallets come from vegan leather. Vegan leather is a material that looks and feels like leather. Instead of coming from animals, however, it comes from processing artificial or plant products.
Therefore, you will find vegan leather from corks, pineapple peels, leaves, recycled tires, apple peels, and even recycled plastics. It is an excellent option for people with an opinion against animal cruelty.
Vegan wallets mimic leather wallets and even have compartments for cash, cards, and other items.
Corkor Vegan Cork Wallet for Men

Purchase
19. Checkbook Wallets
A checkbook wallet is a long wallet. It gets its name for its shape, which is essentially a long triangle. The main appeal of the checkbook wallet is that you can carry different sizes of currency comfortably. Additionally, you do not have to fold the cash.
Checkbook wallets have more space. Therefore, you can conveniently carry more items. If it is big enough, you can even store receipts and other documents. If you are a regular traveler, the checkbook wallet is an ideal accessory for you.
Carhartt Men's Rodeo Wallet

Purchase
20. Tactical Wallets
Tactical wallets have a careful design that ensures you are ready for any challenge in the outdoors. They are a high-quality and durable exterior, mostly metal or waterproof fabric. Additionally, they have removable parts that double as tools.
Tactical wallets are often slim to allow front pocket carry. This readies you for action at all times. They are also resistant to corrosion and can withstand all weather conditions. They are the ideal adventure wallet.
Dango D01 Dapper EDC Wallet

Purchase
21. Stick On Wallets
Stick-on wallets or sticky wallets are a modern way to carry cash and cards conveniently. It is essentially a cardholder with an elastic band at the front. It has a single section, and the back comes with a long-lasting adhesive.
You peel the adhesive covering, then attach it to the back of your phone. You can then use the compartments to carry cards. The front has a small pocket for cash. Some also have an elastic band for your fingers to carry the phone and wallet.
New 3-in-1 Stick On Wallet for Any Phone Case

Purchase
22. Coin Pocket Wallets
A coin pocket wallet is a regular wallet with a dedicated pocket for holding coins. It is often a zippered pocket, but it could also have a snap button or velcro to keep the coins from falling out of the pocket.
You can find this pocket on the inside or outside part of the wallet. It is smaller than other compartments of the wallet. However, it has enough capacity for multiple coins. On top of that, these wallets have multiple slots for cash and cards.
Bellroy Note Sleeve Wallet

Purchase
23. Front Pocket Wallets / Slim Wallets
Slim wallets are thinner and sometimes smaller wallets that can fit the front pocket of trousers and sometimes breast pockets. They enhance better posture when sitting down.
The slim wallets have a lightweight exterior that makes them ideal for carrying in the front pocket. Additionally, they are thin, allowing you to carry them in the front pocket discreetly. They have similar design attributes as minimalist wallets. However, they could hold more slots for cards.
SERMAN BRANDS RFID Blocking Wallet Slim Bifold

Purchase
24. Phone Case Wallets
These are clever accessories that allow you to store cash, cards, and other items in your phone case. The phone case comes with multiple slots for carrying cards and other items. The wallet is, therefore, in the back of the phone case.
They offer the convenience of never forgetting money or payment options when you leave the house. They also eliminate the need for a separate accessory to carry your money and debit cards.
24. Arae Case for iPhone 12 and iPhone 12 Pro

Purchase
25. Belt Wallets
Belt wallets are small and lightweight, with loops that allow you to fit a belt through. This way. You can carry the wallet on your belt. It is an innovative and convenient way of securing your belongings. And it prevents misplacement of the wallet.
Belt wallets also give you quick access to cards and other items. They are lightweight and slim to accommodate carrying on the waist. And belt wallets have multiple compartments for cash and cards. They can have velcro, magnetic, or snap button closure.
AIScell Black Leather Wallet Case

Purchase
26. Passport Wallets
A passport wallet's design has a designated space to carry your passport. Sometimes, the wallet has enough room to carry more than one passport. It is the ideal accessory for travelers as it also has room for other documents.
Passport wallets are bigger compared to regular wallets. They also have more slots for cards and sometimes cash. They are often zippered for a secure carry.
Bellroy Travel Folio

Purchase
27. Neck Wallets
A neck wallet or neck pouch is a type of wallet you can wear underneath your clothes, hanging from your neck with a durable strap.
The idea is to discourage theft plus keep your hands and pockets free. This wallet has a secure strap that you can detach to use the accessory as a regular wallet. And neck wallets often have zippered closure to hold items in place securely.
HAWEE Badge Holder with Zipper Genuine Leather

Purchase
28. Travel Wallets
A travel wallet is an accessory intentionally designed to hold all the documentation you would need to travel. This means that it has room for your ID, passport, tickets, and boarding pass. They also provide a secure space for cash and cards.
Travel wallets are bigger than regular wallets. Therefore, they can hold more. And they often have zippered closure to store all items in place securely. Some also come with a wrist strap.
28. RFID Family Passport Wallet Holder

Purchase
29. Leg Wallets
A leg wallet is a secure pouch that can hold cards and cash, which you strap to your shin. The design sees two stretchy bands, often with velcro on either side. You wrap these sides around your leg, then press the velcro to secure it.
Leg wallets are ideal for exercise because they keep your hands and pockets free. Additionally, they are great for other outdoor activities such as rock climbing and cycling.
Hidden Neoprene Zipper Pouch

Purchase
30. Shoulder Wallets
A shoulder wallet is a wearable wallet that you strap onto your body for secure carrying. The design features long wearable straps that place wallets on each side of the underarms. The design is similar to weapon holsters.
Not only is this an anti-theft design, but also a stylish accessory. The straps, which are often leather, complement and shape your outfit well. It is a modern look that is slowly picking up.
Neween Anti-Theft Hidden Underarm Strap Wallet

Purchase
31. Wrist Wallets
A wrist wallet or wristlet is a wallet with a carrying strap that securely fits on the wrist. It is often bigger and longer than a normal wallet, hence cannot fit in the pocket. However, this means that it provides more room for cash, cards, and other items.
Wrist wallets often come with zipper closure to secure the items. And others come with removable straps. They are very convenient to carry, and people other than men have taken a liking to their convenience.
BALIDIYA Men Clutch Leather Bags

Purchase
32. Sock Wallets
This is a wallet attached to the side of one sock. This genius design not only gives you comfortable and absorbent socks but also an in-built pocket to securely carry your items. Sock wallets are ideal for kids and teenagers.
Socks wallets often have a zipper closure to secure the items. And they are slim, plus lightweight to enhance easy carrying. They keep kids organized and lessen the chances of losing money.
Flippysox Zipper Sock Wallet

Purchase
33. Denim Wallets
As the name suggests, a denim wallet is a wallet with denim as its primary fabric. Often, denim wallets have a denim exterior, while the interior has a polyester or nylon lining. This makes denim wallets lightweight and stylish.
Denim wallets are for casual carry, so they are ideal for festivals, shopping, or hanging out with friends on the weekend. They are often easy to wash and long-lasting.
Herschel Roy RFID

Purchase
34. Hard Shell Wallets
Hard-shell wallets have a tough and durable outer covering that is shell-like. It is ideal for keeping the contents safe from impact and pressure. Similar to an AirPods case, a hard shell wallet often has a magnetic closure.
Hard-shell wallets are surprisingly slim; most are thinner than trifold fabric wallets. Some hard-shell wallets have a fabric covering on top such as leather to enhance their appearance.
Bellroy Flip Case

Purchase
35. Paper Wallets
A paper wallet is often High-Density Polyethylene. The name paper wallet stuck because of how lightweight and thin the fabric is. It is ideal for minimalists because it is also slim and facilitates discrete carrying.
Many paper wallets are surprisingly strong and resistant to tearing. And they are resistant to corrosion and water. They also have multiple compartments but retain a lightweight and slim feel. Paper wallets often come in colorful patterns and colors.
Mighty Wallet Men's NYC

Purchase
36. Wooden Wallets
Wooden wallets derived from minimalists are wallets with an all-wood exterior. They are stylish, with great aesthetics and visuals. The wallets are all-natural, making them favorable to vegans and environmentalists.
Wooden wallets are surprisingly slim and have multiple compartments for cards. Some come with a money clip as well. Instead of stitching, they have metal screws to hold the accessory together. Overall, they are fashionable and may take over the accessory world.
Mountain Voyage Premium Minimalist Mens Wallet

Purchase
FAQs
What type of wallet is best?
Travel wallets and tactical wallets (and the likes) are best for their respective functions. Bifold wallets are best for everyday carry. You can also go for wrist, belt, leg, or shoulder wallets for easy carrying.
What are the features of a wallet?
A standard wallet has card compartments, a coin pouch, a transparent ID window, and the main cash slot. Others have special features such as key rings, straps, and money clips.
How do I choose a wallet?
Choose a wallet according to your needs and preferences. For example, a travel wallet for traveling, a minimalist wallet for a minimalist, or a tactical wallet for outdoor use. Consider durability, convenience, and feel of the wallet too.
What is the best material for a wallet?
The best materials for a wallet include leather, polyester, vegan leather, nylon, canvas, steel, aluminum, and carbon fiber.