For anyone that works in a role that involves selling yourself or a product, a business card is the most important thing you could carry around.
Whoever you may be, a business card is your sales tool because it adversities you and your identity.
While most people carry business cards in their wallets, it may not be enough for your upcoming networking event or business trip. That been said, it is time that you get a card holder.
A card holder is essentially like a wallet only that it is built for one job, to carry your business cards or credit cards.

Many people opt to use more than one card case. It is better this way as it allows you the freedom to match with the outfit or occasion.
The most basic of collections should have a black leather case with minimal detailing and a metal shell, the same or a similar leather case in brown, a casual case which can be worn when you are not working, and a case, metal or leather, that exemplifies your own personal style and flair.
Any of the following case holders should be a perfect fit for these specifications.
1. Bellroy Leather Card Holder

Made for the minimalist in you as it measures 2.9 inches tall and 4.9 inches wide; this card holder is the perfect addition to your wardrobe. It made high-quality premium environmentally certified leather that will look better as it ages. Bellroy is known for making quality products and this is another great addition to their reputation. The interior can fit up to 20 business cards or 8 up to 8 daily cards. Thanks to the secure magnetic closure feature, you need not worry about your cards falling out unexpectedly. Finally, it comes in three luxurious colors.
Purchase
2. Padike Luxury Business Card Holder

If you are looking for something luxurious and stylish then this is the card holder for you. This is a business card holder that is made of high-quality PU leather and stainless steel. This is a very durable combination as leather is timeless and easy to clean; not to mention very stylish. Stainless steel is corrosion resistant and can withstand daily wearing and tearing. This combination also makes it lightweight. The interior has sturdy construction with pockets that can hold notes, businesses, and personal cards, ID, and credit cards. It is a professional card holder perfect for the working man.
Purchase
3. HISCOW Leather Business Card Case

If simple realistic designs are your cup of tea then this business card holder will not disappoint. It is made of full-grain leather; a fabric that is durable, easy to clean, and timeless in appearance. It is handmade by the finest and senior-most craftsmen from Italy so each card holder is unique in personality. More than that, the stitching is detailed beautifully and the rich looking leather adds to the natural beauty of the card holder. It is light and compact such that it could even fit into your shirt pocket. It can hold up to 25 business cards or 15 credit cards.
Purchase
4. DMFLY Business Card Holder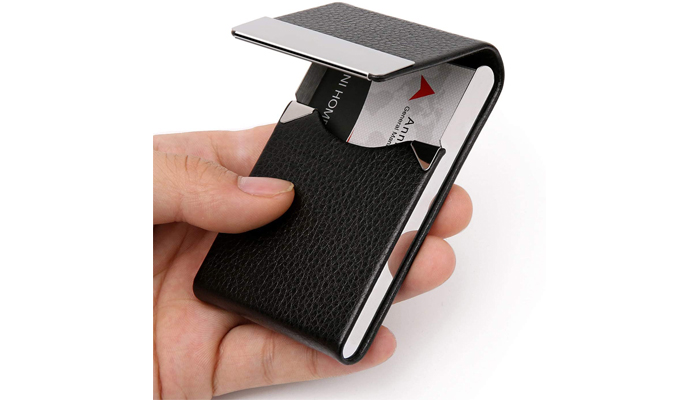 This is a high-quality card holder that will not disappoint you. it is made of luxury PU leather and high-quality stainless steel. This is a durable and stylish combination that is easy to clean, timeless, and easy on the eyes as well. It has solid construction form the interior to the exterior and a very professional appearance. It is the type of card holder that gives a great impression. The card holder is lined with RFID blocking technology to prevent illegal scanning of your cards. Finally, it is the perfect size for the front and back pockets.
Purchase
5. Padike Business Luxury PU Leather Card Holder

This is a stylish business card holder that is sure to make an impression. It is made of high-quality luxury PU leather and stainless steel. This powerful combination makes the card holder easy to clean, durable, and beautiful to look at. More than that, it offers a smooth luxurious finish that feels great in your hands. Though it has parts made of stainless steel, it is still a lightweight card holder with an elegant design. The interior is constructed well with pockets that can hold ID, business and professional cards, and credit cards.
Purchase
6. Padike Stainless Steel Multi Card Case

This is yet another great product from Padike that is sure to satisfy you in every way. As you would expect, it is made of a great combination of stainless steel and leather. This makes the card holder durable in structure, beautiful to look, at and most importantly, easy to clean and maintain. This card holder features a timeless design that is also unique and just good to look at. It measures 3.9-inch by 2.8-inch making it the perfect size for all types of pockets, including shirt pockets. The interior is divided into compartments for easy arrangement of cards.
Purchase
7. ELV Aluminium Card Holder

Rugged and rigid are the best words to describe this card holder. It is unique in build and function. It has an aluminum body frame that is secured by steel fasteners. This also tells you that is extremely durable and can stand impact. It has a clip or connector for a lanyard or keychain that is also made from steel. The interior can hold 4 Standard Credit Cards / Driver's License Sized Badges and thanks to the internal spring holding system, your cards are always held securely. Finally, it has an eject pop up card feature that offers excellent functionality.
Purchase
8. Tatuo 2 Pack Business Card Holder

This card holder measures 7 x 2.59 x 0.39 inches making it a portable item that can even fit in your shirt pocket. More than that, it has a unique design and is truly an extraordinary card holder. It is made of good ultra-thin stainless steel and aluminum frosted material. This combination makes it durable and resistant to both impact and corrosion. The interior is made to store 10 to 18 business cards at a time without losing its shape. This arrangement allows for easy sliding in and out of the cards. At full capacity, it remains to be lightweight.
Purchase
9. INJOYLIFE Business Card Holder

This is an excellent card holder that is tailor-made from upscale cowhide leather and 304 stainless steel. This is the ideal fabric for a good card holder as it is easy to clean, durable, and looks great by your side. It also gives you the perfect user experience for any occasion. The sturdy construction of the card holder also features professionally tested magnet closure that will not damage the cards in any way. Though it is a minimalist design, the card holder can comfortably carry 15 to 20 business cards or 7 credit cards depending on your needs.
Purchase
10. Royce Leather Vertical Framed Card Case

From Royce leather comes this stylish leather card holder that is professional, luxurious, and most importantly, functional. It is made from high-quality top grain nappa leather. This type of leather is durable, easy to clean and maintain, plus offers a smooth luxurious feel, and adds to the beauty of the card holder. It has a chrome frame and a hinged top that adds to the professional outlook; perfect for business occasions. The interior is divided into a compartment that can fit up to 50 business cards making this the perfect card holder for networking events.
Purchase
11. HISCOW Envelope Business Card Case

If you are looking for something a little more unique in design then this is sure to spark your interest. This is a great card holder made in Italy from the finest craftsmen. It is made of full-grain Italian leather; this leather is known to be durable and easy to clean. Each crease adds to the character of the cardholder, and it will look good as it ages. The sturdy envelope is one of a kind and is sure to catch the eye of those around you. The interior can hold up to 14 business cards or 6 credit cards depending on their thickness.
Purchase
12. Miiiw Professional Business Card Holder

This card holder features a sleek, luxurious design that is attention-grabbing but also professional. The body is made of high-quality aluminum; it is corrosion-resistant and easy to clean. More than that, it offers a sleek and shiny finish to the card holder that is sure to make a statement at your next networking meeting. The aluminum build also makes it resistant to impact and durable. The interior can fit 10 to 16 cards or a few credit cards for daily use. At full capacity, it retains its lightweight character making good for any size pocket.
Purchase
13. Hide & Drink Vintage Business Card Holder

Vintage designs are always worth adding to your wardrobe and that is why this card holder should be top on your list for the best card holders. It is handcrafted from durable leather; handled with care so that each holder is of the highest standard possible. Full-grain leather is featured in the construction of this card holder; this quality ensures long life and durability. It is also easy to clean and maintenance is a breeze. The stitching on the case is also well-detailed adding beauty and all loose ends are passed over an open flame.
Purchase
14. WWW Genuine Leather Business Card Holder

This card holder embodies a simple design that is just as functional as it is beautiful. It is made with premium genuine leather and is 100% handmade. This is evident in the detailed stitching that adds a little contrast emanating a beautiful outlook. The leather is durable, easy to clean, and has a smooth finish. It has a built-in magnetic strip that provides a durable magnetic force. It snaps easily when it closed keeping your cards secured. The edges are reinforced with durable stitching that ensures that the edges do not fray. Finally, the interior has a soft lining to keep cards clean and unbent.
Purchase
15. MaxGear Business Card Holder

This is one of the most unique card holders in the market today. It is made of 100% high-quality solid walnut wood. It features manual polishing, and painting making it not only beautiful but also very durable. The lighter-style design is unlike any other and facilitates easy removal and putting in of cards. It has a durable and strong magnetic closure that requires no effort to close. It maintains a light and portable frame that will fit perfectly in your pocket or briefcase. The interior holds 12 to 15 cards at a time depending on size and thickness. This is the perfect card holder for networking events as it is sure to make a statement.
Purchase
16. Marshal Business Card Holder

This business card holder is well designed with slots on the outside and the interior. It can hold more than 40 cards depending on size and thickness. Nonetheless, it is the perfect card holder for networking events and such. The outside has a slot for your most sued credit card and the interior has a picture ID slot and expandable business card pocket. It is made of high-quality leather on both the interior and exterior so you can be sure your cards will remain undamaged. The leather allows the card holder to last a long time.
Purchase
17. Y&G Business Card Holder

Y&G is known for making high-quality accessories and this is another great addition to their reputation. This card holder is made for everyone thanks to the sturdy construction; the perfect gift for friends and family. It is made of synthetic leather that is as durable and beautiful as natural leather. It also has stainless steel pats that provide protection and privacy for your cards. It is small enough to fit into any pocket including shirt pockets. It can hold approximately 5 to 6 credit cards, or 14 business cards. It is a great product for networking events.
Purchase
18. Leatherology Black Oil Business Card Case

This is a great card case that would be a wonderful addition to your wardrobe. It is made from full-grain leather; known for being durable, German leather is one of the best fabrics for wallets, and card holders. It is also very easy to clean and maintain. More than that, with time, is develops stylish creases that add to the personality of the card case. It features a compact design that will fit in any pocket even at full capacity. Finally, it has a magnetic closure that requires little effort and closes securely for protection of your cards.
Purchase
19. Stephanie Imports Brushed Gunmetal Card Holder

This is the last card holder on the list but is just as stylish as it is functional. It has a unique build that allows it to open vertically and features a bar latch that keeps the card holder safely locked. This ensures the protection of your cards, not to mention privacy. It is made of brushed stainless steel that is durable, resistant to corrosion, and resistant to impact. The interior can hold 15 to 20 business cards, credit cards, and ID cards. Even at full capacity, it maintains a compact and lightweight build.
Purchase