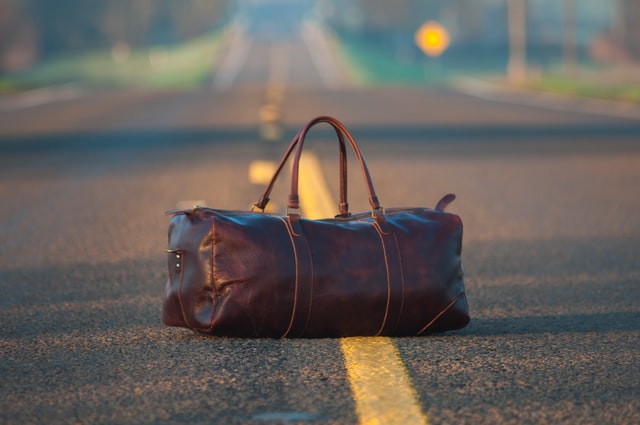 Didn't this come as a shocker when you learned that there is more to men's bags than those chunky travel backpacks and boring suitcases? Well, we won't blame you.
Since those two take care of pretty much everything on the go, exploring in the realms of specificity is often a chore. But hey, situations can arrive where it's absolutely inevitable.
And your presence here tells us that you either want to be ready for that or are standing right at that spot. In any case, below given are some tidbits about the different types of men's bags you really need to look at.
So let's jump in!

1.  Backpack

Well, you know what it is, the ancient, commonly used type of bags to ever exist. But let's just explain it anyway.
So, a backpack is the simplest form of bag that consists of a fabric sack you carry on your shoulders with two shoulder straps.
Thanks to its functional design, a backpack is the jack of all trades when we talk about bags. You can use it to carry around your books, laptop, and even go for mountain adventures.
Seems like a stretch? Well, All you need to do is just to find the right size with the right pocket, and you've got yourself a buddy that will fit in anything.
2.  Messenger bag

Not feeling all comfy with the backpack? Try the messenger bag. It has the same sack-type design but is secured with one strap rather than two.
It also has a variety of sizes and pockets to conveniently keep all your things secured in one place.
These are mostly made of cloth. However, there are also leather variants. They are a good option for day-to-day use. Just not for the extreme conditions.
Guess what? Backpacks have got to have some edge, after all. 😉
3.  Weekender Bag

A weekender bag is nothing else than what the name says; a perfect partner for those blissful escapes you pursue after hectic days of tiresome work.
It features a big sack with a long and adjustable shoulder strap and shorter handles at each side for quick grip and easy handling.
These are roomy enough to hold all your trip essentials, including food, toiletries, clothing, and any other stuff you would like to carry.
Although available in nylon, make sure to buy the leather variant for a lasting experience.
4.  Dopp Kit

Dopp kit is a small leather bag that helps keep all your toiletries and grooming kit safe during travel times.
The bag has specially designed compartments to hold stuff like toothbrushes, toothpaste, shampoo, floss…you get the idea.
The history of these bags travels back to the WWII era when it was newly introduced and used by the American soldiers during the war.
As they came back, they continued using it, and that's how the use of the Dopp kit got common. Or, more accurately, that's when it became an everyday travel companion.
5.  Tote Bag

Ever noticed those simple, square, and light fabric handbags ladies use to collect their groceries? Those are actually known as tote bags.
Tote bags are mid-large-sized bags with parallel handles, with no zip or button to fasten the bag at the top.
These bags have no compartments for anything whatsoever and can be used to store materials that do not require extensive care and organization.
Tote bags are no less than awesome for something that stores day-to-day stuff on the go.
6.  Carryall

Well, it's literally what the name tells. It's usually an airplane-luggage-sized bag with one huge compartment featuring sub-compartments inside and some pockets on the outside.
Carryall bags are known for their functionality and often stylish design.With the optimum size and sturdy material, it pretty much holds all the necessities of your short trip.
Moreover, it's available in various materials, including canvas, leather, and polyester. As for portability, there's a comfy shoulder strap and two parallel handles to grab it on the go.
Just a little suggestion, always go for the leather carryall. 😉
7.  Laptop Carrier

Also known as a laptop sleeve and laptop pouch, the laptop carrier is a briefcase-shaped bag that is slightly bigger than a laptop, with separate compartments for laptop accessories as well as the laptop itself.
The material used in such bags is usually neoprene or leather, and the overall frame is designed in a way to keep your laptop safe from wear and tear from day-to-day use.
Plus, you always have the utility to slip in some files in it when needed. It's a good choice for office guys!
8.  Duffel Bag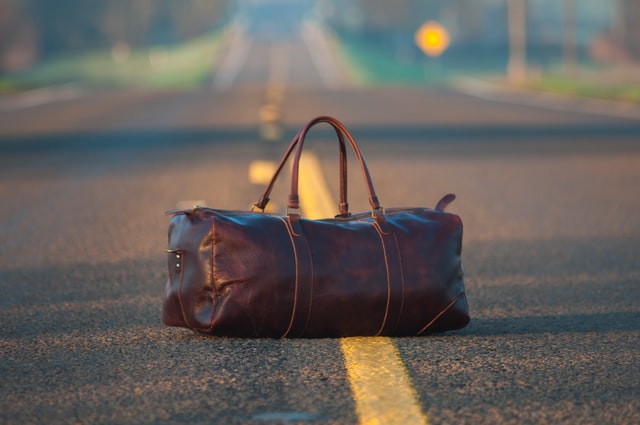 A duffel bag is simple and very spacious. It's a cylindrically shaped bag usually made of canvas and is big enough to hold everything, from your gym accessories to travel stuff and sportswear.
There are handles on either side of the bag, with one adjustable strap.
A duffle bag can be made of both synthetic and natural materials. You can choose between both concerning your needs and preference.
For example, you would like a leather duffel bag for your business, polyester for day-to-day use, and a waxed canvas duffel bag to conquer the mountains.
All in all, it's an excellent choice for everyone.
9.  Briefcase

This is the primary choice of lawyers to carry around tier files and briefs to the courts. Thus, that's where it gets the name from.
The briefcase is a narrow, hard-sided, box-shaped bag suited for formal occasions.
The outer covering of the briefcase is primarily made of materials like leather, vinyl, or some fabric or plastic.
The only problem with these? Well, the use of the briefcase is strictly limited to just one single purpose, and that is to carry files. But guess what, nothing beats the class. 😉
10. Crossbody Bag

Sometimes, you need something that carries a little more stuff than your pocket but way less than what you would expect from a full-fledged backpack. Well, that something is a crossbody bag.
These are great, but only if you look at their utility. If we look the other way around, e.g fashion, you may have to be bold and unapologetic.
As unusual as they look, someone might even call you a time traveler from the early 2000s.
11. Satchel

Just the classic look of it! Satchels, in their shape, are a mix-breed of briefcases and messenger bags.
They are pretty roomy, sturdy (but not hard), and have plenty of room, with a nice shoulder strap and handles for a firm hold.
Although commonly used to carry around books, they have transitioned into a fashionable accessory since 2008 in the United Kingdom, United States, and Canada.
As of 2022, they are quite popular among men of every age, thanks to the extra class they add to your personality.
As far as the functionality is concerned, they are pretty limited in usage. But hey, there's always some room to slip the extra essentials. 😉
12. Clutch

A Clutch is more of a fashion accessory than a functional bag. It's a flat, handleless, hard, and strapless (or detachable straps) bag that doesn't have much space available inside.
The most you can slip in there are your essentials such as your smartphone, cards, and some files (if you choose the bigger one).
Even more, it must be hand-held all the time, which might be irritating for some people. If not for special tastes, some great alternatives are available for a clutch, as a messenger bag, etc.
13. Waist Bag

Ahhh! The classic that still keeps Dwayne "The Rock" Johnson getting trolled, a waist bag, or a fanny pack is a small fabric pouch people wear around the waist like a belt.
A waist bag keeps small valuable objects secure and more accessible on the go.
Although the thing has been out of fashion for quite a while, it is now again in Vogue, with brands like Gucci, Louis Vuitton, and Prada producing it since 2018. Not to mention Chanel!
You will find it very functional and fashionable for its size and purpose, without a doubt.
14. Portfolio Bag

The portfolio bag is leather and has almost the same design as a briefcase. Except that there's usually a pocket protruded at one side of the bag, and the construction is pure leather.
Just like a briefcase or a laptop carrier, its use is strictly prohibited to office use as there's room only for papers, pens, tiffin boxes, and any other personal belongings that can fit in the narrow space.
Although quite unconventional for fashionwear, there's nothing wrong with being unapologetically sexy in the office. 😉
15. Camera Bag

As the name suggests, camera bags are specifically designed to pack up all your camera accessories, including lenses, batteries, filters, speedlights, and the camera itself. Plus, you can also fit in a laptop if required.
Professional photographers use camera bags mainly as they have to carry around their equipment well organized and protected throughout their journeys. Plus, for the extra convenience, it provides.
And guess what, nothing is sexier than a petite black backpack with a beanie or baseball cap.
16. Cinch Bag
It is perhaps the simplest and most old-school type of bag in men's fashion. No mumbo-jumbos, no zip, no fancy leather, no nothing! Just a cloth sack that is cinched by a drawstring.
Thanks to the recent shift towards minimalism, its popularity is increasing among men day by day. From school students to gym freaks, everyone loves it.
As they say, cinch bags are the real shite these days!
17. Sling Bag

A sling bag can be a great choice for a casual day out. As the main idea behind designing a sling bag is providing an ergonomic experience, men with problems like neck pain, back pain, and shoulder pain can happily use it.
A sling bag is available in several sizes, from small to large and anything in between. Plus, it's so in trend as far as fashion is concerned, and you don't have to be bold to use it. Just one thing, it mostly suits men in youth. 😉
18. Barrel bag

A barrel bag is similar to a duffel bag in many aspects, except that it is very specific in its shape. The material is usually canvas. The bag is fastened with pull strings at the top. Plus, there's a thick shoulder strap to carry it around.
Barrel bags are usually a storage and fashion accessory for winters, with a huge capacity and design that complements the perfect winter outfit. Other than that, they are also excessively used by army personnel to carry around their belongings.
FAQs
Can a man use a handbag?
The straight answer to that would be definitely yes! In the past few years, handbags have seen a massive surge in acceptance as far as everyday men's wear is concerned. But to call them common would still be an exaggeration, period!
What should men keep in a bag?
This depends upon what type of bag you are carrying and where you are going. To give you a general idea, every man should have a pair of headphones, a portable battery pack, a reusable water bottle, a comb, a portfolio, and of course, a hand sanitizer in these troublesome times.
Should men use bags?
There's nothing to ask here! It's absolutely necessary to use a bag, especially if you are a professional. Although casual wearers can still get away with not having a bag, those going to the office daily or avid adventurers need a bag regardless of any special circumstances.