The weekender bag was originally adapted from the style and comfort of a woman's handbag.
Because men could not carry handbags yet were in need of bags for traveling, designers came up with a more masculine and versatile bag good enough for a short trip or just a quick trip to the gym. Since then, messenger bags and Dopp kits have been fashioned in the image of the weekender.

The names 'man bag', 'man-purse', 'duffel bag', and 'murse' have been used to describe these bags.
The designs are often more streamlined than a backpack and less bulky than a briefcase; demand is stronger in the 21st century after several years of popularity, possibly supported by the growing range of modern electronic devices men carry with them such as laptops, tablets, and phones.

The bags are typically made of leather, cotton, canvas, and even wool; designers found popular success with zipper enclosures, flaps, and even magnetic clasps hidden in the fabric of handbags. When buying a weekender or duffel bag, it is important to consider these aspects in order to get your money's worth.
This article provides a helpful insight on 34 of the best duffel bags and weekenders for men.
1. Polare Leather Weekender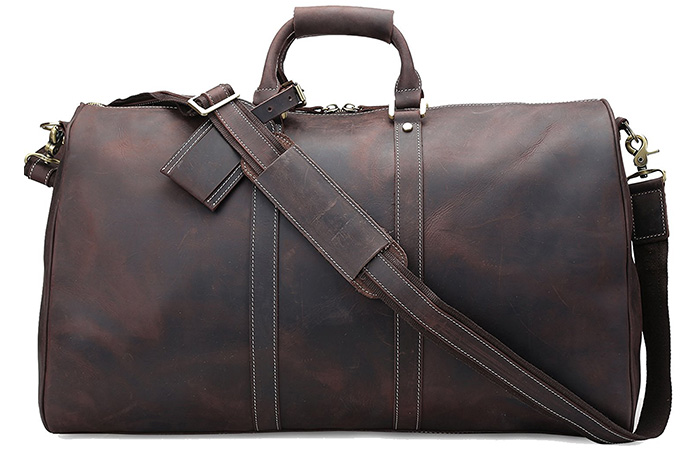 This is a bag made of high-quality Italian cowhide full grain leather that is durable and long-lasting. Because it is handcrafted, it utilizes strong stitching that only looks better with age. This bag is large enough for an impromptu business or pleasure trip with an inbuilt laptop sleeve big enough to fit a 15.6-inch laptop. It has two carrying options; detachable shoulder straps for when you are packing heavy and a handle for use as a weekender.
Purchase
2. S-ZONE Leather Trim Weekend Bag

This is a durable and light bag that blends the smoothness of canvas with the durability and class of crazy horse leather. The rivets are quality Solid Zine-alloy hardware that will not gather dust easily. It is roomy while maintaining just the right size for a carry-on flight bag. Like most comfortable bags, it comes with a detachable shoulder strap for those days you carry a lot of clothes. It also has a handle for when your shoulder needs a break. Finally, it comes in a variety of colors to match your personality or preferences.
Purchase
3. Herschel Novel Duffel Bag

When it comes to Herschel, you can always expect high quality and durable bags. This is a high-quality bag with a two-way waterproof zipper, the signature stripped fabric liner, and an internal storage sleeve. However, the most impressive feature of this bag is a signature shoe compartment making this bag perfect for the traveling man. It has a detachable shoulder strap and of course, reinforced and articulated carrying handles. The dimensions of this bag make it roomy enough to not only fit your shoes but also a few clothes, a water bottle, and other essentials.
Purchase
4. NEWHEY Travel Duffel Bag

This Weekender is made of high-density water-resistant waxed canvas that will not rip or tear when you put a lot of things in it. The main compartment is large enough for clothes, books, and other traveling necessities two zipper pockets, two small pockets for cell phone or coins, and an exterior with two side magnetic button pockets. This bag incorporates rounded handles which makes it comfortable as a carry on; the bag also has a detachable wide adjustable canvas strap that can be used as a shoulder bag.
Purchase
5. BOSTANTEN Genuine Leather Travel Weekender

This leather traveling bag is made of high-quality genuine cow leather while incorporating a durable fabric lining, with custom hardware, heavy-duty zipper for security. It contains one big inner compartment, one inner zipper pocket, and two insert pockets. Like the Herschel bag, it has a handy shoe compartment with zipper closure while being able to hold a 15-inch Laptop, iPad, iPhone, clothes, and other things. As for performance, the single gusset construction expands for greater carrying capacity while the removable shoulder strap is adjustable and padded for comfort.
Purchase
6. SUVOM Weekend Overnight Bag

This is a large bag made of 100% cotton canvas with genuine crazy horse leather straps and buckles that become more polished with time. The interior consists of one large main compartment big enough to fit a 17-inch laptop, one inner zipper pocket, two small pockets for cell phone or coin, exterior with two side zipper pockets, two front zipper pockets, and one back zipper pocket. A more attractive feature in this bag is two solid carry handles on both sides that help you carry this hold all easily.
Purchase
7. WITZMAN Men Travel Backpack

This is a stylish yet adventurous bag made of premium quality cotton canvas with high-quality zinc alloy metal zippers. The durable and high-quality leather ribbon handle make you feel comfortable when carrying it in your hand. The S-shaped padded adjustable shoulder straps make the bag comfortable while protecting your back when carrying something heavy. This bag has a special and unique feature in the form of a zippered pocket on the backside that contains backpack style shoulder straps. Because the bag is big, these straps come in handy when dealing with a lot of luggage and make it easier on your hands and shoulders.
Purchase
8. Iblue Travel Duffel

This is a heavy duty bag that is just the right size for a flight carry-on. It is made of top quality thick canvas with a leather trim. It also features thick double zippers which are good for long-term use. Like all good bags, it has reinforced handles on each side for extra strength not to mention a detachable strap for when you are packing heavy. Because of the size of this bag, it has many uses such as going to the gym, going away on vacation or business, or even just for daily travel.
Purchase
9. Sweetbriar Vintage Duffle Bag

This is a vintage design cotton canvas duffle bag that also features leather accents on the sides. It is made of thick canvas for durability while the leather not only adds to the appearance but also plays on the strength of the bag. It features a roomy interior while being small enough to still fit in overhead carry-on compartments; the interior has a zippered pocket for storage of various small essentials such as a passport, phone, essentials, and pens. There are also 2 side access zipper pockets for items you need on the go. Finally, it has a detachable strap with padding for comfort.
Purchase
10. Jack&Chris Weekend Bag

This is a bag made from high-quality thick canvas, meaning that its texture is soft, strong and durable. It also has trim leather accents for style and durability. The interior features one outer side zipper pouch, two inner wall pouches, and one large compartment for clothes, books, shoes, etc. it has a zipper closure for security, an adjustable canvas backpack strap can be applied to different height and body type, and a Leather top handle reinforced for heavy packing days.
Purchase
11. ROCKCOW Vintage Leather Weekender

Here is a bag for the bold man as it features a style of retro and fashion. It is made of premium leather that only looks better with age and polishing. Though it has a large capacity, can still be used as a carry-on flight bag for all your essentials. It has YKK zippers for strength and security, a removable laptop sleeve, and metal feet at the bottom to protect the bag when you place it down. Finally, it has a detachable shoulder strap for comfort.
Purchase
12. Leathario Overnight Weekender Bag

This is a stylish and classy bag for the working man made from 100% genuine leather which goes through a vegetable tanning process that helps to retain the natural characteristics of the material while making it flexible yet durable. Other than the main compartment, the interior also has one inner pocket for your Pc, and one inner pocket for your IPad. It has two carrying options thanks to the reinforced straps on each side and a detachable shoulder strap with padding.
Purchase
13. RusticTown Duffel Bag

This bag is handcrafted from genuine buffalo leather which as you polish looks better. Made for the man who likes to stand out, this bag incorporates an attractive brush-stroke design for an enhanced look. It has a spacious compartment to carry clothes, iPad, magazines, books, travel items, etc. it is crafted from a high-quality thread and enhanced for durability with brass buckles, buttons, YKK zippers. It features a zipper on each side of the bag to hold things that you need to access often.
Purchase
14. Gent Supply Leather Duffle Adventure Bag Weekender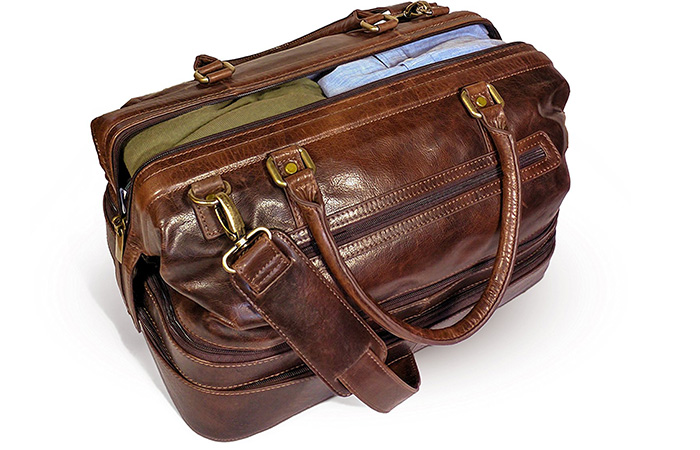 This weekender is made from 100% vegetable tanned buffalo leather for a silky smooth finish while maintaining a classy look. It features a main compartment that opens and expands to fit everything you need, while still maintaining a carry-on size. The most attractive feature of this bag, however, is a large, flat separate compartment that can accommodate shoes, a toiletry bag or other items you want to keep separate from the main compartment. With this feature, this bag is perfect for not only a weekend away but also a simple trip to the gym.
Purchase
15. Cenzo Duffle Vecchio Bag

This bag is handmade in Italy with full-grain calfskin leather that has deep color tones and looks better as it ages. The vegetable tanned base creates the rich brown and red colors while the semi-gloss finish helps prevent stains. The interior features a cotton duck canvas lining that is durable. It features strong brass zippers and hardware for style and long-lasting use; it also features a detachable strap that can be adjusted to any height for comfort.
Purchase
16. Hook & Albert Garment Weekender Bag

This is a uniquely designed bag that combines the functionality of a garment bag with the portable and simple elegance of a luxury duffel bag. It is made of a durable and lightweight cotton mélange exterior that allows expansion while still retaining its shape. The interior features heavy nylon trim that is smooth and durable; it also has YKK zippers for durability and long-term use. It has reinforced handles on each side and a detachable strap for when you are packing heavy.
Purchase
17. Dog Patch Weekender Bag

This is a bag made from 100% Moroccan leather that is tanned naturally without the use of chemicals or dyes Tawny color that grows richer and darker with use; it is also waterproof. It features a large main compartment that is lined with extra sturdy cotton canvas to prevent rips and tears. Among its other features are a long adjustable shoulder strap, two carry handles that are reinforced for durability, and solid brass fittings that will not rust, tarnish or leave a black mark. This is the perfect bag for a weekend away while still maintaining a professional outlook.
Purchase
18. P.KU.VDSL Canvas Weekender

This is a unisex travel bag made of original waxed canvas that is not only durable but also water repellent; it is matched with genuine leather trim making the travel bag more stylish. The bag is large enough for use when going away for a long weekend while still maintaining a practical size. It features one main compartment, one small front pocket, one inner zipper divider, one inner wall zipper pocket, and two open slots. Finally, it has a detachable wide adjustable canvas strap that can be used as a shoulder bag. Without the strap, it can be used as a handbag.
Purchase
19. LeftOver Studio Expandable Weekender

This is a bag from LeftOver studio that features genuine top grain cow leather that looks better with age, YKK professional grade metal zippers, solid metal hardware, reinforced seams, rivets at stress points, quality UV resistant threads, high thread count lining fabric and high-quality stitching. The interior is made of a cotton twill lining to keep all your items safe and cushioned. The bag is roomy and can expand to fit all your items while maintaining its shape. If you are not using the reinforced straps on each side to carry then you have the option of using a detachable leather accented wide non-slip shoulder strap which can also be easily adjusted to preferred lengths.
Purchase
20. KPL Vintage Leather Duffel Bag

This is a multi-utility bag that can be used as a travel bag, gym duffel bag, sports duffel bag, overnight bag, weekend cabin duffel bag, carry on duffel etc. it is made from 100% Genuine Leather that has been veg tanned using natural edible oil; with a durable canvas lining. The interior features one big main compartments for clothing or other essentials, and two side pockets for accessories such as watches, and rings. Finally, it has an adjustable shoulder strap with shoulder pad for comfort.
Purchase
21. Nicole Miller Sharon City Duffel Bag

This pebble grain duffle bag features reinforced loop handles for durability that do not tear even when carrying a full bag. It contains a signature animal print interior making it stylish and bold. The bright color allows you to stand out in an elegant and unique way. It has the gold hardware for an elegant finish and a detachable strap that you can adjust for when you are packing heavy. This is a multi-purpose bag because of how compact yet light it is; it can be used for daily travel or even a weekend away.
Purchase
22. Floto Venezia Duffle Bag

This classic bag is made from full grain calfskin leather that has deep color tones and looks better as it ages. The vegetable tanned base creates the rich brown and red colors while the semi-gloss finish helps prevent stains. The interior features a durable yet lightweight cotton canvas lining that gives your items a well-deserved cushion. The interior includes a main compartment and a zip pocket for passports and travel supplies. This main compartment is so large that it can pack four pants, four shirts, two sweaters, three shorts, four t-shirts, a toiletry bag, and one pair of shoes.
Purchase
23. Fossil Men's Haskell Weekender Bag

This is a large bag that can expand while still retaining its shape to fit all your items. It can fit a 16-inch laptop while still leaving room for clothes, books, and other items. The exterior features a nylon leather trim that is strong and durable for long-term use. The interior has two media pockets, one zipper pocket, and four elastic Loops to fit all your items and though it is large, it still retains a practical size.
Purchase
24. Iblue Leather Weekend Bag

This bag is designed for the man who is not afraid of fashion; it features a classic and retro design made of thick brown genuine leather that looks better with age. The YKK zipper opens from the top in both directions and goes down to the base where a patch on both sides prevents zippers from falling open completely. It features metallic studs on the bottom to keep your bag protected when you place it on the ground. The interior has two inside open pockets for small items, like keys, wallet, or phone; and one inside zipper pocket that can store small items without having them roll around inside the large compartment.
Purchase
25. BAIGIO Genuine Leather Travel Bag

This is a bag made of 100% genuine leather with a durable canvas lining on the inside. It also features antique brass fittings, and smart contrast stitching nylon thread sewing. The interior consists of one padded tablet compartment, one zipper pocket, and three open pockets. It also has one main compartment to carry clothes, laptop, shoes, files, books, and travel kits; the shoulder strap can be easily removed and comes with a leather pad for comfort.
Purchase
26. KEYNEW Duffel Bag

This is a bag that is practical yet stylish; it features a durable nylon fabric on the exterior that is water resistant and tear resistant. It has one huge compartment with a mesh zipper pocket inside and a two-way zipper's U-shaped opening. The side compartment can place the daily necessities while the front zipped pocket can hold your iPad, Kindle, dairy, and cellphone etc. Because it is an anti-theft bag, the double zipper of the main compartment has an external padlock keyhole design, and an easy to use padlock. The personalized Anti-theft zipper pocket is safe enough to place your cellphone and wallet.
Purchase
27. Moiré Forlenza Weekend Bag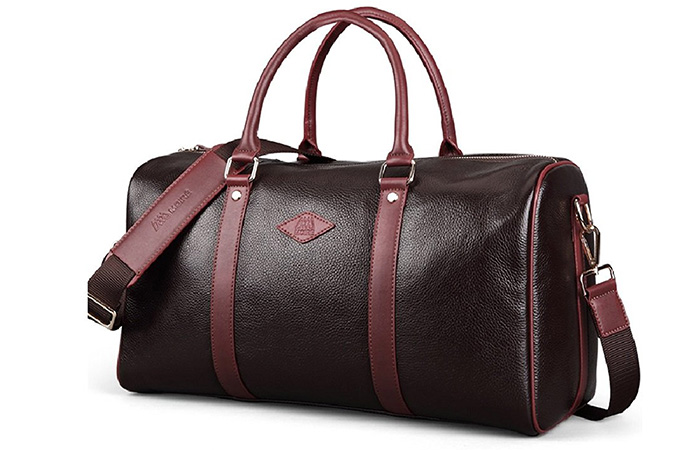 This is a handcrafted 100% genuine premium leather bag that is both versatile and stylish. It features durable and smooth brass zipper with U-shaped zipper openings which will help you easy to put and take out stuff. It also has an adjustable and removable 30-inch shoulder girdle for when you are packing heavy. The interior is made of a waterproof and wrinkle-free material that has five compartments to fit all your utilities. The bag is big enough to carry clothes, shoes, a laptop, and other items while still maintaining its lovely shape.
Purchase
28. Hølssen Duffel Weekender

This bag is rafted form the best quality of full-grain cow leather making it durable, waterproof, and stylish. It has solid brass hardware and bottom studs to keep it safe for when you place it on the ground. The interior has an electronic compartment for iPad or up to 13" laptop, two inside pockets and a zipper pocket made of a durable fabric lining to protect your items. Finally, it has an adjustable, padded and detachable leather shoulder strap for heavy packing days.
Purchase
29. Kattee Vintage Leather Weekender

Made of crazy horse leather, this bag is sure to look better with aging and proper polishing. The interior has a nylon lining with a padded interlayer big enough for a 14-inch laptop. It also features a top zipper closure, and bottom with rivet protective measure. Because of its size, it can hold your laptop, iPad, Phone, wallet, clothing, and all your other travel accessories; making it the perfect choice for your short break or business trip.
Purchase
30. Pendleton Men's Jacquard Weekender

This is a bold bag with a unique pattern for the stylish man. It is made of 100% wool with oil tan leather trim that can be hand washed for maintenance. The interior features a nylon lining with one interior zip pocket. The main compartment is large but practical to hold enough items for a weekend away. It has two exterior pockets with hidden magnetic snap closure for items that you need on the go. Finally, it has an adjustable and detachable shoulder strap for when you pack heavy.
Purchase
31. JD Fisk Weekender Bag

This is a simple and elegant bag for the professional man made of 100% tumbled leather. It features reinforced handles and a detachable and adjustable strap giving you two carry options. This bag has multiple inner pockets to fit shoes, clothes books, and other items making it the perfect bag for a weekend trip or even just a daily gym run. The metal hardware detailing and a combination leather and canvas shoulder strap deem it perfect for the working man who likes to keep things professional.
Purchase
32. Vintage Leather Bazaar Duffle Bag

This bag has one main large compartment ideal for safely storing laptops, notebook, iPad, MacBook, books, file folder mobile accessories pro and much more. It also has two side pockets. This bag is made from original goat leather that has been tanned naturally with sunlight for a distinctive color tone. Because of this, it gives it a retro fashion style. It comes with an adjustable shoulder strap that can also be worn as a messenger bag due to the size of the bag.
Purchase
33. AOBOR Travel Duffel Bag

This bag is made from a premium quality, rugged lightweight canvas fabric that is not only soft but also durable; it is capable of taking on the worst handling and giving you years of service. The pockets and compartments include a document compartment, four pockets side pockets, dual headset pockets on each end of the bden compartment for storing your valuables. Its large capacity can comfortably fit a 14-inch laptop, an iPad, clothes, shoes or any other valuables and belongings you wish to travel with.
Purchase
34. Fjällräven Unisex Duffel

This bag is made from a long-lasting waxed fabric that does not tear when full. It had uniquely designed straps that can be carried in the hand, or on the shoulder or across the back. It has two outer pockets, one zippered and one with a push button, and double layers of fabric on the bottom for reinforcement. The bold color allows you to stand out and helps you to spot it in an airport with no chance of losing it.
Purchase