A dopp kit is a portable container that is usually a zippered pouch that holds body hygiene and toiletry supplies.
It also goes by the name of toiletry kit, sponge bag, and wet pack among others.
It was first introduced during the Second World War and its popularity quickly spread among men because it was small and handy.
It was once always made of leather but with time, other fabrics such as canvas and polyester have been used to make it.
Improvements have also been made such as adding a carry handle and lining the interior with a waterproof material for spillage.
If you travel a lot, then you understand the importance of having a dopp kit.
Imagine opening your bag after a long day of travelling only to find your shampoo spilled all over your clothes; or even having to fish for your safety pins in a pile of luggage.
The dopp kit can fix all that as most come with partitioned storage places to help organize and keep your toiletries away from the rest of your items.

So what makes a good dopp kit? Is it the fabric, size or simply the design?
This article provides a helpful insight on the best dopp kits and toiletry bags for men.
1. Handmade Buffalo Leather Toiletry Bag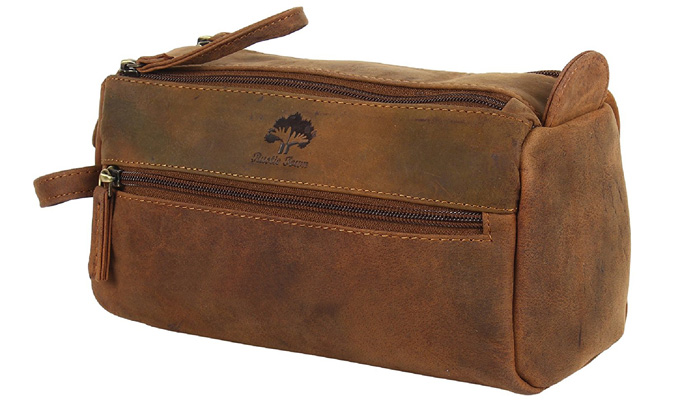 This is a beautifully hand crafted bag that is made of genuine buffalo leather. It has a sleek and vintage design giving it a deep retro style. It has a sleek interior with a waterproof finishing thus making it easy to clean spillage. The two front zippers make it convenient enough to access your toiletries without struggling. Finally, it is small in size which allows it to fit into your travel bag with ease while still allowing you to pack all your toiletries.
Purchase
2. Spacious Kalooi Toiletry Bag For Men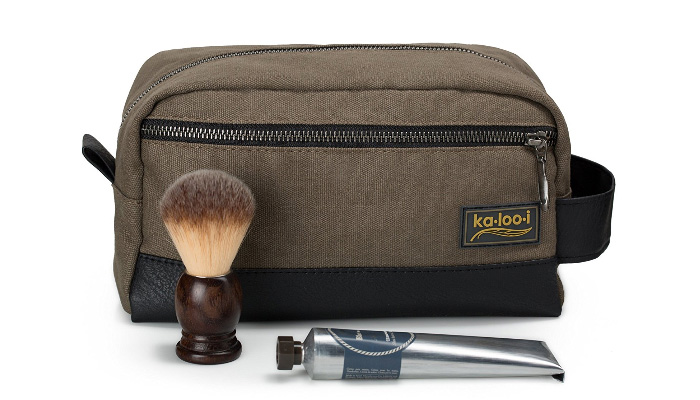 This bag is designed to be larger and more compatible for carrying more products. It is densely woven to retain its shape making it resistant and less prone to collapsing. The interior features a satiny nylon lining that is waterproof for those mistaken spills. This bag is specifically designed with premium vegan leather trim which is supple and finely grained thus making it feel just like the real thing. The interior contains two roomy tailored pockets to keep your grooming gear neat and organized while the exterior zippered pocket ensures that you will have essential stuff at your fingertips.
Purchase
3. Expert Travel Premium Toiletry Bag

If you will be out of the country for a long time then you will need this spacious toiletry bag from Expert Travel. For starters, it is made of sturdy leak-proof material such that in the event of spillage it will not leave the bag and stain the rest of your items. The leakage is contained because on the inside is clear pockets that are not only spacious but also detachable. Because it can carry so many items, it comes with a strong metallic hook which allows you to hang it up and save on space.
Purchase
4. Herschel Chapter Travel Kit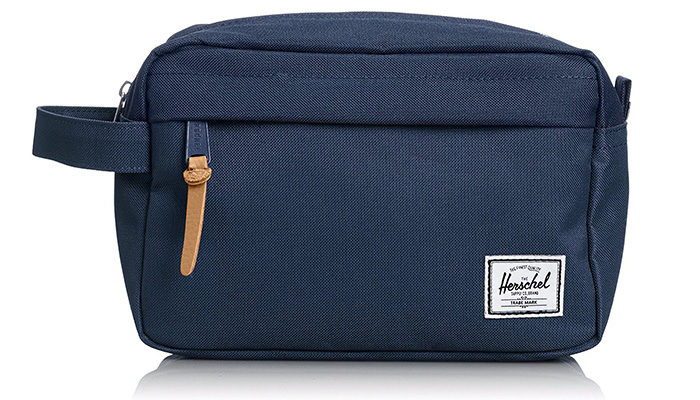 This is a uniquely designed travel kit that is unlike any other. From the Canadian-based company, Herschel it has a strong woven polyester material making it perfect for the man who wants to stand out. Like every other dopp it has an internal nylon lining making it water proof plus a mesh storage sleeve for organization purposes. It may look small in size but this kit includes an internal organizer, and a selection of mini-pockets to keep everything in place.7
Purchase
5. Neatpak Hanging Toiletry Bag

This is a toiletry bag that is compact and saves you space. Perhaps as a stroke of genius, Neatpack have created a toiletry bag that is big enough to carry almost every toiletry invented while allowing you to hang it on a wall or door in your hotel room with a metallic hook. So instead of crowding up your sink, you can hang it beside your mirror allowing you more room. Both the exterior and interior is made of a sturdy and high-grade nylon fabric making it water resistant; compact and lightweight.
Purchase
6. MSG Vintage Leather Canvas Toiletry Bag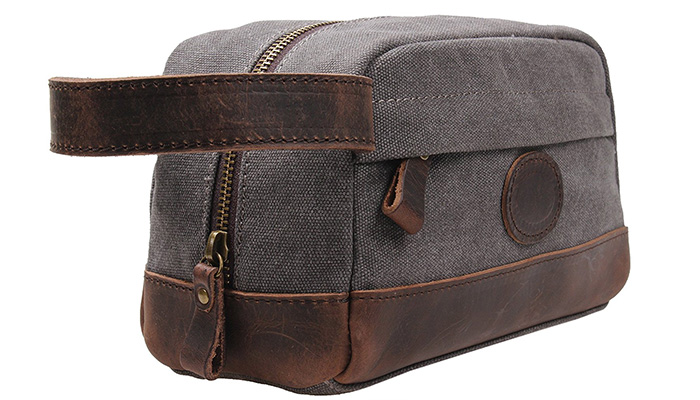 This is an interesting make because the exterior feature a strongly woven canvas top and a genuine leather bottom. It also features a sturdy metallic sipper for long lasting strength and a thick leather handle for durability. Inside, the pouch is roomy enough to carry shampoo, cleanser, soap, a comb and a few more items. It contains a small zipper pouch for those small items that may get lost inside the pouch such as pins and razorblades. An outside zipper pocket makes it easy to access your necessities while giving the bag a classy finish.
Purchase
7. SLEEKO Hanging Toiletry Kit

This kit is recommended for those who travel for long periods of time because it is large and features a number of mini pockets. To begin, it is cut from a high-quality nylon material making it water resistant and also tear resistant. It features elastic hoops on the side and main pockets to hold bottles and tubes upright. This is a great feature considering that it has an inbuilt metallic hook that allows you to hang it on the wall or door. The interior of the bag comes with a removable TSA-approved clear bag that allows you to carry liquids through airport security. Also, the interior is well partitioned into mini and large compartments making organization a piece of cake.
Purchase
8. Kubo Waxed Canvas Dopp Kit

If you are not much into leather then perhaps this classic canvas dopp kit is for you. It is made from a waxed canvas fabric that not only signifies uniqueness but also a love for eco-friendly things. Because it is waxed, the bag is mostly waterproof which makes it easy to clean and maintain. The zipper is guaranteed to last a lifetime and glide smoothly as long as it is in use. Unlike other dopp kits, it contains a satin lining that is soft and comfortable in touch and feel.
Purchase
9. Vetelli Hanging Toiletry Bag

This is a stylish bag for the man who is not afraid of fashion. The exterior combines two shade of brown high-quality PU split leather which allows easier cleaning and maintenance as compared to other types of leather. It also features reinforced split leather straps with stainless steel buckles for long lasting strength. The interior is just as unique as the exterior as it is made of a combination of canvas and leather with stainless steel zips and snap fasteners. It has four internal pockets making organization and easy task especially because each pocket is expandable.
Purchase
10. ProCase Toiletry Bag

This is a toiletry bag that was created for the travelling business man thanks to its subtle and professional design. It made of a durable nylon fiber making it water resistant; also it features a soft padding keeping your toiletries safe from scratches and bumps. It has three separate compartments keeping all your stuff organized and easy to grab. The main large compartment contains ten mesh pockets to hold your bottles in place whether hanging from the metallic hook or just sitting on the sink.
Purchase
11. Rustic Town Handmade Leather Bag

If you love classy and elegant products and still care for the environment then this is the bag for you. This bag features a beautiful leather exterior that is hand made from goat and buffalo leather using environmental friendly methods. It features strong YKK zippers for long lasting strength with one zippered pocket on the outside. The interior is made of a durable nylon fabric making it water resistant while keeping all your toiletries protected. It also has one dual-zippered opening pocket on the inside making it spacious enough for all your necessities.
Purchase
12. Kenneth Cole REACTION Drop Bottom Toiletry Bag

This is the perfect dopp kit for those impromptu business trips out of the country because it is small, lightweight, compact and has a professional finish to it. The exterior features high quality fibers with a top and bottom zipping enclosure. The interior is 100% polyester giving it a smooth feel and keeping all your necessities away from damage. It contains one large main pocket for toiletries and though it may seem small, it can hold a number of travel sized toiletries.
Purchase
13. Vetelli Leather Dopp Kit

Designed specifically for men, this dopp kit has a beautiful high-grade PU split leather exterior which is easy to clean. This feature also means that it is durable. The interior is a little different but just as important; it is made of a nylon lining that is water resistant. Because it is used for traveling, it incorporates two large interior storage compartments made of mesh that can accommodate shampoo bottles, shaving cream, and a toothbrush, among other things. The strong steel zippers give the dopp kit an antique finish and long lasting strength.
Purchase
14. Vasker Travel Toiletry Bag

The exterior of this bag is made from high grade PU leather that brings down cleaning to simply wiping. The interior is even more impressive with a durable waterproof nylon lining which keeps spillage within the bag and makes it easier to clean. It also has a soft but firm foam feature that gives your items a much needed cushion. It features one large zipped compartment, one inner zipped front pocket for easy to reach items, and three mesh pockets with elastic bands. Finally, it has a metallic hanger that can fit on door knobs and wall hooks.
Purchase
15. Lavievert Leather Toiletry Bag

This is a lovely bag that could be your next perfect gift to the working man. It is constructed with premium genuine leather making it durable for long time use. It has a reinforced carry handle that hangs well on a door knob or hook without any tearing. The interior comprises of two main compartments with five mesh pockets for simpler organization; also there is an interior zipped transparent pocket that can store wet towels or clothing without getting any water on your other items.
Purchase
16. Leartherology Multi-Pocket Toiletry Bag

This bag has a full grain leather exterior making it durable and perfect for people who travel often. This exterior is perfect because it makes cleaning easier. It includes two pockets on the outside that are both spacious and expandable plus a hanger that extends from the inside allowing you to hang it from a door knob or a wall hook. The inside is quite spacious as it contains two mesh zippered pockets and three elastic mesh pouches. Finally, the side handles on the bag make it easy to carry and an overall lightweight bag.
Purchase
17. Velino Handmade Toiletry Bag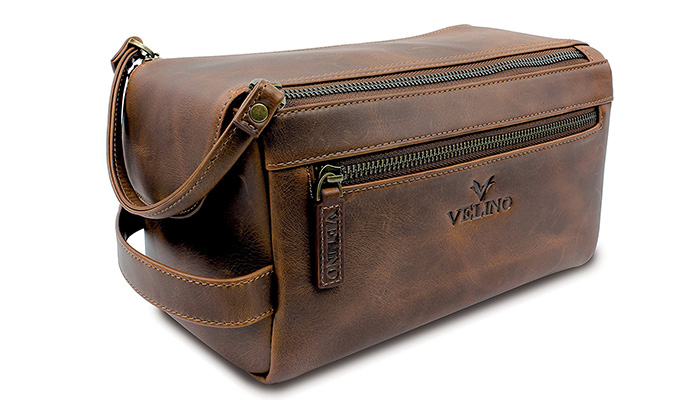 This is a high quality bag that is hand crafted from the finest buffalo leather by experienced craftsmen. It has double sided external metal zippers for smaller items such as pins and razor blades. The high end metal zippers give a rich classy look with the essence of durability. The interior has a water-resistant lining which prevents spillage onto the rest of your items and a large main compartment that can fit several travel-sized toiletries. It has two side straps that make carrying this bag easy.
Purchase
18. Samtour Travel Toiletry Bag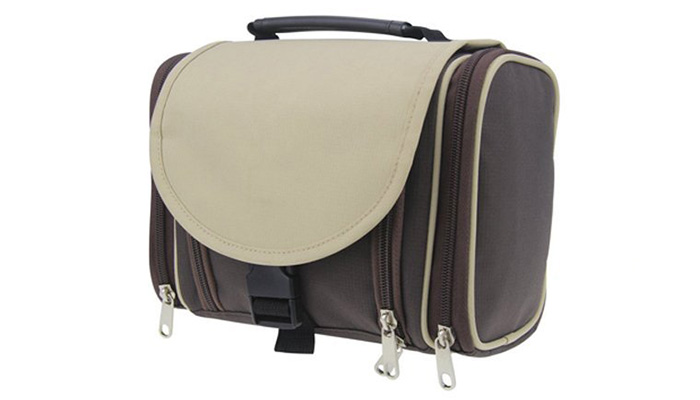 Weighing in at 300grams, this bag combines the essence of style with safety. It is crafted from a nylon oxford fabric for durability and classy finish. The interior comprises of Terylene cloth water repellent anti-bacterial coating and breathable mesh pockets to get rid of moisture thus preventing bacterial growth. Among its other features are scratch resistance, an in built hanging hook for storage purposes, and an excellent zipper that is durable and stylish. It has a reinforced handle that makes it easy to carry and durable even with prolonged exposure and usage.
Purchase
19. Adidas Tourney Toiletry Kit

When it comes to Adidas then you can always expect quality items that are fit for a king. This Adidas dopp kit is nothing short of quality with the essence of style and professionalism. It is made of 100% polyester with a padded haul handle for a better and smoother grip. It features one main compartment with dual zippers for easy and complete access. The interior has zippered mesh pockets that allow easy organization of your items and though it is small in size, it can carry a number of travel-sized toiletries.
Purchase
20. Traveler Admiral Kit

This is a kit that combines 70% leather and 30% polyester to produce a stylish but sensible bag for your travel needs. It is a dry clean only fabric with a reinforced carry handle. It has a wire frame top zip on the main compartment that is durable yet elegant; it helps the bag maintain its shape even after being in a suitcase. The interior consists of slip pockets that make organizing your necessities easy and neat. An added feature on the interior is a waterproof lining that keeps any messy spillage within the bag.
Purchase
21. Hewitt Vatten Travel Bag

If you are looking to impress then this is the toiletry bag for you. It features a high quality bi-cast leather exterior that is slim enough to fit into almost any suitcase. This fabric makes it waterproof and easy to clean; it also has a strong stainless steel zipper that is guaranteed to last a lifetime. The interior is made of an absorbent inner lining which ensures that any spillage is kept within the bag. Finally, the base is designed to be wide and flat allowing it to sit n any surface while keeping all your bottles in an upright position.
Purchase
22. HappyDavid Leather Toiletry Bag

This dopp kit from HappyDavid is the perfect travelling companion for the man who likes to keep it simple. It is made of a sturdy PU leather exterior with two exterior zippers keeping your essentials at your fingertips. The interior is made of a washable polyester fabric that retains its quality even after washing. This fabric is also waterproof ensuring that any spillage dos not damage your clothing. This interior is divided into two compartments which will keep your toiletries organized.
Purchase
23. Frye Large Dopp Kit

Made of 100% leather, this dopp kit combines simplicity with the essence of utility. It has a zipper closure made of durable stainless steel, and one exterior zip pocket for smaller or delicate items. A polyester lining covers the interior of this dopp kit which allows it to be water resistant and easy to clean. If you love organization then this is the kit for you; it contains multiple compartments that are expandable enough to fit shampoo bottles, shaving creams and even hair brushes. The quality-stitched handle makes it easy to carry and is reinforced for long lasting strength.
Purchase
24. Maxpedition Compact Toiletries Bag

This bag is made with a unique fabric; a triple coat of polyurethane and a single coat of DuPont Teflon Fabric Protector. The polyurethane is a water resistant fabric and the fabric protector is to repel the elements. The bag has YKK zippers that slide evenly and last a lifetime. The handles and straps are reinforced with military grade nylon webbing allowing them to carry a lot of weight without breaking. The fold away hook allows you to hang it in the shower or on a door knob removing clutter form your bathroom sink.
Purchase
25. WANDF Nylon Toiletry Bag

If you need a bag that it big enough for all your toiletries yet still lightweight and compact them this is the bag for you. This bag from WANDF is made of a durable nylon fabric for water-resistance, features a detachable TSA-approved clear pocket for easier airport screening, and two side pockets with elastic loops and front mesh pockets. The interior of the bag has two large main compartments; what's more, the sturdy bottom and metallic hook allows your bottles to sit upright whether hanging from a wall or sitting on the sink.
Purchase
26. Wurkin Stiffs

This is a silicone dopp kit meaning that it is leak resistant both inside and out. The 'D' bag as it is known as can carry full bottles while leaving you room for other items. This is because of the expandable single compartment that is long and wide. Perhaps what is more impressive is the slip resistant design that keeps the bag on the counter and keeps your bottles in an upright position.
Purchase
Buying Guide
With myriads of designs and styles in the market, it can be a tough yet exciting task to choose the best one for yourself. However, if you want to make a productive purchase, this short buying guide is all you need.
Let's dive right into it!
Size
When you are buying a dopp kit, size matters a lot. Ensure that it has an enough size to accommodate your essentials perfectly without straining the zipper. Try to strike a balance in between and not buying the largest or most compact one just to satisfy your style needs. However, the size of the toiletry bags varies person to person and depending upon the user's needs.
Capacity
Another thing that you need to consider is the multiple compartment options, allowing you to store your stuff feasibly. For more convenience, you may buy a dopp kit equipped with a transparent compartment to ease down your rummaging. Also, be sure to look for a dopp kit with external compartments for quick and easy access options.
Durability
Dopp kits or toiletry bags are one of those products that many people tend to overlook its importance. In this case, you should look for a dopp kit that vouches for exceptional durability, enabling it to run in the long term. Additionally, it should be constructed from premium materials and fabric. That said, a good dopp kit must sustain everyday abuse and still offer top-notch performance. Make sure to do a bit of research on quality brands to avoid regretting your decision.
Water-Resistant
Since dopp kits are all about placing lotions, gels, cleaners, and creams, having a water-tight sealing can help you prevent mess. The possibility of spilling any of the ointments are greater, and you can't afford to take a risk. Therefore, washable toiletry bags are a great choice to have to maintain their condition. So, ensure you buy a waterproof dopp kit for easy cleaning and wiping.
Material
When browsing for the best dopp kits, you might come across polyester, canvas, nylon, leather, and Cordura materials. How to determine which one suits you perfectly?
No matter what material you opt for, the interior should contain strong seams and top-grade construction to serve you well enough. You may find double padded lining and stitching on some models, grab them without any second thoughts if you wish to be worth your investment. Usually, zipper and snap buttons are made from stainless steel that averts rusting and corrosion to a greater extent.
FAQ
🤔 What is the best men's Dopp kit?
The best men's Dopp kit is one that is versatile, spacious, made of good-quality materials, with a firm fastening. With these characteristics in mind, we believe that the best Dopp kit for men is the Herschel Chapter Travel Kit. It is small but compact, has several compartments for organization, and an interior lining to prevent leaking.
🧐 What does Dopp kit mean?
A Dopp kit is a portable bag that looks like a zippered pouch used for holding body hygiene and toiletry supplies for men. It was first seen during the Second World War, and it is popular because it is small and handy. It is also known as a toiletry kit, sponge bag, and wet pack, among others.
🪒 What should be in a Dopp kit?
Toiletries are the most common thing you will find in a Dopp kit. Since many men use Dopp kits to carry essentials during travel, you will find toiletries in these pouches. When packing a Dopp kit, ensure that you have a travel-sized toothbrush, toothpaste, hairbrush and hair products, face cream and moisturizer, shampoo, safety pins, and anything else you may need on your trip.
✅ What is a men's toiletry bag called?
The Dopp kit is a common name for men's toiletry bags. Other names include: toiletry bag, ditty bag, wash bag, vanity case, travel case, sponge bag, valise, overnight bag, and sometimes even a shower caddy. It can also be referred to as a wet pack, dressing-case, cosmetics bag, vanity box, and toilet kit.