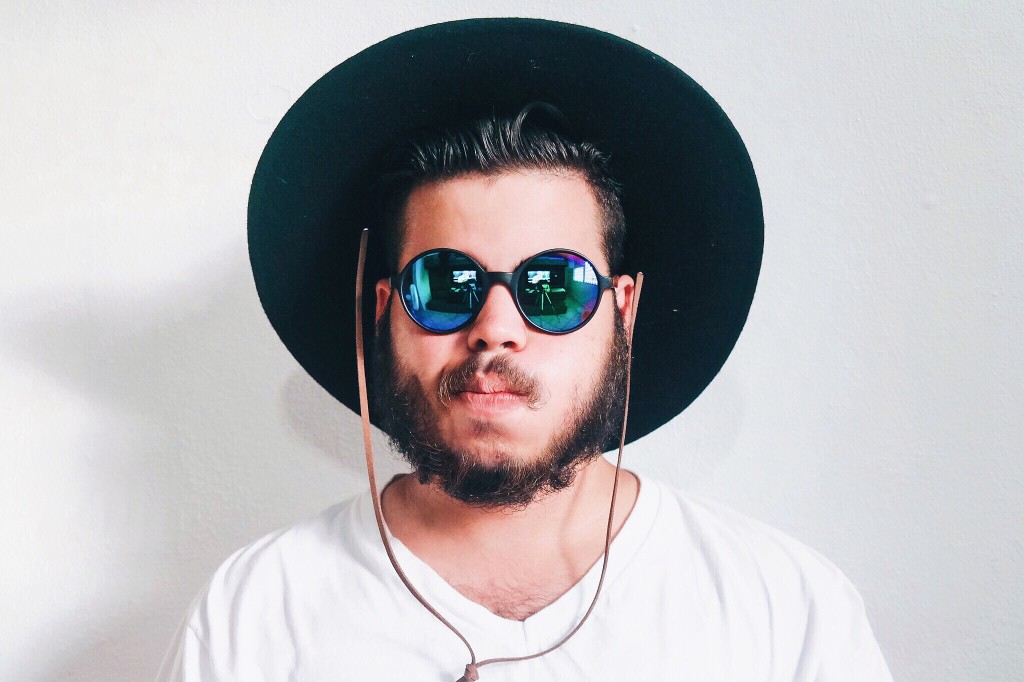 There's nothing better than wearing sunglasses on a sunny day.
Not only will they protect your eyes from the blinding sun, but they will also make you look badass. However, not all sunglasses are created equal. Some of them work for you, while others don't.
So how do you pick the perfect sunglasses?
That's why I created this blog post.
You'll learn everything you need to know, like what sunglasses work for your face shape and additional tips for finding the perfect one!
So if that sounds interesting, then keep on reading.
Why You Need to Pick Sunglasses According to Face Shape

As mentioned above, not all sunglasses work for you! That's because only some sunglasses help bring out your best features, while others don't. And with so many types out there, picking the correct one can become a difficult task.
That is why knowing your face shape is so important! It helps you make choosing easier.  If you don't know your face shape, then you can check out this video.
But keep in mind, these are just guidelines. There's so much more to the perfect pair than your face shape. We'll go over them at the end of the article.
8 Types of Sunglasses & Which Face Shapes Work for it
Now that you know the importance of face shape when picking your sunglasses, let's get into finding a pair that fits you! The rule of thumb for determining the right sunglasses is choosing the shape opposite of your face.
For example, if you have a square face, you should get something more rounded, like round sunglasses.
#1 – Wayfarer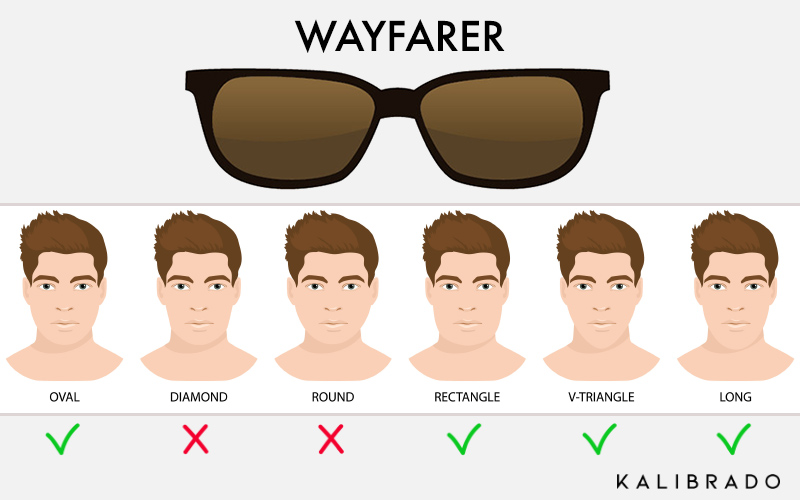 Face Shape: Round, Oval, Square, Rectangular
Starting with our list are Wayfarers. These sunglasses are timeless and look especially great for many summer occasions. For example, Wayfarers suit amazingly for summer weddings, a day at the beach, or just for a walk around the city.
And do you know what's even better? These sunglasses work for most face shapes. So if in doubt, go with a wayfarer.
#2 – Aviator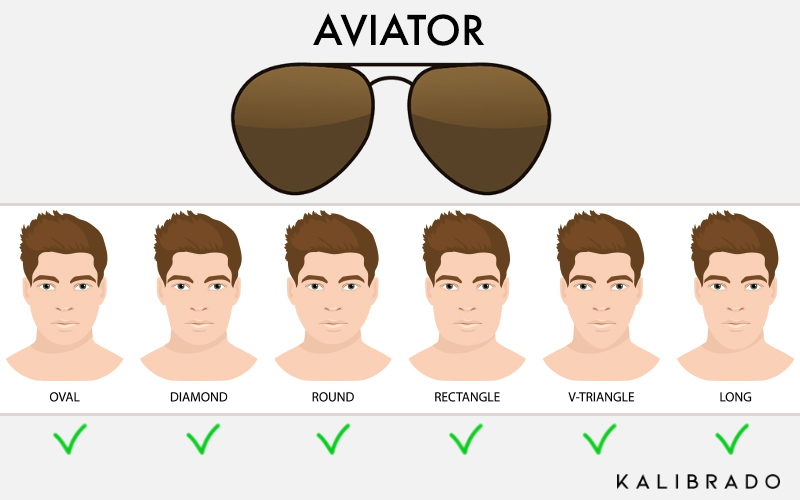 Face Shape: Square, Rectangular, Round, Oval
Another timeless classic on our list is the aviators. These were initially designed for cockpits which made them popular with pilots due to offering unrestricted peripheral views. They work for many occasions, but it's best to avoid more formal occasions as they don't work well with a suit.
Just like with Wayfarers, these glasses suit great for any face shape. However, round and oval shapes must be careful as they could make you look a bit more rounded. So try them out, but if that doesn't work, try out the next sunglasses on our list.
#3 – Square Aviator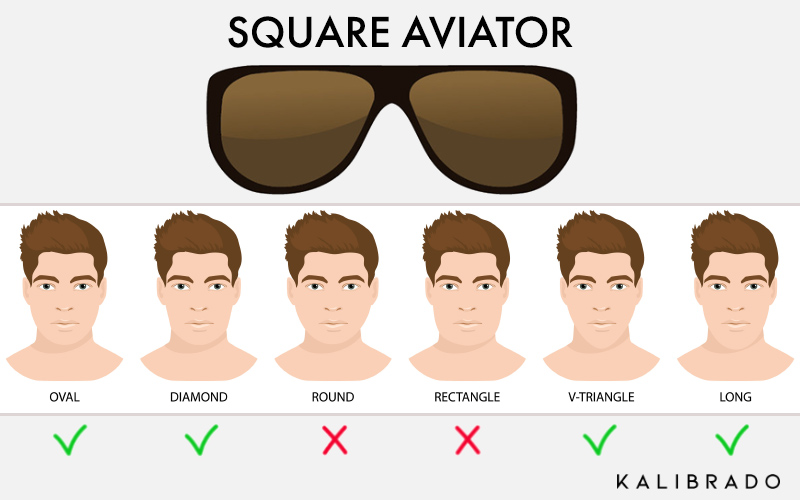 Face Shape: Round, Oval, Rectangle, Square
These sunglasses are basically the same as the previous one on our list but with a modern take. Instead of the teardrop design, the lenses are more squared off, making them suit well for more rounded faces.
These sunglasses work best for those who have more extended and rounded faces. So the best match for these would be oval. However, if you have a rectangle or square face, it could still work for you.
#4 – Round Sunglasses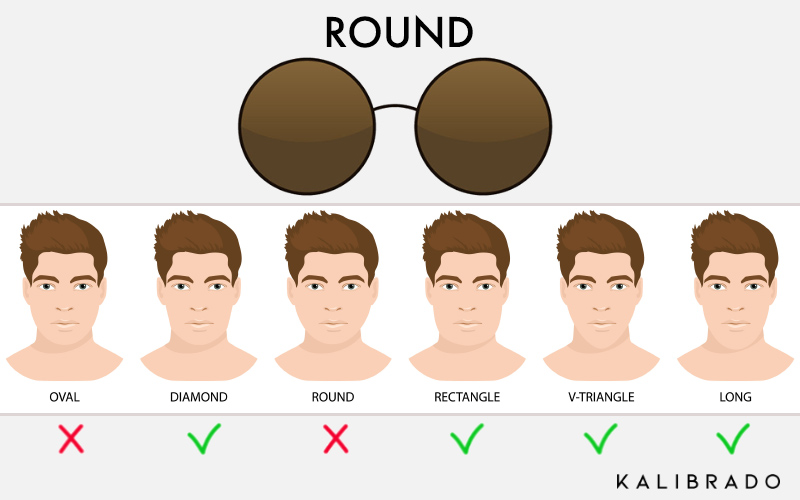 Face Shape: Square, Rectangle, Oval
Next on our list are round sunglasses. These spectacles get their name from the shape of the lenses. They were first introduced in the 30s but didn't get popular before the 40s.
While they look cool, these glasses have a problem. They don't work well for those who have more rounded face shapes. The perfect shape for it is rectangular. But if you have a round face and want to wear them, you can try out similar designs like Hamptons.
#5 – Clubmaster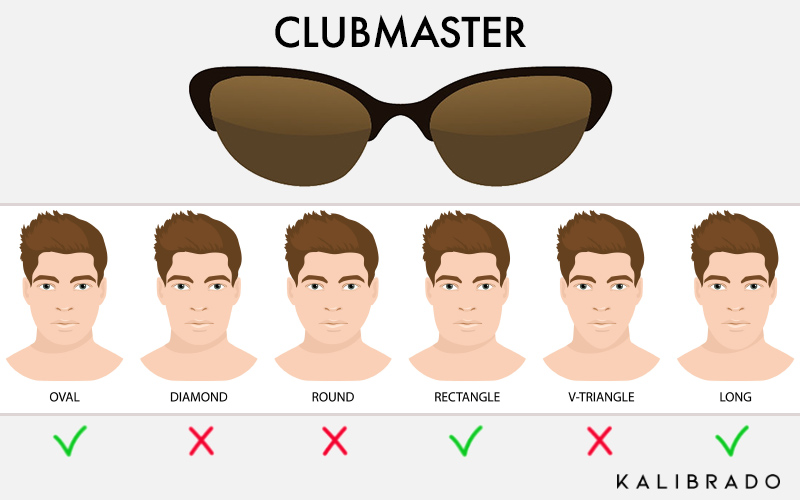 Face Shape: Oval, Square, Diamond, Round
Looking for a more sophisticated and formal pair of spectacles? Well, then clubmaster is your pick. They usually come with a darker material on the top and a thin metal frame holding the lenses in place.
Due to looking similar to the shape of wayfarers, these sunglasses work for almost any face shape. So those with Oval, Square, Round, and Diamond faces, these glasses work perfectly for you.
#6 – Mountaineering Sunglasses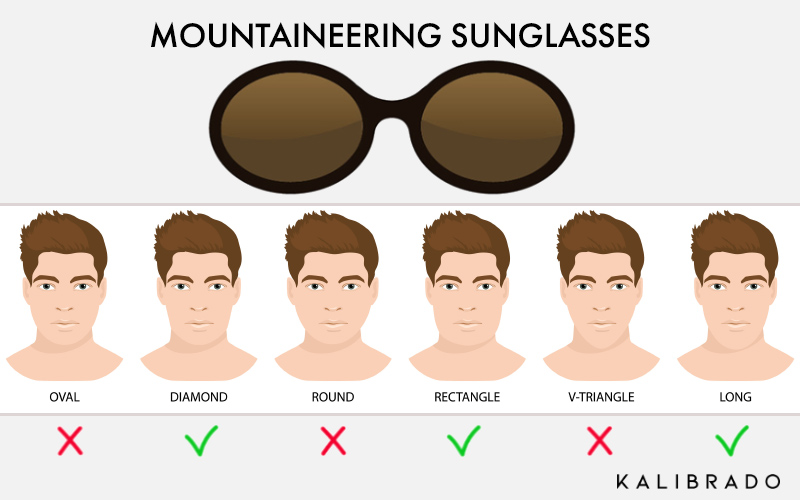 Face Shape: Oval, Square, Diamond, Round, Rectangle
As the name suggests, these spectacles were used for mountaineering. This is because they offer more protection from the sun thanks to the surrounding material on the frame.
Due to so many different versions out there, anyone can wear them. Some frames are round, while others look like wayfarers or aviators. So if you're looking for a unique style, then these sunglasses are for you.
#7 – Frameless Sunglasses

Face Shape: Round, Square, Oval, Rectangle
These sunglasses have no frames, hence the name. Instead, they are hanged by the two ends of its temples and the bridge. They usually have square lenses.
These sunglasses work best for someone with a long and rounded face. That means they are perfect for those who have oval face shapes. However, others like rectangle or round face shapes work as well.
#8 – D-Frame Sunglasses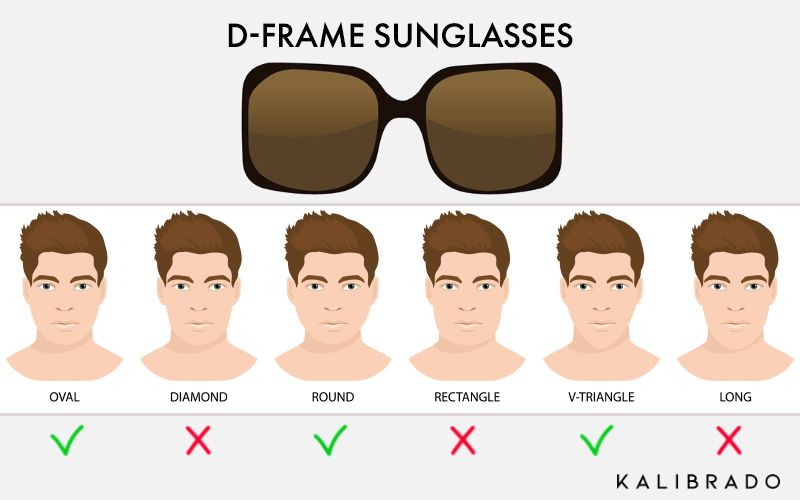 Face Shape: Oval, Square, Round, Rectangle
These glasses are similar to Wayfarers, but with a few changes. First, these modern sunglasses have a flat straight edge across the top of the rim. Also, they have lenses that are shaped like the letter "D."
These spectacles work best for those with a mix of retro and modern styles. They work best for oval and round face shapes, but they could also work for square and rectangle face shapes with the correct size.
Additional Tips For Picking the Perfect Pair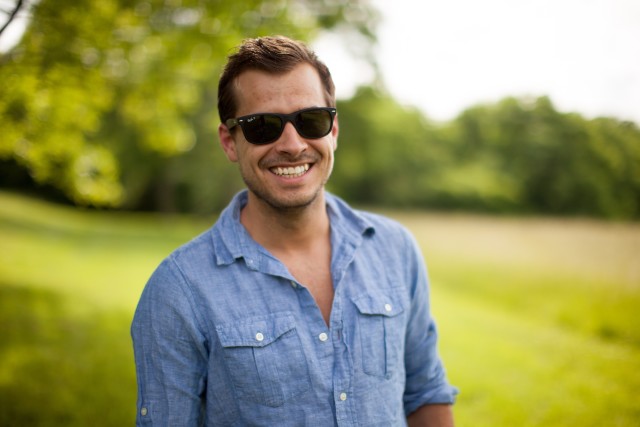 As mentioned before, picking a pair of sunglasses is more than just knowing your face shape. It's about having the right size, temple width, and much more. So without further wasting time, let's get into the additional tips.
#1 – Pick the Correct Frame Width
One of the biggest reasons why some sunglasses look small or huge on you is because of the width of their frame. So how do you know when the sunglasses work for you?
Fortunately, it's pretty easy! Basically, the width of the frame should be equal to or similar to the width of your cheekbones. So test out different sunglasses in the eyewear store to see which have the correct width.
But what if you're buying glasses online? Then the best thing to do is measure your cheekbone width. So go to the mirror with a ruler and see how wide they are. Then just go to the description of your desired sunglasses and see if they work for you.
#2 – Get the Right Temple Width
Another thing you should look for is the sides of your sunglasses. You don't want the ends to stick out or be so short it's uncomfortable to wear. So how do you know that you have the correct width temples?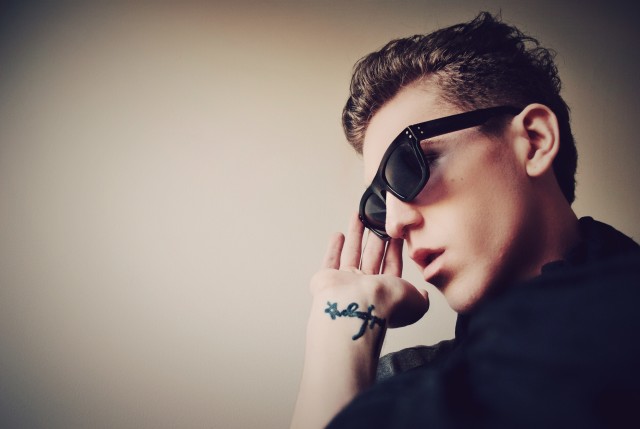 The best way is to look at the mirror with a ruler and see how long your face's width is. Once you know the measurements, you now how long they can be. So then, just pick the one that feels comfortable but is below your face width.
#3 – Wear It with Confidence
Whatever stylish pair you get, you won't look great if you don't feel confident in them. Sunglasses are all about it!  So pick the one you feel great wearing.
Therefore when buying one, try them out, and ask yourself: "Do I like wearing them?" If the answer is yes, buy it. It doesn't matter if it doesn't fit your face shape perfectly! But if the answer was no, then continue looking until you find the one.
#4 – Buy Quality Ones
While you might think that you're saving money by buying 20 dollar sunglasses, you're not! That's because these sunglasses will break easily and won't last for a long time. So go the extra mile and buy quality ones. An $80-$100 range is where you get great ones.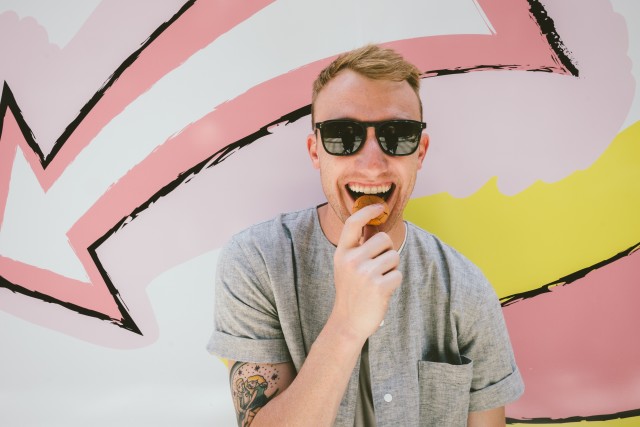 But what if you don't have that money? Then either save up or buy the one you can afford. No need to go into debt because of it. But when you can upgrade to a better one, do it.
#5 – Don't Go with a Bold Color
While a neon-colored wayfarer might look amazing on some outfits, we don't recommend them. It's mainly because they are not very versatile. A black or brown frame works great for any occasion.
However, if you want something with a bold color, I recommend going with thin frames. Then your glasses won't be the center of attention.
#6 – Buy Something That Fits Your Style
And lastly, please make sure that you get something that fits your wardrobe. There's no need to buy something just because it looks good on your face. Instead, take your personal style into consideration.
For example, if you like more formal wear, the best sunglasses to pick are Clubmasters. But if you're looking for a biker/rockstar look, then the best would be either mountaineering sunglasses or wayfarers.
Conclusion
And that's our guide to picking the perfect sunglasses. So pick yours according to your face shape and widths. And don't forget to wear them with confidence. Do you know any other tips I should have mentioned? If so, then comment down below. That way, every one of us can look even better wearing them.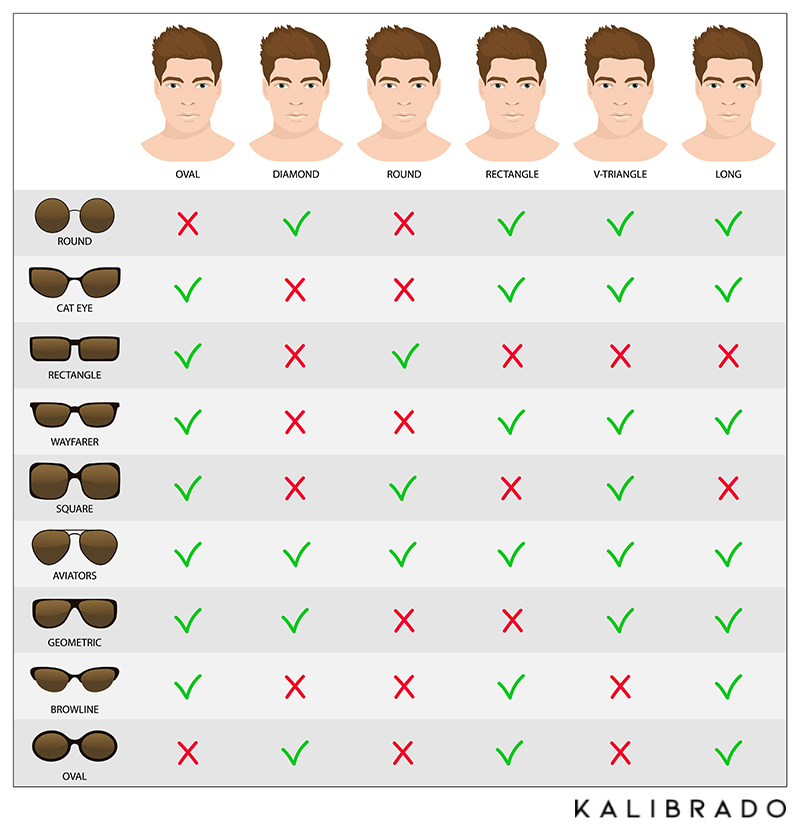 Share this Image On Your Site
Please include attribution to KALIBRADO with this graphic.