Tik Tok as an app has taken the world by storm, and it has made some of the newest trends quite popular in a matter of days.
One of the latest trends that has become viral thanks to Tik Tok has to be the Eboy outfits.
It is no surprise that the Eboy look might not be for everyone as you will have to incorporate many styles into your look, which can quite easily become expensive.
Having said that, there are a lot of people out there who are a fan of this look, and for that reason, we are going to talk about the Eboy style in a bit more detail.

What is Eboy?
The Eboy style has become insanely popular among young men and teenagers. The term 'Eboy' refers to a young male online influencer or social media figure who incorporates some of the top men's fashion trends into one look. The Eboy style has a very different look to it, and that is why it is gaining so much attention.
What Exactly is Eboy Style?
The Eboy style is a different aesthetic, and if you think about it, the style shouldn't work, but it sure does. The look incorporates many varying fashion trends ranging from punk music, goths, skateboarding, and k-pop. The greatest thing about this style is that it is incredibly customizable.
The Origins of the Eboy Clothes?
If you think that the Eboy look is new, you are mistaken because the look first emerged back in the 2010s; however, it was not until 2019 that the aesthetic started to gain widespread popularity. The Eboy aesthetic is a fashion trend thanks to Tik Tok as it was the creators that made it famous.
Eboy Style Essentials
1. Skinny Black Jeans

The first item of clothing that you need to complete your eboy look is a pair of high-quality black skinny jeans. You can either wear it cuffed or uncuffed, depending on what feels more comfortable to you. Skinny jeans are very comfortable thanks to the amount of elasticity they have to offer.
Purchase
2. Cuffed Jeans

The other item that you can go for are cuffed jeans, and to conform to the eboy style, you need to make sure that they are slim fit. These jeans will give you a distinct look, and they will work wonderfully with the rest of your outfit.
Purchase
3. Black Joggers

If you feel like wearing something a bit more comfortable, you should also consider buying yourself a decent pair of black joggers. Unlike jeans, joggers are made of a lighter material, and that makes them much more comfortable. Aside from that, it also gives your whole look another dimension.
Purchase
4. Grey trousers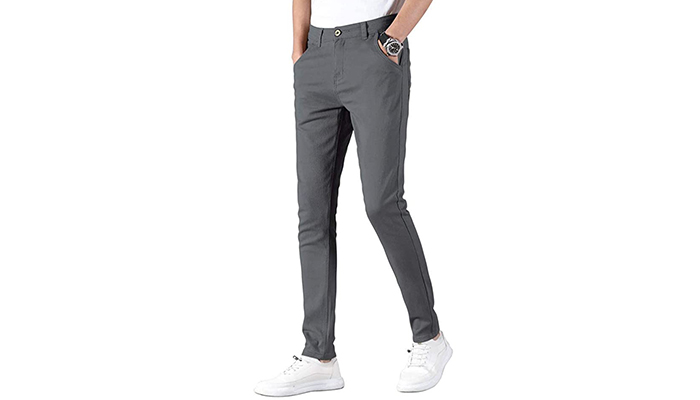 Black is a color that everyone loves, but something about the color grey makes outfits stand out. A grey trouser is an absolute must if you want to complete your eboy look because frankly, you will not want to wear black all the time. Grey offers an excellent middle ground, and it allows you to pair different colors with it.
Purchase
5. Gothic cargo pants

Sometimes you will want to dress up in a much more casual way and this where gothic cargo pants come into play. Most of these cargo pants are made from cotton, which makes them quite comfortable, and you can quite easily pair them with sneakers and an oversized shirt.
Purchase
6. Oversized T-shirt

An Eboy look without an oversized shirt is impossible. An oversized t-shirt is essential as it brings the whole eboy aesthetic together. This kind of shirt is comfortable and hangs relatively low, so it is ideal for this kind of look.
Purchase
7. Longline T-shirt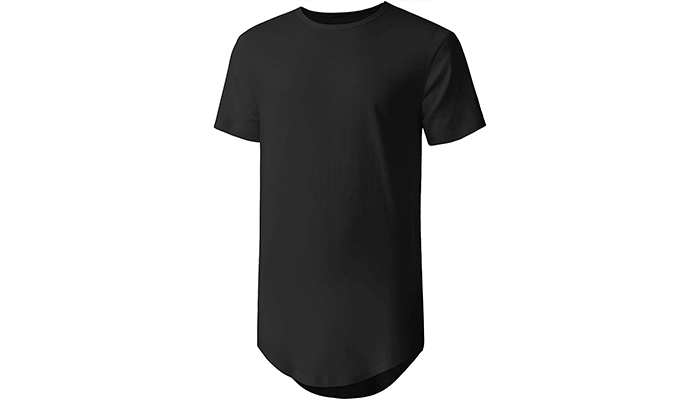 Next, we have longline t-shirts; as the name suggests, these t-shirts are much longer than your average t-shirt, and it goes perfectly with the whole eboy aesthetic. These t-shirts are pretty easy to find, and they don't even cost a lot. They are perfect for all weathers and occasions.
Purchase
8. Vertical Stripe T-shirt

Now, if an oversized t-shirt is too plain for you, you can bring more style to your look another way. Vertical stripe t-shirts have become quite popular, and with the help of these shirts, you don't only bring another angle to your look, but you can also play around with the colors.
Purchase
9. Long-sleeve striped shirt

One of the best things about the eboy look is that everything works. So, if you are someone who feels more comfortable wearing long sleeve shirts, you can do that. These shirts don't need to be too expensive either; you can wear anything you feel comfortable in.
Purchase
10. Crewneck sweater

People can go for the eboy look regardless of the weather, as you can quite easily tweak the look. If the weather is a little colder outside, you can just put on a crewneck sweater. The sweater will keep you warm, but it will also give you a different appearance and feel.
Purchase
11. Faded Denim Shirt

As you know, the eboy look brings together many different aesthetics, and it would not be complete without denim. Denim is more commonly associated with jeans; however, it works very well in the shirt form as well. It is quite comfortable, and it brings the eboy aesthetic together very nicely.
Purchase
12. Denim Jacket

A denim jacket is an absolute must, and it can be found in many different styles. However, a simple blue denim jacket will be perfect if you are going for an eboy look. Denim jackets are perfect for casual wear when you are going out with friends.
Purchase
13. Puffer Jacket

Dressing up in the eboy way is not that hard if you think about it, all you need to do is bring together different dressing styles, and there you have it. One article of clothing that a lot of people prefer is puffer jackets. They are warm and keep the wind out, which makes them ideal in a lot of ways.
Purchase
14. Beat-up Vans

Now that we have covered everything else, it is time to talk about the kind of shoes you will wear. The simplest way to go is for some casual Vans sneakers. These shoes are comfortable, readily available, and quite affordable as well.
Purchase
15. Converse Sneakers

If you don't like shoes that end below the ankle, you will probably prefer some converse sneakers. These shoes work brilliantly, especially when you fold your trousers up. These shoes bring new dynamics to the eboy look, and that is why so many people prefer it.
Purchase
16. Beanie

Hats are another vital part of the eboy aesthetic; while you can wear almost any kind of hat, most people agree that a simple beanie is the best way to go. This is because it does not take too much away from your look.
Purchase
17. Belt Chain

One of the best things about an eboy look is that you can effectively add as many elements as you want. So, if you want to call out the inner biker in you, you can wear a belt chain. These chains are inexpensive and very easily available.
Purchase
18. High Socks

Most people who don the eboy aesthetic like to keep their trousers above their ankles; this gives them the chance to wear high socks. Wearing high socks is not a must, but you should go for it if you want the complete eboy experience.
Purchase
19. Padlock necklace

You also want something around your neck, and if you are going for an eboy look, it has to be a padlock necklace. These necklaces have become insanely popular ever since the eboy look has become mainstream.
Purchase
20. Chunky ring

To go along with your padlock necklace, you will also want a chunky ring. It is made from stainless steel, and it is pretty heavy, but it certainly does the job. You can find these rings in many different colors so that you will have one for each day.
Purchase
21. Clear Frame Glasses

For those who don't need glasses, here is some good news. You can wear non-prescription clear lens glasses to channel the genius in you. Round glasses are probably the best way to go, but you can go for any shape that works for you.
Purchase
How to Become Eboy?
There is not much needed to become an Eboy. The only thing you require is some money and an eye for good clothes. To achieve the perfect Eboy look, you will need to mix elements of both formal and casual dressing. The foundational elements of the look need to be oversized tops and cuffed pants.
What is the Best Eboy Hairstyle?
When it comes to the Eboy hairstyle, there is only one way you can go: to have long hair, preferably in dark colors. The hairstyle is an essential component of the eboy look, and it needs to be done right. The hair needs to be covering part of the face; they can either be curly or straight.
What does the E Stand for Eboy?
As with most abbreviations, the E in eboy stands for electronic. This is because the style was first popularized with the help of online platforms such as Tik Tok. There is no denying the fact that this style is not for everyone, but who knows? Maybe you're the type of person who has a knack for such fashion.
What is the difference between eboy and softboy?
People tend to confuse both these aesthetics, but the truth is that they are very different from one another. The soft boy look is more about incorporating multiple colors into the scheme and celebrate the summers. Whereas, the eboy look focuses more on bringing together numerous aesthetics.