When it comes to fashionable, comfortable, and versatile garments, cargo shorts cements a special place in a men's wardrobe.
Their short-length exposing shin allows for freedom of motion that dramatically aids you while attending the outdoor fest. Also, if you're obsessed with hitting leg day at the gym, then you get an excellent opportunity to flaunt your rock-hard calves.
They can trend at any time of the day due to their multitude of colors and styles. Besides, cargo shorts also go great with casual shirts, and you can expect to receive commendable comments.
Let's talk about some of the best options that we have gathered for you.
Also, ensure reading the faq's section at the end that is specially made for you to clear out the confusion.

1. Lee Men's Dungarees Belted Wyoming Cargo Short

Best Overall
Whether you want to water the garden, lounge in the room, or engage in an outdoor event, the loose and comfortable feel of the Lee Dungarees lets you do that with ease. It is constructed from durable cotton twill and is embedded with nine cargo pockets for easy access to preserve quick essentials.
Purchase
2. Levi's Men's Carrier Cargo Short

This cargo short from Levis is fabricated from 100% cotton. The quality craftsmanship deserves praise, and it sits nicely on the waist. What's the best part? They don't deteriorate their smart look after the wash. However, these shorts are heavyweight as compared to the other options.
Purchase
3. IZOD Men's Golf Swing Flex Stretch Cargo Short

Best Value-Packed
Izod golf cargo short is a blend of 94% polyester and 6% spandex. The 4-way stretchy fabric is the highlight feature of this cargo shirt that maximizes the comfort factor. Another great thing is its moisture-wicking technology, and Upf-40 doesn't let the sweat stay on your body and keeps the legs cool.
Purchase
4. Goodthreads Flat-Front Comfort Stretch Chino Shorts

Next, we have a great contender from the Goodthreads brand. This cargo short is made from 98% cotton and 2% spandex. Besides, it has soft and durable cotton that allows for a gentle stretch. Lastly, it comes with button-through back pockets.
Purchase
5. Columbia Silver Ridge Cargo Short

Best Budget Buy
Thanks to the tight weave construction and Upf-50 fabric that works genuinely to block harmful UV rays. Its breathable fabric ensures you're comfortable and dry all the time. This versatile wear features a security pocket, side pockets, and mesh pocket bags that boast enough room to carry belongings.
Purchase
6. Nautica Mini Ripstop Twill Cargo Short

Nautica is another reputable brand on the list. It has a fabric composition of 100% cotton. Store your cell phone, keys, and wallet in the front and backside pockets. The high-quality materials used make it comfortable and quality wear.
Purchase
7. UNIONBAY Montego Cargo Shorts

Hands down to one of the best cargo shorts on this list. This cargo short from Unionbay is constructed from 98% cotton and 2% spandex. Thankfully, it has a comfortable stretch that vows for a greater range of motion. The short features a total of four pockets; two front slants and two back pockets.
Purchase
8. Carhartt Rugged Flex Rigby Cargo Short

If we talk about quality at an affordable price, then there's nobody who could beat this brand. You'll appreciate the durable flex stretch technology that amplifies the ease of strolling around. The Carharrt short comes with reinforced pockets that solve the storage issues. Another notable feature is its sewn-on-seam belt loops that refine its longevity.
Purchase
9. Dickies Active Waist Washed Cargo Short

Best Stretch
The dickies cargo short is a blend of 98% cotton and 2% spandex. The flexible and brushed fabric is an impressive feature that increases freedom of movement and adds softness. Apart from that, it has a knitted cargo pocket that makes it easy to store your cell phone and other essentials.
Purchase
10. Billabong Outseam Stretch Cargo Walk Short

Billabong cargo walk short is our next competitor. It has a fabric combination of 98% cotton and 2% elastane. The Billabong comes with two side pockets that are handy enough to offer storage convenience. Also, the stretchy fabric and quality materials make it a great option to wear in the summer season.
Purchase
11. Dockers Men's Tech Cargo Short

Dockers is another recognized and top-notch brand in the industry. The docker's cargo shorts are good in providing comfort level and correct elasticity on the waist. Also, this short fits truly and cell phone pocket is a blessing for carrying big phones especially.
Purchase
12. Haggar Cargo Expandable Waist Short

Best Stylish
Here's another stylish cargo short that guarantees a dapper look. The navy blue color on this short looks wonderful. On top of that, it possesses great stretchability that augments your reach. Lastly, it has a flat front, expandable waist, and cargo pockets that add value among other competitors.
Purchase
13. Under Armour Men's Ramble Shorts

This cargo short from Under Armour comes with plenty of features. One of the best features is the UA storm technology that gives you an excellent opportunity to tackle bad weather conditions. Also, the anti-odor technology keeps you refreshed and prevents a sweaty smell. Another notable feature is the salt and chlorine materials that protect it from daily wear and tear.
Purchase
14. O'Neill Men's Cohen Cargo Short

The O'Neill cargo short is made in the USA and has a 100% cotton fabric make. The shorts are way thinner than the other options. Not only this, but they offer a great look and are comfy from the inside. However, it is not a flexible material, and pockets might rip off after some time.
Purchase
15. Tommy Hilfiger Men's Adaptive Cargo Shorts

The Tommy Hilfiger cargo short is specifically designed for people with disabilities. To add convenience, this cargo short has a magnet closure. Best of all, this cargo short is outfitted with an adjustable waistband and velcro to let you quickly wear it.
Purchase
16. Hurley Modern Stretch Cargo 20″ Inch Short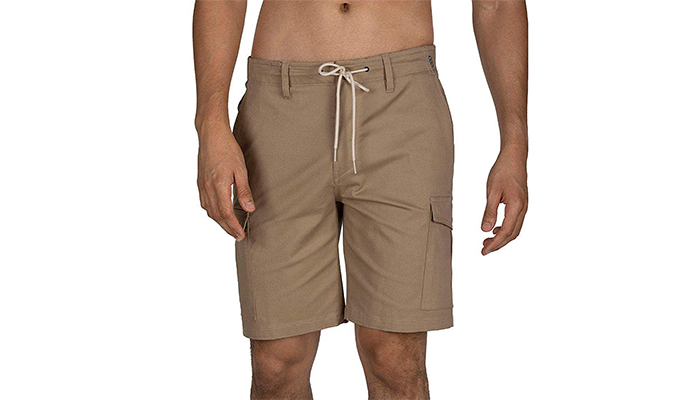 Last but not least, this product from Hurley is constructed with 97% cotton and 3% spandex. The Hurley cargo short features plethora of back, side, and front slant pockets and never lets you face storage problems. Above all, the stretchable waistband allows for ease of movement.
Purchase
Conclusion
That's it for today! We hope our top picks gave you a brief idea of what suits best for your needs. Make sure you dissected each piece rigorously, so it will help make a good decision for yourself.
Cargo shorts are undoubtedly an essential piece of garment that demands respect to look chic on any given day. Decide the number of pockets you need, the fabric and materials used, length, and you'll be able to land on a suitable product. Find out our favorite picks below.
Lee Men's Dungarees cargo short takes the lead at the number one spot. The reason is its high-quality and durable fabric and several pockets to accommodate small accessories.
Columbia Silver Ridge cargo short stands at number two spot without any doubt. It has Upf-50, breathable fabric, and mesh bags that make it an incredible option.
FAQ's
Do you get muddled during the buying process? Head onto the frequently-asked questions by our customers and get yourself clarified that will help assist you in making a purchase.
🧐 What is wrong with wearing cargo shorts?
Are you a fashion-forward rocker man who loves to spend money on shorts? If yes, then you need to hear this. Actually, cargo shorts make a terrible impact on the silhouette. They make a skinny person look pudgy and aggravate the entire look, which is not impressive. Another caveat is the large pockets that add weight when you store clobber, leading to a juvenile look.
You can consider buying a pair of chino shirts that are more versatile than cargo shorts. They are slimmer, possess the same comfort level, shorter, and are pocket-less.
🥇 Who makes the best quality cargo shorts?
All of the above brands are capable of receiving the label of best quality cargo shorts. But, let us help you by picking our favorites on the list. The IZOD, Levis, Goodthreads, Columbia, and Carhartt are some of the exceptional brands that vouch for an incredible quality at an affordable price bracket. You can take a peek at the features and reviews to get a complete idea about what customers are saying.
🤔 Can you still wear cargo shorts?
Cargo shorts were quite popular in the early 2000s, and since then, fashion has evolved substantially. However, you can still wear them and offer a chic look. By the time this fashion began to fade away, but those die-hard fans of cargo shorts still consider them on fleek. Besides, cargo shorts are also an iconic summer wardrobe staple piece that can offer comfort and mate flawlessly with casual t-shirts and polo shirts.
🔥 Are cargo shorts Back in Style?
Cargo shorts are back with a bang. And, according to some fashion experts, they will remain in fashion for a long time. Their ability to provide storage convenience, loose feel and shorter length allowed them to make a strong comeback.
❓ What are cargo shorts good for?
Cargo shorts are an ideal option to wear for men, as they offer a myriad of advantages. Avid travelers fell in love with the cargo pockets. Their roomy and spacious pockets allow one for maximum storage convenience. What's best? When it comes to dressing, they team up perfectly for casual events. Lastly, the shorter length makes it a good choice to wear for outdoor activities.
👞 What shoes go with cargo shorts?
Cargo shorts can go great with a variety of shoes. But, these are some of the exceptional ones. For a casual look, you can wear sweatshirts and sneakers. For a sporty look, wear a crew neck sweater, a down vest, and a chukka boot. For a business casual look, you may wear a turtleneck shirt with a lace-up leather shoe, or a boot can be a great idea too. You may wear a blazer, pocket square, a wingtip, or an oxford shoe to get a dressy look.