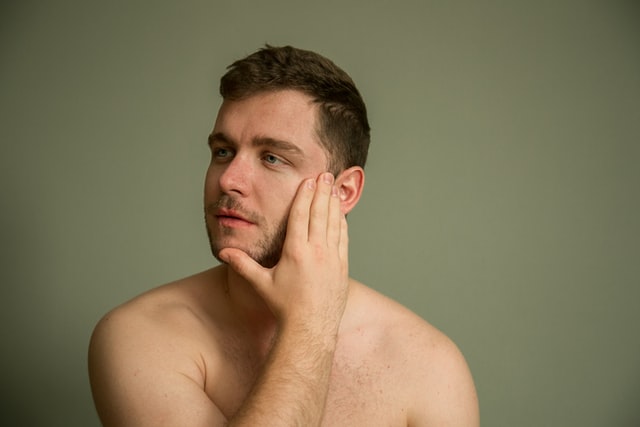 Manicures are not only for women. Instead, they are for everyone who has nails.
Most men do not understand the importance of a good manicure.
Some even shy off from nail grooming, deeming it unnecessary.
However, manicures are great for men too, and necessary.
First manicures will better your handshake or fist bump. A manicure will make your hands more presentable, help you make an excellent first impression.
Additionally, a manicure helps to relax your muscles. This is beneficial if you work on a computer the whole day, or use your hands a lot.
And with one or multiple of the following manicure sets below, you can do your manicure in the comfort of home.

1. EDGE Takumi No Waza 6-piece Grooming Kit

This is a simple and stylish kit. It can serve you for manicures and pedicures. The grooming kit has six valuable tools, including clippers, and tweezers, and nostril scissors.
The stainless steel cutting and grooming tools will do a seamless job. The kit comes in a stylish leather case.
Purchase
2. Three Swords Germany 10-piece grooming kit

Next is a functional nail care kit. It has ten tools for manicures and pedicures. This includes cuticle and nail scissors, clippers, and tweezers.
Each tool is handmade with steel implements to improve durability. The tools come in a leather exterior for a high-grade fashion look.
Purchase
3. NIEGELOH TopInox® IMANTADO XL Manicure Set

These handmade tools from Germany will have your nails looking exquisite. Each of the seven items features high-quality construction promising durability for years.
You get clippers, scissors, and more to keep your nails pristine. Additionally, the tools come in a handy leather pouch for traveling.
Purchase
4. FAMILIFE L01 11 in 1 Stainless Steel Manicure Set

This is a multipurpose grooming kit with enough tools to give you a manicure and pedicure. The tools are made from heavy duty stainless steel. They come in a travel case with a rugged leather exterior. You get access to clippers, tweezers, trimmers, files, earl picks, and scissors.
Purchase
5. GERMANIKURE 7-pc Manicure Set

This tool has stylish and functional tools. This includes an award-winning glass cuticle stick.
On top of that, you get access to a slanted tweezer, nail clippers, nail scissors, and more. Each tool has high carbon stainless steel accents to improve durability and prevent corrosion.
Purchase
6. Tweezerman Essential Grooming Kit

This is a mini-grooming kit with the essentials to keep you looking good. The set includes tweezers to help with ingrown hairs.
It also has facial hair scissors, a nail clipper, and a multi-tool nail file. The hand-filing on the edges ensures the tools remain working well.
Purchase
7. Leovard Nail Grooming Kit for Men

This is a professional and premium nail kit ideal for men. The kit draws inspiration from surgical tools giving them an alluring and pristine look.
The kit has ten pieces for manicures. They are all sharp and durable, thanks to high-quality construction. They come in a soft leather case.
Purchase
8. GREEN Manicure Set

This manicure set comes in a stylish zippered case. It is slim, easy to use, and convenient to travel with.
The set has eight tools for manicures and grooming. You will get clippers, a nail file, and other valuable tools. And it comes in different colors.
Purchase
9. Takumi No Waza 9-piece Grooming Kit

This unique grooming kit will keep your nails and facial hair neat and clean. The set includes multiple manicures and grooming tools.
You get clippers, nail cleaners, scissors, and more, all in a leather zippered case. The case makes it ideal for traveling, so don't leave it at home.
Purchase
10. ESARORA Manicure 18 in 1 Set

This detailed nail grooming kit takes care of your fingernails and toenails. With this, you have access to professional tools to keep you groomed.
The tools have a stainless steel exterior for durability. It also prevents corrosion, scratches, and breaking. You can also safely sterilize the items.
Purchase
11. FAMILIFE Manicure Set

This is another set from FAMLIFE with 12 tools to keep nails neat. Plus, you can use the kit for facial hair and pedicures.
You will find tools for clipping, maintaining cuticles, and facial hair in this kit. Additionally, all the tools are durable and easily resistant to corrosion.
Purchase
12. Heally Manicure Set for Men

If you are looking for strength in functionality, then this set will help. The tools can cut and work on the toughest nails.
The tools are stainless steel to enhance strength and prevent corrosion. The smooth handles make it easy to use and the case easy to carry.
Purchase
13. Heally stainless steel Manicure pedicure set

This is a good manicure and pedicure kit for the beauty of your fingers and toes. It has multiple tools for cutting, cleaning, and grooming.
The diamond-sharpening creates sharp edges to let you cut the toughest of nails. Furthermore, the leather case makes it easy to travel with.
Purchase
14. Three Seven (777) Travel Manicure Pedicure Grooming Kit

This 11-piece grooming kit may be last, but it is just as functional. It is an ideal travel kit for manicures and pedicures.
The case is PU leather, stylish, and lightweight for traveling. The tools are durable, offer resistance to corrosion, and have great strength. Perfect for the working man.
Purchase
Final Thought
Taking care of your nails is suitable for your personal style and health. Make efforts by getting a grooming kit.
A good grooming kit will keep your hands tidy and improve your facial hair. The above kits are simple to use. Therefore, they are best for beginners.
Be sure to purchase the one that has all the tools you need.
FAQs
🤔 What is a manicure set?
As the name suggests, a manicure set is a kit with various tools to groom and tidy up your nails. Many manicure sets work for both fingernails and toenails.
The tools can be as little as five and as many as twenty. Many professional nail technicians have manicure sets.
However, you can own one for the convenience of taking care of your nails at home. More men and women have simple manicure sets that help them maintain healthy and visually appealing nails at home.
Purchasing a good manicure set is a cost-effective way of maintaining the beauty of your nails. Additionally, it teaches responsibility and gives you moments to relax and relieve stress.
🧐 What are the tools in a men's manicure set?
The number and type of tools in a manicure set for men vary. Some are basic, while others are detailed.
Additionally, some are strictly for manicures, and others serve pedicures too. Some even help with grooming your facial hair.
However, the most basic sets have a pair of clippers, cuticle nippers, grooming scissors, nail files, and safety scissors.
Detailed sets have other tools such as a dead skin fork, ear picks, acne tools, callus removers, tweezers, and more.
Whichever set you choose, you can always upgrade and get more tools. Basic sets are better for beginners. As you progress, you can get more tools.
👀 Do men need manicure sets?
Yes, they do!
Manicures and pedicures are not just for women. There are several advantages to taking care of your nails and facial hair.
You will make a great impression of your first date with manicured nails. Additionally, you will appear more professional at work or in job interviews.
People appreciate and notice when you keep tidy. Your own manicure set will keep you achieve this.
Furthermore, if you are a working man, a manicure set will change the game. You can take care of your nails at your convenience.
You can care for your nails before you have the time to go for a professional appointment.
Also, caring for your nails at home gives you a moment to relax and unwind. Manicures are therapeutic, and you will enjoy the session.
🙄 What are the different types of nail clippers?
There are many types of nail clippers. And they serve various purposes. However, the most common types you are likely to find in a manicure set are:
Scissor nail clippers- they are thin and ideal for trimming the hard-to-reach spaces in nails. And, they can trim dead skin around the nail effortlessly. They look like scissors with two holes for the fingers.
Toenail clippers- as the name suggests, they are for cutting toenails. Often they are bigger with thicker steel at the clip and a sharper edge. This helps to cut the toughest toenails.
Guillotine nail clippers- the design features a guillotine. Manicurists often use these for professional nail extensions. They are sharp and can cut through hard nails.
Pliers clippers- and finally, pliers clippers resemble a pair of pliers. You can use these on your toes because they are sharp and can cut through thick nails. They also cut in a straight line, making it easy to shaping.