From military arsenal to finding its place in every man's shoe rack, the transition of combat shoes from uniform apparel to casual use is quite a story. And thanks to the changing trends, now it's a fashionable part of every man and woman's winter outfit.
They are stylish, warm, and highly sturdy (as expected from military-level accessories), keeping your looks maintained without compromising on quality.
Moreover, they are highly versatile and can be worn at any official, casual, and special occasion.
So with winters on the doorsteps, we have gathered up a list of some of the best men's combat shoes you would like to consider this season (and any other ;)).
All the selections are made after deep research and comparison.
1.  Dr. Martens Men's Vegan 1460 Fashion Boot

A vegan on a budget? This one might be the perfect fit for you. Made of 100% synthetic material with decent stitching and good resistance towards abrasion, it leaves a slight chance of replacement in a few years. Plus, these are pretty stylish for a unisex pair ;).
Purchase
2.  Frye Men's Trench Combat Snow Boot

Mastering the craft for over 155 years, the trench combat shoes are a new addition to Frye's iconic line. These are made of 100% wool, with a leather out-coat that gives them a shiny look. They are equally warm and durable, with water-resistant properties that make them a partner of every weather.
Purchase
3.  To Boot New York Men's Neils Combat Boot

True to size, snug in the foot, and sturdy enough to last, nothing goes wrong with these on! The shoes are 100% genuine leather, with a soft rubber sole that provides high traction and absorption.  With outclass comfort and elegant design, this might be your best buddy for the office.
Purchase
4.  To Boot New York Men's Flynn Combat

Another classic shoe pair from one of the most recognized brands these are made of suede leather. This means you can expect a lot of softness and suppleness with these on.
However, where it provides premium comfort, suede is more susceptible to shrinkage and water damage. So make sure to use these in a favorable environment and choose a size slightly bigger than usual.
Purchase
5.  UGG Men's Hannen TL Fashion Boot

In areas where sub-zero temps are a norm, having something snuggly and comfy is a blessing, especially on long walks to the office; and UGG Men's Hannen Boot is just it.
It's a highly stylish pair made of premium leather and a decent color variety to match your taste. The water-proof and seam-sealed construction make it even better.
Purchase
6.  Steve Madden Men's Troopah-c Combat Boot

Although not something we would place on the premium side of the chart, the pair still holds up quite nicely for casual use. The style and design are pretty good, with comfy internal cushioning.
The only drawback is the zip closure that is prone to get loose or be missed over time. However, users like it regardless.
Purchase
7.  Thursday Boot Company Captain Men's Lace-up Boot

With a shiny look that gives it an impression of something straight out of an 007 movie, these lace-up shoes are as elegant as they can get. Thanks to genuine leather, the looks and quality are immaculate, with a touch of minimalist craftsmanship that makes it an ideal office and party pair.
You'll feel the difference right the first second you put them on.
Purchase
8.  Unlisted By Kenneth Cole Men's Captain Combat Shoes

If you are looking for purely fashion boots at a low price, perhaps this might be your best bet. The unlisted (a pretty weird name for something listed here ;)) captain combat shoes are available in multiple colors, all true-to-size.
Although not of the highest quality to be used for highly rough activities, they will catch up quite nicely for mild and casual usage.
Purchase
9.  Danner Men's Marine Expeditionary Boot 8" Combat

Combining the warmth of fabric and the resistance of leather, it's another top-notch option for sub-zero weather. The insoles are as comfortable as they can get, with internal padding that provides perfect insulation. It's a fantastic pair that will resist cold with style.
Purchase
10.  Frye Men's Bowery Combat Boot

Although pretty awesome to be worn with suits and jeans, the durability makes them a perfect choice for outdoor adventurers like bikers and hikers. The best thing about these shoes is their goat leather construction, a plus point in terms of easement and durability.
All in all, a delicate blend of aesthetics and functionality, it fully resonates with the 155-years rich history of Frye shoes.
Purchase
11.  Under Armour men's Valsetz RTS 1.5

Closely resembling high-top joggers, the under armor men's Valsetz Rts 2.5 is a heavy-duty shoe pair designed for people on foot for most of the day. The construction is 100% textile with leather soles for increased endurance and a  softer feel.
If you are into outdoor sports like hiking and hunting or are a construction or factory worker, you will love these.
Purchase
12.  5.11 Men's ATAC 2.08'' Military Tactical Boot

First, these are uniform shoes, so you can skip them right away if you want something casual. However, for cops and guards who are always on the line of duty, the standard of comfort these shoes provide will make your day much effortless.
These are light, soft, and durable enough to last for a good few years with top-notch service.
Purchase
13.  Fila Men's Stormer Military and Tactical Boot

Fila is a brand well known for its exceptional sportswear. But looks like that's not the only thing they are focusing on these days. Take this shoe pair as an example. It's fantastic footwear solely produced for on-duty police and security personnel.
Since the duty hours are pretty long, these budget shoes ensure you get all the comfort you need.
Purchase
14.  Danner Men's Acadia 8'' Non-Metallic Boot

Got the money? Look no more. Danner Men's Acadia 8 toe boots are among the best men's combat shoes you'll ever come across. Made of genuine leather and Cordura nylon, it's a 100% waterproof shoe pair with premium leather endurance.
This makes it perfect for those who need heavy-duty shoes to accompany them on their long shifts, with a snug and cozy fit that won't irritate.
Purchase
15. 5.11 Men's 8'' Apex Tactical Boot

5.11 Tactical is a company that takes pride in producing premium quality tactical gear for those on the line of duty. And these shoes are just another addition to their long line of solid products. If you're a hunter, cop, or even outdoor adventurer, you can bet every cent on this one without regrets.
Purchase
16.   Danner Men's Scorch Side-Zip 6'' Tactical Boot

Easy on foot, decent in quality, and exceptionally breathable for long hour usage, you will love to wear it on your long shifts. The construction consists of textile and leather, with a rubber sole that gives off a distinct, soft feel at each step. Besides, the Danner dry waterproof protection enables it to resist quite harsh conditions.
For the budget, the deal is quite attractive.
Purchase
17.  ANTARCTICA Men's Lightweight Military Tactical Boots

Like it with style? This might be your thing. Designed especially for adventure enthusiasts, the Antarctica tactical boots have a vibrant, out-of-the-box design to complement any apparel. Moreover, the fit and comfort are as fantastic as it gets, with a material that is built to last. Just make sure you go for the right size!
Purchase
18.  Oakley Men's SI Light Patrol Boots

Light and robust, Oakley men's SI light patrol boots are built to endure. If your job includes working on rough terrains, you are going to like them. These have non-slip rubber soles to keep you balanced, with durable leather and suede construction for extra protection and comfort.
Besides, the look is quite athletic despite being purely working boots.
Purchase
19.  Sketcher's Men's New Wascana-Benen Military and Tactical Shoes

Among all the brands mentioned in this list, sketcher's is perhaps the most recognized one. This is because of the high quality they provide for the value, with Wascana-Benen tactical shoes staying as no exception. These are made of leather and corduroy fabric, making them extra durable with waterproof features.
Anyone can use them anywhere!
Purchase
20. Garmont Men's T8 Bifida Tactical Military

If you are looking for an authentic military class item, this one's the real deal. From soldiers to hunters and anyone in between, these tactical military shoes are a gift. The design is highly sturdy, with a color that is simple and beautiful at the same time.
For jobs where speed and support are essential, this sturdy pair will not let you down. Even the military recommends them.
Purchase
21.  Bates Men's GX-8 Composite Toe Side Zip Work Boot

A combination of style and simplicity, Bates men's work boot is a perfect fit to complement your winter apparel. The color variety is specially formulated to match your daily outfit, with a pretty artistic design for a combat shoe.
The material consists of 70% leather and 30% nylon with a breathable lining to keep your feet dry. It simply works for everyone!
Purchase
22. Thorogood Men's Gen-flex2 Series 8'' Tactical Side Zip Jump Boot

You might agree or not, but going for duty every day is an adventure. You don't know what the day holds as you pull on your uniform. And when your job is more physical, you want something that can have your back till the last hour.
Thorogood shoes are that "something." They are 100% leather, with a solid build we rarely see in the price range. Since the reliability is outclassing, you might wait for several years before seeking a replacement. 
Purchase
23. Nike Men's Manoa Leather Boots All

Well, who doesn't know Nike? Manoa leather boots are a perfect example of why Nike rules the shoe world. It's classy, versatile, and roomy enough for excellent breathability; however, not so much to make you uncomfortable.
The lightweight build combined with the athletic aspects of Nike footwear makes these a perfect pair for both teens and adults. Additionally, there are two colors to choose from; the black one for official use and velvet-brown for casual users.
Purchase
24. Rothco 10'' Leather Speedlace Combat Boot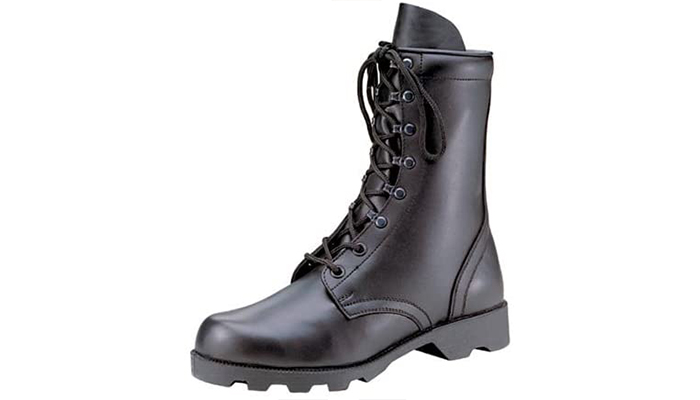 Designed while keeping the needs of tough guys in check, the Rothco 10'' speedlace combat boot is perfect for military personnel, cops, and any other job where performance and comfort are absolute musts.
Besides, they are really easy and quick to break in. The maximum durability makes them even more desirable.
Purchase
FAQs
🤔 Who makes the best combat shoes?
If we talk about versatility, adaptability to terrains, and even looking stylish in your casual apparel, Garmont produces the best combat shoes, period! However, if we need to rely solely on quality and sturdiness, something from Frye or Danner is your best bet.
🧐 How long do combat boots take to break in?
Usually, it takes around 80 to 100 hours to perfectly break into combat boots. This means you must wear them a lot in the initial stages. But there are also methods like using a boot stretcher, boot tree, lotions, etc., to make the process quicker.
☝️ Are combat shoes good?
In terms of quality and comfort, they are fantastic. However, it really depends upon your needs. There are many types of combat boots available, some for casual use, others especially created for those on the line of duty. Just see your needs and choose accordingly. They will work like a charm.
👀 Do you have to break in combat boots?
Definitely! Naturally, combat boots are very sturdy and solid in build, so it takes a bit of time for the feet to break in. You can also use manual methods to quicken the process, though.
👁️ How do I choose a combat boot?
Again look up to your needs. If you are in law enforcement, you must look for something that fully complies with the department's regulations while catching up to your needs at the same time. The Underarmour Valsetz Rts 1.5 is quite famous for that.
However, suppose you are in the military. In that case, you will need something equally comfortable, with the flexibility to adapt to every terrain. Something like Garmont Men's T8 Bifida Tactical Military is quite famous for that.
And last but not least, if you are just a casual user who loves to put on a stylish and warm pair of shoes with his jeans, something like UGG men's Hannen Tl fashion boot will do great.
🙄 Are combat boots still in style?
Yes! And not only males but females also. So if you don't have a pair of combat shoes in your shoe rack, you really are missing one of the most modern fashion trends.
❓ Can I wear combat boots after 40?
Wearing combat boots after surpassing 40 can get a bit rough. This is because of less activity of sweat glands, causing the skin to get drier with each passing year. However, you can still pull them on with some help, e.g., lotion or conditioner, and by taking good care of your skin.
🙋 Can you wear combat boots all year round?
Well, why not? As long as you feel comfortable, pulling on a pair of combat boots with jeans is a style that doesn't need a season to make you look fashionable. Just make sure to choose a breathable pair as the temperature rise can get your feet a bit sweaty.