Chain wallets are not as popular as they were back in the 1950's.
However, this does not mean that they are not stylish, a key accessory or even functional.
People more than often wonder what the purpose of a chained wallet is?
Well, around midcentury, credit cards were invented and people would often receive discounts and gifts if they pay cash. As such manufacturers began making wallets with more space for cash. An added feature than came with this stylish wallets with chain that could loop onto your belt loop.

This added feature came as a result of the wallet being too bulky and thus causing an uncomfortable sensation when sitting as it was often placed in the back pocket. The chain allowed men to take their wallets out of their pockets as they sat without having to worry where they had placed it. The wallet in a chain became vigorously popular because it also prevented pick pockets and thieves from making a quick payday.
Today, the chain wallet has become an accessory and statement piece while still maintaining the key function of keeping your items safe.
Like all good products, you should always consider certain factors before picking out a wallet in a chain. For starters, the chain should be long enough to meet your needs. Often, men prefer longer chains because they are more versatile and offer an added accessory to your casual and even formal look. Ensure that the chain is locked on the wallet tight and that the loop that attaches to your belt is not weak or easily breakable. The size, fabric and overall look of the wallet should also help you to purchase the chain wallet.
This article outlines 30 of the best chain wallets for men.
1. Dickies Slim fold Wallet

When it comes to Dickies, you can always expect quality products that are both stylish and durable. This chain wallet is made of 100% leather that can be hand-washed and is durable for long-term use. The inside of the wallet is made of 100% man-made materials with a lining for luxury. This wallet is slim making it comfortable enough to put in your pockets without it being too bulky.
Purchase
2. Levi's Trifold Wallet

This is a classy and stylish wallet that is easy to maintain through hand-washing. It is made of 75% other fibers, and 25% genuine leather that is durable. It has three interior slip pockets, two of which are hidden. The eight card slots are convenient enough to keep several cards in your wallet. Finally, it has a convenient ID window that can be accessed by a thumb.
Purchase
3. FLW Bikers Wallet Chain

This is a stylish and bold wallet for the man who is not afraid to stand out and get noticed. It is made of leather that looks better as it ages. The exterior has two buckles for closure and security. Finally, it features a slim feature that is perfect for all occasions especially for biking as it does not protrude from your pockets. The slim feature also prevents theft as it does not attract attention.
Purchase
4. Le'aokuu Snap Chain Wallet

This is a genuine leather wallet that is designed for an organizer and checkbook. It has several card slots for credit cards, a cash holder, and a zipper holder. The detachable iron chain is durable; it loops to your belt to prevent theft. This remark wallet is the perfect size for an iPhone 6 Plus phone so you can keep both your cash and phone safe. It is the perfect wallet for both casual and official occasions.
Purchase
5. ITSLIFE Bifold Vintage Wallet

Made of 100% cowhide leather, this is the type of wallet that looks better as it ages. This is a special wallet because it is specifically designed to block Radio Frequency Identification (RFID) which offers security against credit cards and debit cards. It comes with six card slots, one zipper pocket, two bill slots, and one interior pocket that fits a cellphone. The detachable woven rope has a hook that loops on a belt loop for security.
Purchase
6. Bioworld Han Solo Chain Wallet

This is the perfect wallet for men who love Star Wars and are not afraid to show it. This Han Solo wallet is made of 30% Polyester, 60% Faux Leather, and 10% Cotton. The exterior design of the wallet will leave you feeling like the hero of your own film. With this wallet, you can keep all your cards and cash safe while still expressing your inner fanboy. It is the perfect wallet for a normal day at the office and the perfect accessory for your next cosplay event.
Purchase
7. F&L Classic Bifold Wallet

This is a handmade top-quality wallet made of cowhide leather. It is made with RFID blocking technology to keep your credit cards and debit cards safe. The wallet has a handmade stainless steel chain that is heavy, and 21 inches long. It has nine card slots for credit cards, an ID window, and zippered coin pockets. It also features three large compartments that are large enough for checkbooks, dollar bills and a cellphone.
Purchase
8. Harley-Davidson Embroidered Trifold Wallet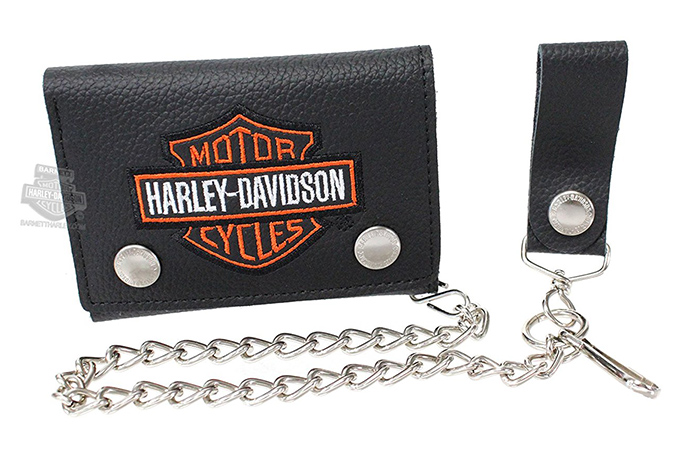 This is a classic trifold pebbled-leather wallet that has been embroidered for the man who likes classy and stylish items with a pop of color. It has three credit card slots, a zippered coin pocket, and a sleeve for currency. The chain on the wallet is the best feature because it is made of nickel, nineteen inch long with a leather belt leash and two snap closure for safety. It attaches to your belt loop easily preventing theft from pickpockets.
Purchase
9. SOS EDC Anti-theft Wallet

This is a stylish and classy wallet that is made for the bold man. It is made of genuine Crosshatch leather with an ultra-slim design that makes it easy to slide into your pocket while remaining subtle. The interior has a clear finger glide ID window, six card slots, and a cash or receipt pocket. The 23 inch detachable belt loop metal chain allows you to keep your wallet on your person at all times preventing theft. The sheek and classy design makes it perfect for both casual and formal events.
Purchase
10. ManChDa Carbon Fiber Wallet

This is one of the most stylish and casual minimalist watches on the market today. It is made of a durable mix of carbon fiber and leather that looks better with age. The exterior features a strong money clip for strapping in your cash. The interior has eight credit card slots, and one ID card/picture size card slot. Finally, it has RFID protection to prevent unauthorized access to personal information.
Purchase
11. Juzar Tapal Collection Bikers Chain Wallet

This is a stylish wallet made of genuine cow pebble leather. It has a total of thirteen card slots including slip pockets. The stainless steel chain allows you to loop the wallet onto your belt loop for safety. It has two bill compartments for both cash and receipts and an ID window for thumb pull which allows convenience. Because of the many card slots, it is the perfect wallet for storing and taking business cards.
Purchase
12. FLW Zipper Wallet

Uniqueness is just one of the features you will see in this wallet from FLW. It is made of genuine leather and is European style making it large. It is protected by a quality metal zipper and a twelve inch metal chain that loops onto your belt loop. This sheek wallet fits subtly into your pocket without drawing attention to itself thus preventing theft. Because of the long chain, the wallet can be carried around for outdoor activities such as biking and even mountain climbing. Just strap it on safe and you are good to go.
Purchase
13. Hempy's Trifold Wallet

Casual and stylish, this wallet is for the man who craves class and loves to protect the environment. It is made of 100% hemp canvas that is easy to wash and friendly on the environment. It has a heavy-duty twelve inch chain for safety. Because it is easy to manage, this wallet can be used for everyday purpose including outdoor activities.
Purchase
14. Pacsafe Anti-Theft Wallet

This wallet that has RFID blocking technology is a stylish wallet for the modern man who values his cash and credit cards. Unlike most wallets, it has a unique Velcro closure for security and the essence of uniqueness. It has five card slots, one interior zip pocket, one exterior, and one ID window pocket for thumb pull. The metal chain with Turn and Lock security hook attaches to the belt loop for safety.
Purchase
15. Genuine Leather Trucker's Wallet

This is a trip fold closure with decorative and functional snaps for closure. This wallet is stylish and classy with a slim-fit designs that fits into your pocket subtly away from pick pockets. It is made of genuine leather and a RFID lining to keep your cards secure. The interior features three secret pockets behind the change pocket and card slots for keeping emergency cash and such. It has a total of five card slots and one slot for a picture of tour loved one.
Purchase
16. Anaheim Leather Stud Wallet

This is a wallet made of leather that us heavier than most and long lasting. It features a twelve inch chain that allows security to your person at all times. The pockets open accordion style to two full size open pockets, one zipper pocket with a sturdy zipper, and two credit card pockets. Unlike other wallets from Anaheim, it has a total of five rather than three interior pockets. Finally, the heavy dusty snap closure keeps your items secure.
Purchase
17. Kabana Biker's Wallet

This is a stylish wallet that is good for all formal occasions and professional appearance. It is a wallet with a lightweight design and solid black color; if Batman carried a wallet it would probably be this one. The exterior is secured with two durable and strong buckles while the interior features a pocket for coins of all sizes. When looking for a wallet to help you look more professional his should be your top pick.
Purchase
18. SOS EDC Carbon Fiber Wallet

This is a carbon fiber wallet made of genuine leather that is durable and looks better with age. It is lined with RFID shielding material to protect against access to your credit cards and debit cards. The interior features a large currency compartment including six card slots, and three large slip pockets for multiple passports. The wallet features high quality workmanship good for both formal and casual events. Finally, it features a detachable 24 inch belt loop for security.
Purchase
19. Mr. Lentz Leather Goods Wallet

This is a lovely wallet made of full-grain vegetable-tanned leather that shines and looks better as it ages. The double brass snaps are not only for security as they also provide decorative detail on the wallet. The interior has six card slots, and two divided bill compartments for large bills and receipts. When looking for a simple wallet for your day to day activities, this is the perfect pick because it is easy to maintain. The eighteen inch chain also helps to keep your wallet secured on your person at all times.
Purchase
20. Harley-Davidson Burnished Wallet

This midnight black and tan distressed genuine leather wallet combines the essence of simplicity with functionality, and style. It is made of 100% leather that is durable and looks better with age. It has a simple bi-fold design; the design is for both safety and style. Made for the classy man, it features a nineteen inch nickel biker chain with a lobster claw clip that is both fun and functional.
Purchase
21. Hot Leathers Leather Wallet

If you are looking for a good wallet with a simple design then this is the wallet for you. It is made of genuine leather that is both functional and decorative as it looks better with age. The exterior has heavy-duty snaps for security and decoration. The interior has one zippered change pocket to keep all your coins from falling out of the wallet. The thirteen inch chain provides security for the content of your wallet so you can keep your mind at ease even when walking in crowded areas.
Purchase
22. Levi's Trucker Wallet

This is beautiful wallet made of 25% leather and 75% other fibers. It is an easy item to manage thanks to its hand wash feature. The exterior has snap closure that is both functional and stylish for formal and casual events. The interior features two pockets, one zip pocket with a sturdy and secure zipper. Finally, it has three card slots to allow credit cards and debit cards.
Purchase
23. Lucky 13 Embossed Chain Wallet

This wallet features a strong chain with a futuristic look. It features a bold style look including an artistic front with a printed logo. It is stylish and six inches in size meaning that it is compatible with most credit cards, business, cards, debit cards, and currency. The retro look is specifically casual while the strong chain allows you to keep your wallet on your person even when performing outdoor activities such as hiking.
Purchase
24. Punkman2000 Rocker Wallet

Snap closure is just one of the god qualities of this wallet. They are both functional and stylish with a rocker design. It is 7.87 inches in size which is big enough for most cards and bills. Unlike other wallets, it has a leather chain that is durable and strong enough to remain on your belt loop even when pulled on. The genuine leather allows the wallet to age well so you will not have to worry about it tearing even with months of use.
Purchase
25. Bioworld 'The Punisher' Chain Wallett

If you are a Marvel fan who is into chain wallets then you may have just found the perfect one for you. This is a 'The Punisher' themed chain wallet made of faux Leather; it offers the same great feel at a lower price. It has three vertical card slots to keep your most used cards close to you and features a 15 inch chain with a keeper loop. It has a transparent ID window for convenience and a cash pocket for all your bills.
Purchase
26. Leather in Style Trifold Chain Wallett

You will receive nothing but good quality and durability with this classy wallet. It is made of genuine cowhide leather complete with pebble texture for that great feel. It features 2 large chrome buttons for snap closure; this is convenient and will last a long time. The chain is 15 inches long; made of heavy duty chrome featuring a swivel lobster claw hook for easy install and removal. The storage includes 6 credit card pockets, 1 transparent ID window, a zippered coin pockets, and one full length deep bay bill pocket complete with a polyester lining.
Purchase
27. Contacts Real Leather Bifold Chain Wallett

This is a wallet that is made for the modern man working or living in the big city. It is a bifold wallet that is made of genuine cowhide leather, with a polyester lining and RFD cloth. With this, you can be sure that all your cards will be safe from RFID scanning. It features 10 cards slots, 2 additional slots, 2 zippered coin pockets, 1 bill pocket, and one more card slot at the back for your most used card. The chain is installed to prevent theft; a great addition.
Purchase
28. LUUFAN Genuine Leather Long Chain Wallett

This is a stylish wallet from LUUFAN that is made of full grain Italian cowhide leather that is oiled for durability and great looks. It is a classic vintage style wallet that offers you the luxury of carrying 14 cards, cash in 2 pockets, and coins in an inner zippered pocket. The chain is built to be durable and it is removable to turn it into a regular wallet. Perhaps the most interesting thing about this wallet is that it comes in 21 different colors and designs to match your outfit and preferences.
Purchase
29. ABC STORY Wallet

This is a well-designed wallet hat has a unique exterior and functional interior. The exterior is steampunk gothic leather with a bi-fold snap front pocket featuring a carved skull grim reaper chain for both men and women. It has a unisex skull pendant chain wallet looks very cool and functions just as well. It has 5 card slots, 1 photo window slot, and 2 large pockets for cash.
Purchase
30. Diesel Dabolmat Chain Wallet

From Diesel comes this specially designed wallet that is both slim, and stylish. It is made of 70% Cotton and 30% Leather. This is a combination that makes maintenance easy and durability strong. The leather is treated which allows for beautiful ageing. It has a premium zipper closure and a durable detachable chain. It has a strong detachable chain for convenience.
Purchase