Belts are an accessory used to day for both style and functionality.
Initially, belts were used before the 1900s as a decoration for military uniform. Soldiers would wear belts tightly around the waist in order to draw in the waist. This helped to bulk up the chest and made the shoulders look wide for a trim physique. Eventually, during the 1920s, men started wearing belts for functionality in that they kept trousers from sliding down the waist.
By the 90s, belts seemed to have disappeared in that most men began wearing their pants low. However, this soon changed as Belts are now being adapted as statement pieces, accessories, or just to help keep your pants up.
There are many things that you shod consider when buying a belt.
Style, and functionality, is just some of them; however, if you would like a belt you can stand by for a long time, you should always pay attention to three major factors.
The first is variety; you should always buy a belt that has features such as detachable and reversible because it will give you a variety to work with.
Second, always go for the tough belt. Make sure that the material of the belt is tough and durable so you will not have to keep buying new belts every now and then.
Finally, a good belt should feature versatility. The way the belt is designed should allow you to wear it for both formal and casual events; it should be an almost every day belt.
In this list you can find a range of choices, from high-quality Italian leather belts to more relaxed fabric options.

1. Bulko Genuine Leather Dress Belt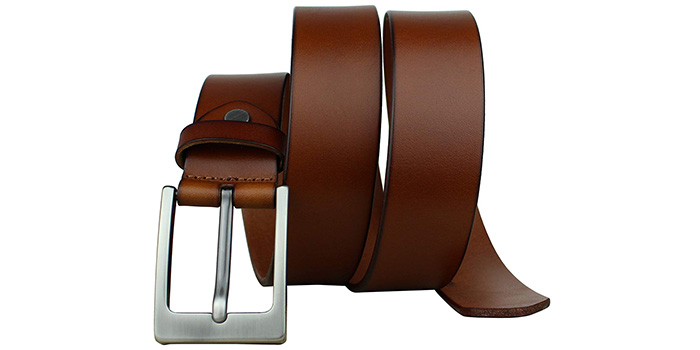 This is a classic belt that combines a simple design with a vintage outlook. It is 1.5 inches wide made of 100% full grain leather that is durable and scratch-proof. It is a smooth feel belt with a few tendons on the back of the straps that adds to its character. It is a casual but smart so you can wear it with your casual and slightly official outfits. This is a belt that is never out of date.
Purchase
2. Fossil Griffin Belt

This belt is a beautiful addition to your outfit thanks to its bold and rich timeless look. It is made of 100% genuine leather that lasts long and does not wear easily. It is classically stylish thanks to its vintage hardware that is brushed silver. It is the type of belt to wear with vintage style suits to Nance your look; it is an attention grabber so save it for your dressy suits and events.
Purchase
3. Dante Leather Ratchet Belt

This is a belt that combines class with simplicity to produce a beautifully designed belt. It features a high quality metal buckle for durability with high resistance to rust, corrosion, and tarnishing. It has sturdy stitching on the edge which fits into both causal and official purposes. Made of genuine leather, it is luxurious and comfortable that you will hardly notice you are wearing a belt. Trim to fit, you can say one size fits all.
Purchase
4. Marino Avenue Single Prong Buckle

As a stylish belt, this single prong buckle belt was also built for resistance. The buckle is made with zinc alloy to create a substance with greater strength and resistance. It features high quality craftsmanship and is made of durable genuine leather. It makes for a stylish accessory for your outfits whether casual or official. Finally, thanks to the design, the belt is very versatile such that it can be worn every day. If you do not switch belts often, this is the perfect one for you.
Purchase
5. Viniciobelt Ratchet Click Belt

This is a belt that has been built for comfort and strength. It features a timeless design that only looks better as it ages. It is made from 100% cowhide leather that is durable and scratch-proof for long term use. It has five holes which allow 1/4″ adjustments for a comfortable fit; it is also trim to fit. Finally, the durable alloy ratchet buckle is removable and interchangeable so you can wear it with other belts too.
Purchase
6. Arcade Adventure Belt

Bold and functional are just some of the words used to describe this belt from Arcade Adventure. It features a bold color and design that is sure to stand out. Thanks to it functional design and materials, you can be sure that this belt is comfortable, dependable, and useful. It features natural elastic webbing which is lightweight yet heavy duty. It is water-resistant, stretchy, and machine washable. The lack metal allows you to go through airport security easily.
Purchase
7. Dickies Double Prong Belt

Dickies is always good for all things leather and manly. This belt is made of 100% leather that is durable and scratch-proof. It features double rows of perforations and a two prong roller buckle that ensures it is tightly secured. This belt has a cool color that allows for dry clean only; it is a good belt for official use such as work days or school days.
Purchase
8. Tonka Caramel Tan Belt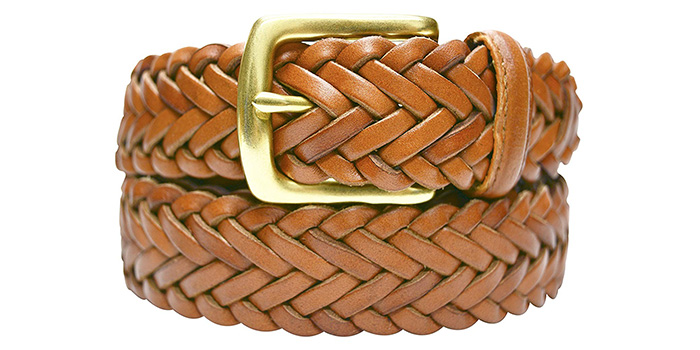 This is a single-prong belt that is made of full grain leather for durability and functionality. The slight blemishes, wrinkle, texture, and color gradation only add to the character of the belt. It is woven for style and built for khakis and suits. It features no stitching because it is braided tightly on the edge to create the domed shape all the way to the tip so you can wear it without wondering whether it will come apart.
Purchase
9. Grip 6 Nylon Webbing Belt

This belt features a clean symmetric design that is simple and stylish. It is a lightweight sleek belt with no holes and no belt flap. The buckle is flat and low profile for both causal and official styles. It is also interchangeable for versatility. The belt features a solid piece of aluminum and ultra durable military webbing that boasts a breaking strength of 2500 pounds. The tight and supple weave material gives the belt a high quality look so you can be sure it is an attention grabber.
Purchase
10. Perry Ellis Reversible Plaque Belt

Like all other good belts, it is a classy and stylish belt that is durable and versatile. It is made of 100% mixed fibers with 75% durable strong leather and 25% other fibers. Because of this, the belt is dry clean only which guarantees that the belt remains in great shape. This belt features seven holes for a better fit; finally it is reversible from black to brown for when you need to switch it up even in public.
Purchase
11. Dockers Leather Dress Belt

This is a belt that combines simplicity with the essence of style. It is made in vintage style so you can pair it with your classic suits or vintage outfits. It is made of 35% polyurethane, 35% polyester, and 30% leather making the belt durable and eligible for hand washing. The polished silver-tone buckle allows the belt to be a fun accessory adding a little style to your outfit.
Purchase
12. Timberland Casual Leather Belt

This is a functional belt that is classic and simple for the dark knight appeal. It is designed for all seasons wear so it fits perfectly into your lifestyle. It is made of 100% leather that is durable and smooth to touch. The antique finish on the buckle and rich color enhances your entire outfit so you can wear it for both functionality and as an accessory.
Purchase
13. Kenneth Cole Reaction Plaque Belt

This is a classic belt that features a slim design for the man who likes to keep it simple. It is made of 44% polyurethane, 32% leather and 24% polyester so it is eligible for hand washing. This makes it easy to maintain so you do not have to buy a new belt. It is a reversible double sided belt that allows you to switch it up when you need to. The plaque adjustable buckle allows you to wear it comfortably without being too tight or loose.
Purchase
14. Hugo Boss Italian Leather Belt

This belt features a lot of good accessories and capabilities. It is rich and smooth in both color and texture. It is made of 100% cow leather for durability and features detailed stitching to really help it pop out. The buckle is made of 100% zinc with a simple design that is brushed for texture and character. It is a good belt for workdays or school days.
Purchase
15. Levi's Jean Belt with Roller Buckle

This is a pebbled leather belt that is versatile and durable; it is made of 100% genuine leather. The antique gold tone roller buckle acts as an attention grabber turning the belt into a functional accessory. The trim and contrasting stitching adds detail to the belt giving it a magnificent character. Thanks to it material, the belt can be hand washed so it is overall easy to maintain. With Levi, you can always expect the best products and this is one of them.
Purchase
16. Hagora Inlay Antique Belt

This is a high quality product that is made of genuine leather for durability. It features a distinctive looped leather chain and genuine leather strap. The vintage style buckle really completes both your belt and your outfit. It is good for jeans because it is causal and adds an essence of ruggedness to your outfit. So whether you are going on a hike or a casual event with friends, this belt will help to complete your look.
Purchase
17. TRAKLINE NYLON Web Belt

This is a classic belt that features an interesting feature; it is 800% more adjustable than traditional belts. It features a high grade nylon web outer layer that is durable and ages well. It also has a micro-fiber inner layer for durability; the alloy buckle that is spring loaded is important for both style and functionality. The gun metal finish is especially great for enhancing the overall look of the belt and so your outfit.
Purchase
18. Arc'teryx Conveyor Belt

This is a belt that features several great designs. For starters, it has a self locking metal buckle that is always reliable. It is made of a heavy duty fabric with textures webbing for functionality. The synthetic Fiber adds to this feature. The belt is perfect for outdoor functionality and is built for comfort and durability. As an add to the design, the belt has a contrast color stitch detail giving it a pop of color for style.
Purchase
19. COACH Reversible Leather Belt

This signature leather belt is for the man who appreciates simply designed items. It is a belt with a bold dark color that subtlety enhances your pants or jeans depending on your outfit. It is reversible so you can switch it up every once in a while. Being so versatile, it also features detailed decoration so it does not seem to be monotonous every time you wear it. Finally, it is cut to size to fit almost any waistline.
Purchase
20. Truth Vegan Belts

If you are a vegan looking to buy products that fit to your practice then this is the belt for you. It features nylon and vinyl materials that are fused together for an indestructible belt. It has an antique silver finish and six holes for adjustments and perfect fit. It is stylish and is made of 100% animal friendly materials. It is a modern belt for a modern man who loves animals.
Purchase
21. Colombia Washed Cotton Belt

This is an interesting belt that is designed for quality and durability. It combines style with a vintage outlook thanks to its harness buckle in antique nickel finish. It is made of 100% cotton which features a pebble grain overlay for durability. Thanks to its fabric, it is easy to maintain as all you would need to do is wash it yourself. The detailed stitching puts the belt together as a stylish and classy product.
Purchase
22. NIKE Tech Essential Web Belt

This is another great product from Nike with a low-profile minimalist design. It is made of 100% cotton which is easy to maintain through a simple machine wash. The belt features a rubber coated military buckle with an in-built bottle opener. It has an adjustable closure and adjustable sizing so it can fit you perfectly.
Purchase
23. Trayvax Cinch Web Belt

This is a durable and stylish belt with a low profile minimalist design. It is made of heavy duty MOL-SPEC nylon webbing for durability and strength. It is an infinitely adjustable friction belt complete with interchangeable buckles for variety. The buckle is made of aerospace grade tempered aluminum that is compatible with conceal carry. Like other Nike products, it is phenomenal.
Purchase
24. Quicksilver the Jam 5

This is a belt that has a simple design for the man who likes items with simple designs. It is made of 100% polyester which makes it easy to hand wash and maintain in general. It is versatile because it can be used for various outfits including casual wear and official wear. It has a metal embossed tip for style and an adjustable strap to allow the belt to fit you naturally and perfectly.
Purchase
25. Yichoyiliang Sliding BuBuck Belt

This is a belt made from the finest genuine leather. It features a durable zinc alloy buckle which provides high density chrome. It is not only scratch proof but it is also fade proof so you can be sure that it will age pretty well. Finally, it is easy resive thanks to the automatically opening clamp. This is a good belt for both casual and official occasions so you can wear it almost every day.
Purchase
26. Under Armour Webbing Belt

This is a fantastic belt from Under Armour that is made of 100% polyester. It is adjustable abs cut to fit sizing so you can say one size fits all. It is a reversible belt to a solid back color; so you can use it for almost any event. The end tipping feature embossed details enhances the overall look of the belt. Finally, it has a metal clamp shut buckle for durability and safety so your pants always stay up.
Purchase
27. Harley-Davidson Crosswind Belt

If you are looking for a high quality belt, then this is it. It is made of 100% leather that is high quality with a smooth texture. It features an interchangeable buckle which allows flexibility and perfect fit. It has a detailed logo print for style and a bold appearance. The nickel finish buckle completes the look of the belt and enhances your entire outfit. It is an attention grabber so be prepared for the attention.
Purchase
28. Calvin Klein Reversible Fe. Panel Belt

This is a fashionable belt that is useful for both casual and official occasions. It features a simple design so it is eligible for workplace wearing. It has a plated buckle to enhance the overall look of the belt. The material is 100% genuine leather that is durable and scratch-proof for your benefit. Thanks to the fabric, it is easy to maintain as all you need to do is to hand wash it to keep it clean and looking almost intact from the minute it is used.
Purchase
29. Preston Leather American Flag Belt

Have you ever wondered if there is a belt out there to really capture your inner patriotism? Then look no further than this bold belt from Preston. It features a bold color and design with the American flag imprinted on the belt. It has detailed stitching that adds to the character of the belt. It has leather tabs and a brass buckle to draw attention to the belt and your outfit. If you are looking for a new way to show off your patriotism, this is it.
Purchase
30. Vans Deppster Web Belt

Belts from vans are a lot like the shoes, they are well designed. It is made of 100% polyester with a bold checker print design for the man who is not afraid to stand out. The buckle is custom made with a bottle opener. Thanks to its bold design and colors, the belt can work for both casual and official occasions. This belt is durable so you can guarantee that it ages well.
Purchase
31. Nautical Braided Stretch Belt

This belt is made of 50% leather and 50% polyurethane. It features a solid rich color which allows you to wear it with almost everything. It is a reversible belt so you can always switch up your look whenever you need to. It is 35mm in width so it is actually a slim belt that sits on your waist subtly and thanks to its lightweight feature, you will almost forget that you are wearing it.
Purchase
32. Tommy Hilfiger Fabric Inlay Belt

From Tommy Hilfiger, this belt only praises the brand name even more. It is a leather belt with a cotton inlay for durability and comfort. It features an aged brass buckle that gives a vintage outlook to the belt. The detailed stitching and logo design add to the character of the belt. It is a good belt for most occasions so next time you want a belt that works for all days, consider getting this one.
Purchase