Almost 7000 years ago, the first real concept of men's underwear was the loin cloth which was used by early man to provide some form of coverage while running errands.
This carried on to ancient Egypt which shows (in art form) that pharaohs wore some form of specialized kilt/loincloth called a 'shendoh'.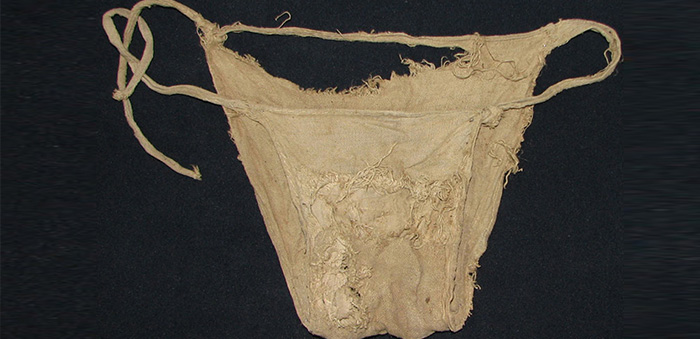 The middle-ages came and with them loose-fitting trousers called 'braies'; they offered more coverage but came with the ultimate disadvantage of having to be laced up in three places. This was rectified by the 'codpiece' which opened at the front using buttons.
Underwear completely changed when a postcard from the French Riviera inspired Tighty Whities. Soon after, boxer shorts became just as popular.

As a man, buying underwear you probably do not take as much time or precision as when buying a jacket.
However, finding the right type of underwear will take more than just 'necessity' to motivate you.
When buying underwear, be sure you make use of the size chart; most stores offer this and you can use it to find the best fitting pair, not too big not too small.
Once you find your right size, look for the best quality that come in a pack so you end up spending wisely.
Overall, you should buy a variety of underwear depending on your activity of the day; for example if it is a cozy Saturday evening, loose boxers would be a perfect fit.

Underwear styles
There are different types of underwear styles for men; they also each have different variations.
If you have not picked your go-to style then these short descriptions will help you know what works for you.
1. Briefs
These are a pair of Y-shaped snug-fit undies that holds the genitals in a relatively fixed position.
These undies have been praised for providing the much-needed sex appeal, but without going over-the-top. They are available in low, mid and high rise cut. Therefore, you can choose what you prefer according to your bottoms style.
It is easy to go wrong with briefs because they are a snug fitting style; people often choose a too small size that ends up being tight. Other than that, they are good for leg movement and are designed with modern technology which keeps the package together and away from your body.
2. Boxer briefs
This type of underwear came as a variation of boxer shorts which were loose and led to bunching up of fabric. This style is a great choice if you are looking for another potion that will allow you both the style of boxers and briefs.
It has a functional underneath apparel that provides a broader space for the male anatomy to breathe freely. The form-fitting style of the undies covers the 1/3rd portion of the thighs without bunching or riding up; plus the anatomical pouch offers a great deal of support and makes your groin look larger.
The best thing about this style is that it can be worn with every type of outfit.
3. Boxer shorts
This type of style features an elastic band with the skivvy that extends a few inch above the knees. This baggy style keeps everything airy and comfy; perfect for a lazy Saturday morning.
The modern boxers are designed in form-fitting styles with or without an opening in the groin area. Because they are loosely fitting, they provide ample air flow while the abrasion-free pouch reduces chafing and sweat secretion. Other variations of boxer shorts give always give the best support of manhood.
Till date, it is the most popular underwear style; it has many variations including lace boxers, sheer boxers, and even pouch enhancing boxers.
4. Jockstraps
This style of underwear was invented for the purpose of reducing and preventing saddle burn on cyclists. This style offers less restriction and offers more support. Not only this, but also the pouch of the underwear featured protective cups made of hard plastic or steel, perforated for ventilation.
The revealing back gives this style an edge over all the other undies; the ample support in the front makes it one of the most prominent options for the rigorous physical activity. The straps at the back add to the support and keep everything in the right place and the pouch elevates the manhood and keeps it in an elevated position.
Underwear fabric
Different types of underwear all come in various fabrics. Other than choosing the one that does not itch, there are some helpful facts about these fabrics that are sure to help you when picking the best pair for you.
1. Cotton
Тhis is the most common fabric for both men and women's underwear. It is also the most recommended because it is breathable, airy and cozy. It is soft to the skin and extremely durable for undergarments.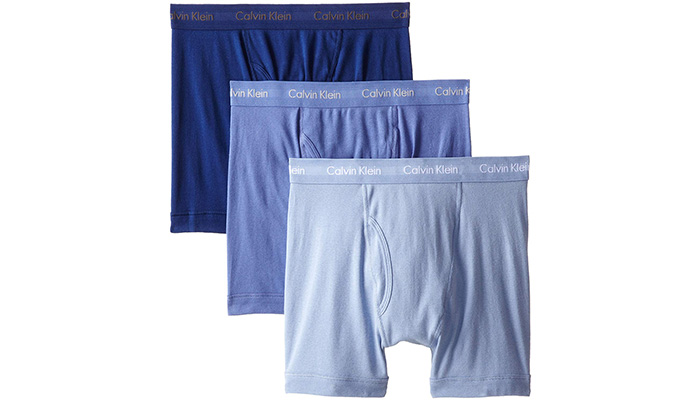 The material is absorbent meaning that it absorbs sweat and any moisture; as such you should avoid it when you are buying underwear for exercising. It is however perfect for other activities such as going to work, school, or running simple errands.
It does not shrink in the wash so you can be sure your underwear will not be a size too small after washing.
2. Nylon
Тhis is a fabric with micro-fiber construction that fits snugly and is soft on the skin.
Unlike cotton, nylon underwear will keep the wearer dry so it is the healthier and more comfortable option for underwear to wear at the gym or when exercising. Another great advantage of nylon is that it is easy to wash thus making it easy to maintain and care for.
When washed, it requires little time to dry so it can be useful on those unfortunate hurried mornings. The only notable disadvantage of nylon is that it will produce wet spots when worn in hot climates and wearing light-colored clothing, such as khaki shorts.
3. Modal
If nylon does not meet your absorption needs then modal is the next best thing. It is soft and smooth on the skin so unless you are allergic, it will not cause any irritation.
The material is a manufactured fiber that is universal so you can wear it anywhere at any time. Though it is found to be less supportive than cotton and nylon, it still offers enough support to allow you to wear it almost anywhere. It is great for the gym and still functional enough to be worn with jeans or even a suit.
4. Polyester
This is a synthetic material made in the laboratory to be thin and comfortable. It is so thing that the thickness levels can be half of that of cotton and other fabric types. Other than that, it has the advantage of being able to hold onto colors better than even cotton.


It is strong and durable and has the ability to resist wrinkles; it is also easy to wash and dry thus making it easy to maintain. Because it is light and thin, it is the perfect fabric to wear if you are planning to wear tightly fitting jeans. The only disadvantage is that it does not have a high absorbent power so it is not recommended for hot days.
5. Silk
Тhis is a soft and smooth fabric that feels great on the skin and is more than just for the sex appeal. It is an elegant material that is durable and has the greatest pull of all other fabrics.
It is absorbent but not a conductor of heat meaning that it can be worn comfortably both in the gym and on a night out.
This fabric is the preferred type for winter underwear or for when you are looking to buy some lingerie. Unfortunately, it does not provide as much support as cotton and other fabrics so men do not buy them in bulk and only use them as a once in a while thing.
6. Spandex
Spandex is a fabric that is durable and conforms to the body thus ensuring flexibility.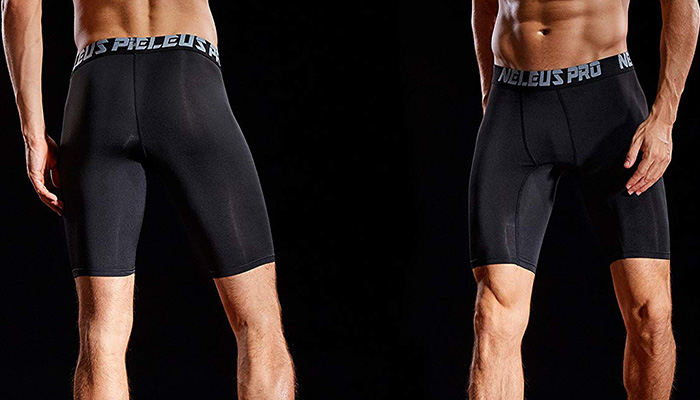 It is often combined with other fabrics such as modal in order to give it a better fit. It is more durable than rubber and so it is perfect for everyday wear; it does not cause irritation and you can even wear it under a suit.
It is popular worn by men for its elasticity properties rather than its comfort. Commonly, it is used for swim suits, cycling, and other forms of exercise due to its lightweight and elastic nature.
Underwear According to Your Lifestyle
Picking the right pair of underwear is also about the type of lifestyle you lead. If you work at home then you may not need the sung fitting type and if you travel a lot, you are definitely in need of the quick drying ones.
1. For an active lifestyle
If you live an active lifestyle then it means that you have an active job that causes you to run continuous errands or at least travel. It also means that you are dedicated to heading to the gym at least once a week. If this is you then you should trade in your boxer shorts for boxer briefs and briefs. This is because they well allow you more leg movement and will not ride up on you as you move from place to place.
Go for fabrics like nylon and modal for the absorbent properties and spandex for the gym.
2. For a casual lifestyle
If you lead a casual lifestyle, you are probably one who works from home or at least does not travel or go out as much as other people. Therefore, you will find boxer shorts to be comfortable because they are loose fitting and provide you with some much needed aeration.
As far as fabrics are concerned, you can choose a variety ranging from cotton to silk depending on how casual the day is.
Spandex is not in your line of fabrics but you can still try it out and see if you find it comfortable.
3. For men who use a lot of formal wear

If you are into formal wear, then you might not be running around as much as other people. That been said, if you are wearing fitting pants, you should consider lightweight and durable fabrics such as silk and polyester. This is because they will offer you with a perfect shape for your fitting suit and will not make you feel uncomfortable in case you start sweating.
As for the style, you should pick briefs, or boxer briefs.
Briefs will give you some much needed leg movement while keeping your package in the right place while boxer briefs will prevent chaffing and space for breathing freely.
4. For men who want to dress impeccably
If you are a man who is looking to dress impeccably for every occasion then the best way to go when buying underwear is to buy every type depending on what you plan to do.


Designer brands of underwear are a good way to start because they offer the highest quality fabrics and come in different sizes as you know you will find the size for you.
Do not be afraid of testing out new fabrics especially silk and spandex; take yourself out of you comfort zone and wear silk to work. You will be surprised how great they feel. Buy different styles and wear them in accordance to what you day activity is.
Longevity of underwear
A survey once showed that men hold on to their underwear for up to seven years; holding on to underwear for so long however is pretty dangerous.
You see, underwear sits atop the skin around the area that contains E. coli. No matter how much you try to wash it away from your skin, and so it will end up on your underwear.
The average person could probably get away with wearing the same pair of underwear two days in row without a problem, after that they should definitely be washed and dried in the sun.
In terms of replacing underwear, you should replace the ones you wear regularly at least once per year. The longevity depends on how often you wear them and the fabric; some fabrics are not as durable. If you notice that they are torn, or the elastic is not as strong, or that they have become small, you should immediately replace them.
Wearing torn or worn undies can be uncomfortable so make sure they are thrown out immediately they show any signs of not being as supportive.
Best men's underwear
The best underwear for men is the type that is best suited for you as an individual. This means that the fabrics should not be irritating to your skin and should feel smooth and soft instead.
No matter the style you choose, an important quality is breathability; the undies should allow some level of air flow to your groin and significant part so that you do not feel uncomfortable when you sweat.
Another quality is the fit; the underwear should fit you comfortably such that it is not too tight or too loose. Ensure that your package is not constrained when you wear the underwear. Finally, your underwear should be functional depending on the activity you are doing; in this case make sure you pay attention to both style and fabrics.
If you are seriously looking to buy underwear then these 18 pairs are a great option to consider.
1. Calvin Klein Steel Micro Boxer Briefs

This is a pair of breezy and comfortable underwear from Calvin Klein that are sure to meet both your comfort and style needs. They are made of 89% Nylon and 11% Elastane which is great for gym wear and hot sweaty days.
It is tag less for comfort with smooth, soft, comfortable metallic micro fabrication. The fabric makes it machine wash so you know it will be easy to maintain; the flat stitching makes it even more comfortable and does not show even when wearing fitting pants.
Purchase
2. Tommy Hilfiger Men's Boxer Briefs

This is a 4-pack form Tommy Hilfiger that features four pairs of comfortable breathable underwear. It is made of 100% cotton that it comfortable, smooth on the skin, and absorbent.
These boxer briefs have a logoed elastic waistband that fits comfortably on your waist, they also feature a front fly that is stylish and comfortable.
Finally, they have a rise of 10" so they fit you everywhere perfectly.
Purchase
3. David Archy Men's Ultra Soft Trunks

This a 4-pack made from the finest bamboo Rayon and Spandex making them comfortable, ultra soft, and very breathable. Bamboo Rayon is a cellulosic fiber extracted from natural materials-bamboo.
It is featured with good air permeability, lightweight and stable dyeing property. It is super cozy and feels soft on the skin. The 3D pouch design keeps your package more comfortable; and the one piece clean cut in the back helps to avoid embarrassed adjustment for better comfort.
Purchase
4. Adidas Climalite Boxer Brief

When it comes to adidas, you can always expect the best quality fabrics and elasticity in underwear. This is a 2-pack that features two pairs of underwear made of 92% Polyester and 8% Spandex making it great for sweaty days and for days you need some elasticity. It is a soft, stretchy, and quick-drying material that is perfect for the active lifestyle.
The waistband is plush-soft and tag less for your added comfort while the no-ride-up leg construction keeps fit consistent and prevents bunching.
Purchase
5. Saxx Classic Vibe Underwear

This is a 3-pack of three uniquely designed boxer briefs that come in beautiful patterns and designs. The most unique thing about this underwear is the Patented BallPark Pouch™ for friction-free support of your package.
The flat out seams make it extra comfortable; the softer side of the seam is placed inward, for no-chafe comfort. Finally, it has an anti-roll moisture-wicking jacquard waistband for those sweaty days or when you are at the gym.
Purchase
6. Reebok Men's Cotton Boxer Briefs

These three boxer briefs are made from soft and comfortable 60% Cotton and 40% Polyester. This mesh of fabrics is super soft on the skin, comfortable and breaths easily even ion hot days.
The underwear has 6 inch seams that are flat and do not show even when your pants are well fitting. The comfort waistband is tag less to add to your comfort; and the contour pouch with no fly keeps you package in a comfortable and breezy position.
Purchase
7. 2(X)IST Men's No-Show Brief

This is another 3-pack with three stylish and comfortable briefs for the man looking for leg movement. The briefs are made of 92% Cotton and 8 % Spandex which allows for elasticity and absorption.
The fabric makes it easy to maintain because all you need to do is throw it in the washing machine to get it clean. It has an original contour pouch that works well for your package and a comfortable elastic waistband to keep them from falling.
Purchase
8. Polo Ralph Lauren Classic Cotton Boxer Brief

This is a 3-pack designer brand that features three stylish pairs of Boxer Briefs. They are made of 100% cotton making them breathable, soft to the skin, comfortable, with MOISTURE WICKING which means that it absorbs moisture away.
This underwear has flat comfortable seams that will not have you showing or feeling irritated. Finally, they have a classic waistband with not tag for your added comfort.
Purchase
9. LAPASA Micro Modal Boxer Briefs

This is a multi-pack that features underwear made of Soft Micro Modal that is extracted from European beech wood and comes from nature itself as cotton; light as a feather, feels cool on the skin and silky to the touch.
It has a unique Ultra U-pouch design added onto the underpants to provide more space for your package without extrusion or constraint. Moreover, the seams are durable and comfortable so you do not experience scratching or pulling of any kind.
Purchase
10. Hugo Boss Men's Trunks

Made of 95% Cotton and 5% Elastane, this 3-pack comes with three comfortable pairs of trunks for the bold man. They are cotton stretch but durable enough to serve you for a long time. They are machine wash meaning that they are fairly easy to maintain.
The refined waistband is elastic to allow movement and tag less to avoid irritation and itching.
Purchase
11. Jockey Men's Underwear Classic Boxer Brief

This is a great 6-pack containing six pairs of soft, comfortable boxer briefs. They are made of 100% breathable, soft, and absorbent cotton that is perfect for day to day activity. They feature a vertical fly design that keeps you package comfortable and away from any friction.
The full rise and coverage style is perfect for almost every type of outfit from fitting suits to baggy sweatpants. It is machine wash and dry so it is easy to maintain.
Purchase
12. Icebreaker Merino Anatomica Boxers

This is a unique pair of undies that are made from soft and breathable merino wool. They feature a countoured pouch with functioning fly to keep your package in a comfortable position and allow you to handle bathroom matters with ease.
The Corespun fabric is for added durability so the underwear will serve you for a long time on a regular basis. The flat lock seams prevent chafing and will not show even in tight fitting pants.
Purchase
13. Emporio Armani Men's Cotton Briefs

This 3-pack contains three stylish pairs of briefs from Armani that are elegant and comfortable. They are mad of 100% Cotton that is breathable, absorbent, and soft on the skin so it does not itch or irritate.
The fabric allows for machine wash making them easy to maintain; the elastic waistband is stretch and tag less for a comfortable fit. Each pair gives you a comfortable fit with pull on closure.
Purchase
14. Diesel Men's Kory Boxer Trunk

Made of 95% Cotton and 5% Elastane, this 3-pack of boxer trunks is perfect for the working man. The fabric is breathable, soft on the skin, and highly absorbent.
They are machine wash and easy to maintain even ion an active lifestyle. They Diesel logo waistband is highly elastic to allow free movement and tag less to prevent irritation and discomfort. They fit comfortably and come in a variety of colors.
Purchase
15. Separatec Dual Pouch Boxer Briefs

If you are looking for boxer briefs to wear at the gym then these are the pair for you. They are made of 77% Polyamide and 23% Spandex making them stretch for activity while meeting your sweat absorbent needs.
The fabric is lightweight and dries quickly even in the winter time so you do not have to skip leg day. The Patented Separate Pouch Tech keeps intimate areas comfortably separated and stays cool even on hot summer days.
Purchase
16. Lacoste Cotton Stretch Trunk

This 3-pack from Lacoste features three pairs of 95% Cotton and 5% Spandex trunks. They are soft on the skin, breath easily even on hot days, and highly absorbent. The fabric is easy to maintain and requires a gentle machine wash.
The waistband is tag less and seamless for comfort which results in no bulk and prevents bunching up. These trunks give you a sporty feeling so they are perfect for the gym.
Purchase
17. Under Armour O Series Boxerjock

This is a 2-pack that features two pairs of boxer jocks that are made of polyester and elastane. This underwear is built for the gym and has a variety of attractive features; for starters, they are anti-odor so you need not worry of stench after a heft session at the gym.
The inseam is flat and six inches but will not show or cause any form of irritation; the waistband is elastic for a comfortable fit and tag less for comfort.
Purchase
18. Versace Men's Iconic Brief

You can always be sure that Versace does not disappoint; especially when it comes to underwear. This briefs are made of 100% cotton making them absorbent, soft and gentle on the skin, plus highly durable.
The waistband as you would expect is decorated in the classic logo, is highly elastic for movement, and tag less for your desired comfort. It fits comfortably and prevents chafing on your privates.
Purchase
Buying Guide
Have you ever bought an undie that looks chic on the store but delivers an unsatisfactory comfort level? Do you get muddled with the plethora of options and don't know which one to pick? This buying guide would ensure that you buy underwear according to your comfort, style, and fabric. Let's move on.
Comfort
If you want comfortable underwear then it is important to consider size, fabric, and climate.
Size
Choosing a tight or loose underwear would be a disastrous purchase. You need to choose a size that sits perfectly on your buttocks and upper thighs. Otherwise, a tight purchase won't be relaxing and the same goes for the loose fit. Also, make sure you go through the size chart for a more clear indication of how the sizing works.
Fabric
One of the most gruelling tasks is to depict the fabric of your underwear. Fabric comes in a huge range of options including nylon, spandex, lycra, plus, cotton, silk, and many more to name. Now, deciding the best fabric is also based upon your preferences. For instance, boxers and silk underwear are deemed an ideal choice for bedtime, as they are light and cool against the skin. Cotton is a great choice for long-day wearing due to its maximum breathability. Whereas, the spandex is comfortable wear for exercising and workout routines.
Climate
This is another important factor you need to take into account while you're choosing underwear. Refer to the chart and then make a careful purchase.
Climate
Fabric
Hot Weather
Cotton
Cold Weather
Wool Blend
Activity
Fabric
Exercise/Workout
Lycra/Spandex
Sleeping Time
Silk/Nylon/Cotton
Work
Cotton
❓ Which brand is making the best men's underwear?
We believe that the brand making the best men's underwear is Calvin Klein. Their pieces meet both style and comfort needs through breathable fabrics and flat stitching. Also, consider Hugo Boss's cotton-blend trunks that make hot, sweaty days easy, as well as Polo Ralph Lauren's classic cotton underwear with moisture-wicking properties and tagless waistbands.
🧐 What to look for when buying men's underwear?
When buying men's' underwear, the first thing to look for is breathability. You will find this in the fabric, and cotton is the best. Cotton blends, elastane, and spandex are also good choices. Second, look at the different styles of underwear and select what you need. Briefs will give you free leg movement, while boxer briefs will prevent chaffing.
🩲 What type of underwear should guys wear?
The type of underwear that guys should wear is dependent on the kind of lifestyle they maintain. For starters, if you have an active lifestyle that forces you to move from place to place or travel, you require boxer briefs that prevent chaffing, riding up, and still give you plenty of leg movement. For people with a more laid back lifestyle, boxers will do for a breezy fit. If you find yourself in formal wear, briefs will provide you with the right coverage and leg movement.
🩳 What's best, Boxers, Briefs, or Boxer Briefs?
Boxers will prevent chafing and give you a loose fit. On the other hand, briefs provide you with adequate leg movement and are built for the heat. We, therefore, believe that boxer briefs are the best of both worlds. They will give you good leg movement, breathability and prevent chafing. Most are made with flat stitching and no tags for comfort.