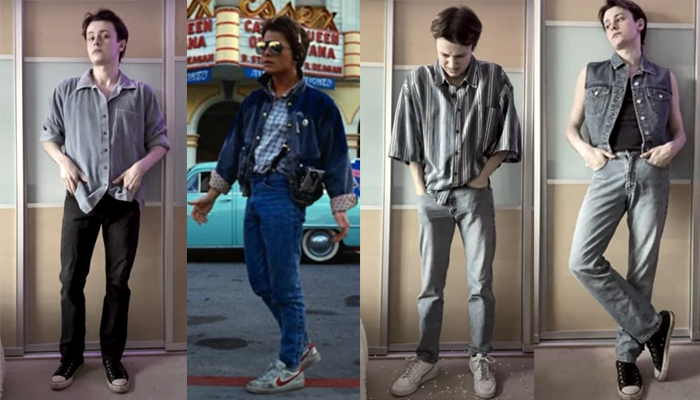 For all that we know, the 80s fashion era was all about pushing the limits, living with excess, and expressing style through vibrant, weird and bold colors.
From famous boy bands to ordinary folk in their 20s, pulling on those baggy pants with white sneakers and a flashy shirt was the fashion standard of the day.
And thanks to hip-hop and Rock, the attachment of those trends with artists and 80s fashion icons like David Bowie, Michael Jackson, Queen the Band, and Pink Floyd gave them somehow timeless status.
Perhaps out of nostalgia, sheer admiration for the style, or just the changing tastes of men, some people still love to dress all '80s to relive those gaudy styles.
If you are one of them, below are some of the most stylish 80s fashion trends for men you wouldn't want to miss…!
What did men wear in the 80s?
The 80s was the time of vibrant colors; with pleasantly outrageous looks and style that we would coin flashy these days. But time back then was different, and so did the fashion trends. Unlike today, when minimalism is the sole aesthetic of a man's apparel, in the 80s, being vibrant, unique, and bold decided the class and style of men.
They would wear anything literally and rock it like a boss. From preppy clothing that included oxford shirts, turtlenecks, polo shirts, sweaters to Hawaiian t-shirts, shell suits, hand-knit sweaters, nylon jackets, and spandex cycling shorts with cowboy boots, you would find anything you can think of.
Not to mention teenage boys involved in the Rock scene, where they would quite boldly pull off those biker jackets and boots with long, flowing hair like those of Freddy Mercury. Men's attire was simply influenced by the profession and place they belonged; their apparel was a part of their identity, not just fashion.
Fast forward to now, the fashion industry is getting diverse day by day, with a more open approach towards uniqueness rather than contemporariness. And amidst all this shift, they are also trying to revive the classic retro looks long buried in the past few decades.
This means now will be the best time to relive the moments previously limited to your TV screens and imaginations. That being said, let's have a look at the different 80s styles you can try on right now…It's going to be exciting!
'80s Fashion Trends You Can Try Right Now!
Here are some of the '80s fashion trends you can try on different occasions:
'80s Casual Fashion
Ok, first things first, pick up those white sneakers off the rack you haven't touched for quite a while! Done? Great! Because no '80s casual fashion is incomplete without putting those on. That being out of the question, you have many options to pull off some of the retro classic 80s looks.
Those include a denim jacket on top of matching or at least complementing color t-shirt with loose dad jeans, or simply a colorful sweater instead of the jacket. If the colors seem like too much for you, try putting on a bomber or windbreaker. These are the closest to achieving a classic retro casual look.
However, let us tell you again! Without those white sneakers, the look is never complete. 😉
Top Picks
FLAVOR Men's Leather Flight Bomber Jacket

Purchase
Cole Haan Men's Grandpro Tennis Sneaker

Purchase
'80s Preppy Fashion
Accept it or not, but as far as the 80s are concerned, swag wasn't a fashion but a lifestyle. The preppy fashion back then looked much different from the current day ivy league style. It simply wasn't as "simple" as you see it today, with elements of hip-hop fashion included in it.
As per the popular paperback released in the 1980 "The Official Preppy Handbook," the '80s preppy fashion primarily consisted of the characteristic bright colors. The staples popular among Ivy league consisted of Oxford shirts, turtlenecks, and pop collared polo shirts paired with khaki slacks or dress pants. Combine them with oxford shoes or brogues, and you've already nailed it!
Top Picks
Polo Ralph Lauren Mens ClassicLongsleeve Shirt

Purchase
NITAGUT Men's Casual Slim Fit Turtleneck

Purchase
'80s Athleisure/Sportswear Fashion
Well, this might sound ironic, but sportswear has been popular among men for fashion more than sports itself. The reasons can be many. Perhaps it's the added comfort? Or the easy cool look it provides. Anyways, the 80s men stand as no exception, but with the coolness that although, like any back-in-the-day fashion, might appeal to some and be too much for others.
That being said, athleisure fashion has been at its peak in the 80s and included all sorts of sportswear styles. The most common and trendy looks consisted of windbreakers, tracksuits, sweatpants, shorts accompanied by chunky sneakers, and often logo t-shirts. And one thing to add, all of them were pretty baggy. So it really comes down to your taste in the end.
Top Picks
Charles River Wind & Water-Resistant Pullover

Purchase
Mens Athletic 2 Piece Tracksuit Set

Purchase
LUOBANIU Men's Vintage Hip Hop Style Baggy Jeans

Purchase
'80s Summer Fashion
Among all the 80s looks, summer fashion is perhaps the most colorful, timeless, and liked fashion trend even among men today. Can you guess? Well, let's give you a hint, you have frequently been seeing it on those Narco bosses chilling on Hawaii beaches with girls beside them.

Pictured it already? Yups! We are talking about short-sleeved Hawaiian Aloha shirts with shorts. Despite being an old-school look, it still maintains its status as one of those Instagram-worthy apparel that men use to show off their beach trips.
Other trends included crop-tops, but that's not something you wouldn't like to pull off these days; it's like putting on a bra on a man's body. Anyways, if you were to wear something other than the Hawaiian Aloha, we would suggest wearing baggy pants and a shirt. Why? Because it looks great, and it perfectly corroborates the day's preferred looks.
Top Picks
Little & Big Boy's Button Down Hawaiian Shirts

Purchase
Funny Guy Mugs 80s & 90s Retro Neon Pants

Purchase
'80s Rock Fashion
Remember when we were talking about all excess and stuff? That was a special reference to the '80s rock fashion. From long hair to flashy leather jackets, sunglasses, and colorful shirts, everything was just a bit too much, or let's say, more than what you would like to see on a casual man today. And we aren't even mentioning the make-up, jewelry, and headband yet.
It was more of a crossover between hippy and pop culture but in the most peculiar way possible. Talking of today, the '80s rock fashion might not be as popular as it used to be or, let's say, in its true form. However, a selective group of young folk still like to stand out in the crowd by pulling it off.
Top Picks
9 Pieces Spiked Metal Wristband for Men Women

Purchase
Pants Chain for Men Women

Purchase
'80s Men's Hip Hop Fashion
Well, the hip-hop culture back then is a 180-degree picture of what we see today. No flashy watches, expensive gold earrings, and not even a trace of extravagance except for the peculiar heavy chains, for the most part, the hip-hop culture was perhaps the most simplistic yet fashionable of all…at least in our opinion.
To give you a picture, the 80s hip-hop fashion mostly consisted of big dark apparel, mainly baggy, oversized clothes with some traces of sportswear, including white sneakers and sports caps. Moreover, some hip-hop fashion icons wore bulky chains around their neck, but that didn't go quite well in public.
By today's standards, it's still quite an easy look to get away with without even looking 80-ish. One of the favorites among young men right now!
Top Picks
FuZhiBang NYU14 The New Crocodile Baseball caps

Purchase
'80s Punk Fashion for Men
Another necessarily attention-grabbing '80s fashion for men was punk. It consisted of all the glam of rock fashion, but slightly edginess gave it a unique impression. Although punk fashion also had leather jackets and immensely bright colors as the main parts of apparel, what distinguished them were their unique hairstyles.
Among them, mohawk and spiky hairstyles were quite popular. Plus, the apparel wasn't limited to a specific type of clothes. Punk fashion had everything, from skin-tight pants to baggy clothes and white sneakers. And sometimes, they would even wear high-top shoes to complement their appearance.
Top Picks
Aelfric Eden Men's Color Patchwork Cargo Pants

Purchase
Reebok Men's Bb4500 Hi High Top Sneaker

Purchase
80s Fashion Products
'80s suits
The '80s suit game was dominantly occupied by power suits. Thanks to Giorgio Armani, the renowned fashion designer of the time, the idea of those broad-shouldered, soft, and silhouetted suits you must have seen in those 80's movies was totally his idea.
Although the design continued, the color patterns witnessed quite a diversity, with striped suits becoming the most popular among young and aged men, especially when paired with a formal shirt and tie. The use of crew-neck T-shirts was also quite popular for a casual fit.
Top Picks
OppoSuits Funny Everyday Suits For Men

Purchase
MOGU Mens 3 Piece Double Breasted Suit

Purchase
'80s Shirts
As we have been mentioning quite frequently, the 80s style was all about colors that stood out. This is also perfectly reflected in the shirts men used to wear, casual and formal. For the office, striped shirts were quite popular among men, with polo shirts and colorful loose shirts for casual use. In hot weather, Hawaiian Aloha shirts were also quite fashionable.
Top Picks
Floerns Men's Striped Shirts

Purchase
Goodthreads Men's Long-Sleeve Linen Shirt

Purchase
'80s Sneakers
The 80's sneakers game was pretty much "white colored" with high tops. Since people back then were predominantly inspired by hip-hop and rock culture, the design stayed quite consistent in every age. It could be pulled off with any casual or party look. The popularity of shoe pairs like Reebok pumps and Nike Air Jordans is quite an excellent example.
They could be worn with anything, from simple trousers to jeans and even pants. The color patterns primarily consisted of famous slogans, logos, and vibrant prints that perfectly resonated with the boldness attached to the 80s. Although men also used to wear top crops, that's sort of too much if you decide to go for it today.
Top Picks
Nike Men's Basketball Shoe

Purchase
Reebok Men's Club C Sneaker

Purchase
'80s Jeans
You'll be surprised to know, but most of the jeans styles you see even today are mostly inspired by the 80s. Take the ripped jeans, for example. Almost every second teenager loves to put it on these days. But most people don't know that it's actually "that old" fashion.
Another popular and still persistent among men is simple, a bit faded, mid-blue jeans with a relaxed fit. Accompanied by a good jacket and shirt, with the pants slightly tapered, it's still a classic look that doesn't fail to enhance your looks.
Top Picks
Wrangler Men's Big & Tall Classic Jeans

Purchase
Wrangler Men's Retro Slim Fit Straight Leg Jean

Purchase
'80s Jackets
Let's accept one thing, with something inherently classic as the jackets, it doesn't matter which decade you are wearing it in. You will still look fabulous. Talking of the '80s, several jacket designs were setting up the trends those days (and even now).
Those included the ageless leather jackets, classic denim jackets, bomber jackets, and of course, the windbreakers. To say more, jackets have never been exposed to trend shifts as much as the other clothing. So even if you are wearing your casual jacket, that's some of the 80s right there ;).
Top Picks
Levi's Men's Faux Leather Aviator Jacket

Purchase
Levi's Men's Trucker Jacket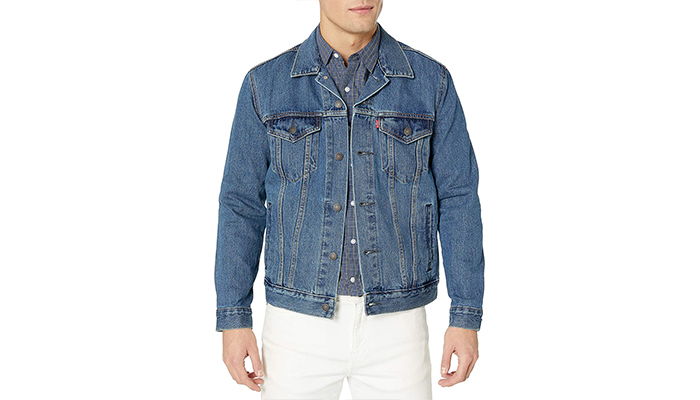 Purchase
'80s Jumpers
Loose, comfortable, and fashionable jumpers were famous among men and women both in the 80s. However, ironically, unlike the other 80s garments, these weren't as boldly colorful as the other stuff, except for the beautifully simple color patterns that looked quite decent, or at least not close to the usual "excess" norm. But still, they were indeed a bit bulkier and specially designed for winters. The best thing about it is, it suits both adults and teenagers.
Top Picks
Vamtac Mens Grassland Cow Knitted Pullover Jumper

Purchase
GRACE KARIN Mens Vintage Stripes Pullover

Purchase
'80s accessories
Well, to be quite honest, until you are pretty daring and bold of nature, there are many accessories you wouldn't like to buy, for example, make-up powder and eyeliner. But hey! How about some shiny glasses, a beautiful bum bag, and some chunky white sneakers? Wouldn't that be much easier than wearing a chunky golden chain bending your neck down as you walk? Anyways, it's totally up to you. Tastes differ from person to person. Even a chain might not look weird on you; who knows?
Top Picks
adidas Originals National Waist Pack-Travel Bag

Purchase
'80s Men's Hair
As we have repeatedly been mentioning throughout the article, everything was about excess in the '80s. And hairs were no exception. Among boys, the mullet was one of the most iconic looks and has somehow become the face of the decade's youth.
We still see it in a lot of movies. For office and business people, things weren't entirely different. They had the same slick and neat hairstyle that we often see today and probably have been seeing forever.
FAQs
What was men's fashion in the 80s?
To describe in the shortest words, nothing subtle was there in the 80s that we could actually call a "trend." But for all that one could explain, it was all about excess, vibrancy, and uniqueness. Everyone would wear literally what they liked. From tight jackets to baggy shirts, everything just blended in.
What shoes did men wear in the 80s?
Men wore different styles of shoes in the '80s. Some of the most popular ones were high tops and white sneakers, mainly inspired by hip-hop culture. As for the preppy fashion enthusiasts, brogues and oxford were easy choices. Those involved in the rock scene preferred Doc Martens.
Did guys wear top crops in the 80s?
Well, one could say that. Although the trend first started in sports, it quickly became a street style for every guy. However, as soon as it came, so did it find its end with the acceptance of shirtless men in the streets. Even now, some people wear it to show off their chiseled bodies.
How do you dress like you are from the 80s?
Simply study different fashions that persisted in the decade and pick the one that you think suits your personality the best. Once you identify it, start investing in it. Or just in case you are too shy of wearing those bold colors, we would suggest something like a leather or denim jacket with faded jeans. It's up-to-date and '80ish at the same time.