A wallet is one of the most essential things to own as a man.
It has become more than a pouch for carrying money; it is an accessory.
Every man deserves to have the right type of wallet for their everyday activities. It should embody your signature style and taste while remaining unique and classy.
Unfortunately, not many men take the time to pick out their wallets. More than that, a lot of men ignore zipper wallets even though they are just as durable and stylish as other types.
When you are picking out a zipper wallet, you must look out for the most obvious element.
The Zipper.
It should be metallic, metallic zippers are more durable than plastic ones. Next, the zipper should glide smoothly, you ensure this, pick out a wallet with a zipper made of high-quality material.
Last but not least, the zipper should have an easy to use handle, it could be the zipper handle or an attachment. Either way, it should be strong and easy to grasp.
The following are some of the best zip wallets in the market today.
1. Bellroy Leather Zipper Wallet

This is a beautiful leather wallet that comes from Bellroy's zipper collection. It is well-designed with a leather exterior that is tough, shiny, and elegant. The exterior also has an embellishment on the side that adds to the character of the wallet. It is small so it will fit discreetly into your pocket. The interior is big enough to fit up to 15 cards at a time while maintaining a minimalist build. For those who travel a lot, you will find the sim card slot to be very useful; it also comes in six beautiful colors.
Purchase
2. DONWORD Bifold Wallet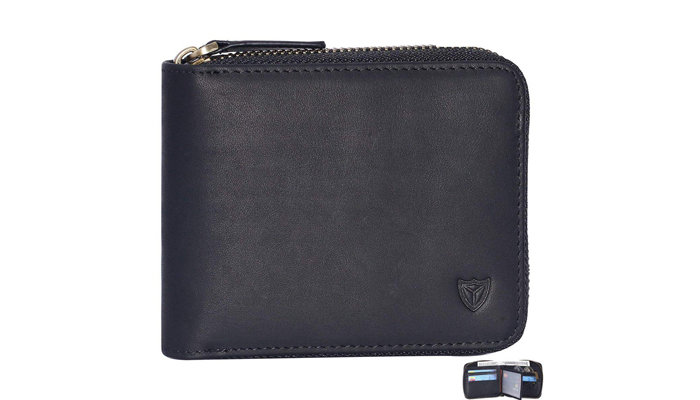 Bifold wallets are very popular and this is one of the best ones in the market. It is a leather wallet made from high-quality cow-hide leather that ages beautifully and gains character with each crease. It is designed to block Radio Frequency Identification (RFID) signals; it prevents unwanted scanning of the RFID chips of your credit cards. The interior features 13 card slots, but there is also 1 card slot outside of the wallet. It also has 1 big Cash Slot, 1 Coin Pocket, 1TF card slot, 1 SIM card slot, 1 ID Window.
Purchase
3. Vaultskin Notting Hill Wallet

Designer wallets are always a great addition to your wardrobe. This designer wallet will not only hold your essentials but also make a statement. It features a simple but sleek design; it is made of genuine Italian leather that is easy to maintain and looks great. The stitching is also well done so you can bet that this wallet is built to last. It has a well-designed zipper that lets you reach for your cards and money easily. The exterior has 4 pockets that allow you to reach for your most-used cards. The interior has 6 card holders and can fit up to ten bills.
Purchase
4. Pendleton Leather Zip Wallet

This is a good wallet for people who like subtle but stylish designs. It is made of 100% leather; it is easy to clean, resistant against corrosion, and beautiful when aging. The zipper is made of high-quality metal that glides well and does not rust. The interior has a high-quality cotton lining that is absorbent, and cushions your cards well. It has 7 slip slots that fit your cards perfectly without losing its shape. It also has 1 exterior slip slot that carries your most used card. It makes for a good father's day gift.
Purchase
5. Tommy Hilfiger Oxford Wallet

Sheep leather is very high quality and durable and that is why this wallet form Tommy Hilfiger will last a long time before wearing and tearing. The exterior has a zipper around it that glides smoothly; it also has a stylish logo embellishment on the side. The exterior features 100% leather lining that is just as durable and beautiful as the exterior. The stitching on this wallet is very high quality and is part of the reason why the wallet holds so well. It comes in black allowing it to match with almost everything in your wardrobe.
Purchase
6. Coach Multiway Zip Case

From Coach comes a beautiful wallet, as well as functional.it is made from pebbled leather; pebbled leather is decorative and stylish. It is also very durable and will age well. It has a zip-top closure that allows you to access the contents of the wallet easily. The interior is also made of leather with a soft fabric lining that protects your cards and money from damage. It has 4 credit card slots on the front along with an open pocket. The back also has a pocket, two credit card slots, and an ID window.
Purchase
7. Nautica Leather Slim Zip Wallet

Nautica is known for making good wallets and this is no exception. It is made of 100% sheep leather that is durable, easy to maintain, and luxurious. It is a trendy minimalist wallet that does not trade functionality for style. It is perfect for the modern man who only needs to carry the essentials. The zipper runs around the wallet; this keeps your bills, and coins safe and gives you easy and quick access to your cards. The interior has 3 card slots for your most-used cards. It also has one ID window with a thumb slider.
Purchase
8. Herschel Johnny Zip Wallet

If you are looking for something fun and unique then this is the wallet for you. It is made of 100% polyester which is a great alternative for leather. What is more, it can be hand-washed. It has a classic woven logo label at the corner which adds character and beauty to the wallet. The interior has well-stitched card slots with RFID blocking lining that protects your cards from illegal scanning. The exposed zipper is corrosion free and has a pebbled leather pull for easy access. It comes in 4 beautiful designs and colors.
Purchase
9. Timberland Men's Cavalieri Ziparound Wallet

Zipper wallets are always unique and elegant to carry around. This is one of the best zipper wallets in the market today. Timberland is great with leather so you can be sure that this wallet is durable and well-built. It is made of 100% pebbled leather which is great for wallets; it is durable, easy to clean, and can be dry cleaned. It is a bifold minimalist design that is popular and trendy to the modern man. It has contrast stitching that adds to the overall beauty of the wallet.
Purchase
10. Diesel Fresh Starter Zip Wallet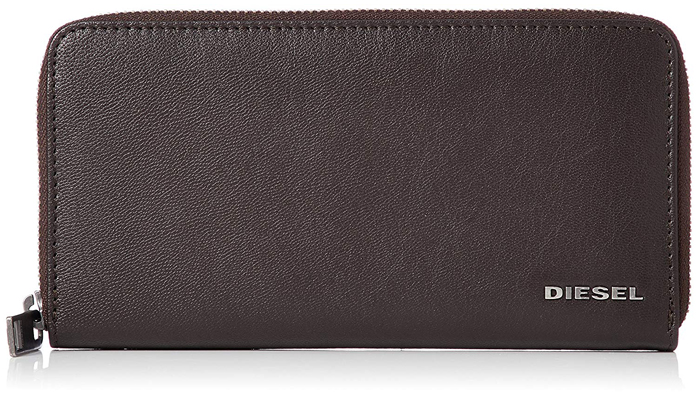 You can always count on Diesel to give you the best-made wallets. It is made of 100% leather, lovely to look at, easy to clean, and extremely durable. It has a top zip around the wallet that is durable, and resistant to corrosion. It measures 10 centimeters high, and 19 centimeters wide making it a minimalist wallet that is perfect for the modern man who only carries the essentials. The interior has multiple slots that can carry your bills, coins, and multiple cards without being bulky or losing its shape.
Purchase
11. Coach Accordion Medium Wallet

From coach comes another wallet that is equally beautiful and functional. It is made from pure genuine leather that will look beautiful paired with a business suit, or just casual wear for the weekend. Make an impression with this wallet that features a zip that runs around it for safety, and easy access. The interior is perfect for your most-used cards thanks to the slip pockets that are firm, and well stitched. It also has an interior zip coin pocket to keep your loose change from falling out. It is a great birthday gift for anyone who appreciated tailored items.
Purchase
12. Kabana Large Metal Zip Wallet

This is a great wallet from kabana that is sure to grab the attention of anyone who sees it. It is a bifold wallet that is both trendy, and functional. The sipper on this wallet runs around through is for safer, and design. The sipper can come in both black and silver depending on what you like. The interior has a zippered pocket that is perfect for your loose change. It also has multiple slip pockets to fit your cards and important receipts. The ID window has a pull out tab.
Purchase
13. Fox Men's Machinist Wallet

If you are looking for something a little different from the traditional zipper wallet then this is the wallet for you. It has a stylish bifold design, great for cards. It is made from 100% polyester; it is a great substitute for leather that is easy to clean, and maintain. It has an all-round zipper closure; the zipper is made of durable metal right down to the handle. Unlike other zippers, it will not corrode, and the handle will not break off. The corner features a decorative Fox woven label, that makes the wallet stand out.
Purchase
14. DONWORD Leather Zipper Wallet

Leather wallets are plenty in the market but this one truly stands out with 11 different designs, and colors. It is made of high-quality leather that ages well; each crease is a story that adds to its character. It is designed to block RFID blocking technology so you can be sure your cards are safe from illegal scanning. The interior features 13 card slots, 1 big cash slot that can hold multiple bills, 1 Coin Pocket, 1TF card slot, 1 SIM card slot, and an ID Window. The exterior has 1 card slot for your most frequently used card.
Purchase
15. Armani Exchange Nappa Pu Wallet

With Armani, you can always expect the best and this wallet is no exception. It is made of 100% Polyurethane; it is a great substitute for both leather and polyester. This fabric is good for handwashing making maintenance a breeze. The interior has a durable polyester lining, this lining is made to cushion your belongings while giving it a stylish look. It has 4 slip pockets for frequently used cards, bills, and important receipts. The interior also has 8 card slots making it perfect for people who carry business cards.
Purchase
16. Chrome Industries Zip Wallet

This wallet is a little more subtle and well designed, but it does not lose the essence of functionality. It is small, but functional a great wallet for minimalists. It is also very unique as it embodies a pouch-like design. It is 9 by 12 centimeters meaning that it will fit discreetly in your pocket. The interior has a zippered stash pocket that helps keep your loose change together. It also has three card compartments for your most frequently used cards. More than that, it is fashionable, a good accessory for your wardrobe.
Purchase
17. MANBANG Italian Leather Wallet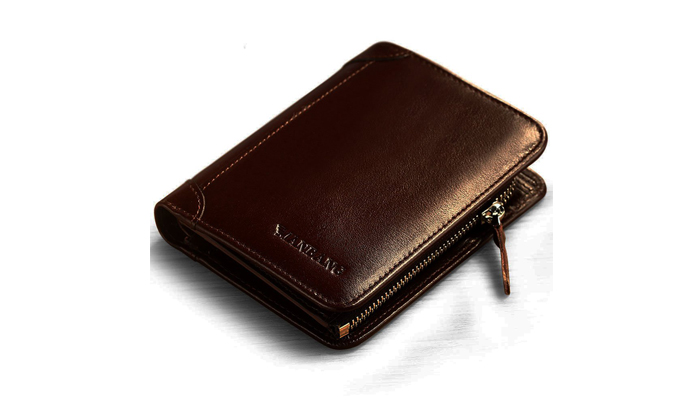 Italian leather is always worth standing by especially when it comes to wallets. This wallet should be your next pick based on the exterior alone. It features genuine cowhide leather that has been waxed and treated to build character while remaining durable. It has contrast stitching that brings out the beauty of the wallet. The interior is lined with soft polyester that also has RFID blocking technology. The interior features 5 card slots, 3 inside slots for receipts, and bills, 2 ID windows, 1 SD card slot, 1 SIM card slot for those who travel frequently, and 2 long slots.
Purchase
18. Leatherworld Genuine Leather Wallet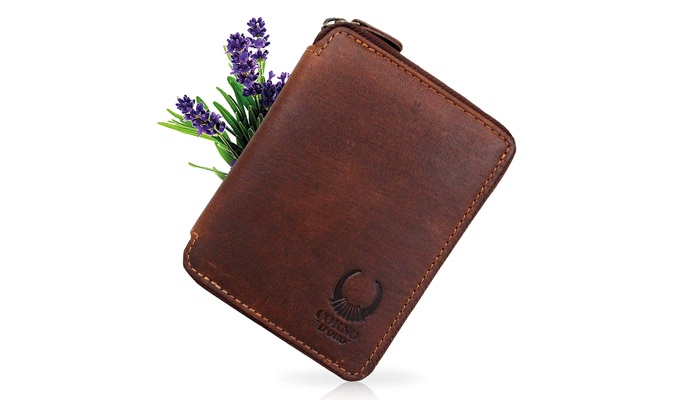 Brown is a great color to go with when it comes to wallets. It is made of real genuine leather; durable, stylish, and easy to maintain. It features quality craftsmanship represented by contrast stitching. It is lined with RFID blocking technology that protects your data from unauthorized access. The zipper goes all around the wallet to keep your items safe, and well arranged. The interior has several compartments thanks to the trifold nature of the wallet. It will fit your cards, bills, and coins without losing its shape. It is a great gift idea for any man.
Purchase
Buying Guide
If you want a wallet that will last you for years, you're going to have to know how to pick a quality one out of the many cheap wallets. If you have trouble with that, then don't worry; we're here to help. Here, you'll find many valuable tips to find a good quality one.
Pick a Great Material
The most significant difference between a great wallet and a cheap one is the type of materials they use. But how can you make sure it uses high-quality leather? Well, the best materials are:
Alligator/Crocodile leather
Deerskin
Box calf leather
That is because these leathers will age well and look stylish for years to come. But there are also some materials to avoid. These are:
That's because both of them, unfortunately, don't age as well! The other thing you should look out for is that the leather has an open-pour structure.
Small Details to Check
If you've found one with excellent material, you're almost guaranteed a fabulous zip wallet. However, there are a few things to look out for:
A Bold Stitching – Usually, stitching with a contrasting colour assures you that it's a good quality one. That's because mistakes are easier to spot on bold stitching than same-coloured stitching.
No Plastic – Many cheap wallets use other materials to cut costs. That's why they have low prices. So if you see some plastic, it's best to avoid them.
RFID Protection – While it's not necessary, it's a great feature to have. That ensures that no thief can steal your virtual money.
Double Folded Edges – Many wallet makers only fold their edges once. That is functional but has a problem: it collects dust. So the best wallet makers use double folded edges to keep the form and to avoid dust collection.
Metal over Plastic Zippers
Cheap wallet manufacturers are always looking to cut costs. And one of these ways is by using plastic zippers, and that's not great!
So when you're looking for something, then try to buy one with a metal zipper. That makes the wallet have a longer life.
Great Storage
Another crucial thing to consider is storage! There are two ways to go with it: go compact or go practical.
A compact zip wallet is excellent in terms of aesthetics; it doesn't look bad when you're storing it in your jean pockets. However, the more compact you go, the fewer cards and money it can hold.
So alternatively, you could go with a larger one, that gives you more storage for your daily and travelling needs.
Pockets
Zip wallets are great for travelling! So for that reason, you might want to have some external pockets. That way, you can easily access the most necessary items like your documents. So, if you can, look for one with outside pockets.
The Budget
So how much should you spend on a zip wallet? Unfortunately, there is no easy answer for that. It all varies on the features and the materials the wallet is made of. So the best practice is to look for the quality factors mentioned above.
If you're looking to save some money, go with a local brand, but you can invest in a branded wallet if you want. However, that's going to cost you more.
FAQ
🧐 Which brand is making the best zip wallets for men?
The thing about zipper wallets is that they should have a zipper that glides smoothly and is very durable. The rest of the wallet should be made of high-quality materials that are easy to clean. With these features in mind, we believe that Tommy Hilfiger makes the best zip wallets. They focus on making durable zippers that glide smoothly.
🤔 Are men's zip around wallets out of style?
Zip wallets are not out of style; they are vintage and still very stylish. They remain as part of men's fashion mostly because they are practical. Zippers hold more securely than other fastenings; therefore, it would make sense to own a wallet with a zipper. All your times will remain securely within the wallet, and it becomes easier to carry coins.
☝️ Are zipper wallets comfortable?
If you get a wallet with a good zipper, then you will have a very comfortable accessory. Zipper wallets are convenient and practical. You will be able to carry coins comfortably, and all your cards will remain securely in the wallet. Furthermore, you will have room to carry small items such as sim cards and keys.