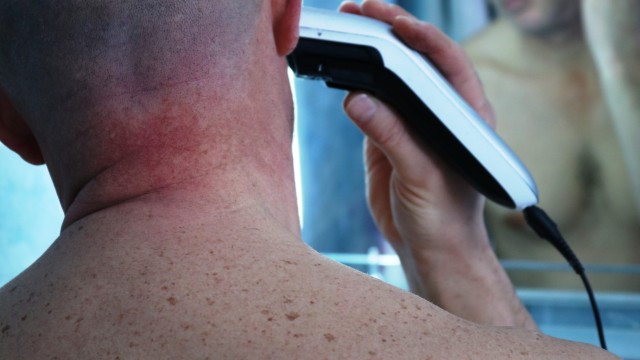 Think of shaving your head as a rite of passage. It doesn't matter if you have long hair, shaved sides, or short hair — there is always the right Razor to help you get that perfect bald look.
In most cases, you'll want a disposable razor.
But if you are looking for a more permanent option, get yourself an electric razor.
Whether you are bald or have short hair, this article will introduce you to some of the world's best razors for shaving your head.
It will cover the various types of razor blades, so you know which one is right for you.
Best Razors for Shaving Your Head
With so many brands, choosing the best men's electric shaver can be difficult.
These 12 models will help you avoid guesswork.
1. Philips 3D Norelco Electric Shaver

This Norelco shaver is ideal for men who want to keep their heads close shaved. The three-dimensional heads move in eight different directions to ensure a close and smooth shave. The Norelco 3D also comes with a pop-up trimmer to trim and shape your facial hair or sideburns. The shaver is easy to hold, and its lightweight design makes it ideal for travel. You can also use the 3D shaver wet or dry for convenience.
Purchase
2. Panasonic Arc4 Electric Shaver

If you are looking for one of the best facial hair trimmers that also works well as a shaver, try the Panasonic Arc 4. This Razor has four ultra-sharp 30-degree nano blades that work together for close shaves and less irritation. There is also a Linear motor drive that gives you more power when shaving.
Purchase
3. SensoTouch 2D Shaver

The shaver from Philips is a great option if you want a shaver that offers an extra close shave. The Razor features Super Lift and Cut to help you get an even closer shave, while the DynamicFlex head responds to contours of your face for smooth results. The SensoTouch 2D does not come with a charging stand or cleaning system, but it does come with a pop-up trimmer to help you trim your sideburns and facial hair. You can also use the SensoTouch 2D in the shower or bath.
Purchase
4. Gillette Fusion5 ProGlide Razor with Flexball Handle Technology

This is one of the bestselling and affordable razors on Amazon. This Razor features a powered trimmer that allows you to shave even the hard-to-reach areas around the back of your head and behind the ears while providing great control and comfort during every stroke. The shavers have five anti-friction blades Gillette's best blades for a close shave.
Purchase
5. Panasonic ES2216PC Men's 4-Blade Cordless Electric Shaver

If you are looking for a more affordable option, the Panasonic ES2216PC may be best for you. This Razor features four ultra-sharp nanotech blades that help cut up to 20% closer, while the flexible pivoting head helps the razor glide over your skin without pulling or snagging in hard-to-reach areas.
Purchase
6. Remington F5-5800 Foil Shaver

Suppose you are looking for a basic electric shaver that is easy to hold and use, this as an affordable option to consider. This Razor features low maintenance blades that do not need oiling or cleaning, while the pop-up trimmer helps you style your sideburns and facial hair.
Purchase
7. Merkur Double Edge Blade Razor

The Razor may be the best option you can find. It is inexpensive and high quality. This Razor comes with a handle, which makes it easy to hold and use. The Razor features a closed comb head that helps reduce skin irritations and pulls when it comes to shaving your head. The handle is made up of elegant gold or silver plating, making it easy to hold and ensures that the Razor will last for a long time.
Purchase
8. HeadBlade ATX Head Shaving Razor

If you are looking for an ideal razor for keeping your head smooth and comfortable, this head shaver may be a good option to consider. This shaver comes with an adjustable blade angle that makes it easy for you to get the perfect shave around your head and other areas of your face. The handle is also flexible, which helps it maintain contact with your face as you move around. If you want a close shave, this shaver will provide just that.
Purchase
9. Schick Hydro Sense Hydrate Razors for Men

If you are looking for a razor that is easy to use and handle, this may be an excellent option to consider. This Razor features three lubricating gel bars that help provide a close shave without irritating your skin or causing pulls. There is also an antimicrobial Silky Hydrate Glide Strip that helps reduce the development of bacteria and helps leave your skin soft and smooth. The handle on this Razor flexes in several directions to help you easily control it while shaving.
Purchase
10. Hatteker Hair Clipper Beard Trimmer Kit for Men Cordless

The hair clipper is another affordable razor for men. This Razor comes with a titanium steel blade, which helps it maintain its sharpness for longer. The Razor features a floating head that allows you to get the desired results every time, while the head is also washable for added convenience. You can easily adjust the height of this Razor and allow you to achieve just the results you are looking for. 5 in 1 Precision shaving system design Multi-Functional grooming kit.
Purchase
11. Gillette Venus Smooth Razor

The Razor has been around for quite some time and is one of the most popular razors on the market today. The Razor has three blades and a pivoting head so you can easily shave your head without worrying about them getting irritated. Many reviewers have reported that they love the multiple blades that help create a close shave with little effort. The Razor gets great reviews for how easy it is to clean as well. It is also surprisingly lightweight for such a large razor and works extremely well on various body parts. Overall, this is a great razor that you will not want to pass up in your search for the right one!
Purchase
12. BIC Silky Touch Twin Blade Disposable Razor

This is a disposable razor, making it ideal if you want a quick and easy way to shave your head. The Razor features two blades that work together for a close shave, while the flex hinge makes it easy for you to reach all of the hard-to-reach areas around your head and neck. You can also choose from several different colors. If you want something affordable and high quality, this Razor may be a good choice for you.
Purchase
What to look When Selecting the Best Razors
If you have never shaved your head before, the biggest question is how often to shave. Many factors go into this decision, including your hair growth and how fast your hair grows back. Other factors that are important include:
Comfort – When you shave your head, your scalp is exposed. The last thing you want is a razor that will cause pain or irritation after each use.
Weight – You want a razor that is lightweight and easy to maneuver around the curves of your scalp.
Durability – You'll be using these razors daily. They will have to get wet, and they will need to last for months if not years.
Cuts – When you shave your head with the right Razor, you shouldn't get any cuts or nicks.
Smoothness – For the most part, men who shave their head have a skin condition like psoriasis or dandruff caused by dry skin. You want something that will remove the dead skin, but not cause further pain or discomfort.
Price – The prices of these razors vary from around $10 to as high as $25.
Replacement Blades – You'll need new blades often, so make sure that you have access to those replacement blades when you need them and they aren't expensive.
Speed – You don't want to be caught in the bathroom with a bunch of hair hanging from your face.
Combs – Some razors come with combs to help you get even lengths with your shave.
Ease of Use – Make sure you can easily open and close the Razor, change attachments, and clean it afterwards.
How to Shave Your Head Properly?
Now that you have chosen a shaver, you need to know how to shave your head correctly. This is an essential part of the process and will help you get the results that you want. Here are some tips:
If you are shaving with a manual razor, make sure to prepare your skin and hair first with warm water. This helps soften the skin and hair, making it easier for the Razor to glide across your head without pulling or snagging. You can also use shaving cream or a lubricant if you want to enhance the glide of your Razor.
If you are using an electric shaver, make sure that your skin is dry. If you use it while you are still wet, the electric shaver may find it difficult to operate and may pull on your hair. You can also use an alcohol-based gel or lubricant to help the razor glide across your head with ease.
Use short strokes when you are shaving with a manual razor. This helps reduce irritation and skin pulls. It will also keep your head from looking irritated and patchy. Ensure that you apply pressure as you are shaving, just enough to get a close shave but not so much that you feel pain or cuts. You will also want to rinse your Razor when you are finished to remove hair clogs or other debris that may have built up during the shave.
If you are having issues with irritation or skin pulls, try shaving after you take a shower. Most men tend to have softer skin when they are wet from the shower, which will help your razor glide over the head more easily.
Frequently Asked Questions
🥇 What is the best way to keep your head shaved?
Shaving your head is one of the easiest and fastest ways to get rid of unwanted hair. All you need is a razor and some shaving cream or gel. You can use the Razor dry or put on some shaving cream to make the job much easier. To avoid cutting yourself, use short strokes over the top of your head until all the hair is removed.
🧐 Is it better to shave head with a razor or electric shaver?
There are benefits to shaving your head with a razor shaver or an electric shaver. Razor shavers allow you to get closer to the skin and give you a nice, clean shave. Electric shavers do take longer than razor shavers, but they also make for a more comfortable experience. The decision comes down to your personal preference and how you want your head shaved.
🤔 Is it OK to shave head with a razor?
Yes, using a razor as a head shaver is perfectly acceptable. The head is an often-overlooked area, which makes shaving it with a razor even more important. Using a razor to shave your head helps thin out the hair and allows you to get closer to the scalp than if you used an electric head shaver. Trimming down the hair on your scalp allows you to get a better shave and less irritation while increasing comfort.
🤗 Can I shave my head myself with a razor?
If you are planning to shave your head, you can do it yourself with a razor. To get the best results, you must research how to use a razor to properly shave your head. Also, if you are interested in shaving your head yourself, you should use a mirror that allows you to see more of your head and a good quality mirror is always great.
You need to be especially careful when shaving the sensitive skin on top of your head. It would help if you used a new razor with clean blades each time you shave your head. Also, it is a good idea to wash the razor blade with alcohol between strokes.
👽 What should I do if my head gets irritated from shaving?
If you notice irritation after shaving your head, it may be best to try another type of Razor or shave cream. You can also try using an aftershave balm containing soothing aloe and other ingredients that can help relieve irritation.