A good flannel shirt is a must for every men's waredrobe.
It is a versatile piece of clothing that you can wear at any time. It is rugged and stylish, meaning you can style it for any occasion and outfit. They are easy to find and very comfortable.
Buying a flannel shirt these days means taking the time to figure out which one is the best for you.
Nowadays, not all flannel shirts are made of pure cotton.
Therefore, you need to be a little keener on the type of fabric you will choose.
Go for cotton and cotton blends because they are more comfortable and absorbent. They do not fade quickly, and they are easier to wash. If you find other fabrics that you would not mind wearing, you can also consider these.
The most important thing to note is that the material should be comfortable on your skin.
As for fit, a flannel shirt is best when it fits like an oversized shirt. It should not be baggy, nor should it be tailored to a fit. There are many flannel shirts in the market to choose from.
However, if you need a little guidance on picking a few for your wardrobe, consider any of the following.
1. Legendary Whitetails Buck Camp Flannel Shirt

When looking for the perfect flannel shirt, you will want something comfortable with a simple design, and this is the shirt for you. It is made of 100%, making it breathable and easy to clean. In the winter, it will provide you with comfortable warmth. The cuffs and collars are lined with contrasting corduroy for durability after multiple washes. It has a left chest pocket with a pencil slot and button closure. The design features adjustable cuffs, for versatile styling. Because it is woven, it is firm making this the perfect shirt for outdoor activities.
Purchase
2. Alimens & Gentle Button Down Plaid Flannel

With over thirty colours and designs to choose from, it is hard to ignore this flannel shirt and all its many qualities. It is made of 100% pure cotton, the ideal material for flannel shirts. It is a warm shirt that is also breathable and very durable. Furthermore, it is strong and does not fade quickly. It features a secure button closure that either blends or contrasts he fabric. It has two chest pockets on each side with button closure for a secure hold. It is machine washable and maintains its soft texture on the skin.
Purchase
3. CQR All Cotton Flannel Shirt

This flannel shirt features a traditional plaid design that consists of vertical and horizontal bands in two or more colours with variations in width. It is a classic design of flannel shirts that will be a great addition to your wardrobe. It is made of 100% cotton offering superior breathability, and smooth texture. The best thing about cotton is that it does not cause irritation even on sensitive skin. It is also very absorbent. With the collars and cuffs lined with contrasting corduroy, this shirt is also easy to style. Finally, it has a chest pocket for small items.
Purchase
4. Wrangler Authentics Long Sleeve Sherpa Lined Shirt

From wrangler comes a minimalist spin of the original flannel shirt design. It is stylish and can be worn with almost any outfit, depending on the occasion. It is made of a blend of cotton and polyester, offering the best of both worlds. From cotton, you will get breathability, smooth texture, and absorbency. From polyester, you will experience resiliency, with a relaxed fit. It features a secure button closure that is also present on the two chest pockets on each side. The inside has sheer plush lining for extra warmth, especially in the winter.
Purchase
5. Columbia Cornell Woods Flannel

Creative blend of colours makes this flannel shirt very stylish. It is also comfortable thanks to the soft texture presented by a mix of 98% cotton and 2% elastane. This premium blend makes the shirt absorbent, breathable and stretchy but also resilient. It gives you a full range of motion for outdoor activities but will not stretch. This classic button-down shirt is constructed for durability featuring strong stitching, with durable fastenings. Attention to detail promotes the stylishness of the shirt, making it perfect for all seasons, and causal occasions. With a breast pocket on one side, you can carry your essentials conveniently.
Purchase
6. IZOD Slim Fit Stratton Flannel Shirt

You will get more than what you bargained for with this classic design flannel shirt. It is made of a premium blend of 55% Cotton and 45% Polyester. It offers superior breathability, high absorbency for summer days, warmth for winter nights, and a smooth texture, it is also resilient and re4sitant to wear. The colours also remain bright and in perfect contrast, even after multiple wears. This blend of fabrics makes it machine washable offering easy maintenance. It has a single pocket for essentials and has a button-down closure for a secure hold.
Purchase
7. Mountain Khakis Teton Flannel Shirt

Flannel takes a different and trendy approach with this premium design plaid shirt, it is made of high-quality materials that rest softly on all skin types, it offers premium absorbency as well as breathability for hooter days. Winter nights will never be the same with the soft and warm lining that will keep you toasty all through the night. It features a secure button closure that ensures your shirt stays buttoned up at all times. It has two chevron chest pockets with flap closure on each side for essentials on the go. The buttons are rimmed with metal for a secure hold; they will not break.
Purchase
8. Magpul Logger Flannel Shirt

The signature design of this flannel shirt supports all outdoor activities related to camping and fishing needs. Whether you need to chop wood, go on a hike, or go hunting, this shirt will offer you superior comfort as you carry out your activities. It is made of 100% polyester giving many excellent properties to the shirt. It is durable, being resistant to most chemicals, stretching and shrinking. It is also wrinkle-resistant, mildew and abrasion-resistant. Best of all, it dries quickly making it a great camping shirt. It has a sleek button closure with two secure chest pockets for essentials.
Purchase
9. Pendleton Long Sleeve Classic-fit Board Shirt

If you are looking for something a little different and bold in design, then look no further than this stylish short with many excellent properties. The design of this short makes it easy to dress up or dress down, depending on your needs. It is made of 100% wool for superior warmth and comfort. It also feels smooth on the skin, so it is excellent for people with sensitive skin. The fabric also makes it viable for machine wash making maintenance very easy. It has a spread collar paired with dual chest pockets and button-down closure. The exquisite craftsmanship with durable stitching makes this shirt a perfect addition to your closet.
Purchase
10. Polo Ralph Lauren Lightweight Classic Flannel Shirt

From Ralph Lauren comes a classic design flannel shirt that is of high quality, and very durable. It is made of 100% cotton offering premium breathability. Cotton can withstand abrasion wear and high temperature so you can comfortably wear this shirt in the summer and winter. Cotton is extremely comfortable on all skin types, so this is a great shirt for you if you have sensitive skin. The shirt has a button-down pointed collar offering luxurious style. It has long sleeves with barrel button down cuffs and a chest pocket on the left for essentials. It has a tastefully placed logo on the side for added beauty.
Purchase
11. Brixton Durham Relaxed Fit Flannel Shirt

If you are looking for something that looks less casual and more luxurious, then look no further than this stylish flannel shirt. It is made of a premium blend of 60% Cotton and 40% Acrylic. It offers a soft and breathable texture perfect for easy maintenance through a machine wash. This blend also provides a relaxed fit with secure button closure. It has two chest pockets with secure button closure and two waist pockets for essentials on the go. The sleeve cuffs are fully adjustable, and it has a tastefully placed label at pocket.
Purchase
12. Carhartt Rugged Flex Hamilton Plaid Shirt

Made only from the finest materials, this flannel shirt will become your favourite shirt for every season. It is made of 97% Cotton and 3% Spandex. The cotton is essential for breathability, and superior absorbency making it perfect for the summer. It also offers warmth so you can also enjoy the shirt during winter. Spandex, on the other hand, provides stretching ability to allow you to do all sorts of activities without feeling restrained. The rugged flex technology will help you on your camping trips and fishing activities. The shirt features an adjustable closure for a relaxed fit.
Purchase
13. Rip Curl Stanley Flannel Shirt

The versatility and design of this shirt will surprise you. It is made of 98% Cotton and 2% Spandex. It gives you much-needed breathability as well as absorbency and superior warmth for cold camping nights. This premium blend makes the shirt easy to maintain through the machine wash and dry. With secure button closure, an exact fit shirt will remain securely closed. The buttons are made of strong, durable materials so you will not have to worry about breaking. It has two chest pockets on each side for the convenience of carrying small items for camping and fishing trips.
Purchase
14. Volcom Caden Classic Flannel Shirt

This is a great flannel shirt that combines traditional and modern designs for a good hybrid. It is made of soft and durable materials that will feel great against your skin and last a long time. This shirt is a companion for life with stiff stone embroidery, durable stretching, and high-quality buttons. These buttons are custom logo buttons that tastefully represent the brand. The design offers a modern fit for every size, leaving room for flexible movement for outdoor activities. It has a tastefully placed woven label for additional detail that takes this shirt to the next level.
Purchase
15. O'Neill Standard Fit Button-Down Flannel Shirt

This stylish flannel shirt will enhance your style in the coming months while being effortlessly functional. Ti is made of high-quality fabrics that allow machine wash and tumble dry for easy maintenance. It is soft, warm, and absorbent, making it perfect for any season. This casual shirt features a secure button closure with durable buttons that do not break easily. On the chest, you will find two pockets on each side that help you carry small essentials such as id and keys. The button closure on each pocket ensures that your items are securely held in place.
Purchase
16. Alexander Del Rossa Flannel Shirt

This cotton, flannel shirt is nothing less than stylish and durable. The cotton fabric feels smooth against all skin types and does not cause irritation. Cotton is also absorbent and durable, so this shirt will last a long time. It is also pre-shrunk, so you need not worry about it not fitting again after a wash. The classic design has two chest pockets for essentials with button-down closure. The same sturdy buttons are sued on the front closure of the shirt and cuffs offering a secure hold. It comes in 13 different styles providing you with a great selection of options.
Purchase
17. Mossy Oak Buffalo Plaid Flannel Shirt

This buffalo plaid flannel shirt comes in a variety of styles and colours for easy dressing up and dressing down. It is made of 60% cotton and 40% polyester, entirely woven. This blend makes it soft, comfortably breathable, and absorbent. It is also warm enough for winter nights and camping in the woods. It is a go-to shirt for cold weather as it can be worn along, r underneath a stylish jacket. The cotton-polyester blend ensures that it lasts a long time, and dries quickly for convenience. It has a chest pocket on one side to carry small items on the go.
Purchase
18. RVCA Flannel Shirt

This is a great cotton flannel shirt that steps away from the traditional design to offer something more bold and stylish. Cotton is the primary material of this shirt offering superior breathability in the summer along with absorbency, and all-day comfort. In the winter, it will keep you insulated adequately as cotton retains heat well. The material makes it suitable for machine wash but will not shrink. It has two chest pockets on each side for small items and features a secure button-down closure. It has a tastefully placed logo on one pocket as an extra detail.
Purchase
19. Legendary Whitetails Flannel Lined Rugged Shirt Jacket

This item is one part jacket, one part shirt, and all parts stylish and functional. It is an excellent shirt-jacket that will serve you well come winter. The shell is made of pure cotton for exceptional absorbency and warmth. The inside is lined with cotton as well, down to the sleeves. This offers proper insulation for colder temperatures, cotton is also breathable and very absorbent; these two qualities make this shirt comfortable to wear at any time. The construction has a rugged suede look perfect for the great outdoors. Finally, double-needle stitching holds the construction enhancing durability.
Purchase
20. Quiksilver Motherfly Flannel Woven Shirt

From quicksilver comes a stylish woven shirt that will pair perfectly with a pair of casual jeans. It is made of 100% cotton making it perfect for handwashing. Since it is pre-shrunk, you do not have to worry about it shrinking after a wash. Cotton dries quickly, is absorbent, and offers breathability in all weather. It is also firm, so it does not tear easily. The design offers a regular fit that is perfect for casual style with a pair of dark-coloured jeans. The dye holds well to the cotton, so the colours remain bright.
Purchase
21. MCEDAR Plaid Flannel Shirt

For the perfect fit, consider this new design flannel short that will have you looking the best once fall arrives. It is made of 100% breathable and absorbent cotton that ensures the shirt stays at the front of the closet every week. It is super soft and warm; the ideal shirt for fall and winter. The paid design will add a classic pop of colour to your outfit, making this the perfect dress up or dress down short. You can keep things casual with the 15 colour options to match your pants and personality.
Purchase
22. Mountain Khakis Teton Flannel Shirt

Made of high-quality materials, you will enjoy all the benefits of this beautiful flannel sort. It allows machine wash and dries quickly. Thanks to the flexible materials, this shirt is perfect for outdoor activities that call for flexibility. It is the right short to wear on camping and fishing trips. It has 2 chevron chest pockets with a button flap closure to hold small items while you are on the go. With multiple colours to choose from, you have the option of dressing up your jeans, for a beautiful casual and classy style.
Purchase
23. G.H. Bass & Co. Big and Tall Fireside Flannel

Preshrunk for a worry-free fit each time, this shirt is both stylish and functional. It is made of 100% pre-shrunk cotton for a soft and warm feel. It is also breathable and comfortable to wear all day long. It features a secure button closure and the buttons do not break easily and are held down by durable stitching. It features one button-through chest pocket to keep all your items securely in place. The shirt comes in 20 beautiful colours to match your style and offering multiple opportunities for fashionable choices.
Purchase
24. Scotch & Soda Men's Multi-Colour Checked Shirt

Whether you like to button-down or wear it over a plain white tee, this flannel shirt will style up your wardrobe. It is made of 100% cotton for superior absorbency and excellent breathability. It is also quite warm and will keep you toasty in winter nights. It has a secure button closure that holds well against stress. It has a durable chest pocket for small items while on the go. It comes in two beautiful colours, one fair and light and the other dark and classic. Depending on your needs, this shirt will look and feel casual but classy.
Purchase
25. UNTUCKit Fuligni Navy Blue Flannel

Have you ever wanted a flannel shirt but a little more formal? Well, look no further than this unique design. This flannel short takes on a modern and smart causal design that you can even wear to a wedding with the right accessories. It is made of 100% cotton, giving a brilliant brush finish. The modern design is for untucked wearing so you can pair it with a pair of dark khakis for a smart casual look. It features a secure button closure with a chest pocket on the side for small items. It has beautiful contrast stitching all around for superior construction.
Purchase
26. Pro Club Plaid Flannel Shirt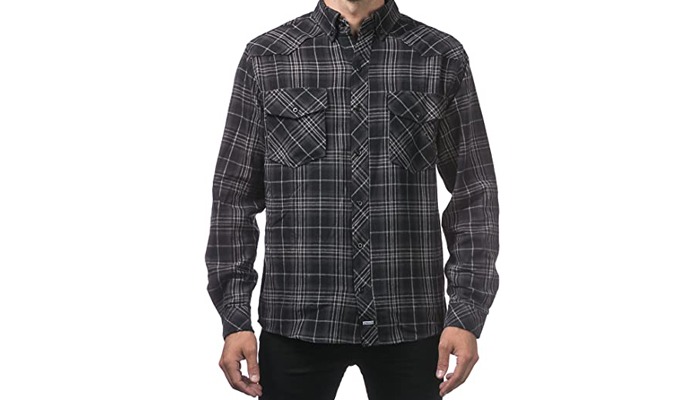 For people who love darker and classic looks, this flannel shirt will satisfy your wardrobe needs. It is made of 100% cotton offering superior breathability and exceptional absorbency. It Washes easily and does not retain stains. This woven fabric is also great for insulation so you can wear it for cols camping trips and winter nights. The design has two Western-style button close flap chest pockets and two-button adjustable cuffs for a perfect fit. It offers a relaxed fit that is durable and very stylish—a classic shirt for every occasion.
Purchase
27. BALEAF Plaid Hunting/Hiking/Golf Flannel Shirt

Several fabrics come together to create this soft and warm flannel shirt and could be the next great addition to your wardrobe. It is made of 75% polyester, 20% cotton, and 5%spandex. It is resistant to chemicals and abrasion, offers proper insulation for winter, and gives you a necessary stretch for outdoor activities. Even with all this, it remains resilient; maintaining the right size. It features secure button closure all through including the cuffs. It is the perfect layering for chilly weather that does not restrict movement. Designed with style and function in mind, it is an excellent flannel short.
Purchase
28. WenVen Flannel Jacket

Last but not least is this stylish flannel shirt made for those who like dark colours and luxurious designs. It is made of several materials; first, the interior is lined with lamb velvet, for excellent warmth and comfortable wearing. It has quilted satin insulated sleeves for extra warmth during the winter. It features a secure button-down closure, and the overall style is much more changeable, thicker, slimmer and more fashionable. It has two chest pockets and two slant polyester pockets on the side. Finally, it has durable stitching all over as part of premium construction.
Purchase