Carbon is a great material for making wallets.
One notable advantage of carbon wallets is that they are very light. In reality, the weight of a carbon wallet is almost entirely the weight of its contents. The thickness of carbon can be made to be very small, unlike with other materials such as aluminium.
Carbon is also a strong material, actually five times stronger in the making of wallets than steel. Being so durable, it could easily last for your whole life.
As you will tell from this article, carbon fiber wallets also have their own unique classy look.
Here are the 29 best carbon fiber wallets on the market right now:

1. EGNT Black Carbon ID Wallet

This is a beautifully designed carbon fiber wallet that is specially crafted for day to day use and even as an accessory; it is the perfect wallet for every type of man. The carbon series from EGNT gives shoppers a diverse selection of both functional and simplistic designs to suit your personal needs. The material is carbon fiber which has an excellent weight to strength ratio; this means that it can withstand daily wearing and tearing. It is corrosion resistance; it does not deteriorate with exposure. The wallet features RFID blocking technology that keeps your cards safe from unwanted data scanning.
Purchase
2. TRAVANDO "RIO" Money Clip Wallet

This high-quality wallet is beautifully designed in 8 different colors to suit your needs. The wallet offers seven card pockets, one secure front pockets, and six other inner pockets. At full capacity, the wallet maintains its slim characteristic and so it is ideal for carting cards, bills, and coins without being bulky. The material is carbon fiber that is complete with a lining that blocks unwanted RFID scanning of your cards. It also has a metal clip that allows you to clip several bills in your wallet. It has been designed in Germany to best combine elegance, quality, and convenience.
Purchase
3. The Ridge Carbon Fiber Wallet

This wallet is quite small in size- it can actually fit in your palm. The wallet measures 86 mm by 54 mm, and is only 6 mm thick, making it ideal as a front pocket wallet. It holds cards and cash bills using the strap or money clip. Most people hate using straps to hold cash since they get loose over time. This one, however, is of very high quality. It can hold up to 12 cards without stretching out. The money clip is made of spring steel and is best for holding cash bills. Your purchase is backed by a lifetime warranty.
Purchase
4. MANA'O Minimalist Carbon Fiber Wallet

From MANA'O comes a minimalist wallet that is designed to be slim, and functional. It is designed to hold up to 12 cards and bills; at full capacity, it remains to be thin and will not feel bulky in your pocket. The V-taper along the bottom edge is put in place to help you slide your cards in and out with ease. Through the C shaped notch, you can be able to fan out the cards which will allow you to get to the middle ones easily. It is a simply-designed wallet that is resistant to scratching and will block RFID scanning of your cards. There is a money clip for easy access to your bills and a 30+ function multi-tool.
Purchase
5. Ferrari Men's Carbon Fiber Wallet

Ferrari is good at making cars, and this wallet is proof that cars are not the only thing they know how to make. It is made of 100% carbon fiber; it has a tensile strength which is the maximum stress that a material can withstand before being pulled or stretched. Carbon fiber is also resistant to fire; it does not deteriorate in the fire which can be useful for events such as accidents during camping trips. The interior is built from genuine cowhide leather; it is durable and will look good as it ages. It comes with a decorative logo at the front; a sign of officiality by Ferrari.
Purchase
6. The Frenchie Co. CX6 Carbon Fiber Wallet

The exterior of this wallet is made of quality carbon fiber that is durable and strong. The interior is made of genuine Italian leather for strength and durability against wearing and tearing. It gives room for six cards and 30 bills; even at full capacity, it remains to be slim and conveniently fitting in any of your pockets. It has magnetic closure; this is very convenient and much more durable than Velcro. The wallet is lined with RFID blocking technology to prevent unwanted scanning of your cards. It comes in two different styles; each style is an excellent accessory to your wardrobe and perfect for any occasion.
Purchase
7. Carbon Ray Bifold Wallet for Men with RFID Blocking

Designed specifically for men inclined to classy accessories, this wallet combines style, convenience and comfort. It is made of carbon fiber and top quality full grain leather. In appearance, this wallet is extremely stylish and well designed. Being a minimalist wallet, it is also very slim and should fit in your front pocket just fine. Carrying it in your front pocket gives you better control and greater safety from pick pockets.
That is not the only way this wallet keeps you safe- it is also designed to protect you from identity theft. The RFID technology used to make this wallet will prevent anyone from scanning your sensitive cards.
Purchase
8. Fidelo Front Pocket Wallet and Money Clip

This wallet-cum-money clip is probably the slimmest you will ever own. It comes with four bands, all with different colors- midnight blue, charcoal grey, smoke grey and blue. The bands are made with leather accents, and will therefore not stretch out. The whole wallet is capable of holding up to 15 cards and bills.
If you ever experience trouble retrieving your cards, then this wallet will ease that for you. It is made with push and pull access points for you to use when trying to get cards out.
Fidelo guarantees this wallet will satisfy you, and if not, they are ready to fix any issues you may have. You can also get a full refund within the first 30 days of your purchase.
Purchase
9. Common Fibers Max Wallet

This bifold wallet is made of aerospace grade carbon fiber, meaning it is of top quality. It is handmade in the USA and can be a great replacement for your fat back pocket wallet. This wallet is slim enough to be carried in the front pocket without any significant bulge showing. It can carry 8 cards and cash in the main compartment. This wallet also gives you peace of mind knowing that your credit cards are protected by RFID blocking.
It comes in different colors and you are bound to find one that suits you.
Purchase
10. PITAKA Carbon Magnetic Card Holder

Designed in a stylish and innovative way, this card holder will suit many different occasions and settings. It perfectly suits both casual and official dressings. Being a modular wallet, it is up to you to decide how thick it will get.
This wallet does not just carry cards and cash- you can use it to carry coins, keys and other small items that you may need in the course of your day. The wallet is magnetic, and this means you only need to slide it open. Unlike most other wallets, you can retrieve cards quite easily using a single hand.
Purchase
11. Minimalist Urban Tribe Money Clip Wallet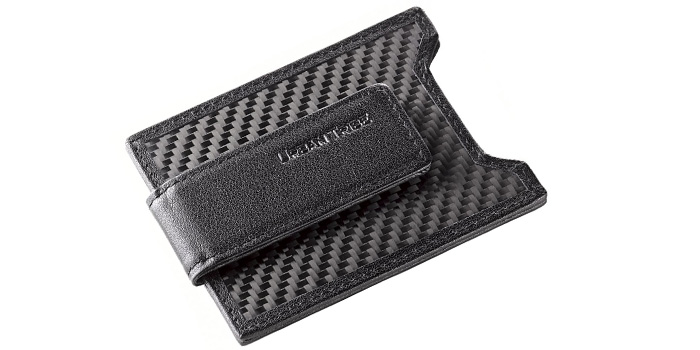 Meant for the real minimalist man, this wallet can hold only 5 cards, and cash bills in the main compartment. As such, it is very slim. You can be sure that your jeans pockets fabrics will not be stretched and ruined. It is also very light since it is made of carbon fiber.
As a classy man, you should go for wallets that compliment your looks. This wallet can do that for you perfectly. It is sure to impress your friends and even get you some compliments. Electronic thieves will also be kept at bay with this wallet since it is protected by RFID blocking technology.
Purchase
12. Nike Men's Carbon Fiber Texture Billfold Wallet

This wallet is made of carbon fiber and leather. Like all other Nike products, the materials used to make this wallet are 100% genuine. It has a really nice look and feel. The wallet features an exterior ID card window and 8 interior card slots. The card slots have diagonal edges to make the cards easier to access.
To keep cash in this wallet, you will have to use their money clip. It is sturdy enough to hold cash bills securely, so you don't have to worry about any money falling out. This isn't one of those traditional fat wallets which filled your pockets and made it protrude. It is really thin and has a nice modern look.
Purchase
13. Atziloose Ultra Slim Carbon Fiber Credit Card Wallet

If you don't have a lot of money to spend on a wallet, then this is what you need to get. It costs much less than many other similar wallets, and is just as strong, durable and functional. It is very slim, and meant for the real minimalists who actually carry few items with them whenever they are on the move. It can carry about 8 credit cards, and cash bills in the money clip.
This wallet also has RFID blocking technology to help prevent electronic thieves from scanning your credit cards. In general, this is a very good looking, functional and convenient wallet which actually goes for a very cheap price.
Purchase
14. Ikepod Carbon Fiber RFID/NFC Blocking Wallet

The Ikepod carbon fiber wallet is made of carbon and top grain leather. It is of very high quality and should definitely last you a very long time. The wallet can carry a total of 6 credit cards and about 10 bills. In essence, this wallet will help you cut down on the number of items you carry, and eventually turn you into a real minimalist man. You can also travel to any place in the world without worrying about electronic identity theft since the RFID blocking technology used in making this wallet applies to all frequencies in the world.
Purchase
15. CL Carbon Fiber Money Clip Credit Card Holder

Most wallets are designed just for men. This wallet, however, can be used by men and women alike. It is a very slim wallet, which might even make it impractical for some people. If you can cut down the number of cards you need to carry to maybe just four, then this wallet will make you very happy.
Aside from being a functional wallet, this product is also a show of sophistication and simplicity. It will be an extension of your style, and will tell your story before you have the time to talk. Not only is it ultra slim, but is also very appealing to the eye.
Purchase
16. BilaBosca Men's Wallet

Made of carbon fiber with real leather binding, this wallet is sure to impress you and anyone who sees you with it. It is classy in appearance, and can last for a long time. The stitching on the wallet is excellently and flawlessly done.
Although it is a small wallet, it is capable of carrying 8 cards and a number of cash bills. It has 6 slots for credit cards, and 2 more behind. If you like to carry cards which you will not necessarily need during the day such as company ID cards, then you can use these two slots to keep them. It isn't very easy to retrieve cards from those two slots, so you don't want to keep cards that you will need often.
Purchase
17. Calti Carbon Fiber Minimalist Cardholder

Especially meant for the type of men who like to have a unique accessory on them, this wallet comes with an innovative design. It is a money clip, which has an X-shaped carbon fiber body. It is actually made of aerograde 3K 2/2 carbon fiber, which is the same quality of carbon fiber used in the aerospace industry. This is why the manufacturer is confident enough to give you a whole 1 year money back guarantee. In your first 12 months of owning this wallet, you can get a full refund of your money, or an exchange if you are unsatisfied with anything about your wallet.
Purchase
18. AegisGears Carbon Passport Holder

This is your ultimate travel organizer wallet. It has 4 card slots, 1 passport slot and 2 money pockets. You can also store all your travelling papers in it. Since it is meant to be your travelling partner, all the 7 slots are protected with RFID blocking.
Although it is meant to carry so many items, this wallet is still not as bulky as the traditional back pocket wallets. You can carry it comfortably in your jeans pockets, or in your bag. This wallet is also very stylish, with carbon finish. It is made of genuine finest grain leather.
Purchase
19. The Elite Carbon Fiber High End Men's Wallet

If you are the type of man who spends time every morning dressing to impress, then you need this wallet. It is made of carbon, and has a real classy appearance. You are guaranteed respect on any high rollers table or at a business meeting just for owning this wallet. In line with current trends in the industry, this wallet is also made to be very slim, yet highly functional. You can carry it comfortably in your front pocket.
With this wallet, you can carry as many as 9 cards, and hold cash bills using the money clip.
Purchase
20. Tribe Carbon Fiber Minimalist Wallet

Tribe wallets are dubbed 'the wallets of the future', which is pretty accurate. This wallet at least proves their point. It has an innovative design, and is very thin. It also excels when it comes to functionality and convenience. With it, you can carry a maximum of 10 cards, which is even more than some traditional wallets could carry. To make it easy to retrieve cards, Tribe included a push and pinch functionality.
Also, with regard to the recent electronic identity theft cases, Tribe included RFID blocking in this wallet. Your data has no chance of getting hacked in this little wallet.
Purchase
21. HuMn Double Carbon Fiber Plated Mini Wallet

The HuMn Double Carbon Fiber wallet is especially meant for the strict vegans. Not a single part of it is made of leather- just twill matte carbon fiber. The whole wallet is about the size of a credit card. Being a minimalist wallet, it can carry a maximum of 6 cards. It uses a strap to hold the cards in place, so you will also need to carry a minimum of 2 cards at any time in order for it to hold the cards securely.
This wallet is slim, well-designed and safe. All the cards carried in it are protected using RFID technology.
Purchase
22. Coveter Premium Carbon Fiber Wallet

This wallet features real 3k twill carbon fiber for the exterior; it is durable, reliable and resistant to corrosion. It also provides a very stylish look for every man. The interior features rich cow leather that provides natural closing mechanism and durability. It is designed to hold up to 8 cars which are more than what most people need. It includes a convenient ID card slots for keyless entry or tap-to-pay. At full capacity, it maintains a slim profile that can fit in any pocket. It has a quick internal money clip that gives you quick access to cash while eliminating unnecessary bulk.
Purchase
23. iWallet SCSCF Fingerprint Lock Wallet

This wallet is what you need when travelling to an insecure neighbourhood. It will ensure protection of your items and valuables while you are on the move. For one, the wallet unlocks electrically, by scanning your fingerprints. It also has a Bluetooth tethering system which enables you to know when someone snatches your devices. This is compatible with most mobile phone operating systems. As soon as your phone leaves a certain area of proximity, you will get an alarm notification.
The case of the wallet is made of resilient carbon fiber. You can therefore rest assured that you will have this wallet for a very long time.
Purchase
24. Black Carbon Fiber Bifold Wallet

Manufactured by Car Beyond Store, this wallet best suits people who have a lot to carry around on a daily basis. It will help you stay organized since it has enough slots and dividers. It can carry 6 credit cards, one ID card or driving licence, and 3 store card slots.
The design of this wallet leans more to the traditional wallets. It is very appealing to the eye, especially since it is made of classic high quality carbon fiber. In general, this wallet has a nice look and feel, and will last you a long time. It is definitely a worthwhile investment.
Purchase
25. MGCFTan 3K Twill Carbon Glossy Money Clip Card Holder

If you consider yourself a serious minimalist, then you should consider getting this wallet. It will keep you organized all day with its three compartments. At full capacity, the wallet can hold three cards and some cash bills. To carry cash bills, you can use the money clip. You can also get rid of it entirely if you never use cash to pay for anything. This can even make the wallet lighter.
It is made of carbon with leather stitching, which basically means it is of very high quality. The manufacturer even offers a one year warranty on the wallet.
Purchase
26. Ikepod 3M Carbon Fiber Front Pocket Wallet

This wallet is probably the best bridge between traditional fat wallets, and modern day slim wallets. It can carry 6 cards and cash bills, and will still be slim enough to fit in your front pocket wallet. The wallet is made specifically for US cash bills, and any other currency of the same size.
It also has RFID blocking functionality which applies to all frequencies in the world. This has been tested and approved by a third party. If you note any problem with the making of the wallet, the manufacturer welcomes you to take advantage of the 2 year warranty offered on all wallets.
Purchase
27. I-CLIP Minimalist Wallet

This wallet is proof that you do not have to sacrifice beauty for functionality. It is designed and made in Germany from locally sourced materials that offer a sleek and classy finish. It is as functional as it is eye-catching. It has an ultra-slim design that fits into your pocket comfortably and discreetly. The exterior is made of high-quality leather while the interior is big enough for 12 cards without losing its shape. On the side is a flexible money clip for your bills and receipts. It comes in 7 beautiful colours and patterns to match your style.
Purchase
28. Martrams Carbon Fiber Wallet

Carbon fibre wallets already offer plenty of uniqueness. If you are looking for a little more, then this is the wallet for you. You can expect safety for all your cards thanks to 3000 microns of Premium Aviation Aluminum that practically makes wireless theft impossible. This wallet is lightweight thanks to the super slim design; it is also great for fitting in your pocket discreetly. It has a specially designed elastic band that acts as a flexible cardholder. Finally, it has a durable money clip for bills and receipts.
Purchase
29. SHILFID Leather Carbon Fiber Wallet

This wallet combines elegance and functionality in the best way possible. The exterior is beautifully designed with careful stitching that adds character to the wallet. It features RFID blocking technology to protect your cards. It is made of carbon fibre and leather that combines for a soft feel; and sophisticated look. It has a pop up big enough for five cards, and 2 side pockets for another 2 cards. There is also an additional storage location for cash and bills. The double strong magnets ensure that cash and bills will never slip to lose.
Purchase
What to Consider When Buying Carbon Fiber Wallet?
These are one of the most unique kinds of wallets that you will ever come across. It is imperative to know about their spectacular features and how these carbon fiber wallets are designed for top-level durability. To make a productive purchase, make sure you learn about all the attributes of the carbon fiber wallets.
Capacity
Ensure that the inside of the carbon fiber wallet is roomy enough to store all your essentials. It must not be big, bulky, or too thin. See the number of compartments by evacuating all the stuff and decide if this is what you are looking for. Organize your fiber wallet so it has all you need to preserve your mandatory things.
Durability
Carbon fiber is a strong and award-winning material that vouches for excellent tensile strength. Moreover, carbon fiber material has the characteristics to serve you for decades to come. Carbon fiber wallets are considered best for long-term investments due to their heavy built.
Cost
Starting price of the carbon fiber wallet is $10. So, if you are a budget-conscious user, a carbon fiber wallet can be a great choice for you. Feel free to explore more options and hopefully you will be able to buy a satisfactory one.
Key and Coin Pouch
Key and coin pouch is another minimalist requirement that a carbon fiber wallet must contain. It gets much easier to place your coins and keys firmly in your wallet.] when you have a key and coin holder. Key and coin pouch are designed intentionally to shave the coin's weight from the wallet.
Id Window
Here comes another necessary requirement in your carbon fiber wallet. Carrying id cards and organizing in one place is one hell of a task but when you have an id window, what else do you need? Ensure that your wallet comes with an id window to feasibly carry all kinds of cards.
Why Choose Carbon Fiber Wallet?
Choosing a carbon fiber wallet simply means valuing your money due to its extraordinary features. A carbon fiber wallet has the potential to survive for a long time with its premium material. These wallets are flimsy despite having several compartments to support your needs.
FAQ
❓ What is the best carbon fiber wallet?
The best carbon fiber wallet is the EGNT black carbon ID wallet. It is beautifully designed for everyday use and maintains a classy appearance. It is both an accessory and a necessity for every man. It also comes with RFID blocking technology preventing digital theft. The simplistic design is undeniably the best.
🧐 What is a carbon fiber wallet?
A carbon fiber wallet is one that has been made from carbon. Carbon is a durable material that can be made very small. It is naturally lightweight but strong, precisely five times stronger in making wallets than steel. Carbon wallets are a lightweight and durable option that could serve you your whole life.
🤔 Does carbon wallets fiber scratch easily?
No, they do not. Carbon wallets are made from carbon, which is resistant to many things, including scratching. Before, you never have to worry about your new or favorite wallet getting scratched; carbon is quite strong. It is also resistant to corrosion and flame. Durability is the primary function of carbon wallets.
💡 Is the Ridge wallet real carbon fiber?
Yes, it is. Though small, it is made from real carbon fiber because carbon can be made smaller. The wallet is relatively small in size and thickness, making it a great front pocket or shirt pocket wallet. It is also resilient, maintaining a delicate petite size even at full capacity.