With the scorching sunlight and UV rays penetrating through your skin, signs of early aging and confused skin complexion might not come as a dubious surprise.
And guess what?
In the pursuit of attaining a fair face, most of us usually undermine the fact that our whole body suffers from the adverse effects of external pollutants, despite hiding under thick apparel.
Yet, where we can't run from the defilements of external contaminants, we have a bunch of remedies on hand to fight them. And one of them is the use of body lotions; highly effective moisturizers with a blend of ingredients that helps your skin stay fresh and recover/fight against things such as dryness, aging, and itchiness.
So just in case, you don't have one of those skin-conscious buddies, allow us to suggest some of the best body lotions for your moisture and vitamins hungry skin that will provide consistent results!
1. Jack Black Cool Moisture Body Lotion

A concentrated mixture of useful vitamins and oils, the Jack Black lotion quenches your thirsty skin whilst protecting against external contaminants. Apart from linoleic acid and vitamin E, It contains a blend of jojoba and macadamia nut oil, one forming a protective shield on the skin while the other penetrating a level down for effective hydration.
2. Brickell Men's Deep Moisture Body Lotion for Men

If not for the brand's name, one would mistake it for a bottle of fine whisky. From the champion of Men's care industry, Brickell Men's deep moisture lotion is a mixture of 80% skin-healing organic ingredients like aloe vera, jojoba oil, green tea, and vitamin E. Its antioxidant and moisturizing properties protects and rejuvenates the skin from insides to outsides with zero side effects.
Purchase
3. Noir Lotion for Men

Ahhh! Just the smell of it. But let's not allow its masculine feel to distract us from its underlying benefits. It comes with a hefty concentration of shea and vitamin B5, both ideal for skin moisturization and softening. These with antioxidants and aloe vera extract has both protective and remedial results; ideal for a busy lifestyle.
Purchase
4. Bevel All Day Body Lotion for Men

Apply it once and enjoy the refreshing feeling all day long. The Bevel lotion softens your skin and improves its moisture-holding ability with continued use. With primary skincare essentials such as argan oil, shea, and vitamin B3, it exfoliates dead cells and revives your skin with each use.
Recommended for anyone working in an outdoor environment.
Purchase
5. Pre De Provence Bergamot and Thyme Lotion

With a bottle resembling that of some magical Polyjuice potion, it's an optimally concentrated skin nourishing product with a bunch of natural herbs to heal your already damaged skin.
It contains a sweet blend of shea oil, ginseng root, aloe vera, and coffee seed extract that will heal, moisturize, and protect your skin from harmful UV effects. The fresh scent makes it even better.
Purchase
6. Old Spice Daily Hydration for Men

Be it anti-age creams to reverse your face wrinkles or remedies for the body down below, you can always count on Old spice products. Although expensive, this special lotion for men has a bunch of useful ingredients to replenish your moisture yearning skin. With a smell resembling some expensive perfume and the infusion of skin-revitalizing compounds, you will start seeing long-lasting effects with continued use.
Purchase
7. Nivea Men Breathable Body Lotion

From the brand of the people, the Nivea Men Breathable Body Lotion is an easily absorbable and long-lasting formula. It contains a generous amount of goodies like vitamin C, B, and shea as primary ingredients.
The lotion is paraben-free and goes well with all skin types. Especially recommended for allergics.
Purchase
8. Gold Bond Men's Everyday Essentials Lotion

A fresh-scented, easily absorbing men's lotion, you can use it for both your body and hands. The formula contains around 7 different skin moisturizers and vitamins along with several skin-strengthening proteins. Upon application, it provides a soothing effect, without the usual greasiness often accredited to moisturizers.
Purchase
9. American Crew ACUMEN 24H Hydrator for Men

The Acumen Crew Hydrator is formulated from ginger root extract and hyaluronic acid. The combination of ancient botanical solutions and other ingredients together gives it anti-aging and moisturizing properties. Moreover, it is fit for all skin types due to its paraben-free nature and zero side effects.
Purchase
10. Lubridem's Men's 3-in-1 Unscented Lotion

And here comes the holy grail of our smell allergic friends. A post-shave moisturizer, body lotion, and face lotion confined in a single pack, it has everything to make your dry skin smile. The formula is enriched with body care essentials like mineral oil, Ceteareth-20, and barbadensis leaf extract. Together, these ingredients soothe and soften your skin while repairing and protecting it from UV defilements.
Purchase
11. Beast Body Lotion for Dry Skin and Hands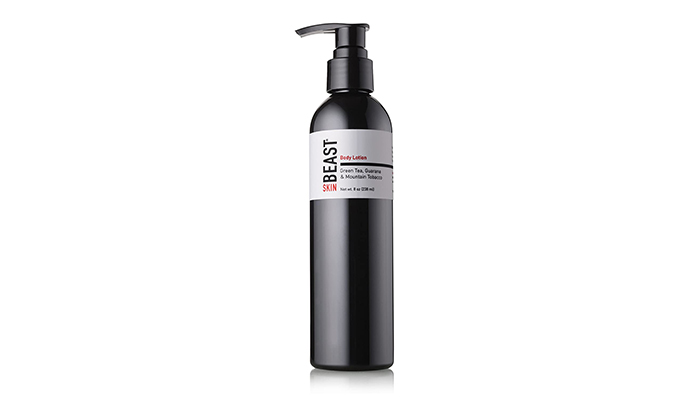 As natural as it could get, the beast lotion has everything you would find in your country's fields. Sugar cane, green tea, eucalyptus, sunflower seed, shea butter, anything you can think of, is mixed in this 9.59 ounces bottle. In other words, it's a botanical classic with a touch of vitamins. The application is simple and perhaps, a bit extra smooth. If you have dry, allergic skin, this might be of help.
Purchase
12. Vaseline Men Extra Strength Lotion

Pardon, but who in the ruddy heavens don't know about vaseline? From the well-reputed household name, Vaseline Men extra-strength is yet another effective lotion from the long line of the brand's skincare products. It readily absorbs and moisturizes your skin without giving the extra-oily impression.
Purchase
13. Hempz Fresh Coconut & Watermelon Moisturizing Skin Lotion

Revamp your skin complexion with the oil and vitamin-rich formula of Hempz skin lotion.
Apart from having a refreshing smell of infused coconut, it protects the skin from external impurities. The anti-aging properties make it even better.
Its paraben-free nature makes it ideal for everyone who desires smooth and healthy skin, without having to fear essential vitamins being eaten off from their skin.
Purchase
14. Capex Premium Body Lotion for Men

Suffering from dry, wrinkly skin hanging loose off your body? Perhaps it would be to you what the ring was to Gollum; "your's precious". It's a non-greasy lotion made for every skin type. Natural oils of jojoba and shea together with vitamin E and aloe vera extract will restore the natural tightness of your skin whilst keeping the natural softness intact.
Anyone suffering from aging and skin dryness would like to add it to their daily skincare routine.
Purchase
15. CeraVe Daily Moisturizing Lotion for Dry Skin

Made with CeraVe exclusive MVE (MultiVascular Emulsion) Technology, it contains all the much-needed skin-friendly goodies with a 24-hours moisturizing and protective effect. Fragrance-free and highly recommended by renowned dermatologists, there's nothing much to say or doubt about it. All in all; worth every penny you pay.
Purchase
16. Aveeno Daily Moisturizing Body Lotion

Another fragrance-free lotion, Aveeno Daily Moisturizing body lotion is an oat-infused formula. It smoothes, moisturizes, and heals your skin with daily application. Additionally, it helps the skin to maintain its fair complexion with 24-hours protection. It doesn't contain any grease and absorbs quickly in the skin.
Purchase
FAQs
🤔 What is the best men's body moisturizer?
Depends on your skin type and lifestyle. For instance, we would recommend Brickell's Men's Deep Moisture for men with generous pockets, Aveeno for allergics, and Vaseline Men's Extra strength for simple grooming.
🧐 What lotion should men use?
Well, just pick up any of the aforementioned. Each of the selected products is premium in its nature. It all depends on the skin type and the severity of damage done to it. However, if we talk about the jack of all trades, Jack Black Cool Body Lotion is a good bang for the buck.
❓ Should men use body lotions?
Why not? Your skin represents a major part of your overall personality. Besides, it is always susceptible to major hazards like UV rays, dryness, and even pimples. Body lotions not only protect your skin but also heals it from the already induced damage.
👀 How often should men moisturize their bodies?
It's recommended for men to apply moisturizer at least twice a day; first in the morning and then at night.
🙄 Is body butter better than lotion?
If you have extremely dry skin, then using body butter is better. However, we still wouldn't recommend avoiding body lotions as they contain much-needed essential vitamins and minerals required for healthy skin.