Buying the right badge wallet is important as it can make your life easier by making your job more efficient and safer.
A practical badge holder is essential so look out for the important features.
When you are buying a badge wallet you need to first ask yourself what you are going to use it for. You need something lightweight even at full capacity to ensure that it does not get in the way.
Material is another feature you should focus on. Leather is always good as it is durable, and ages well which is important for badge wallets. A badge wallet also has to be slim so it can fit discreetly in your pocket.
When it comes to design, you can never go wrong with little features such as contrast stitching and signature accents.
Finally, always go for the wallets with minimal or tastefully placed logos as it does not draw too much attention.
Whether you are looking to buy your first badge wallet or simply need a new one, consider the following choices.
1. PD Holsters and Wallets Police Badge Wallet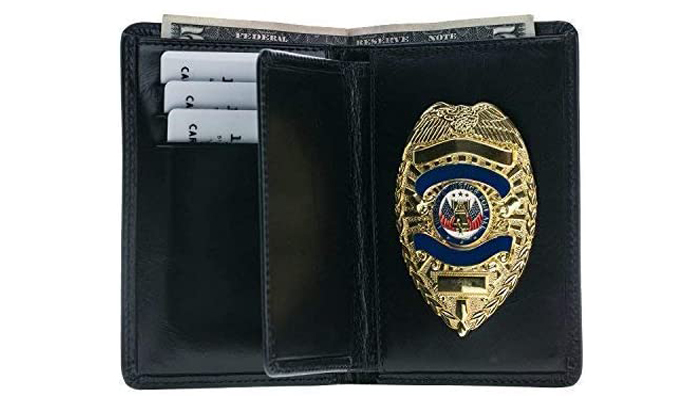 This is a great wallet that is made purely of leather down to the secure stitching. It is also hand made so each wallet has its unique characteristics. Because it is designed by a police officer, it is perfect for anyone on the force as it has a unique universal fit for any shape badge with pin back. The best part about this design is that the badge and ID can be removed, and carried separately. This allows you to use it as a regular and durable wallet. It comes with multiple card slots, and a slot for cash, and bills.
Purchase
2. Hero's Pride Bi-Fold Badge Holder Wallet

Another great wallet for people on the force; it is made of durable material and features French-turned edges for a finer appearance. The badge slot fits most LAPD shield style badges. It has real suede dividers for long-lasting badge protection; this is the wallet that can become a lifelong companion. The interior also has multiple card slots so it is a functional wallet as well. It also has a slot for cash and bills. This is a bi-fold wallet that maintains a slim feature even at full capacity so it fits discreetly in your pocket.
Purchase
3. ASR Federal Leather Universal Law Enforcement Badge Holder

If you are looking for something with a simple design but still as functional as any other wallet then this is the perfect wallet for you. Customization is the main feature of this wallet as it features a custom-shaped badge holder with a compartment size of 3.18 by 2.23 inches. It has a badge protector flap to keep the badge in its best condition. The interior also has multiple compartments including an ID display compartment for official ID. As for the material, it is durable and held together with sturdy stitching that will last longer.
Purchase
4. Original Famous Wallets NYPD Extra Capacity Wallet

This premium quality wallet will be the perfect addition to your daily routine thanks to its many wonderful features. It is made of high-quality leather that is durable, and strong; leather is the best material for wallets so you can be sure you are getting the best with this wallet. It features a classic design with multiple card slots that allows you to store multiple cars. It also has a large slot for bills, and cash not to mention a transparent ID slot. Moreover, smaller compartments allow you to store other important items such as sim cards, and keys.
Purchase
5. Marshal Genuine Leather Trifold Badge Holder Wallet

One of the best features of this wallet is the RFID blocking feature. This feature protects your cards from illegal scanning which is important for people on the force. It is made of genuine new leather this durable, easy to clean, and wrinkles beautifully with time. It features trifold closure which is surprisingly slim even at full capacity so it will fit in your pocket discreetly. The interior has 3 credit card slots and one transparent ID window. The durable suede flap ensures that your badge is protected from damage. A beautiful and functional wallet.
Purchase
6. Rothco Leather Badge Wallet

This wallet is tested well for quality and maximum durability. It is designed with only the toughest and roughest in mind so if you spend most of your days active at your workplace then this is the wallet for you. It is made of a durable material that is easy to clean, resilient, and resistant to wearing, and tearing. Comfort and performance are the best features of this wallet. It maintains a slim nature even at full capacity so it will fit discreetly in your pocket. As for performance, it will hold your badge securely in place.
Purchase
7. HWC Police Nylon Tri-Fold Badge Wallet

This is a trifold wallet that is surprisingly slim even at full capacity. It is made of durable material that is resilient, and easy to clean. It will age beautifully with time making it your lifelong partner. It has a compact badge slot with a suede flap that will protect it from damage. The interior also has multiple slots to allow you to carry cards, ID, and other small items such as keys, and sim cards. It has one large compartment for cash, bills, and receipts. This wallet has strong stitching that holds the wallet together well.
Purchase
8. Hero's Pride Leather Badge Holder

This is yet another great wallet from Hero's Pride that has a lot of great features. It is made with French-turned edges for a finer appearance so it is as beautiful, as it is functional. It has real suede dividers for a long-lasting effect which also protects your badge from damage. The badge size cutout is big enough for most badges. The interior also has many slots that allow you to carry cards, ID, and other essentials. It is also great for carrying cash, receipts, and bills. It has great construction with durable stitching to hold it all together.
Purchase
9. ATB Leather Badge Holder

This is yet another great wallet that is perfect for you if you love simple but functional designs. It is in excellent quality thanks to the durable material that is easy to clean, and resilient. More than that, it has durable construction thanks to the sturdy blend stitching. The interior has multiple slots to help you carry cards, keys, and other small items. It also has a large slot dedicated to cash, bills, and receipts should you need them. The barge slot is perfect for any badge that can be pinned.
Purchase
10. Winchester Police Badge Wallet

This wallet is made of genuine leather that is supple yet sturdy, and best of all will develop an attractive patina through wear and aging. It is scratch-resistant so you need not worry if the wallet falls. This wallet is lined with RFID blocking technology that will keep your personal credentials safe, a feature that is important for law enforcers. The interior has a bill pocket, 2 slip pockets, 8 card slots, an oval badge holder with protective cover, and an easy-access ID window. These pockets make it a great everyday wallet.
Purchase
11. MARKHOR Genuine Leather Trifold Badge Wallet

Made of 100% genuine leather, this wallet is as functional, as it is durable. More than that, it will age beautifully. It is lined with RFID-blocking technology so you can keep your information secure. The interior features multiple slots including for cards, ID, and cash compartment for bills, receipts, and other items. These compartments are particularly handy when carrying small items such as keys, and sim cards. The badge slot is a great size for almost any badge and is protected by a suede flap to ensure its integrity. It is the perfect everyday wallet.
Purchase
12. Marshal Police Badge Holder

Crafted from the finest cowhide leather, this wallet could be a lifelong partner thanks to its durability, and functionality. The leather also makes it resilient, and easy to clean. The interior has 4 credit card slots, photo, and ID section and a protective badge flap to keep your badge intact, and protected from impact. It has a large slot that fits cash, receipts, and bills. The badge slot is well defined and can fit most badges easily and securely. The sturdy and blended stitching holds the wallet together well preventing fraying, and loose parts.
Purchase