There are many trends in the world that have started to get popular in recent years, and one of these trends is known as the softboy aesthetic. The trend got introduced to the public thanks to teenagers on Tik-Tok.
Everybody wants to dress like a softboy these days, but what does that really mean. There are various essentials that you need in order to dress like a softboy, and here we will talk about some of the most important things you need.
So, without wasting any more time, let's see what you need to dress like the ideal softboy.

What is a SoftBoy?
Even though the softboy has become a popular trend, there are many people out there who still don't know what it means. The simplest way of putting it is that a soft boy is a young male who embraces traits, hobbies, and clothing that would normally be considered feminine. The trend was born on Tik-Tok, which is an insanely popular application that has given normal people a lot of creative freedom. The aesthetic has become immensely popular among Gen Z, and it has been influenced quite a bit by K-Pop and social media.
Softboy fashion usually focuses on floral prints, pastel colors, and flowy fabrics; therefore it has become more popular during the spring time. Soft boy fashion had flipped culture on its head because before it was introduced, young boys were more drawn towards fashion that celebrates their masculinity. But softboy has gone in the completely opposite direction.
The Origins of the SoftBoy Aesthetic
Even though people believe that this trend is pretty new, the truth is that the first softboy looks started to emerge online back in the 2010s. However, back then, it was considered to be a part of the same internet subculture as E-boys. That all started to change back in 2019 when the soft boy trend started to gain a lot of popularity among Gen Z audiences on social media platforms like Tumblr, Instagram, and Tik-Tok. The trend also got a lot of help from celebrities like Jaden Smith, Harry Styles, and Timothee Chalamet, who also embraced the fashion trend.
The softboy aesthetic really helped to change the idea of traditional masculinity. It came during a time when #MeToo was rampant in the world, and women from different walks of life were sharing their experiences. It is very difficult to talk about the softboy aesthetic without mentioning K-Pop because, in reality, the style has gathered all of its influence from Korean pop culture.
How to Dress Like a SoftBoy
Dressing like a softboy isn't as difficult as people make it to be. For the most part, it is all amount embracing fabrics, colors, and styles that would normally be associated with the ladies.
It also uses vintage-inspired and romantic styles. If a boy is dressed in the softboy aesthetics, you will often see him wearing blouse-like shirts, jackets, and fluffy sweaters. Unlike popular belief, the softboy aesthetic is not just limited to casual occasions; instead, you can also go formal in it. When going formal, the softboy aesthetic is influenced by classic menswear, but instead of regular colors of black and white, it opts for bolder colors and fabrics.
In the formal setting, you typically wear slim-fit suits along with cropped trousers, it has to have bold colors, and the ideal fabric is velvet. Dressing like a softboy is not at all difficult; however, it does require some courage.
Oversized T-Shirts
When it comes to softboy essentials, one of the first things that you need to talk about an oversized t-shirt, no softboy look is complete without a large t-shirt, and this is because you need to create that dual-shirt look, so you what you will do is put on your t-shirt atop your base layer. You can even choose a graphic tee, in fact, it is recommended that you do, especially when the text written on the shirt goes with your beliefs. Just make sure that when buying a shirt, choose a bigger size.
1. Carhartt Men's T-Shirt

The Carhartt t-shirt is easily one of the best quality t-shirts that you can buy right now. It is available in loads of different sizes, which is important when you are trying to go for a softboy aesthetic. It is a 100% cotton and is available in various vibrant color choices.
Purchase
2.Mad Engine Classic T-Shirt

As mentioned earlier, when you are choosing an oversized t-shirt for your softboy look, it is better if you for something that has some text written over it. For that reason, this vintage Polaroid logo t-shirt might be a perfect choice. It is made from a 100% cotton and is nothing short of high quality.
Purchase
Long Sleeve Tees
If you are going for that dual shirt look, you will need a nice long sleeve tee. Layering is an important part of the softboy look, and you will need to make sure that you choose a simple but baggy long sleeve shirt. If the shirt is too baggy, you can always tuck it into your pants. When it comes to the softboy look, almost everything is acceptable, because the ultimate goal is to help you choose something that you feel comfortable in. There are many long sleeve t-shirts that you can find out there, but some of the favorites are as follows.
3. Gildan Long Sleeve T-Shirt

Long sleeve t-shirts are an absolute essential for a softboy look, and this specific shirt from Gildan is a great place to start. It is available in various sizes as well as colors so you can choose the perfect shirt that goes with your desired looks. Depending on which color you choose, you will either get a 100% cotton shirt or something that is mixed with a bit of polyester.
Purchase
4. Carhartt Workwear Long Sleeve Shirt

If you are looking for an affordable long sleeve shirt for your softboy look, you should consider buying this shirt by Carhartt. The shirt is available in a slew of bold colors that you will love wearing.
Purchase
5. Dickies Men's Long Sleeve

Dickies is a popular maker of long sleeve shirts, and it is a brand that a lot of people interested in the softboy aesthetic choose. You can find these shirts in various colors so you will have one for every kind of look. You can buy the shirts in various sizes as well.
Purchase
Faded Jeans
The next essential that you need to complete your softboy look is a pair of good quality faded jeans. Ideally, you want these jeans to be slim-fit, but if you like, you can also wear baggy jeans without worrying too much. If you look at people wearing jeans for a softboy look, you will notice that they like to wear them above their ankles. Now, that is not a must, but if you want to stay true to the tradition you will have to wear it that way. You can always roll the cuffs of your jeans to get that look.
6. Levi's Men's Jeans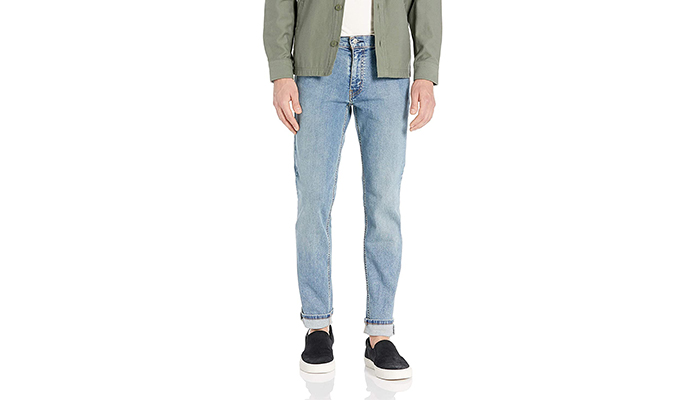 Faded jeans are an absolute essential for a softboy look, and there is no other brand that makes high quality faded jeans but Levi's. If you want to wear baggy jeans that you can even buy the same pair of jeans in a large size. The jeans are mostly made from cotton and follow the slim-fit design.
Purchase
7. Levi's Skinny Taper Jeans

Now we have another pair of jeans by Levi's. People dressing in the softboy look usually go for slim-fitting jeans and that is what makes these particular jeans perfect. Irrespective of what size you wear, you can easily find a jeans that fits you nicely. These are extremely high quality and comfortable jeans.
Purchase
High Socks
Its funny to think that high socks are such an important part of the softboy look. This is because bare legs are not accepted in the softboy look, and since most people like to wear their pants above the ankle, high socks become an essential if you want to hide your skin. White socks are the ideal choice for a softboy look, they look clean and contrast nicely with almost every other color out there. If you are looking for a decent pair of high socks, then you should consider buying one of the pairs mentioned below.
8. Innerwear High Socks

High socks are another essential for a softboy look, and you need to make sure that whatever socks you choose, they need to be super comfortable. This is where these high socks by Enerwear come in, they are not too expensive and you can buy them in a pack of 10. They are made from cotton and polyester, which makes the socks very durable.
Purchase
9. Dickies High Socks

Next we have high socks from a familiar company which is dickies. Normally people donning the softboy look opt for white socks, however, if you like wearing darker socks you can also choose them. These socks from Dickies are high quality and very comfortable, you won't even know you are wearing them even if it has been a few hours.
Purchase
10. Nike High Socks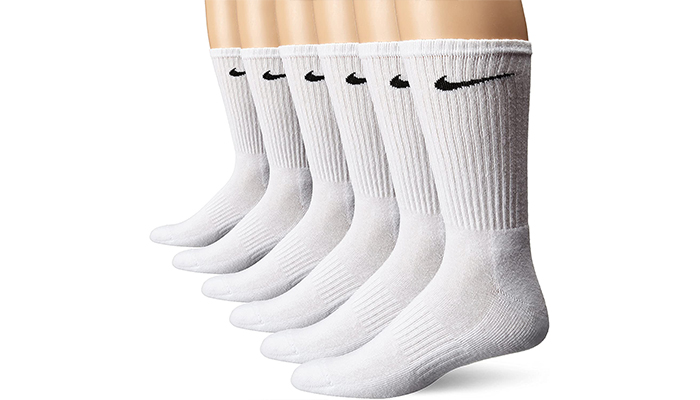 When it comes to clothing items, Nike is one of the most popular manufacturers, and if you are looking for good quality socks, you should consider buying these socks from Nike. They are over 70% cotton with a mix of other materials to make them even more durable.
Purchase
Shoes
Shoes are an essential of any look and not just the softboy aesthetic. There are many kinds of shoes that you can wear, but for the ideal softboy look, you will need to wear sneakers. White sneakers are what most people choose, but if you want, you can choose other colors as well. The shoes also need to be extremely comfortable otherwise, it will hurt your feet. There are many companies out there that make high quality shoes and here we will look at some of their offerings.
11. Nike Men's Air Force 1 Sneaker

If you are dressing like a softboy, you need to choose the right shoes. Most of the time, the perfect shoes for this kind of style are sneakers. These Nike sneakers are highly comfortable and are available in many different colors. So, if you are looking for the perfect sneakers, this is what you need.
Purchase
12. Adidas Tennis Shoes

If you are looking for a pair of shoes that are not as expensive as Nikes, you should consider buying these tennis shoes by Adidas. Even though they are a little less expensive, there is little to no compromise on quality. These shoes are also available in a few different colors.
Purchase
13. Vans Sneakers

Vans are easily some of the most popular sneakers on the market right now. This is due to the fact that these sneakers are cheaper as compared to the competition, and they offer loads of variety. Variety can be helpful when you are a softboy because you need different shoes for different looks.
Purchase
14. Converse Sneakers

Next we have some Converse sneakers that are easily the cheapest sneakers that we have on this list. These sneakers are colorful, cheap, and will go nicely with your softboy aesthetic. When you are buying these sneakers keep your desired look in mind because you want something that matches the rest of your look.
Purchase
Jackets
Jackets are something that a lot of people donning the softboy look wear; however, to be honest, it is subject to the weather. If you live somewhere the temperatures are a bit warmer; then you can probably get away with it if you are not wearing a jacket. However, wearing a jacket does add a new dimension to the look. The kind of jacket you wear depends on your taste, however, most people out there prefer simple plaid jackets or denim jackets. Both of these jackets don't have a lot going on, and that is why they don't pull the attention away from the wearer.
15. Zaful Plaid Jacket

The first jacket that we have on this list is by Zaful, it is a very good looking jacket, and if paired with the right t-shirt it will look really good in a softboy aesthetic. The jacket is not at all expensive, and it is available in a few different colors.
Purchase
16. Levi's Tricker Jacket

Denim jackets are an essential part of the softboy aesthetic, and if done right, they look absolutely stunning. This denim jacket by Levi's can be bought in a few different sizes, it is a regular fit jacket and is made from 100% cotton. Just make sure that you are wearing a lighter shirt underneath otherwise, things can get a bit toasty.
Purchase
17. Lavnis Distressed Jacket

If you are looking for a cheap addition to your softboy look, you should consider buying this jacket by Lavnis. It is made from a soft fabric that makes it extremely comfortable. The jacket is available in a few different colors and combinations. If paired with the right shoes and pants, this jacket can look amazing.
Purchase
18. Charles River Rain Jacket

You don't always have to wear traditional jackets for it to be a softboy look. You can also choose a rain jacket and they will look amazing as ever. This rain jacket by Charles River can be bought in a few different sizes and even more colors.
Purchase
Pants
Jeans are not for everyone, and the softboy community knows that, therefore it is okay to wear a pair of pants and still fall into the softboy category. Personally speaking, pants do look a lot better; they just so clean. Just like jeans, people usually wear their pants above the ankles, and that is what makes high socks so important. Slim-fit pants is what a lot of people prefer, and maybe that is what you need to go for.
19. Izod Relaxed Fit Pants

If you are not a fan of jeans, you can also wear pants as part of your softboy look. These pants by Izod are some of the best you can buy as the company has been making them for over 75 years. the pants are extremely comfortable and are made using the best materials.
Purchase
20. Amazon Essentials Men's Pants

Amazon is not a name that you think of when you are talking about high quality slim-fit pants, but the truth is that they make some of the best pants out there. These pants are cheap and offer a lot of variety.
Purchase
Hats
For the perfect softboy look, the other piece of clothing that you need is a hat. Most of the time, people tend to opt for either a beanie or a baseball cap, so you are free to choose whatever feels more comfortable. If you talk to people who often dress the softboy way, you will notice that most of the people wear hats from a company known as Carhartt, the exact reason for this unknown but if that is what is needed to become a true softboy then you should go with the flow.
21. Carhartt Beanie

The next thing that you need to complete your softboy look is a good hat, for most people, that can be a beanie. This beanie by Carhartt is super comfortable and available in a lot of different colors. There is no shame in buying more than one beanie, especially when you know that you will be wearing all of them.
Purchase
22. Carhartt Canvas Cap

The other kind of hat that people can wear is a regular baseball cap. The cap is made from 100% cotton and it features adjustable closure. No matter what cap you buy, the goal is to make sure that it goes nicely with your desired look. And if you manage to achieve that, there is nothing holding you back.
Purchase
Dangle Earrings
For a softboy look to be complete, you may need a good pair of dangle earrings. If you want to wear dangle earrings, you will need to get your ears pierced. It doesn't really matter what kind of dangle earrings you are wearing as long as it is dangling of your ears. There are many companies that make high quality dangle earrings, and here we will take a look at some of the best ones.
23. Szory Dangle Earrings

Jewelry is not something that comes to mind when you talk about men's fashion, but when it comes to the softboy look, it wouldn't be complete without the right dangle earrings. You can buy these stainless dangle earrings by Szory in a pack of 3 pairs. All of the pairs are different in color, which is definitely a plus.
Purchase
24. Vnox Stainless Steel Dangle Earrings

Vnox is also know for making some of the highest quality dangle earrings on the market. So, if you are looking for a decent pair of dangle earrings, you should consider buying these from Vnox. They are made from stainless steel and are extremely durable.
Purchase
FAQ
🤔 How do you get a softboy aesthetic?
Getting a softboy aesthetic is not difficult, all you need is the right kind of clothes. If you are willing to put raw masculinity aside and start wearing vibrant colors and fabrics that are normally associated with women, then you have become a softboy.
🧐 How do you dress Soft aesthetics?
There are a few essential pieces of clothing that you need if you want to become a softboy. All of the clothing essentials are mentioned above. If you are just getting into the softboy look, you will need to invest quite a bit into your look. However, there are cheaper options that you can opt for too.
☝️ What does it mean to be a softboy?
Being a softboy means that you are breaking the traditional idea of masculinity as being crude and uncaring. Instead, you opt to wear clothes that bring out the joy inside of you and wear whatever you like. The softboy look has gained a lot of popularity over the years, and there is no indication that it will be stopping any time soon.