When it comes to manscaping, we are more concerned about safety rather than cleanliness. That's the reason choosing a ball trimmer requires special consideration, so you secure yourself from getting unwanted nicks, gashes and stay in top-notch hygiene.
There's nothing wrong with investing in ball trimmers, as it plays a vital role in grooming and maintaining personal care. You're here to find the best ball trimmer, and we are here to help you out in that process.
Let's roll over to the best ball trimmers and see which trimmer is made for you.
1. MANSCAPED™ Electric Groin Hair Trimmer

The Manscaped brand specifically designs the product for grooming body hair. Shave with full confidence and stay worry-free about skin cuts and nicks. All thanks to the skinsafe technology featured by Manscaped.
You'll appreciate the hassle-free wireless charging of this device through a USB dock. Moreover, this lawnmower is cordless, rust-proof, and water-resistant that allows operation in the shower. The bundle also includes trimming guards for different hair lengths.
The lawnmower 4.0 vouches for smooth eggs with its ceramic snap-in blade designed for pure hygiene and sharpness. Lastly, the battery life can serve you well enough for 90 minutes.
Purchase
2. Cleancut Shaving Bundle

This shaver painlessly removes the hair from intimate areas of the body. What's exciting? It has a cylindrical-shaped that perfectly conforms to your palm, and aids in maneuvering the shaver all over the body.
This shaver from Cleancut is equipped with a unique cutting system that leaves your skin soft, smooth, and without a single cut. Interestingly, It has an unexposed triple blade and a foil that offers a fine finish.
However, here's a small caveat when using this razor. Make sure your body hair is already short of using this device. Otherwise, this shaver might get stuck in the long-tail bushes.
Purchase
3. Philips Norelco BG7040/42 Bodygroom Series

Best Feature-Rich Trimmer
Introducing you to one of the best ball trimmers in the market. It is a 2-in-1 grooming device. The groomer features a foil shaving head and trimmer head, making it a super flexible option for men. Since this shaver is waterproof, you can thoroughly clean it after use. Another incredible feature is the 5 different adjustable length settings.
This masterpiece can run for about 80 minutes and be operated with an LED light for focused cleaning. Best of all, the high-end stainless steel fastens the manscaping with its sharp and smooth blades. Finally, the ergonomic grip sticks to the hand comfortably and allows shaving for an extended period.
Purchase
4. Electric Below-The-Belt Trimmer

There's certainly no room for error when you're manscaping. This trimmer delivers 6000 strokes per minute and two dual-head attachments to keep you going. Thankfully, the Meridian trimmer is waterproof, allowing you to trim under the faucet water and provides easy wash-away cleanup.
When it comes to the design, it is ergonomically designed to assist in maximum precision and control. It makes it easier to trim hard-to-reach areas on the body. However, this groomer requires a USB port to satisfy charging needs. Similarly, Meridian cordless trimmer can provide you with 90 minutes of non-stop power.
Purchase
5. Remington PG525 Groomer Kit

Best Economical Groomer
Remington greatly values money. Remington PG25 is embedded with an ergonomic handle and grip that makes the trimming process comfortable and smooth. This groomer has a sleek and glossy touch that augments the aesthetics.
Besides, it comes with handy attachments such as a full-size beard trimmer, nose, ear trimmer, foil shaver, and other various attachments. Also, the surgical steel blades boost longevity and performance.
The 100% waterproof device is compatible with lotions, gel, and shaving creams. What about battery life? PG25 can provide 70 minutes of cordless usage.
Purchase
6. All Purpose Gillette Styler

Hands down to another versatile trimmer. Whatever the size of your body hair, this styler features three comb sizes that add flexibility and versatility to your shaving. This trimmer features Braun engineered technology to refine your styling and give the trimmer a long-lasting life.
With that said, the Gillette styler has a comfortable grip and handle to assist in styling body hair for long hours. Being a waterproof razor, you have the opportunity to use it under the shower. However, some reports complain about the nicks, cuts, and bleeding.
Purchase
7. Liberex Electric Groin Hair Trimmer

Finding it hard to shave your balls and reach sensitive areas? Don't fret. This trimmer is specially designed to treat intimate areas with meticulous attention.
One of the best things about this trimmer is its ceramic blades, which take care of your cleanliness and hygiene. Additionally, it features extra sensitive technology that prevents nicks and cuts, skin irritation and offers a relaxing time during trimming.
Another notable feature is its power-packed motor that guarantees a noiseless operation. The Liberex trimmer is IPX7 certified waterproof and can be charged via a USB dock. This trimmer can survive for 90-minutes on a full charge.
Purchase
8. MANSCAPED™ Electric Groin Hair Trimmer

Best Overall
Are you fed up with low-quality razors that get stuck in your long hair? Presenting you the Manscaped hair trimmer featuring ceramic snap-in blades. Pull out your hair with confidence as this trimmer is infused with skinsafe technology.
The lawnmower 3.0 comes with an adjustable guard that offers different hair lengths. The battery life supports 90 minutes of runtime and is charged through a USB dock. However, according to some reviews, many users got nicked with its sharp blades.
Purchase
9. MANGROOMER Lithium Max Plus Body Groomer

Cut your long chunks of hair with a Mangroomer body groomer. The ergonomic handle is the standout feature of this groomer. It has a lightweight structure and tightly grips a palm, allowing you to cut your pubic hair rigorously.
What's interesting? This device contains a dual-grooming head. On top, you can see a ball groomer, and on the bottom, it has a body groomer that features eight settings.
Thanks to the shock absorber multi-flexible flex neck that provides a smooth trimming when manipulated over the long roots of hairs. Lastly, the battery supports fast and easy charging and is more potent than ordinary Nihd/Nicad batteries.
Purchase
10. Philips Norelco Multigroom Series

Best Value-Packed
Looking to level up your grooming game? You need to know about the Norelco multi groom series. What's the best part? This trimmer from Philips comes with 23 attachments to cater to your personal care needs. Engineered by smart-cut technology and rubber grip makes precision shaving a smooth process.
The dual-blades composed in a groomer are two times more efficient and sharper than other typical shavers. This trimmer is housed with stainless steel that optimizes its longevity. And, the good news? This trimmer contains 14 blade guards that are friendly to all hair types. The lithium-ion rechargeable battery is ready to provide 5 hours of cordless performance.
Purchase
11. Panasonic Arc5 Electric Razor

This model from Panasonic is included in the lineup of top-end trimmers. The highlights of this device are a 5 blade system, and 30-degree precision offers the best output with a clean finish. This razor is powered by a hyper-performance motor that delivers 14,000 CPM and flawlessly works through the pesky and dense areas of the body.
What's more? The Active shave sensor technology identifies the hair type and trims it accordingly. Multi-flex pivoting head deserves a round of applause that ensures the high maintenance of out-of-reach regions in the body. Besides, it has a status LED for more optimal cleaning.
Purchase
12. Wahl Clipper Lithium-Ion Cordless Haircutting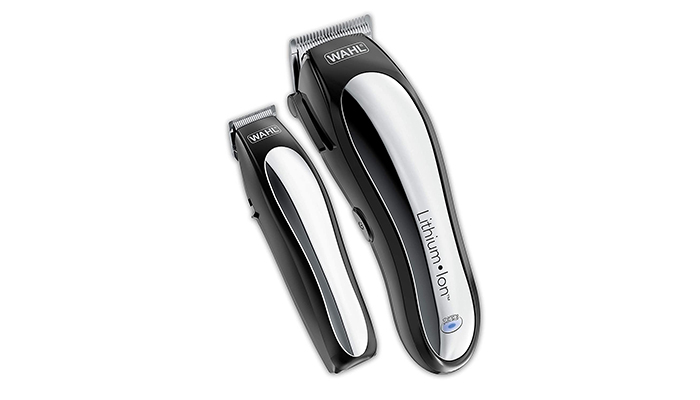 Wahl Clipper trimmer is an above-average contender. You'll love the battery time, as this clipper can serve you for 2-hours, which is the most by any product on the list. Another great thing about this trimmer supports fast charging that tops up the battery within 10 minutes. Impressive, isn't it?
This powerful clipper comes with ten cutting attachments, making it easier for you to cut long and short hair. Unfortunately, this clipper is backed up by AA batteries rather than a lithium-ion battery.
Purchase
Buying Guide
It doesn't matter how long you have been shaving or trimming your beard. Ball trimmers are significantly different from beard trimmers. It's essential to consider these factors before making a wise purchase. Let's dig deeper.
Blade Quality
There should be no room for a blunt razor. Imagine investing in a high-quality trimmer that fails to satisfy your grooming and trimming needs. It's simply worthless. A good rule of thumb is to validate the blade's quality and performance before making a purchase.
You wouldn't want a blade that is clogged onto the bushes of hair. Ensure the trimmer you're buying features stainless steel, hypoallergenic, and rounded blades to optimize the grooming time. The rounded blades work in a way to avert nicks, cuts, and scratching of the skin.
Power
A body trimmer must have high-performance motor power to cater to your grooming needs. A good power efficient ball trimmer can smoothly outshine the hair jungle. Otherwise, you may have a hard time pulling down the long hair especially.
What's the recommended motor power for efficient use? A ball trimmer should dissipate 4000 RPM, which will make the trimming easy and less time-consuming.
However, as the power efficiency of the motor scales up, the price increases at the same rate. Also, note that power is not everything you want, but the engineering and construction of the groomer play an integral part.
Blade Replacements
Replacing your blades can be an incredible way to keep your trimmers and groomers in tip-top condition. It is recommended to replace the blades every six months to avoid wear and tear. Not only that, but a dull blade can considerably harm and deteriorate a trimmer's performance. This will cause the motor to work even harder.
With that said, buy a trimmer that is packed with self-sharpening ceramic blades, which will reduce discomfort and offer painless trimming.
Waterproof
Since intimate areas require special consideration, ensure the trimmer you're buying is compatible with shaving creams, lotions, and gels to prevent nicks and cuts. For that, a waterproof and wet-proof trimmer can make the job done proficiently. Besides, the cleanup under the shower makes the trimming process way more manageable than dry trimming.
Ergonomic Grip
Lifting your balls or propping up your leg and making awkward positions to cut your chunks is an overwhelming task. An ergonomic handle grip eliminates the risk of accidental injuries, ensuring a safe cleaning process.
With that said, a rubberized grip and a longer handle are always good options to consider. A rubber grip and long handle are capable of providing maintenance in hard-to-reach areas of the body and offer a firm grip to hands to avoid slippage. Lastly, a lightweight trimmer is your way to go, as it offers easy and comfortable maneuvering.
Ease Of Use
Buy a trimmer that has an easy wash-away and cleanup. Mostly, non-waterproof razors might not be a suitable option in this case, as they don't allow inflow and outflow of water. For added convenience, you may opt for a trimmer that outfits a pivoting head and will follow the contour of your balls, providing effortless trimming.
Battery Life
Getting a decent battery life of a trimmer is no more than a blessing. Imagine manscaping, and suddenly the battery drains quickly, leaving you in a state of helplessness. All you want is a shaver with a runtime of 40 to 50 minutes. Also, note that how long the battery takes to get fully charged. Usually, trimmers with instant charge deplete the battery life at the same rate.
Corded vs. Cordless
Now, this is something essential to consider before buying a trimmer for manscaping. It will require freedom of motion to operate in such areas as you will be trimming hard-to-reach regions such as crevices, bumps, and valleys near testicles. In this case, a cordless trimmer can be an ideal pick.
But, also keep in mind, corded counterparts tend to be robust and high-end than most cordless trimmers. Another handy thing about cordless trimmers is that they are travel-friendly and can be operated anywhere and anytime.
Brand Recognition
Being a brand-conscious person means easy to rely on top-notch brands. Since those brands have already cemented their name by producing quality products, some of the big names include Philips Norelco, Remington, and Manscaped are well-known for satisfying their customers to the core.
Conclusion
That's it for today! We hope you have got ample information regarding each trimmer. Also, make sure you go through the buying guide and faqs to sweeten the buying process further.
You might have observed the number of factors require to buy a unique product. No matter which trimmer you go for, ensure that it works extraordinarily well on your skin and yields positive results.
Here, we can assist you with your decision by picking our top picks.
Manscaped Electric Groin Hair Trimmer has the potential to take the number 1 spot. The reason is its ceramic snap-in blades and long-lasting battery life to serve you for more than 1 hour.
Another pick is the Remington PG25 that serves great value at such an affordable price. Why? This product features an ergonomic handle that makes manscaping a no-brainer. In addition, it comes with various handy attachments that optimize the trimming.
FAQ's
🥇 What's the best trimmer for balls?
The Meridian trimmer, Philips Norelco Multi groom series, and Remington PG25 are some of the best bets. Why do we say this? Their impeccable features along with satisfactory performance make it an ideal choice for many users.
🧐 Are ball trimmers worth it?
It depends totally on personal preferences. If you really care about your hygiene, cleanliness, and self-care, ball trimmers can be an excellent addition to your men's grooming arsenal. The ball trimmers can help remove the bacteria buildup and reduce the intensity of stinkiness.
🤔 Is it OK to cut pubic hair with clippers?
Yes, it is ok to cut pubic hair with hair clippers. But, you should know clippers are not purposely made for grooming the pubic area, as they have a similar function to scissors. It is advisable to use a clipper attachment for seamless shaving.
❓ Should I trim or shave my pubes?
There's no hard and fast rule to remove your pubic hair. Also, if you prefer to shave your balls for sexual reasons, make sure to serve the sensitive area carefully to avoid nicks, cuts, and bleeding. If you're a teenager, first start with a scissor and an ordinary trimmer. Also, avoid using razors, as they can prove to be risky especially in intimate areas of the body.