The world is crazy and unpredictable. More often than not, you will have to protect yourself from potential danger. Whether you have had self-defense training or not, it is always good to have a self-defense tool with you at all times. One convenient tool is the self-defense keychain.
Self-defense key chains come in multiple forms. However, the most common are:
Hidden knives
Sharp objects
Personal alarms that emit high-pitched sounds
Metallic striking objects
Pepper spray
Whistles
Flashlights
Picking the suitable keychain for you depends on your needs. Some manufacturers even combine multiple self-defense tools into one, so you can access multiple options to protect yourself.
Lightweight keychains are better, and always select those with durable and high-quality construction materials. Keep reading to discover our top choices.
1. Sabre Self-Defense Kit

This self-defense keychain offers personal protection that you can trust. And, it has multiple elements to help protect you from different threats. First, you will have access to a small pepper spray with a 3-meter range that expels a powerful stream. It also has a stun gun tested to deliver intolerable pain for self-defense up-close. The stun gun also doubles as a handy flashlight.
Purchase
2. Zertone Self Defense Keychain Set

This is a solid keychain with multiple tools to ward off attackers. The construction features a solid brass body with a sturdy key ring. The first function it offers is self-defense, thanks to the tungsten steel attack head. It also has a sharp steel blade for protection, but you can use it in other ways, such as opening packages. The second function is a handy tool you can use as a bottle opener, slotted screwdriver, and a decorative item.
Purchase
3. KOSIN Safe Sound Security Alarm Keychain

This keychain features a strong and loud personal alarm. The emergency alarm makes a loud noise to draw attention to yourself, scaring off an attacker. The build features high-powered batteries for 365 days' use before needing replacement. The keychain also has strong LED lights ideal for walking in dark places. It is durable and compact for portability. Lastly, it comes with a durable key ring.
Purchase
4. Thopeb Self Defense Siren

With this small and sleek keychain, you will quickly draw attention to yourself, warding off attackers. The siren emits a loud sound while continuously flashing strobe light to make you seen. It is also easy to operate; just pull the pin and let the device do the rest. It comes with a durable hook that to easily attaches to your bag or belt loop.
Purchase
5. IOOZ Self-defense Keychain

Next is this multi-purpose self-defense keychain with multiple items to protect yourself. For starters, it has a personal alarm that makes a loud sound to draw attention to yourself. The sound could last up to 50 minutes. Secondly, it has a loud whistle that can reach a long distance, calling others to your rescue. Additionally, it has multiple blunt objects you can use for up-close defense.
Purchase
6. WITHARMOUR DEM1 3″ Pocket Folding Knife

This sturdy keychain comes with a sharp folding knife for personal protection, among other things. Thanks to the softwood handle with a leather lanyard at the end, the design is ideal for a comfortable and firm grip. The tool offers multiple functions outside of defense, including a screwdriver and bottle opener. It doubles as a survivalist tool, so you should bring it along on all outdoor activities.
Purchase
7. Guard Dog Pepper Spray with Window Breaker

This is a self-defense tool that will also help you with survival outdoors. It features an in-build glass breaker to escape your car if the need arises quickly. It also acts as pepper spray that shoots a powerful stream up to 19 feet. The design also has an ultraviolet dye that does not wash off to help identify the attacker. Overall it is sleek and easy to carry.
Purchase
8. Guard Dog Security Hornet World's Stun Gun Keychain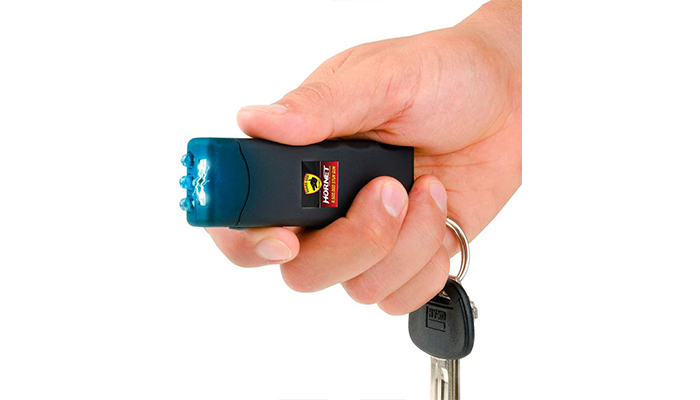 To help protect yourself without drawing too much attention, consider this mini-stun gun. The gun administers high voltage jolts, putting the attacker in unbearable pain so you can escape easily. Its design is compact enough to fit into your hand and blend with your keys. In addition to the stun gun, you will gain access to a powerful flashlight to improve your vision in the dark.
Purchase
9. Topsense Emergency Alarm Keychain

This is a high-quality alarm keychain that embodies modern sleekness. The siren emits a loud alarm that that draws the attention of ears up to 1000 feet away. The design also has a strobe light function that activates together with the alarm. It is also easy to use by easily pulling the pin and activating the keychain. Lastly, it comes in multiple colors to match your needs.
Purchase
10. UltraTac K1 Keychain

This mini battery-operated self-defense tool will help you on nighttime walks. It is made from aerospace-grade aluminum to defend against external impact. The body also offers a firm grip and is highly resistant to water damage. The flashlight emits a powerful beam to enhance vision during hiking, camping, and other outdoor activities. The convenience of running on AAA batteries ensures you never run out of juice.
Purchase
11. J.H. METAL Multifunctional Tool

The multifunctional tool works as a handy cutter and decorative addition to your keychain. The design shows a pendant that looks like a capsule. Pop it open, and you will find a sharp tool at a 35-degree cutting angle to allow you to open cans without putting your fingers at risk. It is made of durable stainless steel, including a durable hook to attach to your keys, bag, or belt loop.
Purchase
12. POM Pepper Spray Flip Top Keychain

For something with a sleek and hard-to-notice design, consider this durable pepper spray keychain. The flip-top offers a safe and accurate firing system to prevent misfiring during transportation. The spray ejects a powerful stream that reaches afar to protect you from a distance. It comes with a patent key ring that holds weight well. Lastly, it comes in multiple colors.
Purchase
13. Mace Brand Mini Keychain Pepper Spray

This defense tool features a sleek and small design that promotes a comfortable grip each time. The pepper spray has an advanced delivery system that projects a strong, steady stream that can shoot a distance. The formula causes unbearable respiratory distress to the attacker giving you time to escape. The finger-grip design guarantees a secure grip while the flip top prevents misfiring on the go.
Purchase
14. MUNIO Self Defense Kubaton Keychain

Designed by a self-defense expert, you can rest easy with this tool knowing you have the best in the market. For starters, the design is very discreet, ideal for day and nighttime carry. Next, it is strong and lightweight for easy carry and resistance to impact. It is safe when not in use but administers a powerful blow to attackers in the right hands.
Purchase
15. Mynimo Self Defense Siren Keychain

Lastly is this pack of three siren keychains. It is faster and practical thanks to the great design. Once you pull the pin, it will emit a loud siren that will draw attention to yourself and scare off the attacker. The sleek design offers excellent compactness for easy portability. It works and comes with 2 AAA batteries that give you 365 days of use.
Purchase
Final Thought
In conclusion, everyone could benefit from a good self-defense keychain. Many times, these tools have more than one function and will likely assist you in survival situations. Because there are multiple versions and brands in the market, you are bound to find one that best suits your needs.
FAQs
🤔 Are self-defense keychains effective?
Yes, they are. Many self-defense keychains come with handy tools that help to protect yourself from an attacker. The thing about danger is that it can happen at any time. An attacker could come to you at any time, and you will need to reach for a weapon as fast as possible. If it is within your person, it is easier to defend yourself.
🧐 What comes with a self-defense keychain?
Self-defense keychains can have one or multiple elements to increase protection. The most common items you will find on a self-defense keychain are:
Sharp blades
Pepper spray
Tungsten head
Glass breaker
Whistle
Siren
Flashlight
Blunt metal object
Flashing strobe light
Additionally, you will find survival tools on some keychains such as a screwdriver, bottle opener, nail file, and even a corkscrew.
❓ Are self-defense keychains legal?
Self-defense keychains are legal in some US states and countries. However, not all of them. For starters, carrying a self-defense keychain in Texas is perfectly legal. On the other hand, self-defense keychains are illegal and considered an offensive weapon in the UK. Therefore, before purchasing this item. Be sure to look up state laws to ensure that you do not get in trouble for carrying. The same goes for national law in your specific country.