Carrying around keys and other accessories without a keychain can make you disorganized.
Not to mention how much it messes up your image.
Keychains are accessories that every man and woman must have, even if it is just to complete a look or make a statement of how much you love authentic materials.
So without any further ado, here are 32 best and cool key chains which you might want to check out:
1. Kasper Maison Italian Leather Keychain

This is an elegant keychain from Kasper Maison that is designed to easily bring your keys with you wherever you go. It is made from elegant genuine Italian cowhide leather that is stitched together using the toughest German polyester thread. The metallic part is made from a solid zinc alloy complete with the finest edge paint. This keychain has a smart and secure opening function that makes it very easy to add or remove your keys. It comes with 4 extra key rings which allows you to arrange the keys better and prevent bulkiness. With this brand, you have three colors to choose from.
Purchase
2. Smart Compact Keychain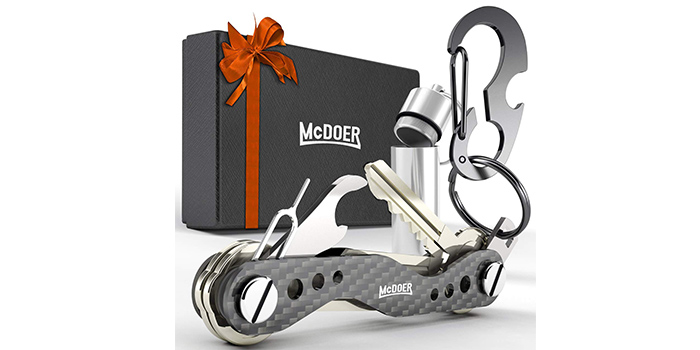 This is one of the most versatile key chains in the current market. It is designed to be unique and compact which prevents your keys from wearing and tearing up your pockets. It keeps all your keys in one position without exposing sharp points and while maintaining a slim profile. More than just a keychain, it features smart tools such as a metal bottle opener, a sim card opener, and a cash stash among others. This keychain is designed using flat survival material meaning that everything stays in place while in your pocket and so there is no jangling of keys.
Purchase
3. BANG TI Titanium Anti-lost Keychain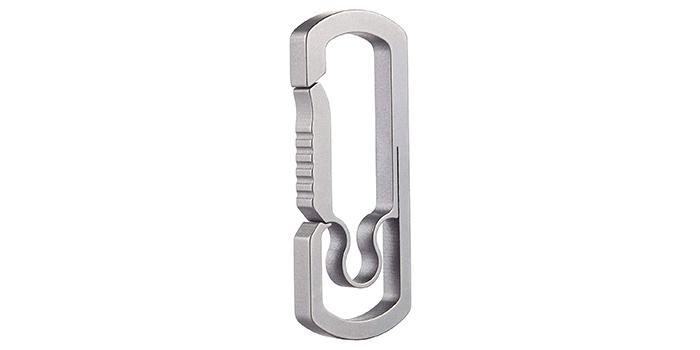 This is a high quality keychain made from a Gr5 titanium alloy that is rust proof, non-toxic, corrosion resistant, and non-allergenic. The metal offers high hardness and strength which guarantees a lifetime of use. It features an integrated spring clip that offers good resilience controlling; it does not get deformed easily. This keychain is designed to hold 4 to 6 keychain rings while still fitting your belt loop perfectly; it has tilt up opening which allows you to safely operate it using just one hand. Even when at maximum capacity, the keychain maintains a light profile thanks to the titanium build.
Purchase
4. Mehr Platinum Luxury Keychain

This is a luxurious keychain that is designed for the classy man. It is crafted from a durable animal-free microfiber leather; the metallic part is from a rust proof zinc alloy and it is all stitched together with carful precision. In other words, it is built to last. The keychain is a lightweight design featuring a slide button that will allow you to separate your keys from each other, for easy use. It can hook easily onto belt loops, lanyards, purses, and wallets. What is more, it comes in three different colors.
Purchase
5. LABEN Lambskin Key Chain

This keychain takes on a more vintage look but is nonetheless classy and stylish. It is made from 100% lambskin that is guaranteed to be strong and durable; it is built to last a long time. It is hand-woven with precision from great craftsmen so you can be sure that each keychain has its own unique character. It is lightweight and so it will not drag your belt loop; even at full capacity, you will hardly notice it by your side. It comes in 6 luxurious colors to match your personality.
Purchase
6. Swiss+Tech Multi-tool Keychain

This is a well-designed keychain for the man who likes outdoor exploration and adventure. It is made from a strong metal that does not give in to daily use, it is resistant to wearing and tearing and built to last a long time. All the tools featured on this keychain are essential for outdoor activities such as camping and fishing which makes this keychain a versatile tool. It has a flashlight with batteries included; all the tools snap into position for safety and reducing bulk. With enough room for all your keys; this is the perfect gift for the man who likes to explore the great outdoors.
Purchase
7. Smart Key Organizer Keychain

This stylish keychain is made from environmental friendly vegetable tanned leather; it is top grain Italian leather that is durable and ages beautifully to give the keychain a unique character. This is a top notch leather keychain that has a precise compact design that fits all your pockets without bulk. This design also ensures that no sharp edges get to your pockets so no more holes in your pants. This organizer can hold up to 10 key rings comfortably and tightly which eliminates the jingling sound and protects your phone and accessories from starches. It comes in two luxurious colors.
Purchase
8. Holtzman's Best Paracord Keychain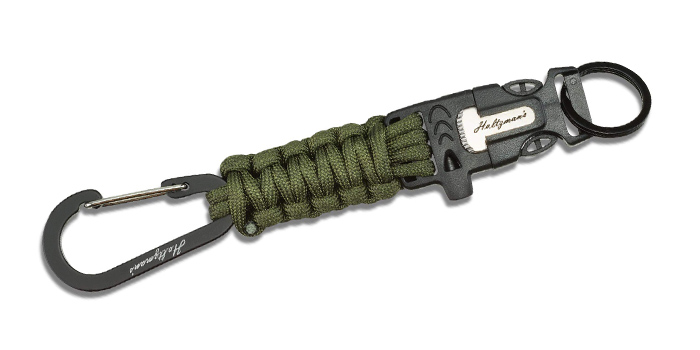 If you like the great outdoors and all the adventures within it then this keychain is a must have for you because it is not only a great keychain but also a multipurpose survival tool. It features five different tools including an emergency whistle for when things go wrong in the wilderness. The keychain is lightweight and when at full capacity it does not feel bulky in your pocket or on your belt loop. It easily attached to your backpack too and so it is fantastic for mountain climbing and camping. It comes in four different colors.
Purchase
9. KeySmart Compact Key Holder

This key holder is basically meant to keep your keys compact, and stop them from making a jiggling sound when you walk. It is also worth mentioning that it will stop your keys from making holes in your pockets or poking your thigh as you walk. With the KeySmart compact key holder, you could have even a hundred keys in your pocket, and no sound at all.
Everyone hates it when you have to pull out a bulky set of keys, not to mention the irritating noise they make. To make you more comfortable buying this key holder, the manufacturer offers a two year warranty on all purchases.
Purchase
10. Wrenches and Bones Stainless Steel Grill Keychain

If you love Jeep cars, owning this keychain will make the statement on your behalf wherever you go. It is made of 304 Grade stainless steel. This means that your keychain will never bend or break for as long as you own it.
One look at this accessory will tell you a lot about its quality, not to mention the artistic genius that went into its designing. The surface of the keychain is perfectly brushed. Also, depending on your taste, you can pick one of the several colours available.
If you have a friends who love Jeep cars, then this would definitely be a great and thoughtful gift for them.
Purchase
11. SOG Folding Key Knife

It is good to always have a key knife on you at all times. You can use it to cut a rope, open a lock or even perform simple tasks such as cleaning your finger nails. The SOG folding key knife is perfect for these purposes. You just need to fold it and it will look like just another key. Unfold it and you have a knife. In other words, the handle of the knife looks like another key.
This folding knife is made of stainless steel and would be a great addition to your key chain accessories.
Purchase
12. Premium Leather Orbitkey Tan

Orbitkey is a key holder made of real cowhide leather. It can accommodate up to 7 keys. The good thing with this key holder is its simplicity and great functionality. You don't have to keep your keys in a bag or anything. You just carry them in your pockets and slide them into the key holder.
That way, you can safely conclude your struggles with torn pockets and keys that poke you and scratch your phone. Since the keys are held tightly, you will also not have any more of noisy keys in your pockets.
Purchase
13. Fossil Men's Davis Key Fob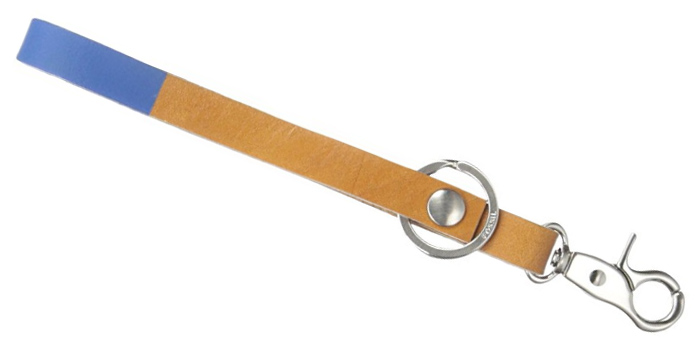 Made of pure genuine leather, this key fob is a great and easy way to show that you have a sense of style. It comes in an attractive light brown colour which also tells a lot about the quality of the material. The hardware is made of polished silver.
This key fob can help you a lot in staying organized with your keys. All you need to do is to clip it to your bag or belt using the claw hook and you will never have to look for your keys again.
Purchase
14. TI-EDC Carabiner Titanium Keychain

Made of titanium, this keychain is strong, resistant to corrosion and at the same time, is very light. Titanium is also used in the aerospace industry, and this fact can tell you enough about its strength and capacity to withstand harsh conditions.
If you usually carry around a big bunch of keys, this keychain will suit you perfectly. All the keys will be held tightly and securely in the snap-hook. Being very light in weight, this keychain will not add any extra bulk in your pocket. All that it will add is convenience and better organization.
Its simple and classic design also makes it look very classy. If you are a man who appreciates classy accessories, this keychain will easily compliment your style.
Purchase
15. Maison Margiela Ssense Keychain

The Maison Margiela Ssense keychain is made of real leather and brass. It is all black in colour, with the name 'Maison Margiela' embossed on both the front and back of the leather strap.
This keychain is particularly meant to be clipped to your bag, although you could also clip it to your belt loop.
Made of tonal hardware, this keychain has all the authenticity you need. It is just as functionally practical as it is appealing to the eye. You can easily clip and unclip your keys, and it also holds them very securely.
Purchase
16. Swiss+Tech Utility Multitool Keychain

As a man, it is important to have some tools with you at all times, just in case a need arises. This keychain will help you with that.
With it, you will have a flat screw driver, bottle opener, Philips screw driver, micro eyeglass screw driver and straight knife blades, all in one. Not to mention how compact and light the whole keychain is.
Equally important is the brightly polished appearance of this keychain. It is made of stainless steel, and has all the look of a high quality keychain.
For convenience, this keychain is made to easily clip onto your key holder.
Purchase
17. FreeKey System

The FreeKey System was designed by Erik von Schoultz in Sweden. It is meant to help you organize your keys in three different bunches. For example, if you have keys for your house, office and car, you can use the three rings to separate these keys. That way, you can always get the exact key you are looking for in just a short time. It also has one larger ring to where the other three rings are attached.
This key system uses brilliant simplicity to achieve great convenience. For people who carry many keys, this system would make them much more organized.
Purchase
18. MFi iPhone Lightning Cable Keychain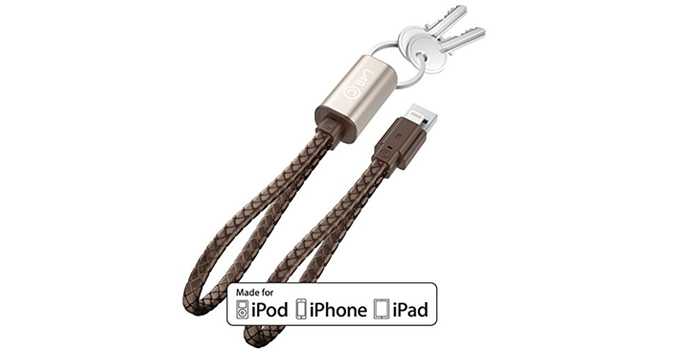 Made for iOS devices, this lightening cable keychain makes it possible to charge or transfer data on your phone while you are on the go. This Apple certified MFi cable can be used for any iPhone device with a lightening conductor.
This 11.5 inch cable can be attached to your keychain to make it even more appealing to the eye. This way, you can also safely carry it around. The cable comes in a golden brown colour, which is sure to compliment your keychain.
Since it is made of braided PU leather, you also will not have to deal with any tangling.
Purchase
19. Carbocage Keycage

This carbon key organizer is designed in Germany. All you need to do with this key cage is to fold in your keys, and pull them out using your thumb whenever you need to use them. It is very compact and neat. Also, you will not have to deal with holes in your pockets, or the irritating noisy keys in the pocket.
This key cage can hold up to 14 keys. To find the key you need, you just need to feel it using your fingers, then pull it out using your thumb. This key cage takes convenience to another level.
Purchase
20. Vera Bradley Women's Laser Cut Keychain

This keychain comes in black and pink colours, both of which are great choices for women. It has an oval-like shape, with pretty decorations which look really nice. The key ring itself is made of silvery material with the name 'Vera Bradley' artistically embossed in it. In addition to the key ring, this key chain comes with a hook.
The keychain is about 5 inches high and 2 inches wide, which makes it conspicuous enough when kept in a bag. You will be able to find your keys much faster.
Purchase
21. Buffway Leather Braided Keychain

This keychain is so precisely designed that the manufacturer is ready to refund all your money if you notice any issue with its quality. It is made of braided leather that is low in carbon and safe for human beings. It also comes with two Kirsite key rings made of equally safe zinc alloys. The zinc rings are polished for a better look. The detachable valet keychain will help you organize your keys in different groups for even better organization.
It also has an attractive braided design, and comes in black, white and red colours.
Purchase
22. KeyKlip Gunmetal Carabiner Key Holder

This key holder is quite different from the others in this list. It is made by KeyDisk Co., a company that was founded on Kickstarter back in 2013. The design of this key holder is quite innovative and convenient.
It is made of aerograde aluminium, and has extenders to attach more keys. Features it comes with include a bottle opener, car fob attachment loop and a carabiner clip to attach it to your belt loop.
This key holder is quite slim, having a width of only 0.6 inches. If you buy this key holder and notice any defect, you are allowed to return it for a new one.
Purchase
23. Cevinee Brass Screw Lock Keychain

Do you get irritated when you have to spend time and energy to get keys on and off your keychain? This keychain will solve that problem for you. It is probably the easiest keychain to hand tighten. The screw lock is highly precise and will hold your keys very securely. It is made of golden-yellow brass which absolutely looks amazing. It represents elegant simplicity.
Having a strong and sturdy design, it will neither bend nor break. In terms of functionality, this keychain can hold up to 20 keys. If you don't like your keys weighing down your pants, you can attach it to your bag.
Purchase
24. Kalibrado Snap-Hook Keychain

Like most Kalibrado products, this keychain screams of class and quality in every way. It is made of genuine black first class microfiber leather, and a zinc alloy for the snap hook.
You can snap this keychain to the loop of your belt or on your bag. This way, you can always know exactly where your keys are and don't have to keep checking your pockets and bag for keys.
You also can't possibly lose your keys if you keep them clipped on your belt loop or bag. To say the least, this keychain is guaranteed to add to you one more stylish accessory, and make you more organized.
Purchase
25. Rustic Hide and Drink Leather Key Ring

There is a group of men who enjoy fiddling with keys around the finger. If you are one of these, then you should definitely consider getting this key ring. It is made of such high quality materials that it is expected you will pass it on to the next generation.
The key holder is made of full grain tanned leather, which is the highest quality of leather you can ever get. Another great thing is that this type of leather ages well, meaning you will never have to throw it away for looking cheap and old.
To make yourself even more organized, you can use multiple rings to separate your key groups, for example, car keys and house keys.
Purchase
26. Reductivist Ringtool Compact Multi-Tool Keychain

This keychain comes with a set of tools you might randomly need in the course of your days. Crafted with nickel plated stainless steel, this keychain is made to withstand the harshest conditions out there. You can use it as a regular screw driver, flat screw driver, an Allen wrench and as a T25 torx head screw driver.
The keychain also carries a lifetime warranty. It is definitely a must-have for cyclists. It has the exact set of tools that are needed to maintain bikes and adjust seats. That said, it can also serve many other regular purposes out there. A good example is assembling furniture.
Purchase
27. E&M Premium Products Compact Key Holder

This keychain solves the problem of bulky key chains that poke holes into your pockets. This keychain is made for minimalists who love to organize. It is an eye-catching design above all; thanks to the careful eye of the designer. It is designed with a pocket clip that greatly enhances the functionality, allowing to securely attach the key holder on your jeans, bag or jacket. Careful thought went into the design of the keychain; it has multi-sized screws that replace the traditional screw extension packs and have been optimized for easy handling and robustness.
Purchase
28. Apor Premium Key Chain

This is an elegant but functional key chain that will hold all your keys, and look good doing it. It has a comfortable leather loop and open clip that is attached with two key rings for convenient carrying. It will fit all your keys, plus more without feeling bulky in your pocket. It is made of Zinc Alloy and leather material that provides a luxurious look. This key chain is very durable and is guaranteed to last a lifetime with proper care. It comes in two luxurious colours making it the best gift to anyone and everyone.
Purchase
29. Bellroy Leather Key Cover

Moving away from the norm of a keychain is what this key cover is all about. It is a super slim design for the minimalist join you. It is a key cover featuring a bi-fold design that fits 2 to 4 keys depending on your needs. It is made of durable leather that is environmentally certified, and ages beautifully. It has an additional leather loop for a car key or fob. It has a magnetic closure that makes it easy to snap shut with one hand. It comes in 5 beautiful colours.
Purchase
30. Valtcan Titanium Key Chain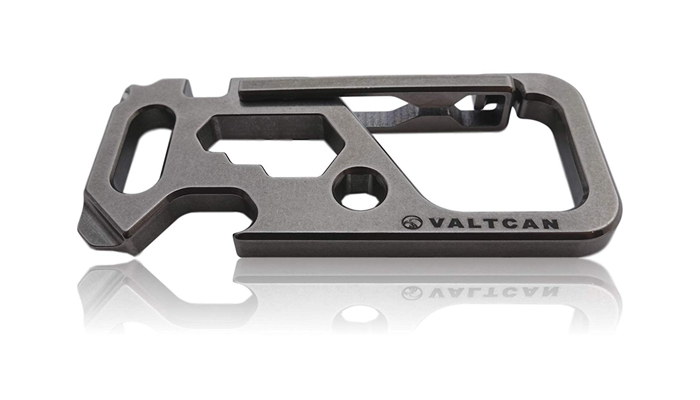 The first thing that stands out with this keychain is the modern approach to the design. It is stylish, functional, and very unique. It is made from a high-quality titanium that is resistant to corrosion, and four times as strong as steel. Despite this, it is still very lightweight. With this keychain, you will feel as if you are carrying nothing even at full capacity. It can fit into your pocket discreetly, or hock to your belt for security. The versatile design allows it to hook on to grocery bags quickly for easy carry.
Purchase
31. Zip Key Hardgraft Key Pouch

Like all other Hardgraft products, this key pouch is made of genuine full grain calfskin leather. The zipper is made of premium metal. The pouch also comes with a key ring which you can use to keep your keys organized together.
The design of the pouch is amazing to say the least. The brand name is embossed on the front of the pouch in a golden colour, making it look really nice. The appearance of the pouch is even enhanced by the look of authentic classy leather. Whether you carry a single key or a big bunch of keys, this key pouch will help keep your keys safe and organized.
Purchase
32. Shinola Valet Key Fob

If you like to keep your accessories simple and classy, then this key fob will do that for you perfectly. It is made of real American leather, and the whole thing is handcrafted in a Detroit leather studio. The name of the manufacturer, Shinola, is embossed on the leather surface of this key fob in an artistic design. The ends of the key fob are made of polished nickel finish hardware, which add authenticity to the accessory.
Purchase
What to Consider When Buying Keychain?
Investment like keychains worth research. With their plenty of designs, styles and types, it is important to learn about their category and see which keychain fits your needs. There are almost 8 types of keychains and 2 types of materials to select from. If you really want to optimize your investment, it is advisable to skim through this guide.
Material
Metal Keychain
Generally, keychains are found in two materials; metal and leather. Metal manifests a luxurious appeal and can be a great gift item. That said, metal keychains deliver top-notch performance when it comes to durability and that's impressive. If you are a business owner, you can multiply your marketing efforts on these metal keychains and increase your brand exposure in the best possible way. Another cool feature of these keychains is their ability to prevent keychains from daily wear and tear.
Leather Keychain
Leather is the best keychain material after the metal. Leather keychains are fairly resilient and also braves the element of style and fashion. You can choose to print messages, pictures, or your favorite stuff on your leather keychains to grab the eyeballs of the flocks. More importantly, getting an original leather material means your keychain is going to last for an extended period.
Keychain Types
Designer key chains
Designer keychains are flooded in the marketplace with a plethora of styles and designs. You have the freedom to choose the best one from the variety of options. These designer keychains are constructed in a way that resonates with their brand image and fashion statement. Therefore, if you gravitate more towards glam and style, designer keychains are your way to go to refresh the aesthetics.
Car key chains
Add style to the car even while driving with the best car keychains. These car keychains come in the shape of tools such as a screwdriver, wrench, hammer, torch, work light, and a car itself. These are some of the common examples of car keychains that you can easily get from the market.
Personalized key chains
If you really want to stand out from others, personalized keychains can help you achieve your dream to some extent. This is because you have an excellent opportunity to showcase your brand image and incorporate your favorite item in a keychain to look more appealing and enticing. With limitless options, you can impose anything on your custom keychain and enjoy the commendable remarks.
Sports key chains
Being a sports fanatic, a sports keychain is a must-have in your arsenal. No matter what sport you follow, the market is filled with your likes. Sports keychains feature jerseys, football, rackets, cricket ball, bats, and many more to name.
Novelty key chains
Stay unique and add elegance to your lifestyle with the novelty keychains. These keychains feature myriads of things such as sports items and animals. These chains have the audacity to look different from their ordinary counterparts. Hence, if you want to try something new and stylish, Novelty keychains won't disappoint you.
Vintage key chains
If you are the type of person who loves to collect old stuff then vintage keychains can be the best bet for you. These keychains flawlessly represent vintage products including old cars, buildings, forts, and coins. So, if you want to refresh your flashbacks, vintage keychains can give you a vintage feel to a greater extent.
FAQ
❓ What is the best keychain?
The best keychain is lightweight, even at full capacity. Being light ensures that you can carry it comfortably wherever you go. It is also classy and stylish with patterns that are easy to identify. The best keychain also comes with handy accessories such as a bottle opener or flashlight. Finally, it is durable and beautiful.
🧐 What should I keep on my keychain?
Your keychain is specifically for keys, as the name suggests. However, you can also place a few items on the keychain, depending on the size. First, you can carry utility items such as an emergency whistle, a detachable pocket knife, and a miniature flashlight. You could also keep a small flash drive for work or school.
⭐ Is it bad to have a heavy keychain?
It is very inconvenient to carry around a heavy keychain. Key chains are an everyday accessory, something you carry with you everywhere you go. Therefore, a keychain should be light and easy to carry around. Its design should allow it to fit into multiple sized pockets. Furthermore, it should be made from lightweight material to make it even more convenient to carry with you.
✅ Do guys use key chains?
Currently, key chains are very diverse in design, themes, and colors. There are key chains with designs that appeal to men of all ages and styles. Whether you prefer something bright and fun, or something subtle and classy, there is a design for you. All men need key chains to safely and adequately carry their keys. Furthermore, some come with useful tools.
🤔 How heavy is too heavy for a keychain?
At full capacity, your key chains should be almost unnoticeable in your pocket. A heavy keychain will pull down on your pocket, making it sag. Heavy key chains could also rip your pockets. One way to tell if our key chain is too heavy is b putting it in your front pocket or shirt pocket then feel its weight. Heavy key chains will pull on the fabric uncomfortably.